Al's Chickenette

700 Vine Street
Hays, Kansas 67601
(785) 625-7414

Archive Page only
In July 2019, the restaurant closed. As of
February 2020, it is still for sale.

Al's Chickenette menu Al's Chickenette map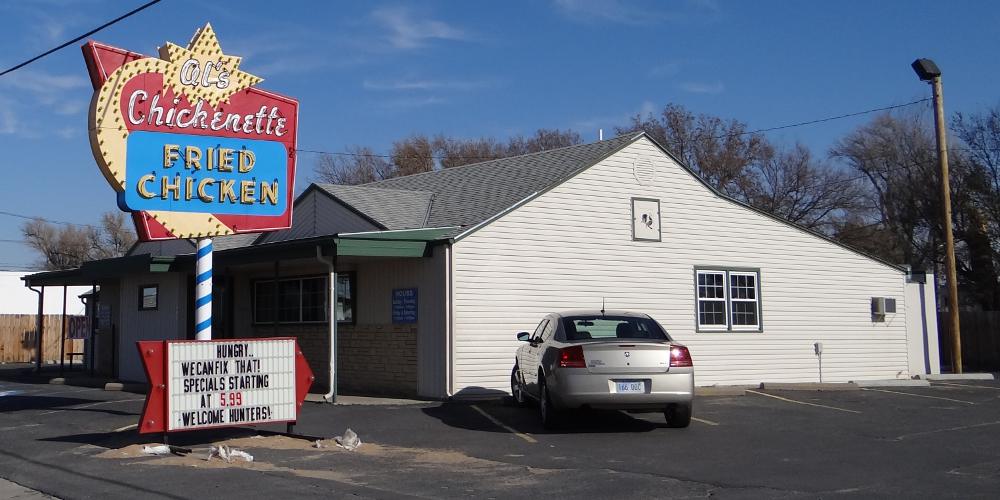 Al's Chickenette in 2012 - Hays, Kansas (it is now red and has this art
Archive Page only: In July 2019, owner announced on Facebook that the restaurant ws closing and they were seeking a quality buyer. As of February 2020, it is still for sale.
Al's Chickenette in Hays, Kansas opened in 1949. The restaurant closed briefly in 2010 and changed hands twice since then. The present owner took over in 2013. This newest version of Al's has a smaller menu and has remodeled from a rustic look to more of a 50's diner. The prices are a bit higher, but it is still a good value.
The chicken restaurant has a wonderful old neon sign and a lot of history. It is clean and very reasonably priced. Prior to this latest update, Al's Chickenette was mostly on the list of Unique Kansas Restaurants for tradition and atmosphere, but the food is improved.
After sampling several dishes, the chicken fried steak has been the best dish by far. The hand breaded steak has a good tasting, peppery coating. I'm not quite as impressed with the fried chicken, but I think it is better than the famous Crawford County fried chicken restaurants in southeast Kansas.
The side dishes are also much improved The mashed potatoes and green beans are both above average and I really enjoyed the fresh cut, fried shoestring potatoes.
The seasonal pies are not made in house (they come from Nebraska), but are very good. We had the apple and peach, with each one heated in the oven (they don't have a microwave) and topped with homemade ice cream. We were already full before the pie, but I almost felt like licking the plate.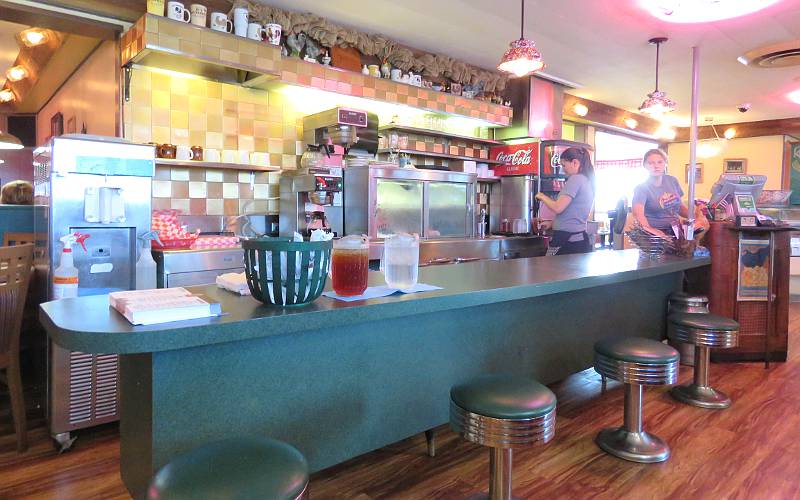 Al's Chickenette front counter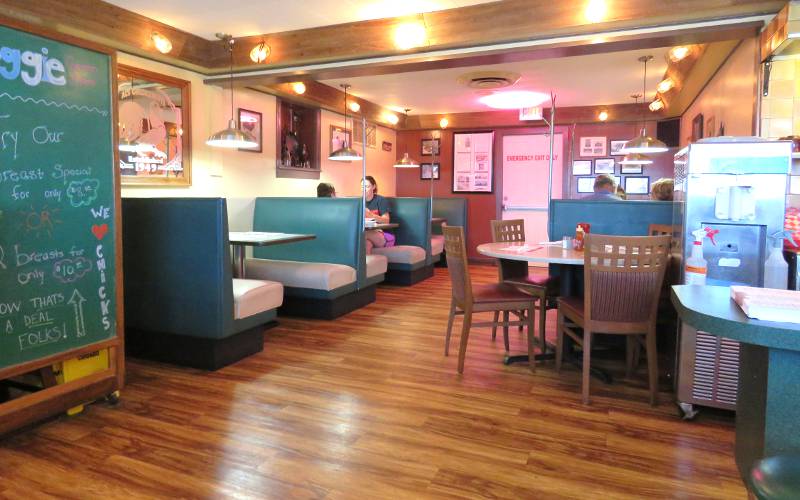 I liked the old rustic look, but the new look is clean and inviting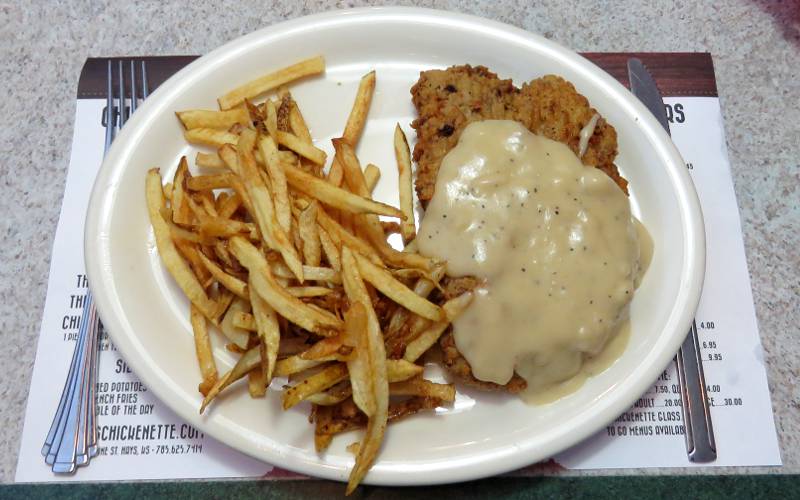 Chicken fried steak with fresh cut fries (and soup) - $9.50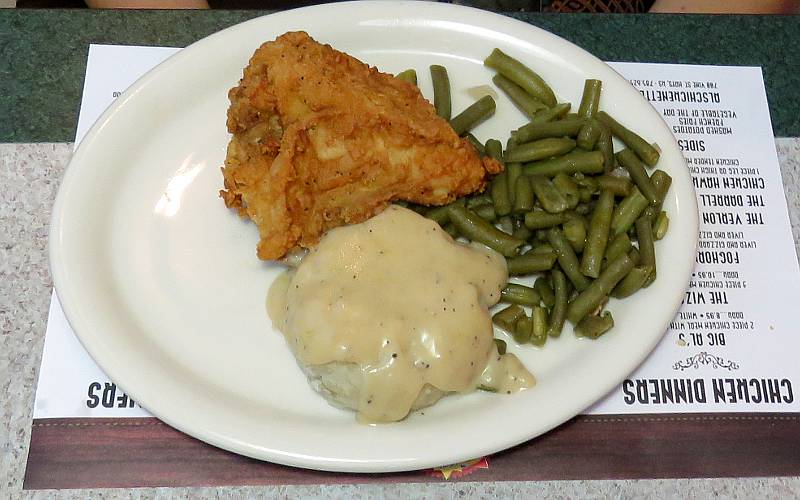 One piece breast dinner - $8.95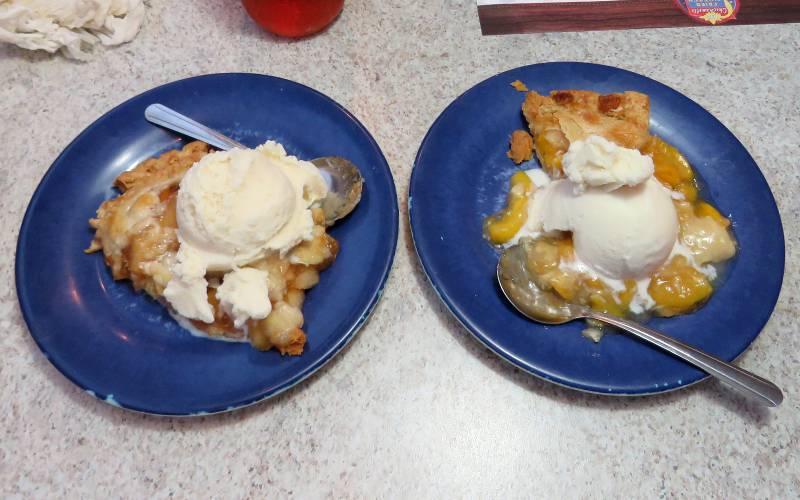 Seasonal pies (apple & peach) $2.95 and homemade ice cream $2.50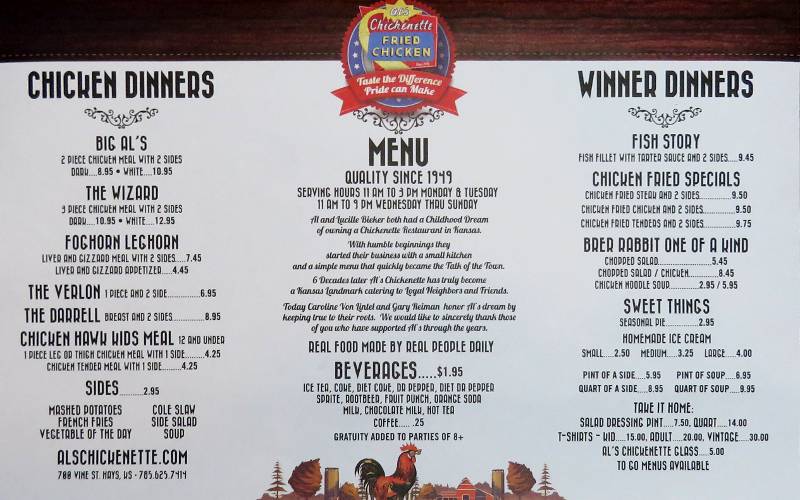 Al's Chickenette Menu from July 2016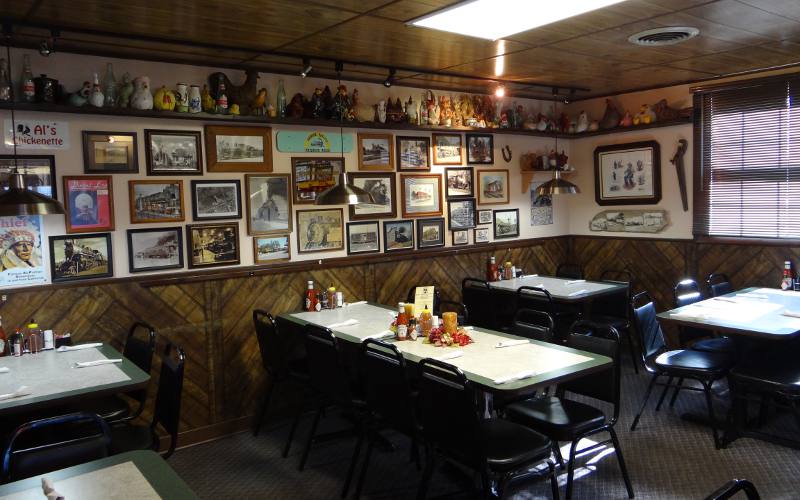 2012 back dining room before remodeling

This is art on the south wall of Al's Chickenette was done by the owner's daughter. She has also done some art inside.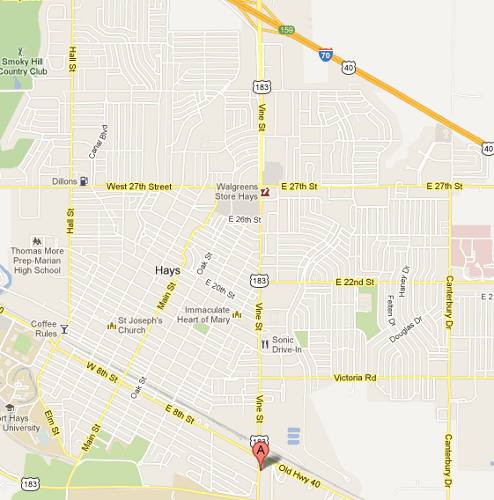 Al's Chickenette Map
copyright 2009 - 2020 by Keith Stokes