Cherokee Strip Land Rush Museum

31639 US 77
Arkansas City, KS 67005
(620) 442-6750

Wednesday - Saturday: 10 AM - 5 PM
Sunday 1 PM - 4 PM
Adults $4.50 Seniors: $3.50 6-12: $2.00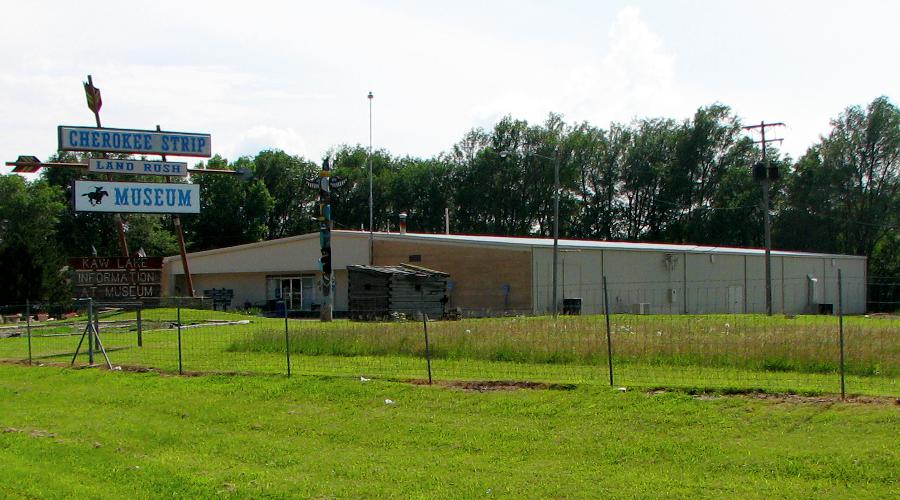 Cherokee Strip Land Rush Museum - Arkansas City, Kansas
Cherokee Strip and Land Rush Museum hosts many exhibits related to the history of Arkansas City and the surrounding portions of Kansas and Oklahoma. I liked the exhibits related to the Oklahoma Land Rush of September 16, 1893, but most of the other exhibits are things that may be seen at countless museums across Kansas. Those items are primarily of interest to members of the local community. The museum also maintains a genealogy reading room.
On occasion, the Cherokee Strip and Rush Museum hosts melodramas. When I visited the museum, "The Ballad of Gopher Gap" was being performed in the evenings. Prior to the melodrama, and during the intermission, you may tour the museum.
Seating for the play was at long tables, and I was surrounded by local people that appeared to all know each other, The woman sitting to my left, Latresha Swopes, had done the makeup for that evening's show. The melodrama was the usual fun. There was a piano player and drummer, and two fun women that held up cue cards to encourage us to boo the villain, cheer the hero and generally behave foolish. We were also encouraged to throw popcorn at the villain.
During the intermission, the cast served apple crisp. Then a cowboy poet, Russell Graves performed for about 15 minutes before the final act.
Tickets to the Cherokee Strip and Rush Museum melodramas may be reserved by calling (620) 442-6750. Tickets are about $15 and include admission to the museum.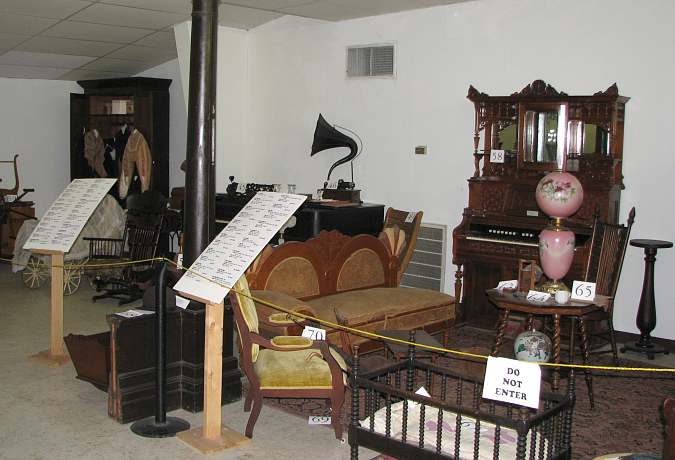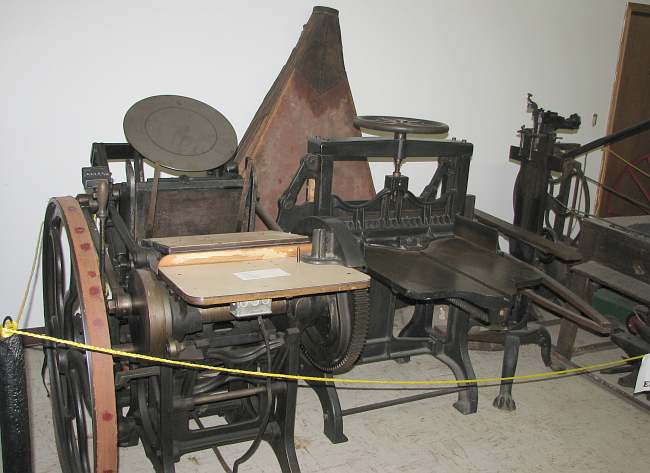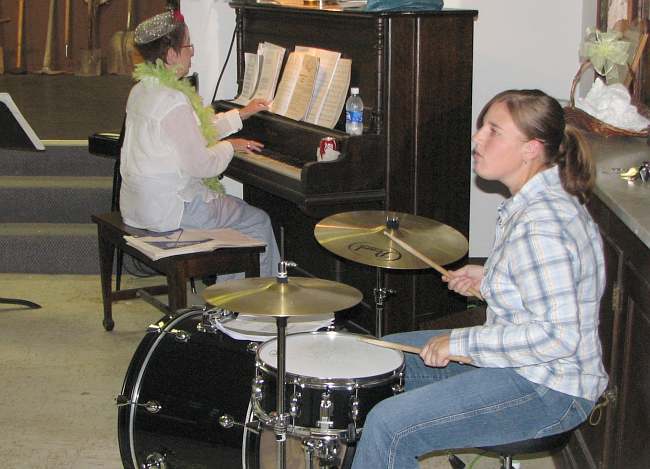 Cherokee Strip and Rush Museum melodrama band

Teaching the audience to Cheer, Boo and Hiss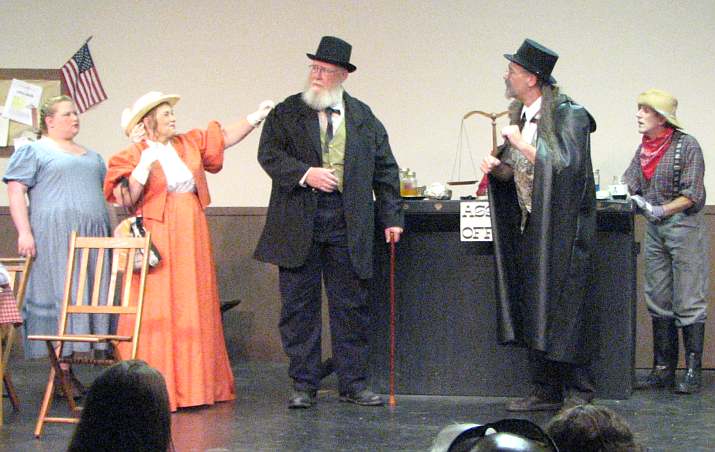 Cast of "The Ballad of Gopher Gap"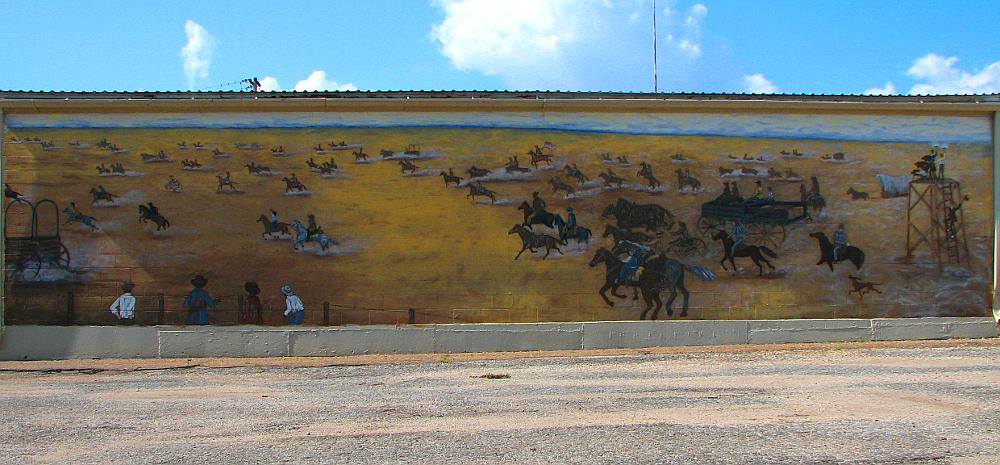 Mural on the outside of the Cherokee Strip Land Rush Museum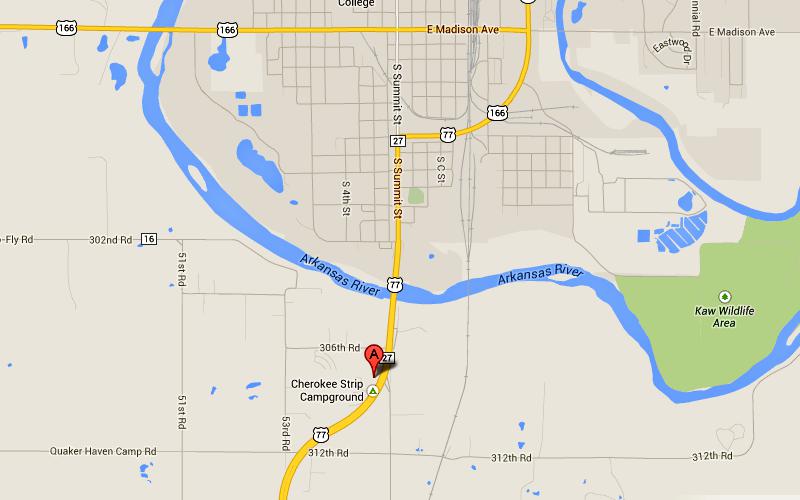 Cherokee Strip Land Rush Museum Map
Cherokee Strip Land Rush Museum web site
Kansas Attractions Kansas Travel & Tourism Home
copyright 2007-2015 by Keith Stokes