Dickinson County Historical Museum & Museum of Independent Telephony

412 S Campbell Street
Abilene, Kansas 67410
785-263-2681

open Wed - Sun ages 16-61: $8 62+: $7 2-15: $4
Dickinson County Historical Museum Map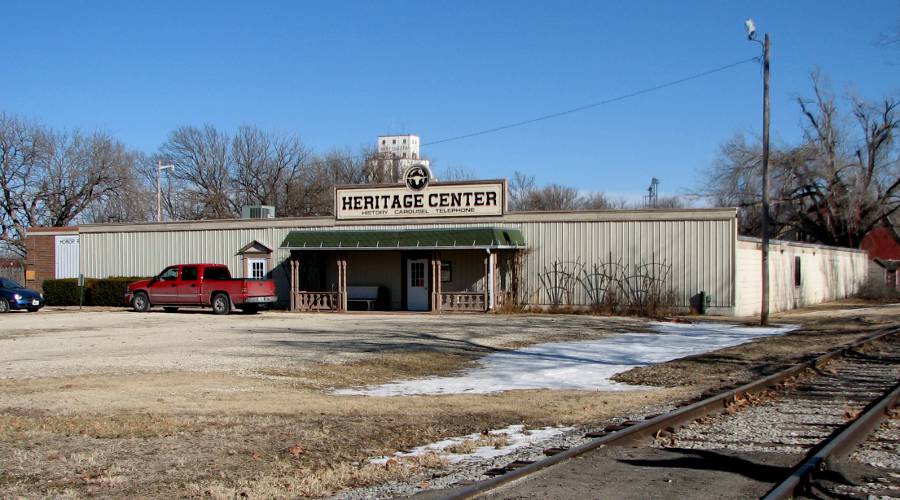 Dickinson County Historical Museum - Abilene, Kansas
The Dickinson County Historical Museum has both a local historical museum and a number of old buildings which were moved from locations in Dickinson County to the site in Abilene, Kansas. Two things really stand out: the history of independent telephony and a 1901 C. W. Parker carousel.
When the Bell Telephone patents expired in 1893, nearly 6,000 non-Bell Telephone companies, known as Independents, sprang up in North America. The Museum of Independent Telephony tells the story of the small independent telephone companies which served nearly half of the US.
Cleyson Leroy Brown built his first telephone exchange, called the Brown Telephone Company, in Abilene in 1898. Over the years, C.L. Brown purchased several other telephone exchanges and the combined company became known as United Telephone and Electric. United Telephone maintained its headquarters in Abilene, Kansas until 1966, when the corporate office moved to Westwood, Kansas. The name of the company continued to change, becoming United Utilities, United Telecom and eventually Sprint.
The C. W. Parker carousel tells another part of Abilene's History. Charles Wallace Parker's family moved to Abilene, Kansas when Parker was 5 years old. C. W. Parker bought a used carousel in 1892. He soon began doing his own repairs and repairs on other carousels. While doing the work, he would replace the manufacturer's name with his own. In a few years, he began the C.W. Parker factory. By 1905 C. W. Parker Amusement Company had four full sized carnivals on tour and sold equipment to other amusement operators.
Although the Parker Amusement Company moved on to Fort Leavenworth, Kansas in 1911, the Parker carousel at the Heritage Center of Dickinson County was built in Abilene in 1901. One carousel ride is included in a child admission. Additional carousel rides are available for a $4 fee. The C. W. Parker carousel was named a national landmark in 1995.
Hours: Monday - Tuesday closed, Wednesday - Saturday 10 AM - 5 PM, Sunday 1 - 5 PM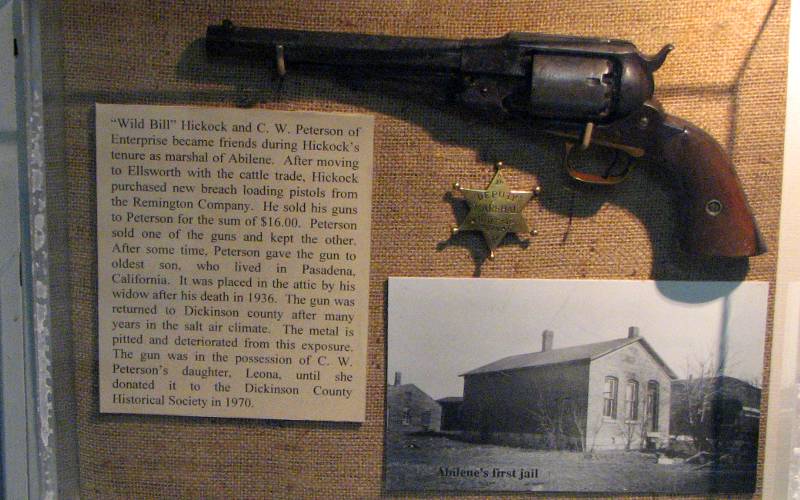 Wild Bill Hickock pistol. Hickock was the Marshal of Abilene in 1871.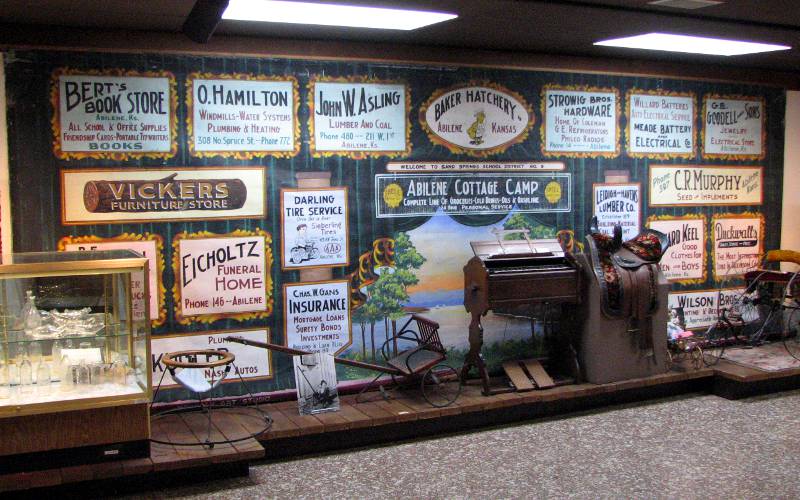 School stage curtain.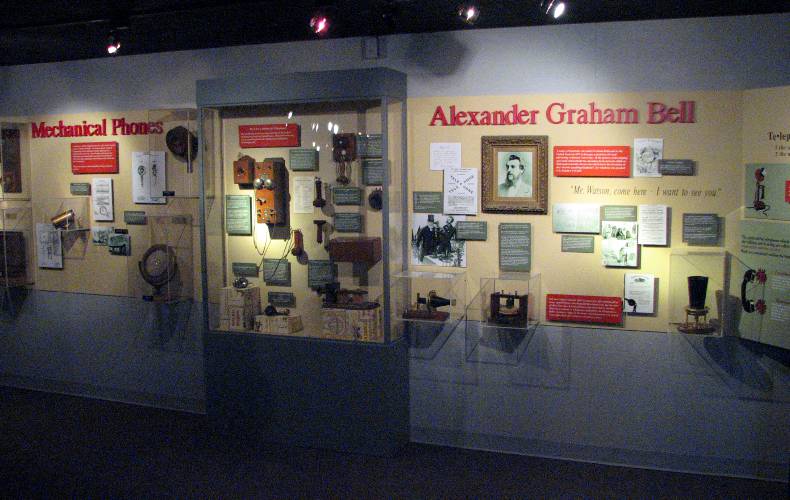 Opening exhibit of the Museum of Independent Telephony.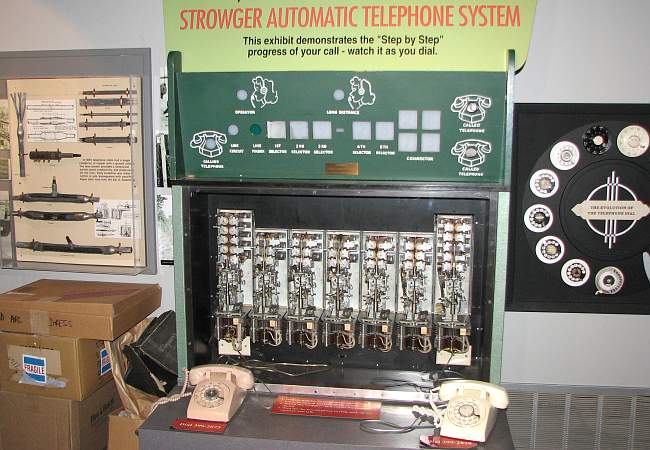 When the phone on the left is dialed, the switches in the display show how the call is connected.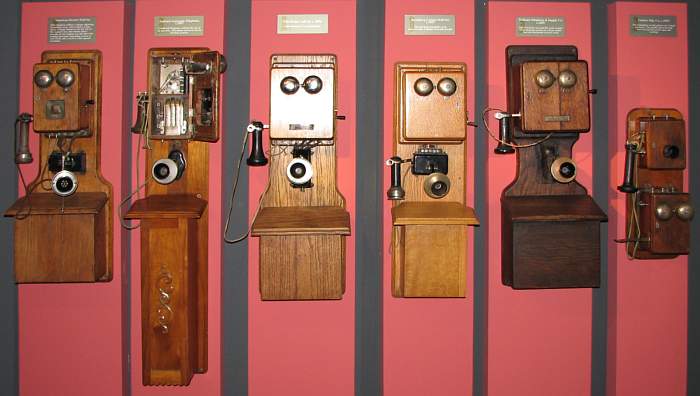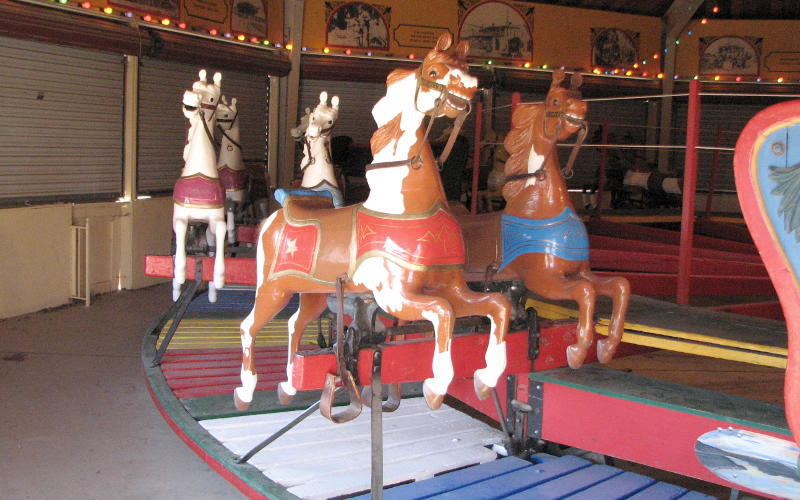 1901 C.W. Parker carousel Parker Carousel Museum in Leavenworth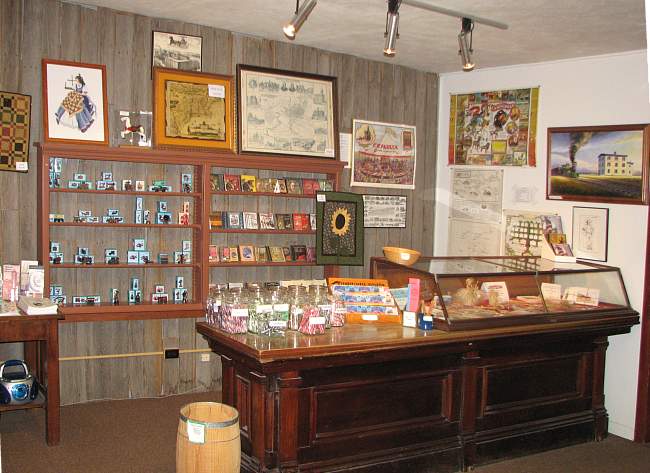 Heritage Center of Dickinson County gift shop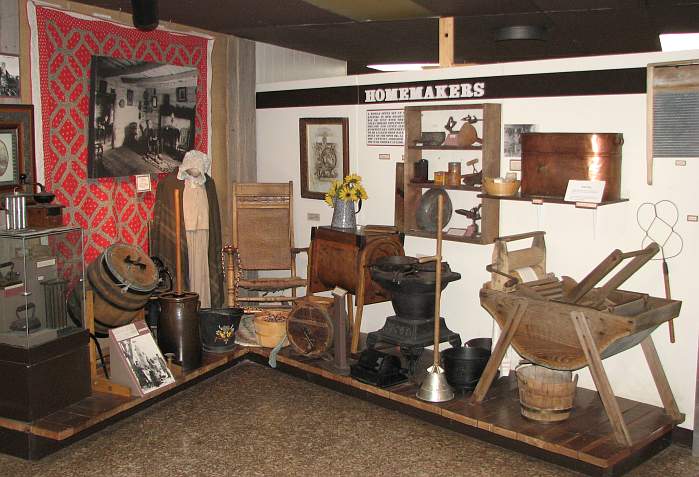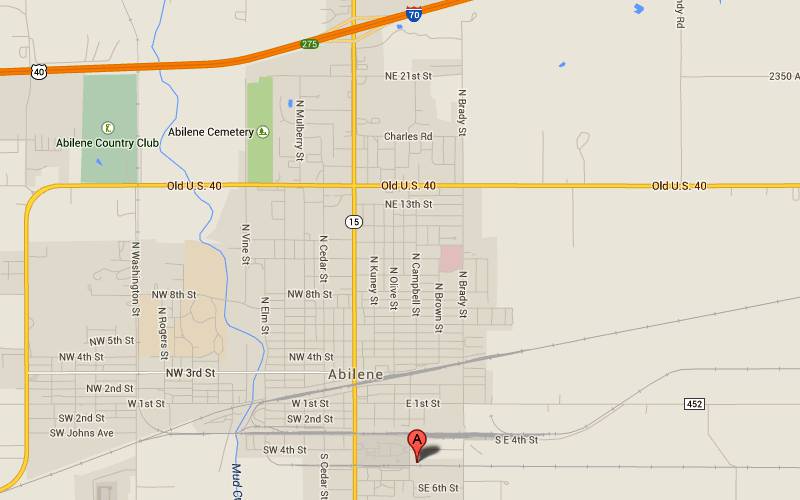 Dickinson County Historical Museum Map
Heritage Center of Dickinson County web site
copyright 2008-2021 by Keith Stokes