Ad Astra
Food and Drink
318 Cottonwood Street
Strong City, Kansas 66869
(620) 273-8440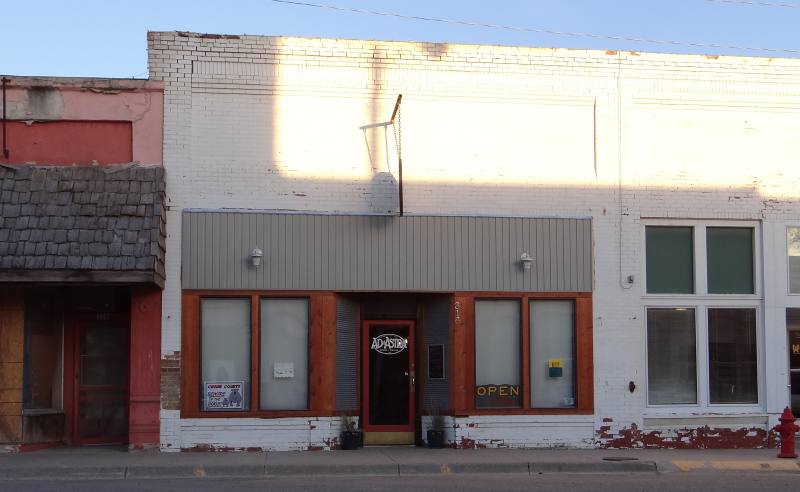 Ad Astra Food & Drink - Strong City, Kansas
This is an archive page. Ad Astra Food & Drink closed permamently in the spring of 2022. A new restaurant with complete different owner and chef opened in this location in June 2023. They are operating under the same name, but are not the same restaurant.
Ad Astra Food & Drink in Strong City, Kansas opened in 2002. It briefly closed in 2015, but reopened under slightly different ownership in November of that year and with the same menu. The restaurant is in a nondescript storefront on Strong City's main street, but external appearances can be deceiving. The small, interesting restaurant focuses on innovative dishes with food from local providers. The menu is somewhat limited, but does offer a wide variety.
We have visited Ad Astra 5 times and have enjoyed every dish we have had. The steaks, hamburgers, salads and fish have all been good. The blue cheese chips are a popular starter. Even simple sounding dishes like a grilled cheese sandwich is much more interesting than it sounds, with goat cheese, local Cheddar, avocado, apple wood smoked bacon and apricot pear jam.
The menu and specials are always changing, but on one of our typical visits, we had a grilled salmon special and the Prairie Burner Burger. The burger was a little too rare, but the side of chili ginger sprouts may have been the best Brussels sprouts I have ever had. We split a cream brulee which was also very good, putting to shame the cream brulee we had at a much more expensive Kansas City restaurant 2 days later.
Ad Astra Food and Drink is open only on Thursday through Sunday. Reservations are highly recommended.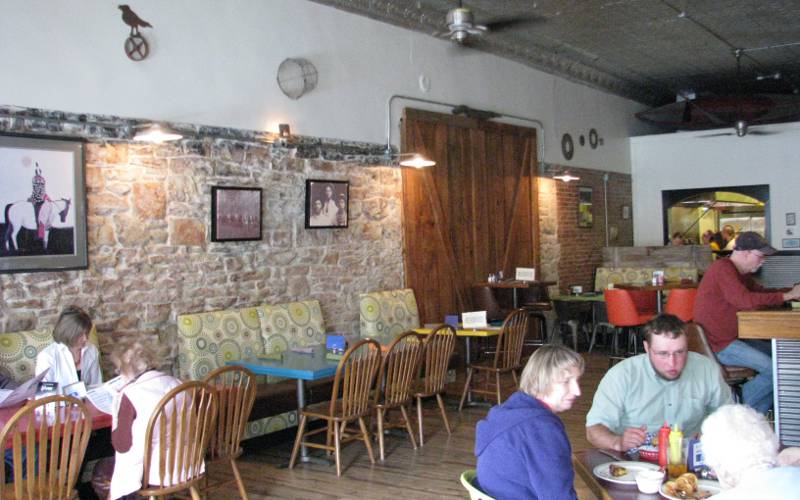 This is about half of the dining area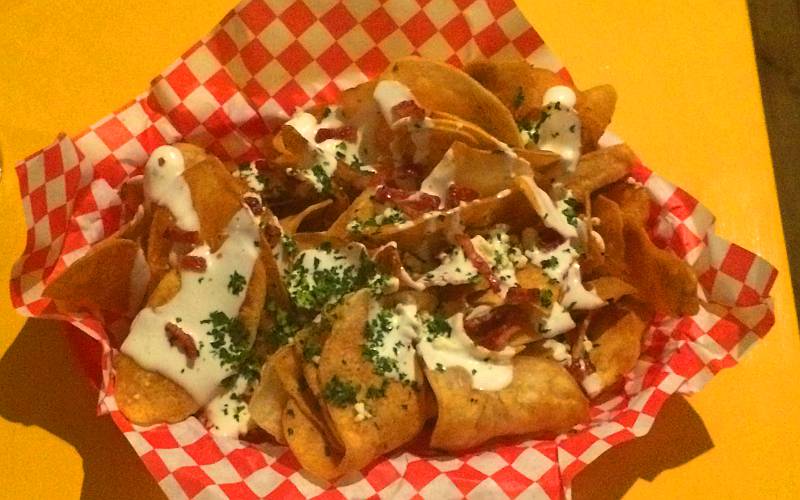 Royal As Astra chips - house made potato chips drizzled with ranch dressing, then topped with
Maytag blue cheese crumbles, green onion and added bacon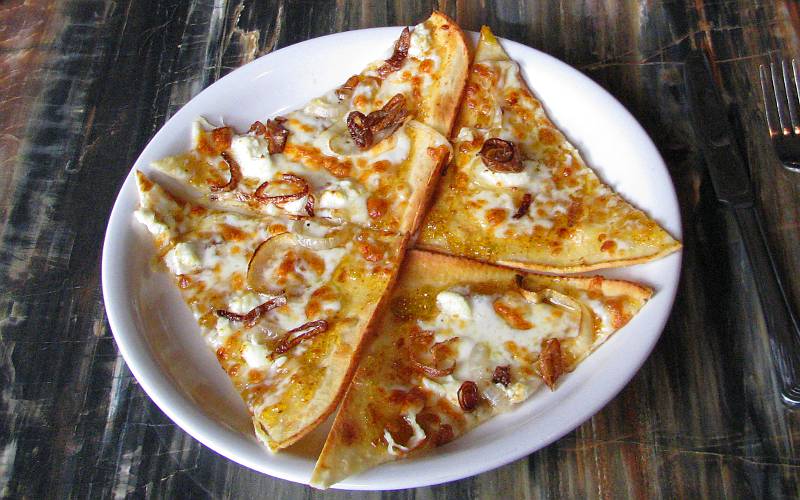 Elk Union - a pita pizza topped with fig jam, goat cheese, caramelized onion and a drizzle of garlic oil and fried shallots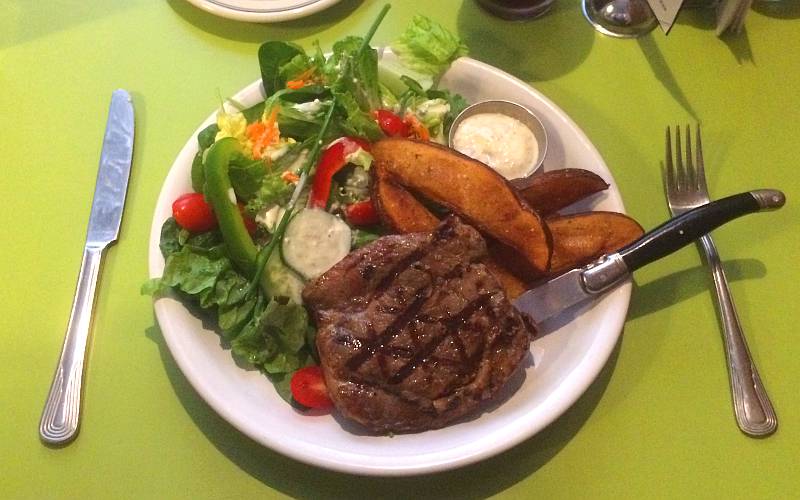 ribeye steak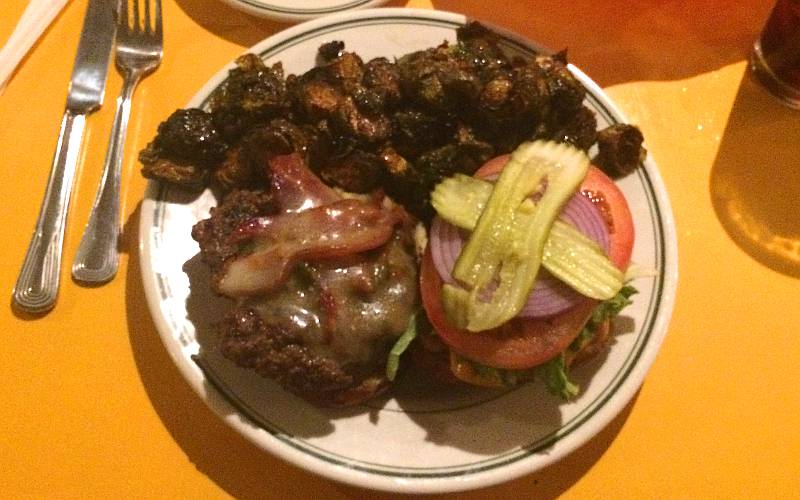 1/3 pound Prairie Burner Burger - ground bison, American & Swiss cheeses, roasted jalapeno,
apple wood smoked bacon, spicy mayo and lettuce on a pretzel bun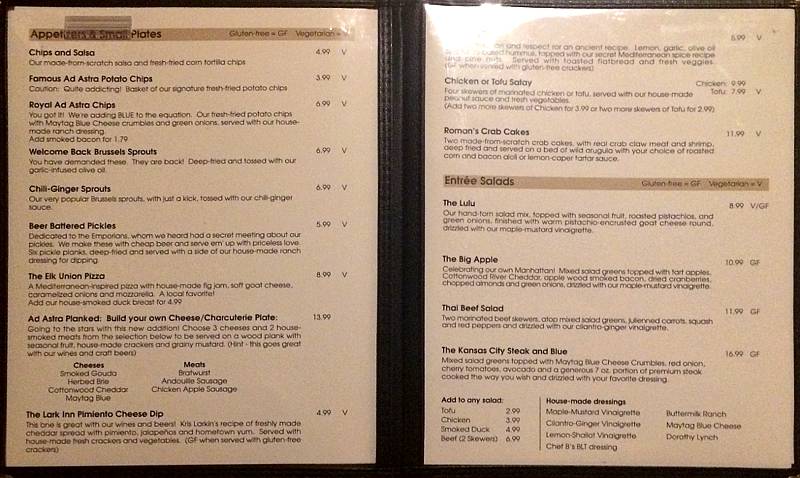 Ad Astra menu from January 2016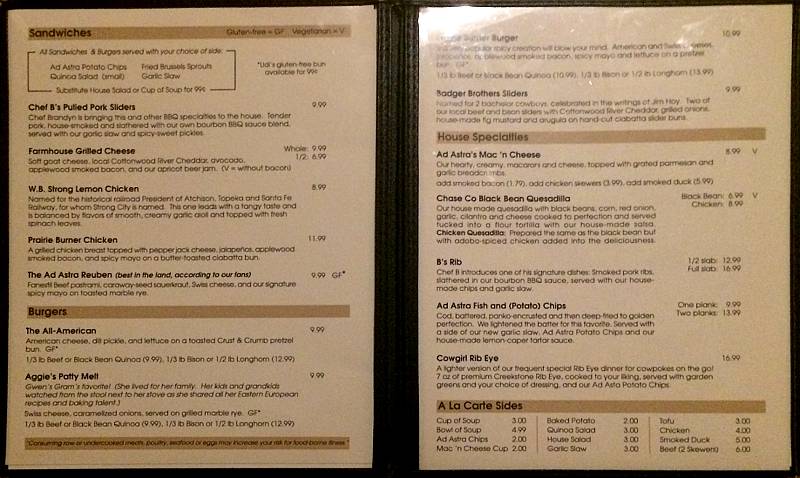 Burger, sandwich and specialties menu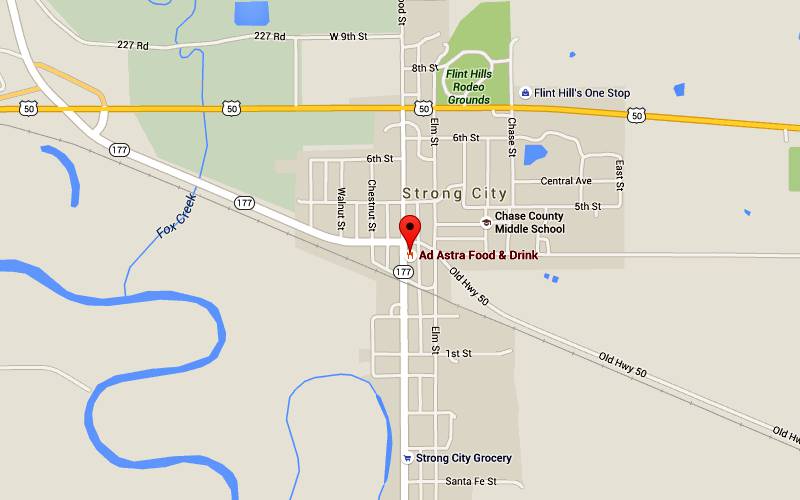 Ad Astra Food and Drink Map
Unique Kansas Restaurants
Kansas Attractions Kansas Travel & Tourism Home
LAS-2/16 copyright 2012-2023 by Keith Stokes