National Agricultural Center & Hall of Fame

630 Hall of Fame Drive
Bonner Springs, Kansas 66012
(913) 721-1075

Closed for winter
Reopening April 27, 2019
Wednesday - Saturday: 10AM - 4PM
$5 adults $2 children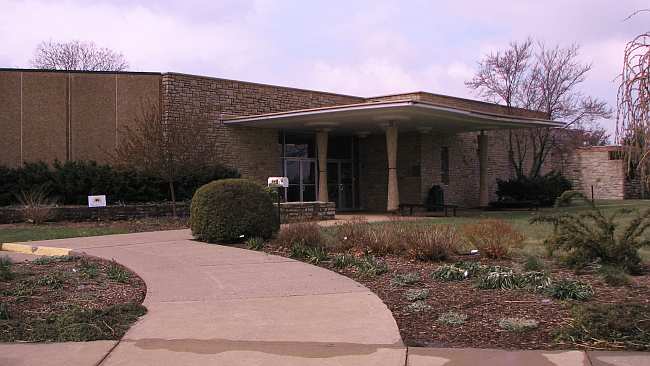 National Agricultural Center and Hall of Fame - Bonner Springs, Kansas
The National Agricultural Center and Hall of Fame was chartered in 1960 to educate society on the historical and present value of American agriculture and to honor leadership in Agri-Business and Academia by providing education, information, experience and recognition.
The center includes three museum buildings: National Farmer's Memorial, National Poultry Museum, and "Farm Town U.S.A."
The main museum building houses the unique features of the National Agricultural Center: The National Agricultural Hall of Fame and The National Farm Broadcasters Hall of Fame. There is also a gift shop, some rural living exhibits and a theater that was out of service when the Agricultural Center was visited in 2007.
The second museum is the Museum of Farming. It houses a collection of antique farm machinery and implements.
Farm Town U.S.A. has elements of a 1900s rural community including a railroad depot, caboose, narrow gauge railroad, farmhouse, schoolhouse, blacksmith shop, general store, and poultry hatchery. Some of the buildings are original and others are replicas.
Most visitors to the National Agricultural Center will be satisfied with a 90 minute visit. Perhaps a bit longer if they chose to hike the one mile nature trail. More animals would be nice. There were only a few chickens when the Center was visited.
Train and hay wagon rides are available to groups with advance reservations for an additional charge.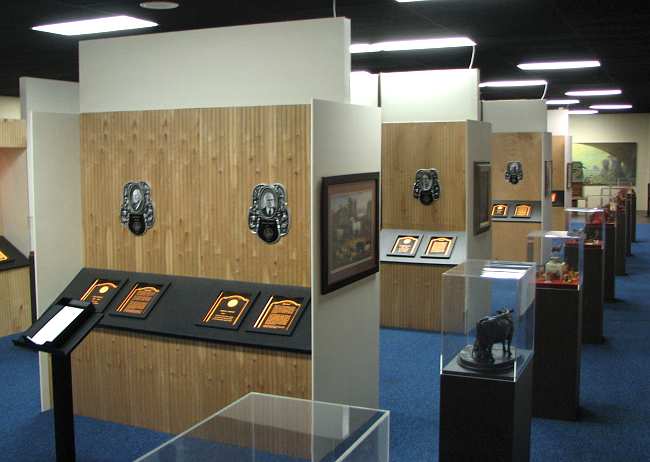 38 Americans were inducted into The National Agricultural Hall of Fame through 2006.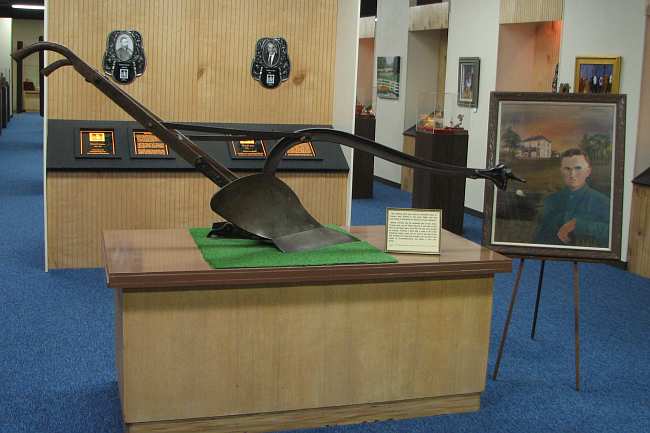 Walking plow used by President Harry S. Truman in the early 1900s.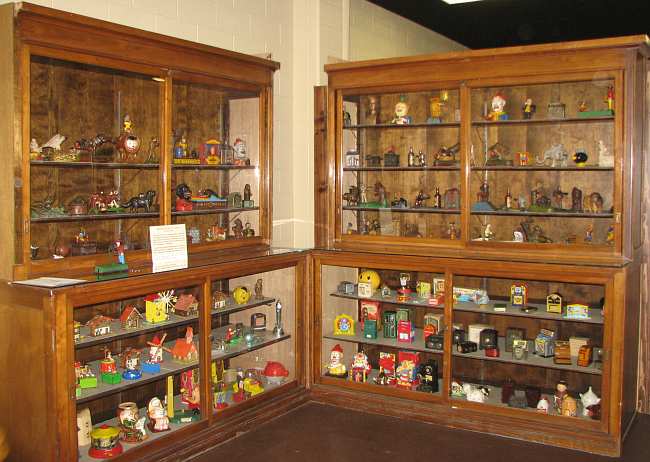 Mechanical and Still Bank collection.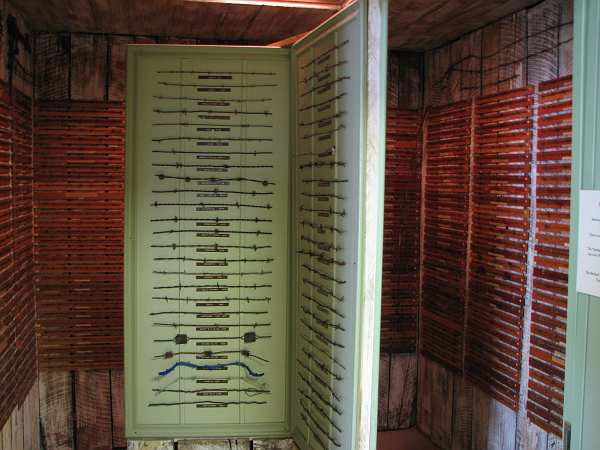 The Agricultural Center's barb wire collection includes over 500 varieties of barbed wire.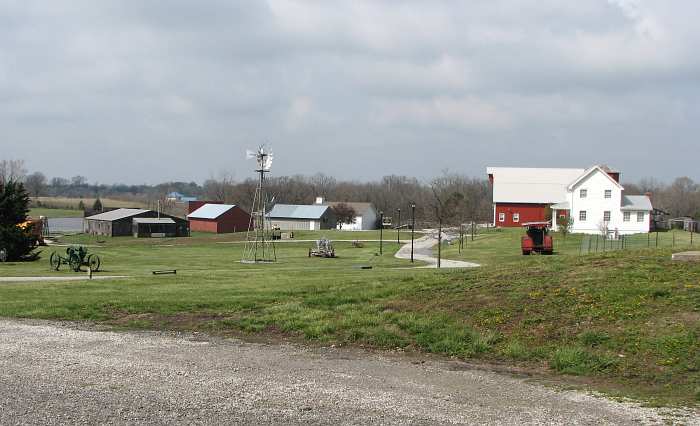 Farm Town USA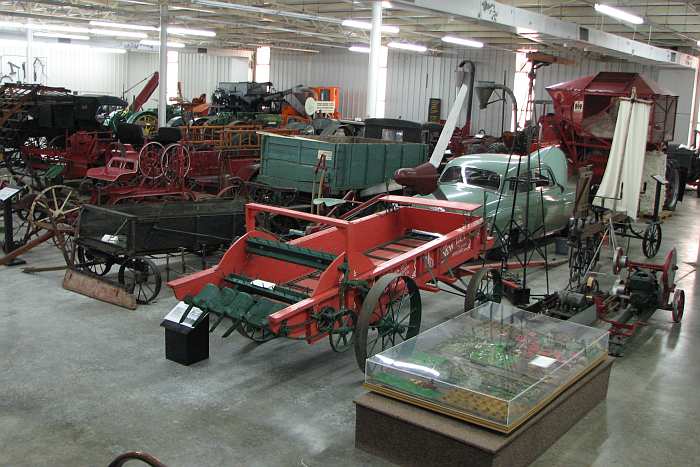 Farm machinery and implements in the 20,400 square feet Museum of Farming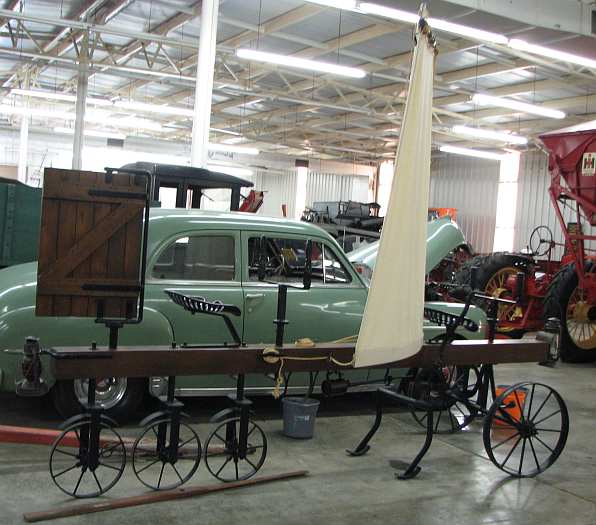 Prairie Wind Traveler - replica wind wagon.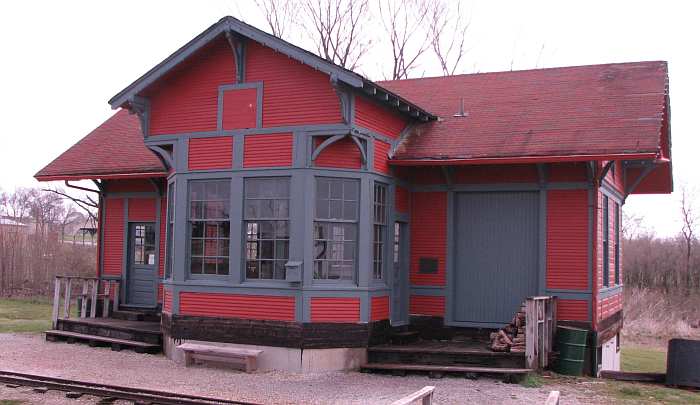 1887 Morris Livestock Shipping Depot
National Agricultural Center and Hall of Fame web site
Kansas Attractions Kansas Travel & Tourism Home
copyright 2007-2019 by Keith Stokes