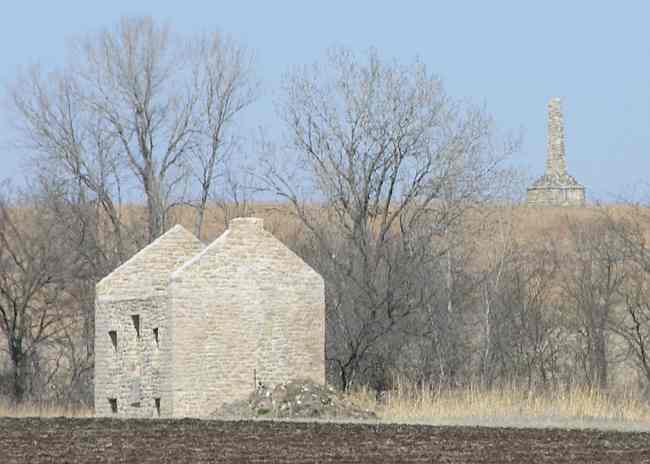 Kaw Agency ruins and Kanza Monument
The Kanza Monument is a 35 foot limestone tower that was erected by Council Grove citizens in 1925 as a tribute to the memory of the Kanza's presence in the Council Grove area. It was prompted by the discovery of Native American remains exposed by erosion in a nearby stream bed. The indian and his possessions were reinterred in the base of the monument in August 1925 during a ceremony attended by several members of the Kaw tribe. There are no close up photos of the Kanza Monument on this site at the request of the Kaw nation.
On April 20, 2002, the Kaw Nation dedicated Allegawaho Heritage Memorial Park - 168 acres of their native homeland that includes the Monument and one of the three Kaw villages that were occupied from the 1840s to 1872. Stone ruins remain from three of the 138 huts the United States government built as dwellings for the Kanza in 1862. The Kanza chose not to live in these structures, using them as stables for their horses instead. After the Kanza were forced to move to Oklahoma in 1872, settlers lived in these structures until they had built homes. Then the huts served as outbuildings for their farms.
A two mile long Kanza Heritage Trail loops through the Kaw Heritage Park and connects to the Flint Hills Nature Trail. Long term plans include construction of a visitor center and reconstruction of a bark lodge representing traditional Kanza dwellings.
The Allegawaho Heritage Memorial Park is southeast of Council Grove, Kansas. Turn south from US Highway 56 on Fifth Street. Follow the main road as it turns east onto Walnut Street and then bends to the southeast. Travel 3.5 miles and turn left onto the gravel, X Avenue. Drive .4 miles and turn left on to K-525. The gravel road runs past the Kaw Agency ruins and the trail though the park starts 200 yards north of the ruins. A map and trail guide may be obtained at the Kaw Mission in Council Grove.
The Kaw Nation requests that no one approach closer to the Kanza Monument than the trial.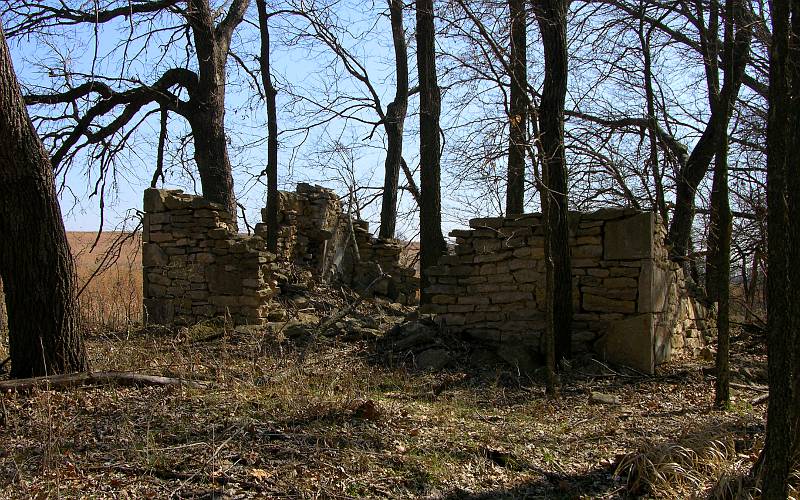 16' by 20' Wah-Sko-Mi-A's Hut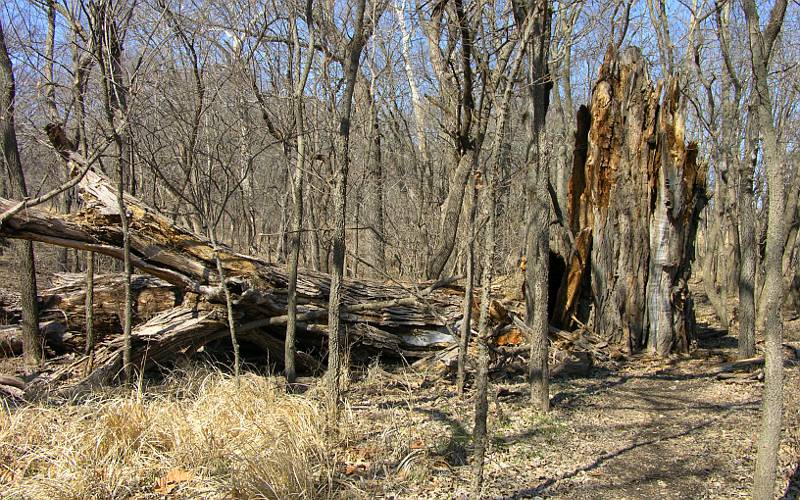 Enormous fallen cottonwood tree.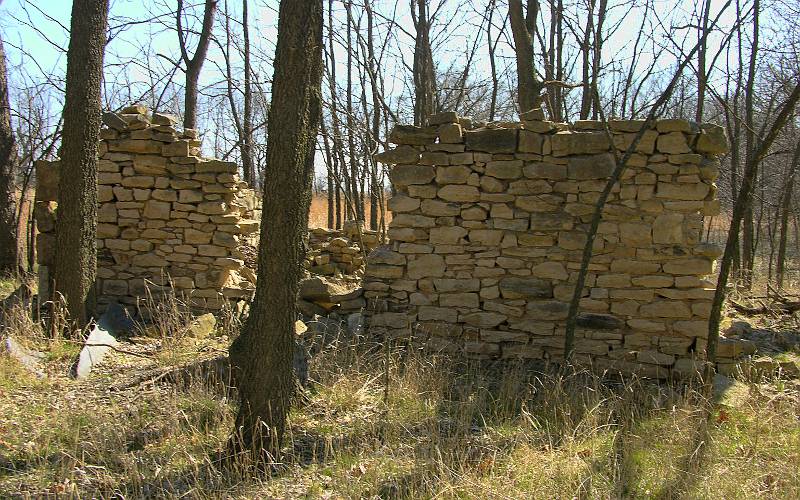 Ke-La-Lah-Heo's Hut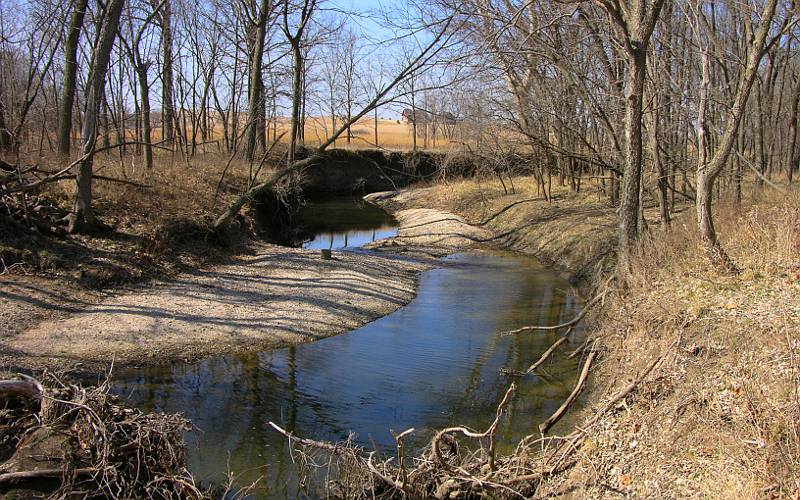 Little John Creek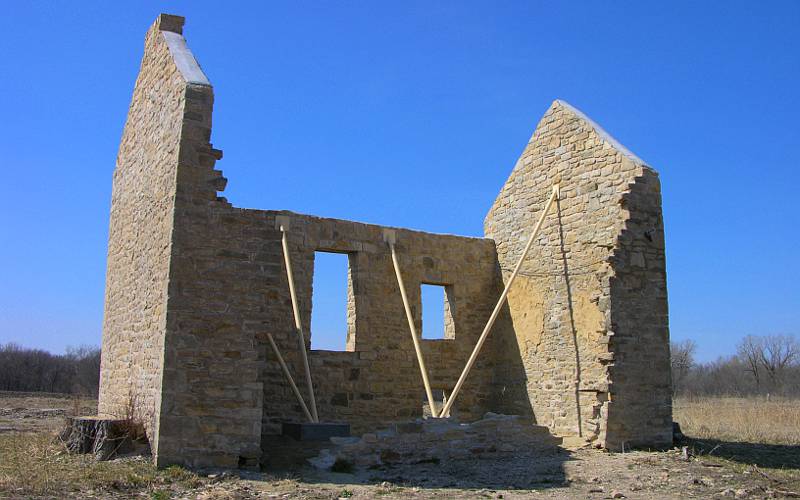 Agency Building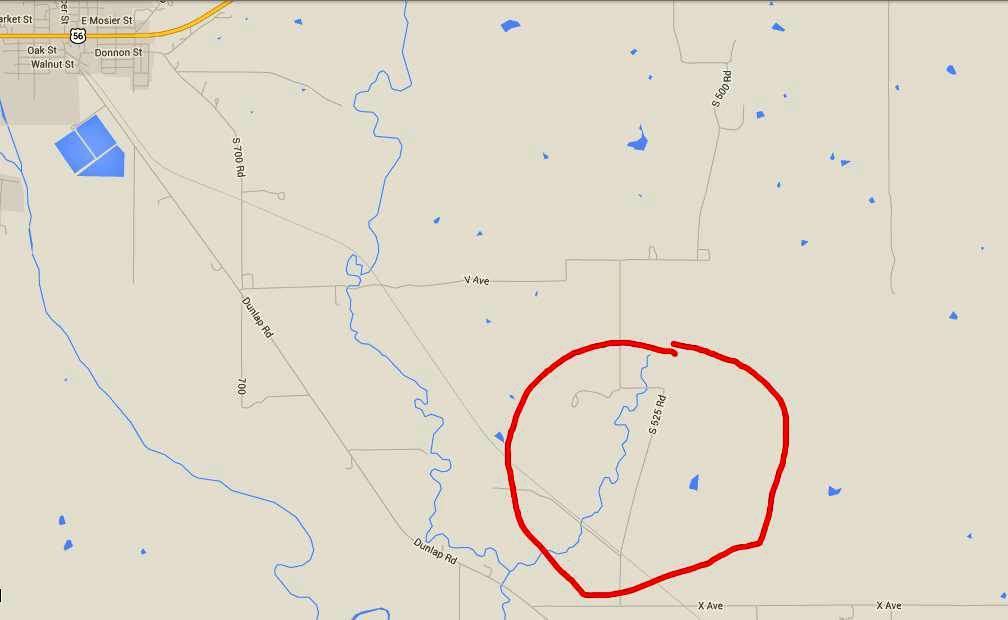 Allegawaho Heritage Memorial Park Map
Kaw Mission State Historic Site
Kansas Restaurants Kansas Travel & Tourism Home
copyright 2006-2020 by Keith Stokes