Marianna Kistler Beach Museum of Art
701 Beach Lane
Manhattan, Kansas 66506
(785) 532-7718

Reopens August 24, 2021
Free admission & parking
Tuesday - Friday: 10-5 (8PM on Thursday) Saturday 11-4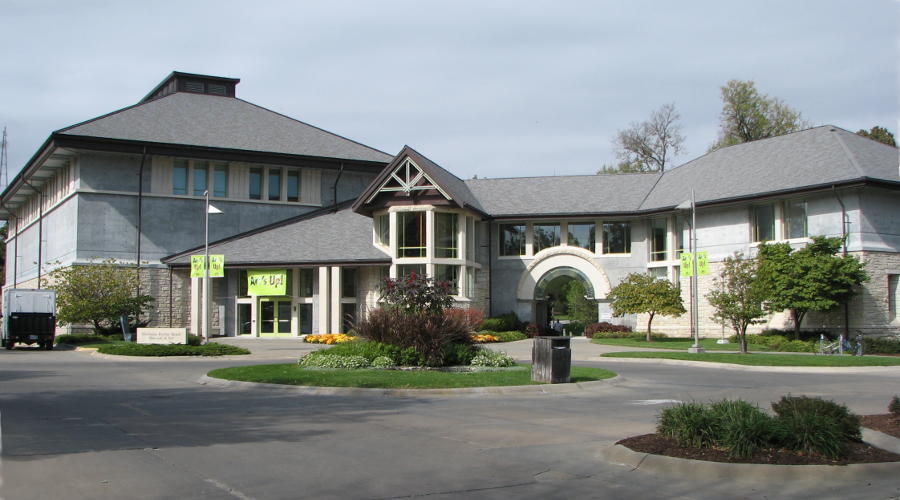 Marianna Kistler Beach Museum of Art - Kansas State University
Following a 17,000 square feet expansion and a two month closing, the Marianna Kistler Beach Museum of Art in Manhattan, Kansas reopened on October 21, 2007. The Beach Museum originally contained 1,500 pieces of artwork when if first opened on the Kansas State University campus in 1996. It now has more than 6,000 pieces.
The Beach Museum boasts the largest collection of work anywhere by Kansas artist John Stuart Curry with over 900 drawings, sketches, prints, and paintings. Unfortunately, only one of Curry's works was on exhibit during the reopening.
My favorite exhibit during the reopening was the temporary exhibit, Let Me Show You the World: The Sewn Drawings of China Marks. The exhibition featured 26 works by New York artist China Marks. Marks' compositions were drawings sewn from fragmentary bits and pieces of commercially printed fabric, They were simultaneously whimsical and sophisticated.
Admission to the Marianna Kistler Beach Museum of Art is free and free parking is provided in an adjacent lot. The museum is located at the southeast corner of the Kansas State University campus. The Beach Museum is well worth visiting and I believe that most visitors will spend 1-2 hours.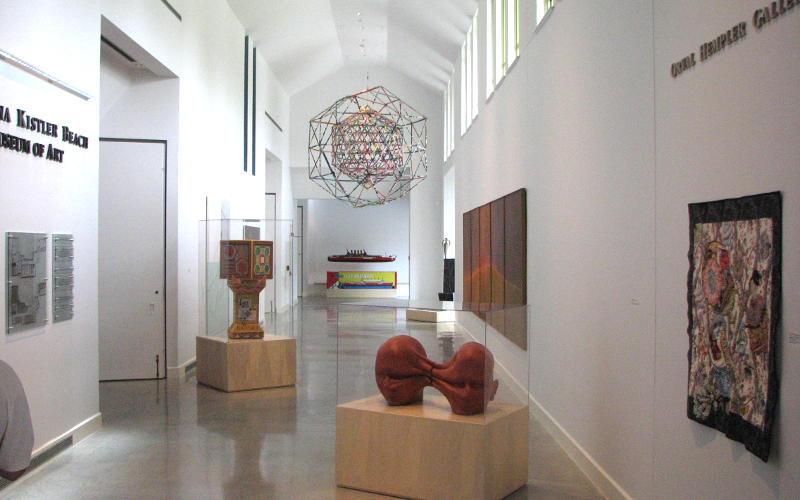 Orval Hempler Gallery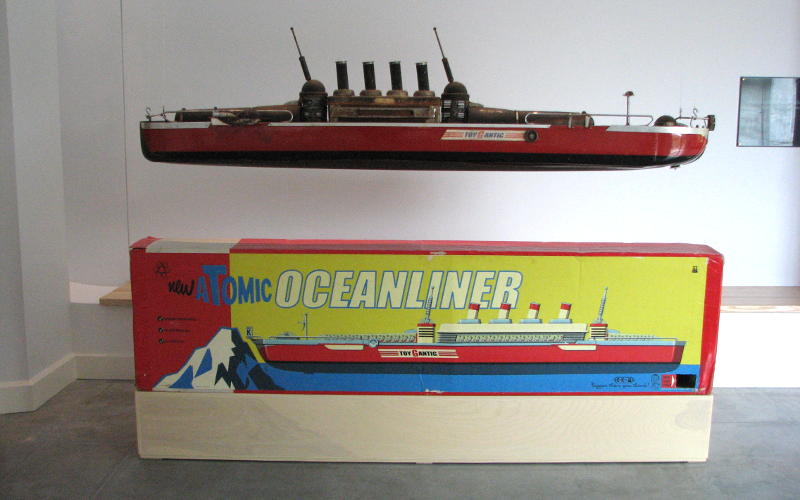 Toygantic - made from found materials by Abilene artist Randy Regier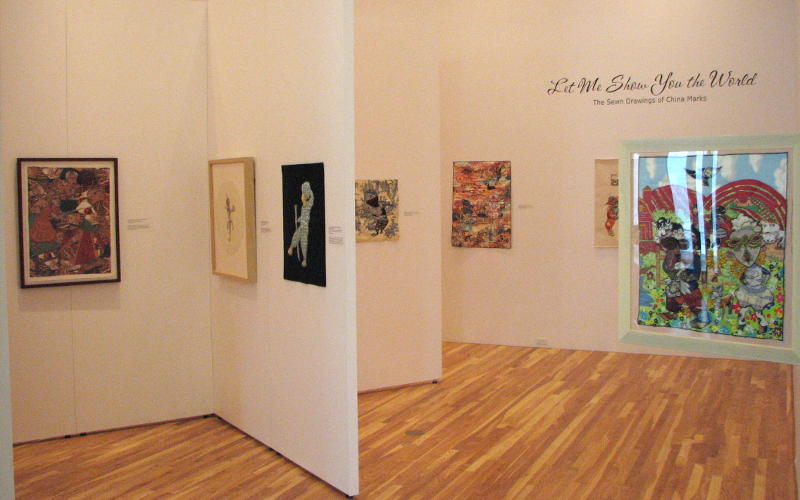 Let Me Show You the World - The sewn drawings of China Marks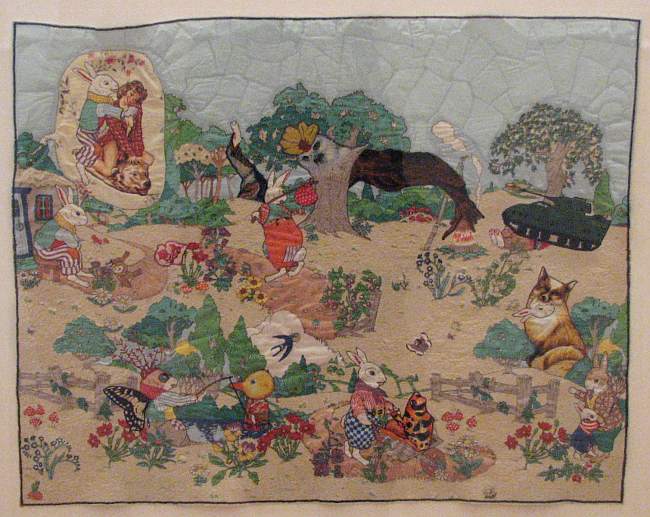 Storybook Days by China Marks. Machine embroidery and appliqué on various fabrics
with hand sewn detail, thread, and fusible adhesive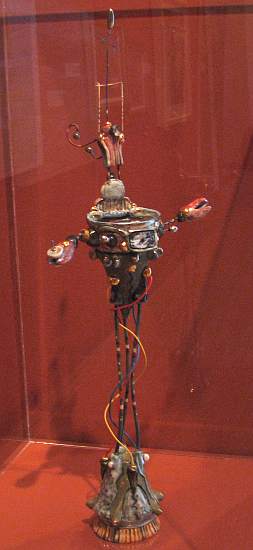 Robot with Martini by Eric Abraham.
Glazed porcelain with lusters.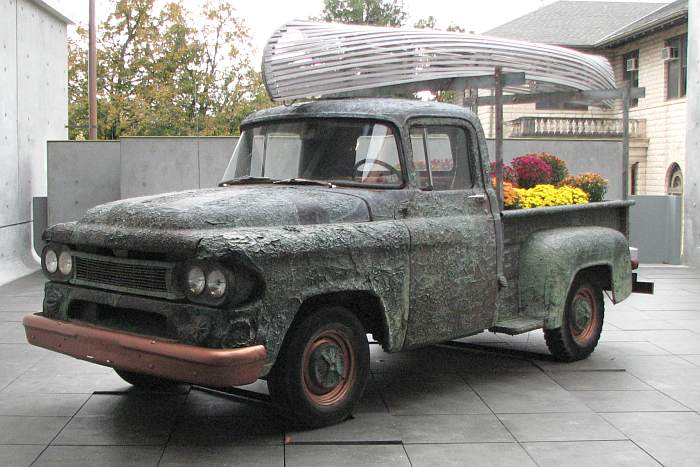 Copper Truck by Elliott Pujol was a temporary exhibit in 2008. 1960 Dodge truck.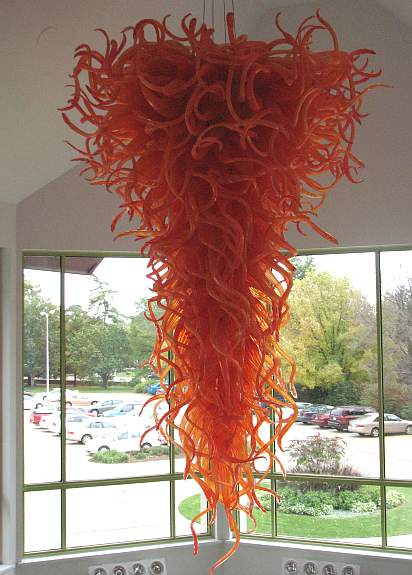 Beach Museum Orange Chandler by Dale Chihuly (9'8" x 7')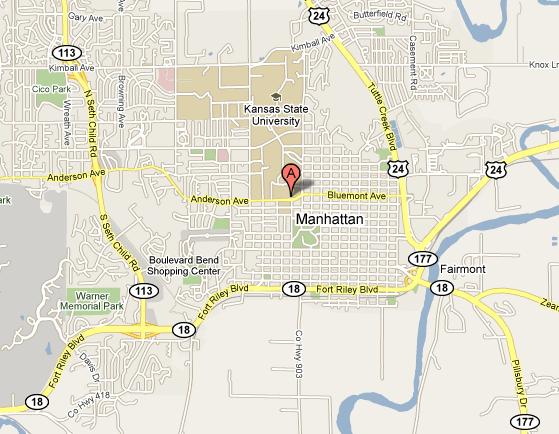 Beach Museum of Art Map
Marianna Kistler Beach Museum of Art web site
Kansas Attractions Kansas Travel & Tourism Home
L-4/10 copyright 2007-2021 by Keith Stokes