Davis Memorial


Mount Hope Cemetery
606 Iowa Street
Hiawatha, Kansas 66434
(785) 742-7643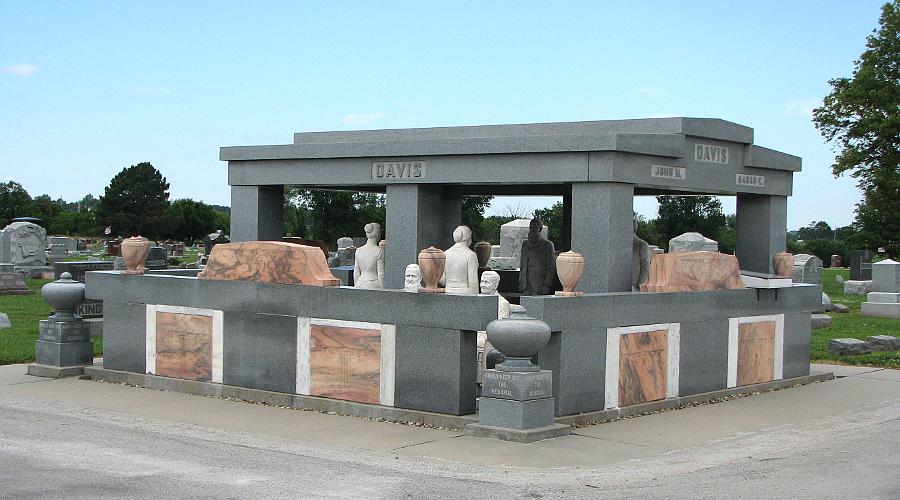 Davis Memorial - Hiawatha, Kansas
The most famous attraction in Hiawatha, Kansas is a 1930's tomb sitting in Mount Hope Cemetery near the southeast edge of town.
John Milburn Davis came to Hiawatha in 1879 at the age of 24. After a short time, he married Sarah Hart, the daughter of his employer. Her family did not approve. The Davises started their own farm, prospered and were married 50 years. When Sarah died in 1930, the Davises were wealthy. Over the next 7 years, John Davis spent most of that wealth on Sarah's grave.
The amount spent on the Davis Memorial has been estimated at anywhere between $100,000 and several times that amount. In any case, it was a large amount and included the signing over of the farm and mansion. This during the Depression when money was tight.
Several reasons are offered for the extravagance including great love or guilt, anger at Sarah's family, and a desire that the Davis fortune be exhausted before John's death.
The Davis Memorial grew by stages, which is bit of a shame. If it had been planed, it might have been built on a larger lot and be more attractive.
The memorial began with a typical grave stone, but John worked with Horace England, a Hiawatha monument dealer, making the gravesite more and more elaborate. There are 11 life size statues of John and Sarah Davis made of Italian marble, many stone urns and a marble canopy that is reported as weighing over 50 tons.
The last addition to the tomb was marble granite wall surrounding the memorial to keep people from entering. Unfortunately there wasn't much room left on the lot and the wall is esthetically too close to the figures. The wall hasn't been entirely effective, one of the urns is broken off and the head has been removed from one of the statues.
It takes only a few minutes to visit the Davis Memorial and thousands of people do every year. Visitors from all over the world sign the guest register. The Memorial has been featured in newspapers, magazines, television, Ripley's Believe It or Not, and hundreds of web sites, making it one of the best known tourist attractions in northeast Kansas.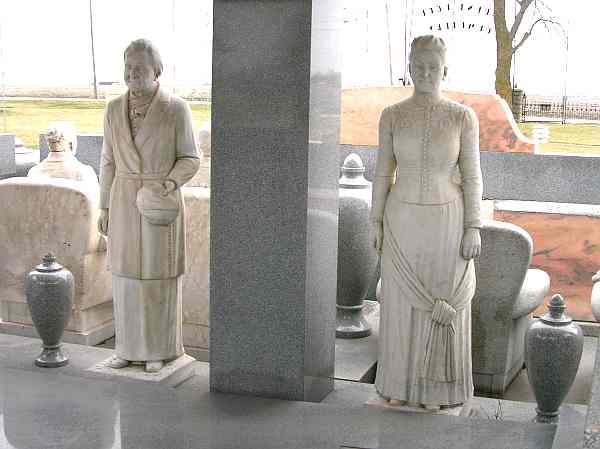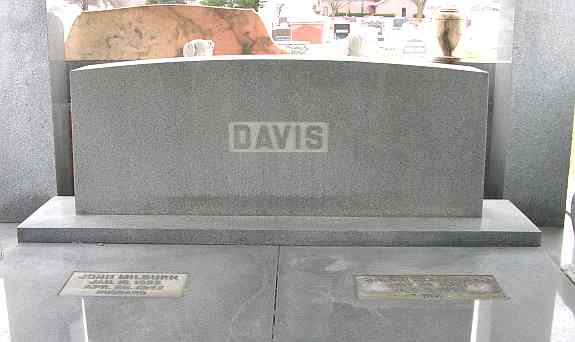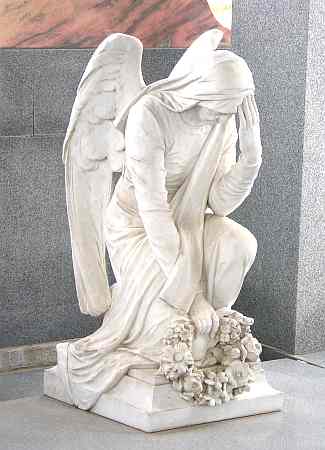 Angel with Sarah's face at foot of John's grave. The head
was stolen from the statue at the foot of Sarah's grave.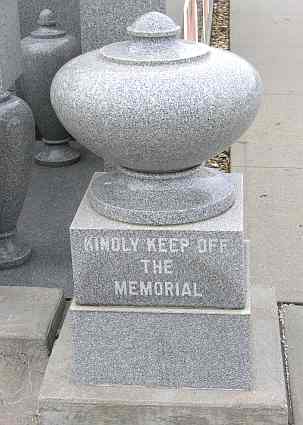 "Kindly keep off the Memorial"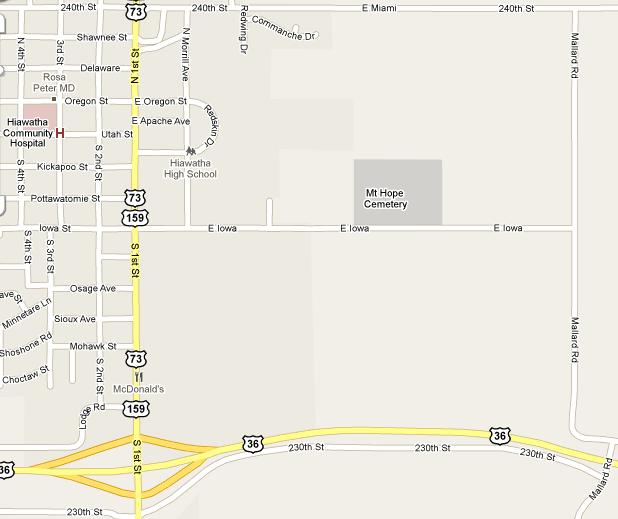 Mount Hope Cemetery Map
copyright 2005-2018 by Keith Stokes