Fort Larned National Historic Site

Kansas Highway 156
5 miles west of Larned, Kansas
(620) 285-6911

Open 8:30 AM - 4:30 PM 362 days a year
Additional hours for special events
free


Graffiti on a stone building at Fort Larned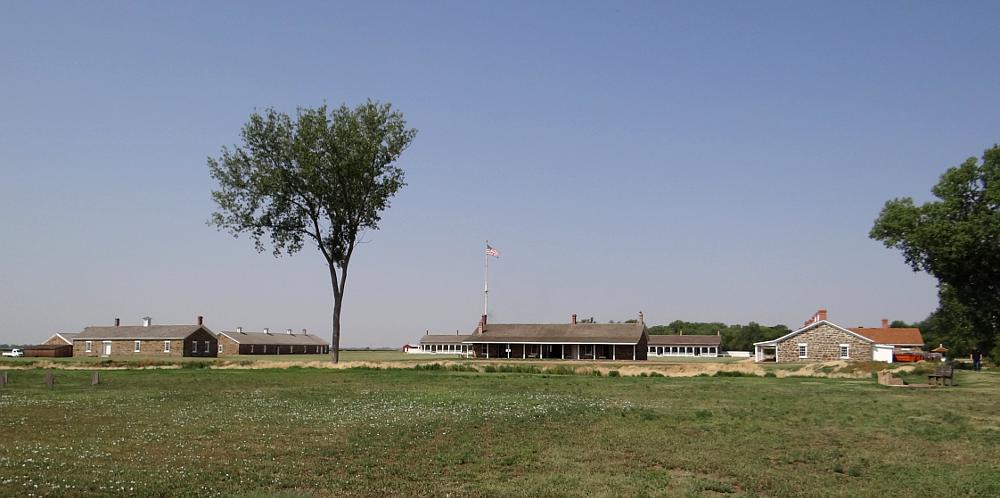 Fort Larned consists of 9 restored and 1 reconstructed building
On October 22, 1859 Camp Alert was established on the Pawnee River to provide protection and escort service along the Santa Fe Trail. The following year it was moved further west. The new more durable sod and adobe fort was named for Colonel Benjamin F. Larned, who was the current Paymaster General for the United States Army. The sod walls were replaced over the next few years with locally quarried limestone
Fort Larned was a key post in the Indian wars from 1859 to 1869, but it also served as an agency of the Indian Bureau in its attempts to provide peaceful solutions to the cultural conflict between the native americans and the whites.
In the 1870 the railroad pushed west through central Kansas and soldiers from Fort Larned provided protection for the construction workers. But as the railroad advanced, the Santa Fe Trail had less and less traffic and in July of 1878 the fort was abandoned except for a small guard force left to protect the property.
On March 26, 1883, the Fort Larned military reservation was transferred from the War Department tot he General Land Office, U.S. Department of the Interior. A year later the buildings and land were sold at public auction. For the next 80 years the property was privately owned.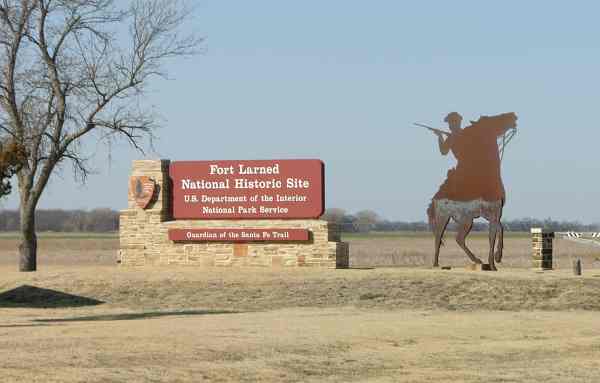 Fort Larned National Historic Site - Larned, Kansas
In August of 1964, Fort Larned became Fort Larned National Historic Site and a unit of the National Park System. The original buildings were extensively restored and one was turned into a museum and gift shop. The oldest building, the blockhouse (which had been torn down years ago) was rebuilt - in part with stones from the original building.
Fort Larned National Historic Site is really a nice attraction and it deserves more attention. The first time that I photographed the fort, I was the only visitor to this lovely site.
Free guided tours of Fort Larned are available with advance reservations by calling Call 620-285-6911.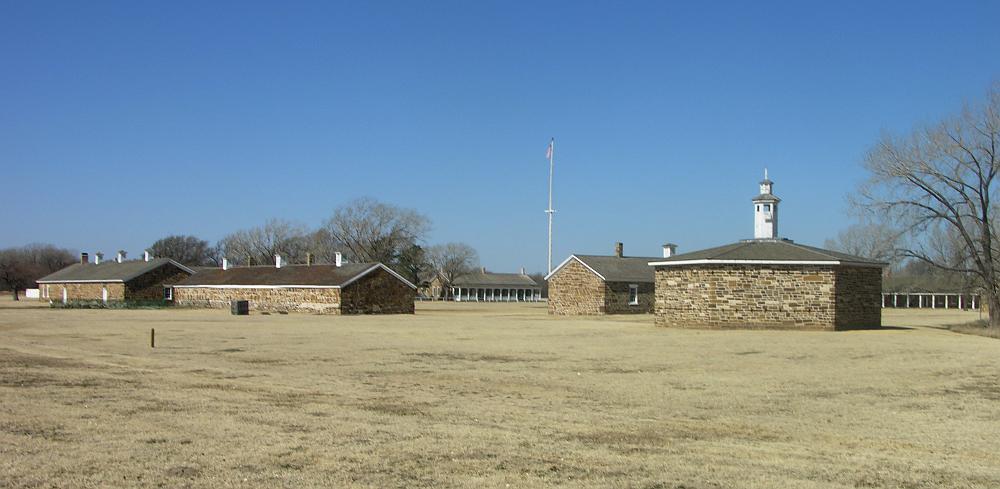 The 6 sided building at the right is a reconstruction of the blockhouse which was the first building constructed at the original fort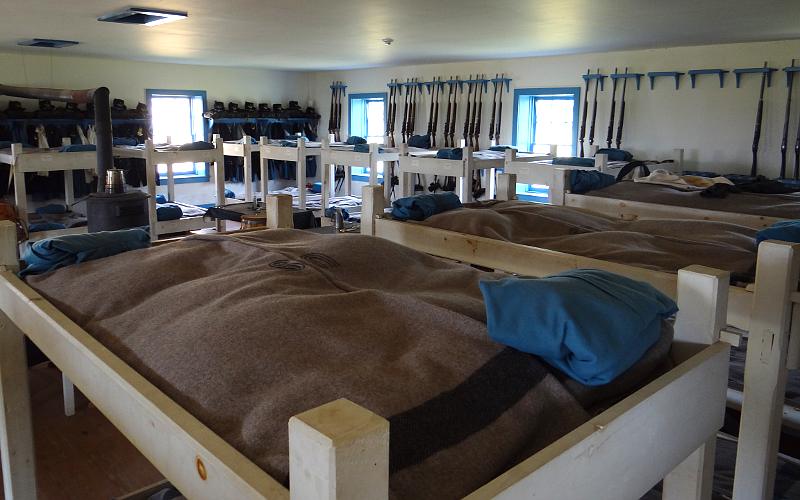 Squad Room in the Fort Larned barracks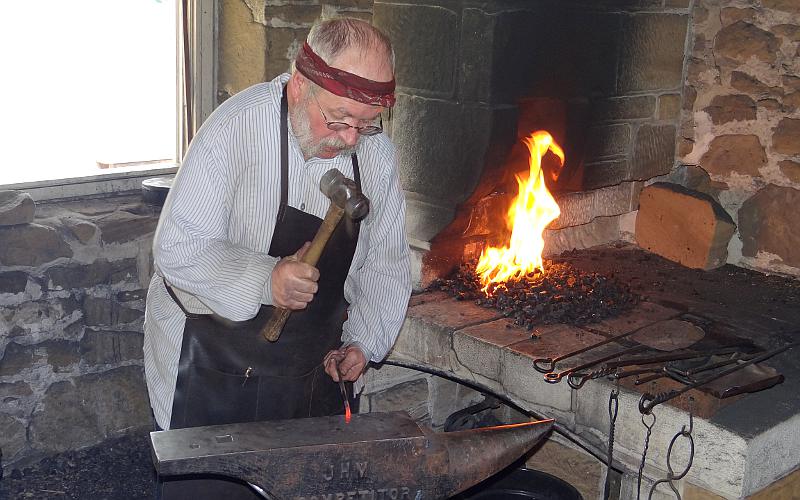 Pete the blacksmith making a wall hook as part of the living history program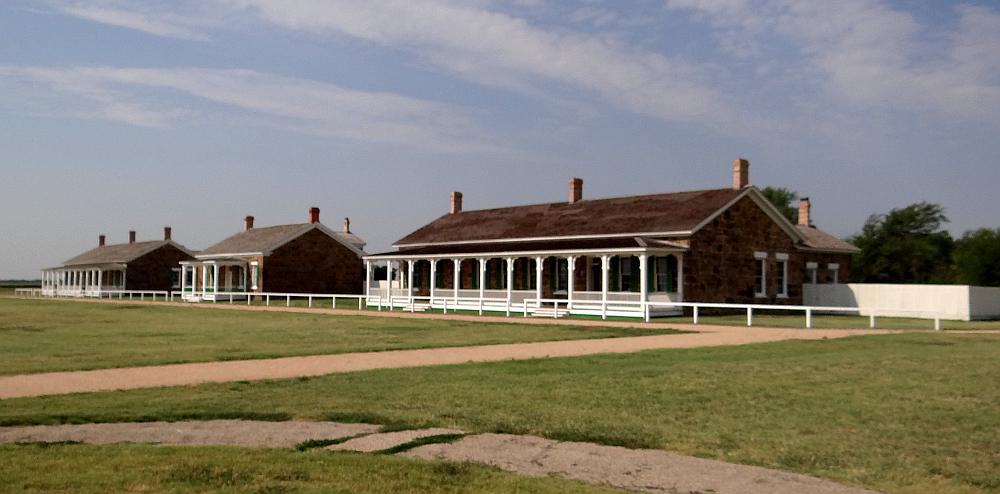 Company Officers Quarters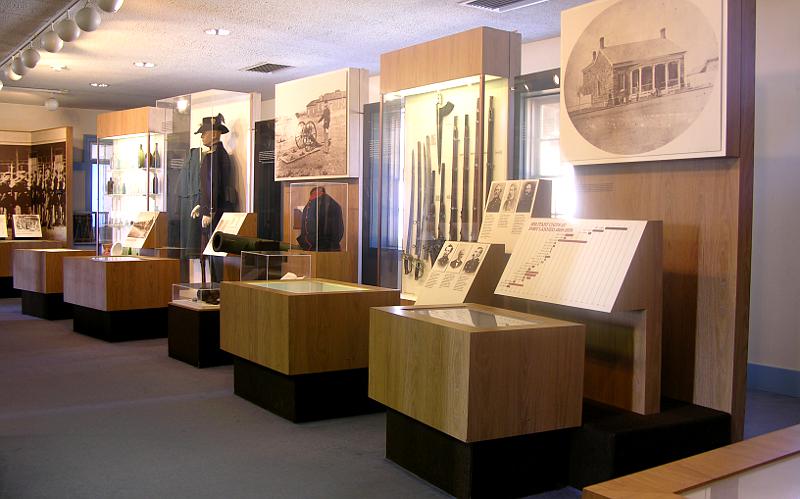 Museum in one of the former barracks - there is a 10 minute video program shown whenever
there are visitors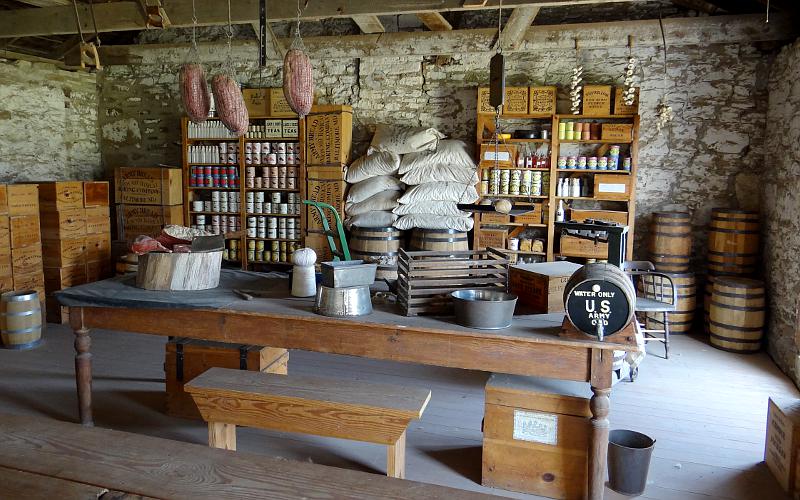 Commissary and the Quartermaster storehouse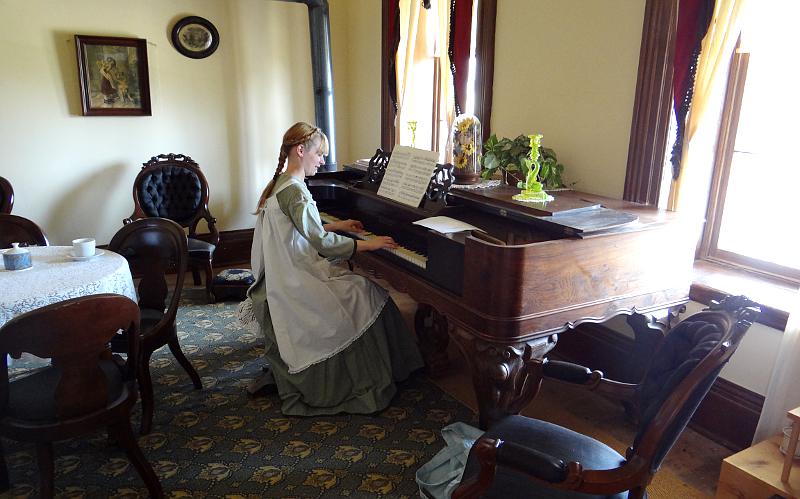 Young woman portraying an officer's wife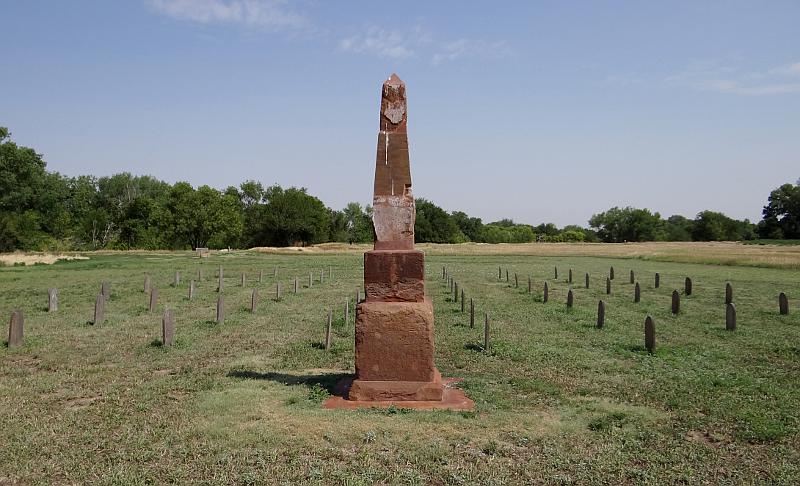 The soldiers originally buried at fort Larned were moved to National Cemetery at Fort Leavenworth - these headstones
are just mockups, but the monument which was originally erected in 1867 by soldiers in the Third Infantry was returned
to the Fort from the Larned Cemetery in 2009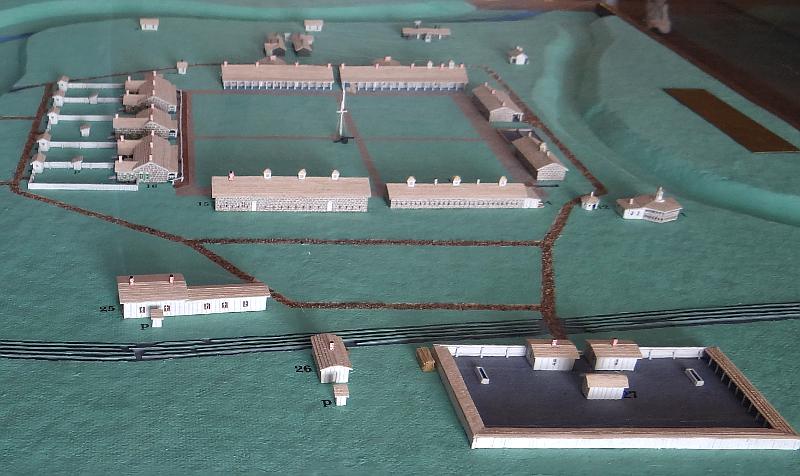 Model of Fort Larned - the 10 larger buildings in the upper half are the ones present today
Located on Highway 156 between Fort Larned and the community of Larned, is the Santa Fe Trail Center, a locally run museum devoted to the history of the Santa Fe Trail.

Many building have been moved to the site including a school house, sod house, and railroad depot. There is also a library and indoor exhibits. Open Tuesday - Saturday 9AM - 5PM.

Admission to the Santa Fe Trail Center:

$4.00 Adults
$2.50 Students 12-18
$1.50 Children 6-11

Santa Fe Trail Center Route 3 Box 137
Larned Kansas 67550 (620) 285-2054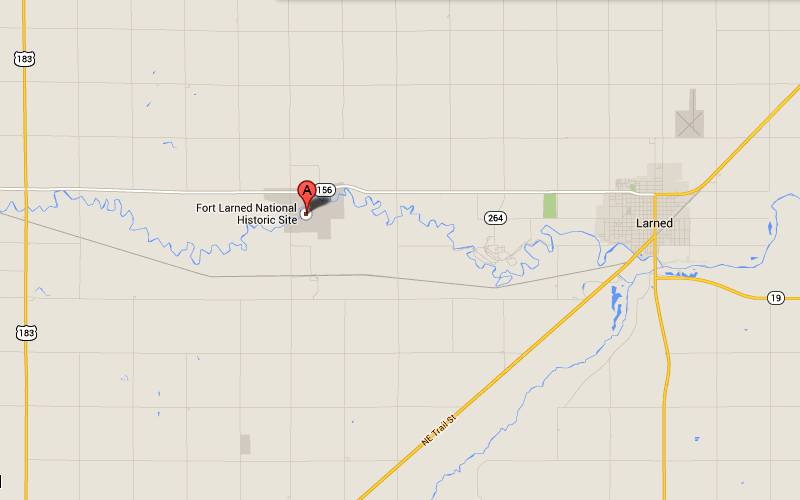 Fort Larned National Historic Site Map
Fort Larned National Historic Site web site
Kansas Attractions Kansas Travel & Tourism Home
copyright 2006-2021 by Keith Stokes