Visiting Fort Riley
Junction City & Manhattan, Kansas

Visitor Control Center
885 Henry Drive
Junction City, Kansas 66441
(785) 239-2982

Free
Admission Requirements & Hours

Wounded Knee Monument - dedicated in 1893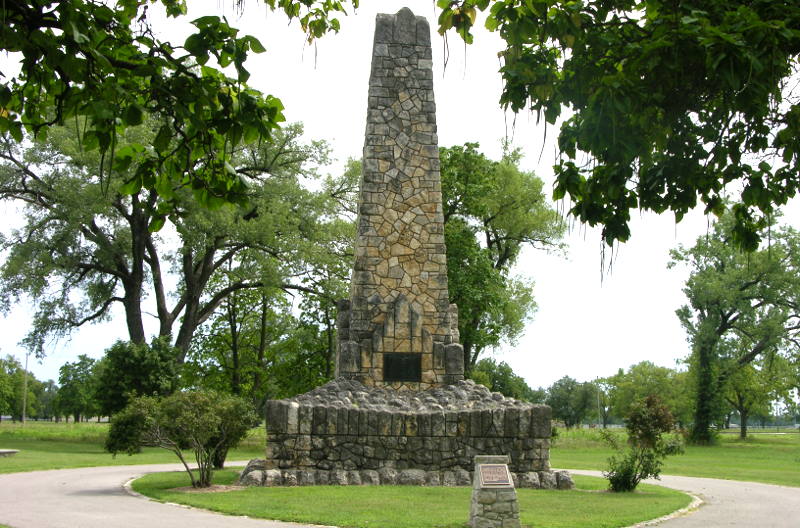 Great War Memorial - erected in 1918
Construction of Fort Riley, near Junction City, Kansas, began in 1853, and its heritage includes George Armstrong Custer and Buffalo Soldiers in the 19th century as well in providing soldiers that have served the united States in every major conflict of the 20th and 21st Centuries. Fort Riley is an active US military base, and recently grew - after many years in Europe the Big Red One returned to Fort Riley.
But Fort Riley has a lot to offer visitors: museums, historic buildings, historical markers, statues and monuments. All in a setting that will sometimes remind you of a campus and at other times of a park. There are even a couple of opportunities for visitor shopping: a gift shop in the U.S. Cavalry Museum Post and a thrift shop in Building 267 on Stuart Avenue, next to the stables,
Visitors to Fort Leavenworth who do not have a Department of Defense issued ID card must stop by the Visitor Control Center. Admission Requirements. The army requires photo ID, car registration and proof of insurance. They will inform you of any restrictions to where you may go on the Fort. Only US residents are permitted to tour Fort Riley.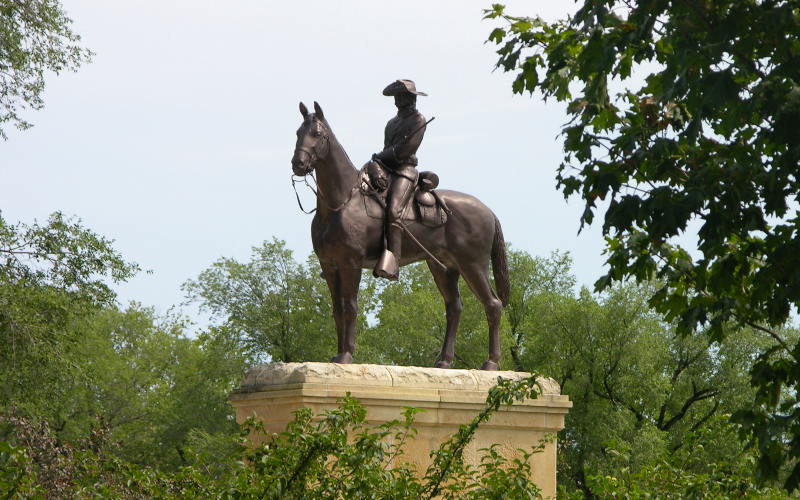 Old Trooper Monument modeled after the drawing "Old Bill" by Fredric Remington.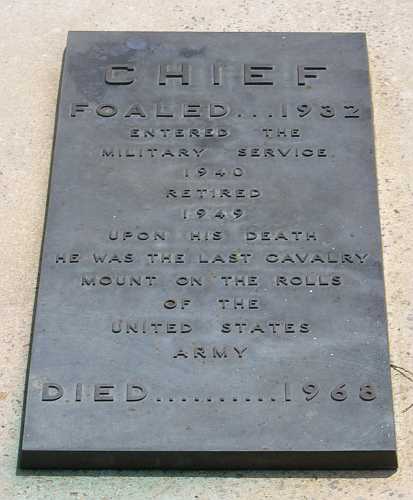 Grave of Chief - the US Army's last Cavalry Horse
Foaled 1932, entered military service 1940-49, died 1968
In front of Old Trooper Monument
There are two museum buildings housing three museums (U. S. Cavalry Museum, Fort Riley Regimental & Constabulary Museum), and the "Custer" House Museum just a couple of hundred feet away. I put Custer in quotes, because when they picked that house to restore, they got the wrong one. Custer actually lived a few doors down the row.
The First Territorial Capitol of Kansas is open May 29 - October 31, 2022 from 10AM - 5PM, Saturday 1 - 5PM. Sunday. Closed state holidays.
There have been stories that the "Custer" House is haunted. During the period that the house was believed to have been the one where General Custer had lived, there were reports that the house was haunted by the General. More recently there were sinister stories of a haunted teddy near and rocking horse, but the toys have been moved to the Kansas Museum of History and the incidents have stopped.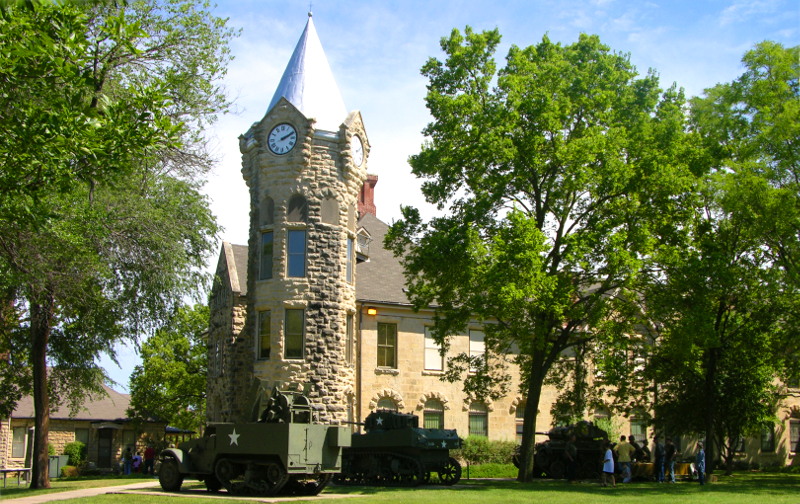 U. S. Cavalry Museum and vehicle display - originally constructed in 1855 for use as a hospital.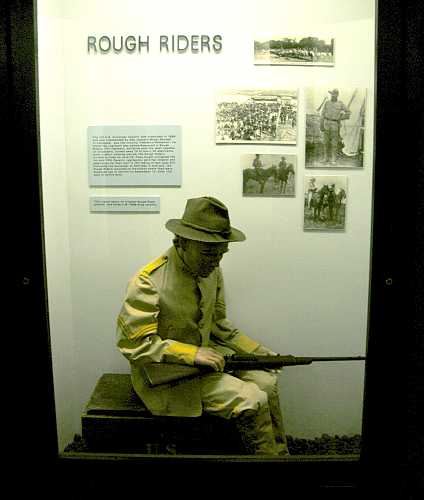 1st U.S. Volunteer Cavalry Regiment (Rough Riders)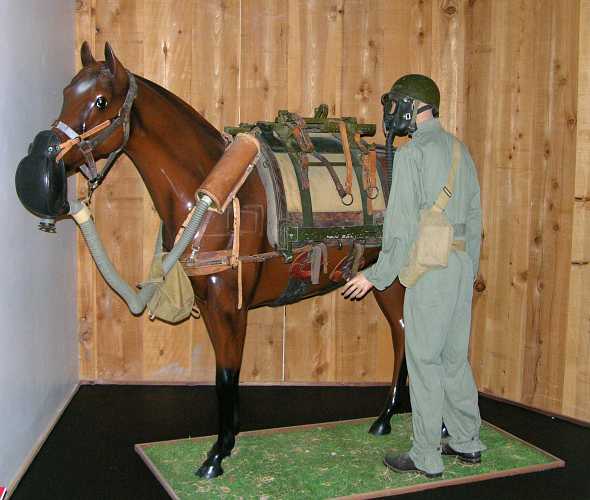 M5 Horse Gas Mask from World War 2
Current Admission requirements
Visitors to Fort Riley who do not have a Department of Defense issued ID card must stop by the Visitor Control Center where reception clerks will verify that the vehicle driver has a valid license, registration and proof of insurance and that the driver and all passengers have adequate identification. Following a routine background check, visitors will receive a Temporary Pass and instructions allowing them to enter the installation. If you know the exact date of your visit in advance, it is HIGHLY RECOMMENDED to get a temporary pass or badge early by stopping by the Visitor Control Center or email usarmy.riley.imcom-central.mbx.des-vcc@mail.mil.
The Visitor Control Center is open Monday - Friday from 5AM-9PM and Saturday, Sunday & Federal Holidays from 8AM - 4PM.
Only driver's licenses from the following states will be sufficient on their own: Alabama, Arizona, Colorado, Connecticut, Delaware, DC, Florida, Georgia, Hawaii, Indiana, Iowa, Kansas, Maryland, Mississippi, Nebraska, Nevada, Ohio, S. Dakota, Tennessee, Utah, Vermont, West Virginia, Wisconsin and Wyoming.
Residents of other states or territories must provide such documents as passport, voter's registration card, social security card, birth certificate, etc. Call (913) 684-3600 with questions in advance.
Vehicles entering Fort Riley may be subject to a random vehicle search upon entering.
Non US residents many not be permitted on the fort and should call (785) 239-2982 in advance.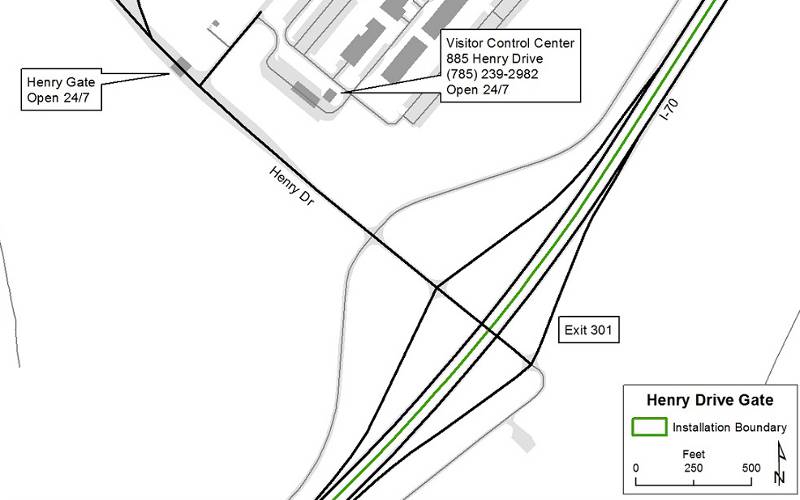 Visitor Control Center Map
Page 2 and detailed hours and activities Fort Riley official Community Relations
copyright 2005-2022 by Keith Stokes