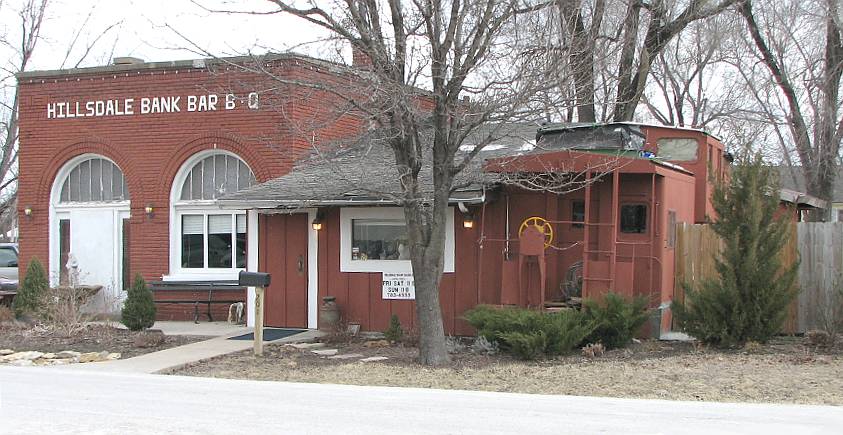 Hillsdale Bank Bar-B-Q - Hillsdale, Kansas
I recently revisited the Hillsdale Bank Bar-B-Q in the tiny community of Hillsdale, Kansas - about 15 miles south of the Kansas City Metropolitan area. The 21 year old restaurant used to close each winter, but is now open year around, though only 3 days a week.
The dining room of Hillsdale Bank Bar-B-Q (I wonder how many spellings of BBQ there are?) is in a 1906 bank building, with the restrooms in the vault. The kitchen and lobby are in a slightly newer connected building, and a caboose that is attached to the far side of the newer building has additional interesting dining spaces.
I think that the spicy sausage is very good, but it will be too spicy for many diners. The burnt ends are extremely good. They are not chopped like many local places. The burnt ends are made from pulled pork. They have quite a bit of fat, but the flavor is SO good. The smoked chicken is another good choice, with a lot of flavor from the smoking, while remaining tender and moist.
The fries are fresh cut and still have the peels. They may be the very best part of the meal.
For the past four years, Hillsdale Bank Bar-B-Q has also offered pizza, but it is only served after 5PM and I have yet to try it.
Hillsdale Bank Bar-B-Q has two sauces: sweet and hot. Both are sweeter than most, and I preferred a mixture of the two. The menu says that "The sauce" (as they call it) is natural, consisting of only ketchup, vinegar, brown sugar & spices that are cooked and bottles on site. The sauce is available in some area stores.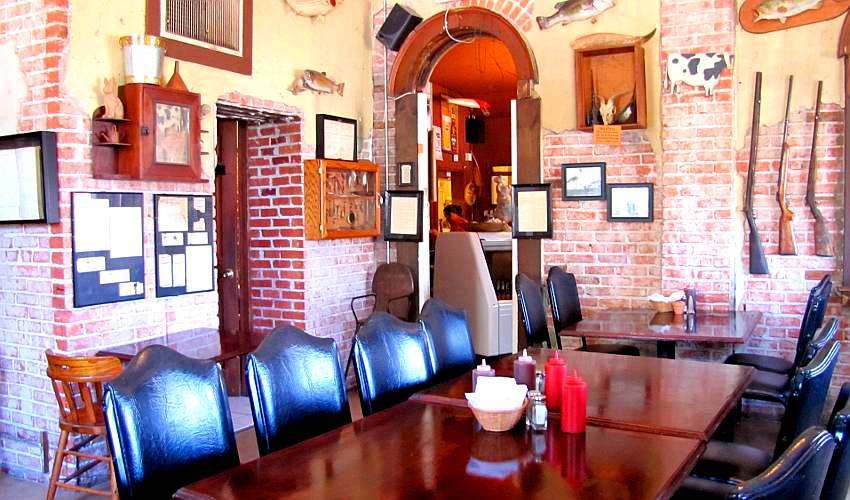 Main dining room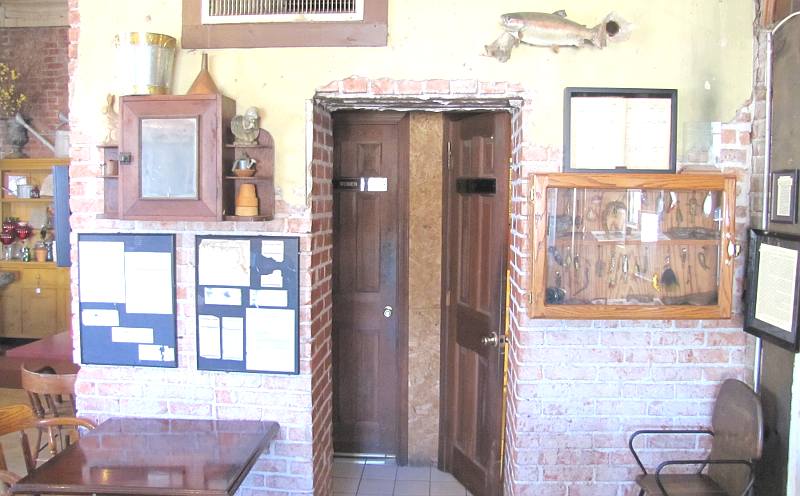 Restrooms inside the old bank vault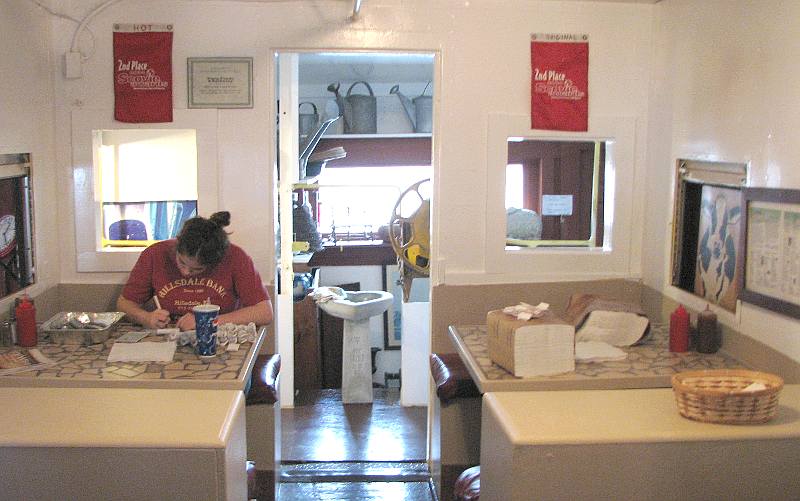 Dining in the attached railroad caboose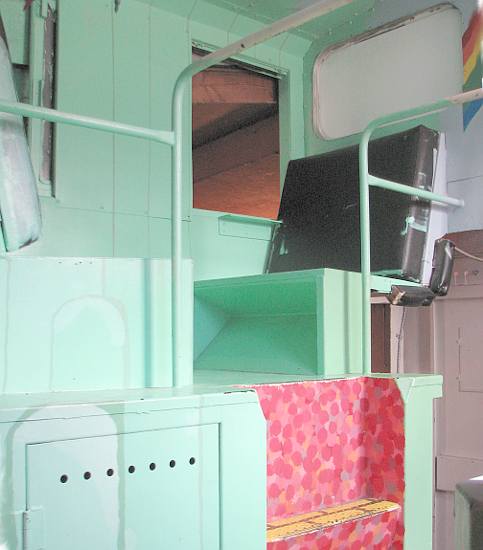 Some of the raised seating in the old caboose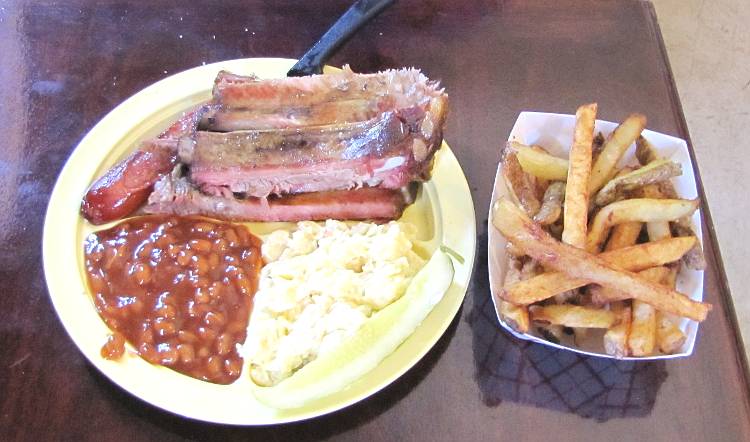 Ribs, spicy sausage, beans, potato salad and fries ($12.95)
You are likely to need to add sauce or salt to the ribs - Hillsdale Bank Bar-B-Q uses no rubs or salt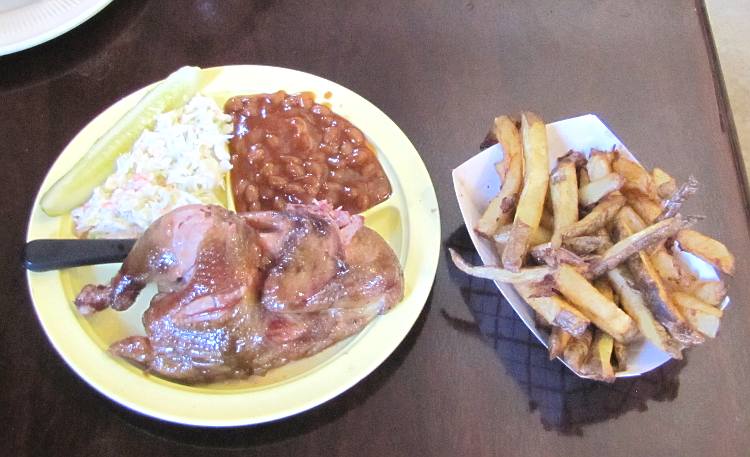 Free range half smoked chicken, beans, coleslaw and fresh cut fries ($11.95)
I flipped the chicken over to take the photo - they do little to make a nice presentation, it was served with
the back up and slices of bread sitting on top of the meat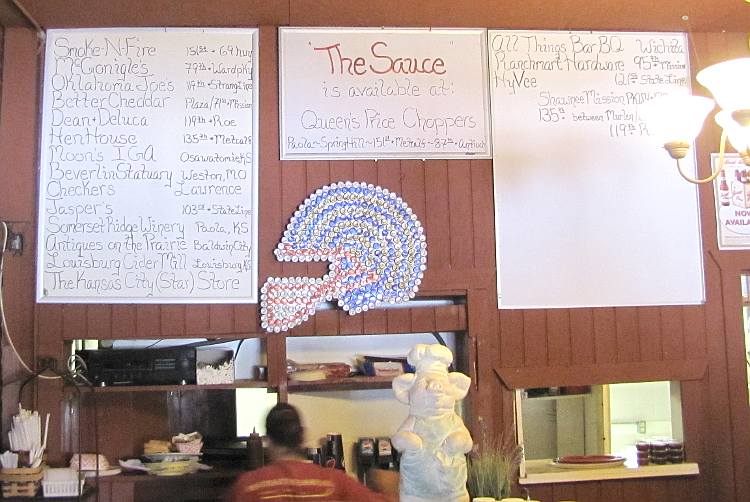 A list of places that sell Hillsdale Bank Bar-B-Q sauce
The helmet was made by the owner's son from bottle caps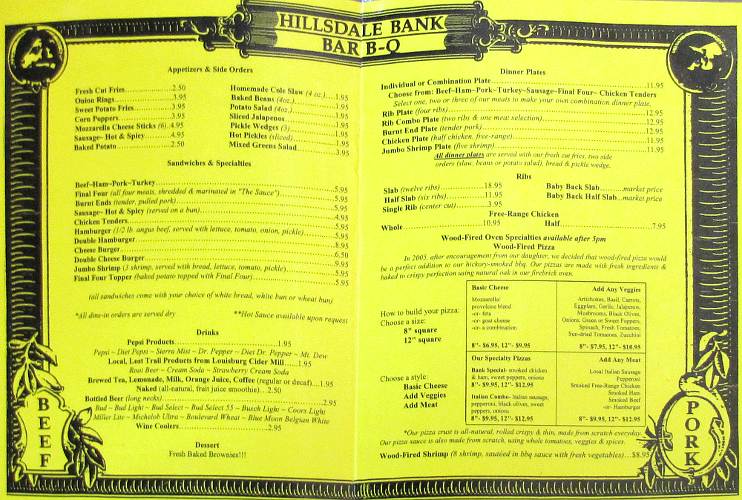 Hillsdale Bank Bar-B-Q menu from July 2011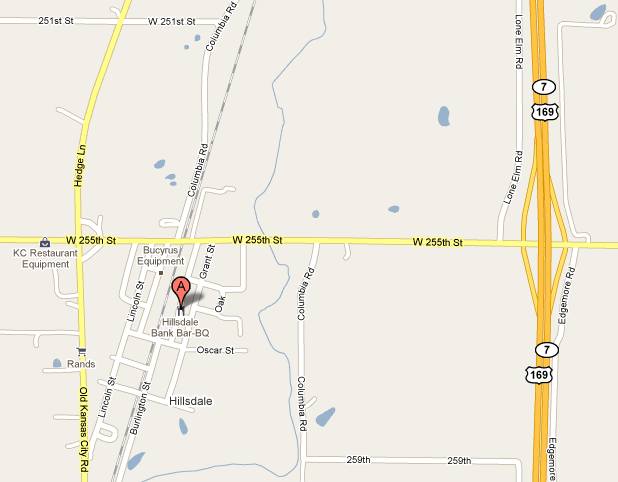 Hillsdale Bank Bar-B-Q map
copyright 2008-2013by Keith Stokes