Kansas State Fair

2000 N Poplar Street
Hutchinson Kansas 67502
(800) 362-3247

September 9-18, 2022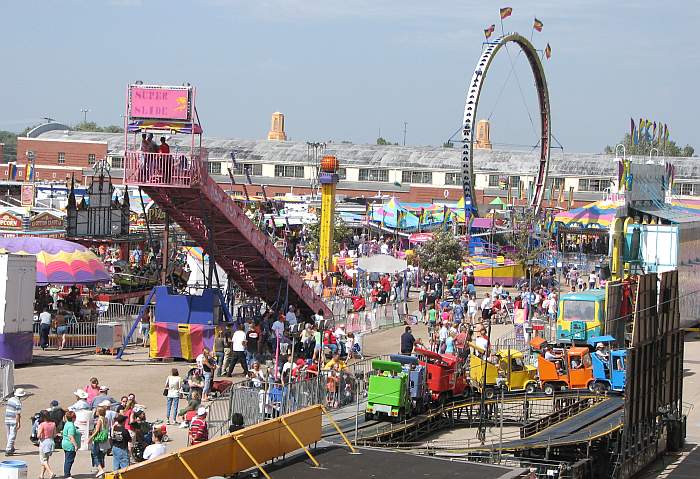 Just a portion of the rides at the Kansas State Fair.
The Kansas State Fair has been held in Hutchinson, Kansas since 1913. Each year the organizers strive to make the Kansas State Fair larger and better than the previous year.
In 2022, admission to the Kansas State Fair grounds is only $10 for adults, $6 age 60 and over, $4 military and $6 ages 6-12. Free public parking lots are located north and east of the Fairgrounds. On street parking can be found in the residential neighborhoods near the Kansas State Fair Grounds, particularly if you arrive early. Discount tickets for the 2022 Kansas State Fair are available at Advance Tickets through September 8.
The Kansas State Fair has all the usual things you would expect: farm animals, food displays, midway, many booths selling things that you didn't know you couldn't live without. Many livestock events and competitions are including with admission to the fair grounds. Events held in front of the grandstand require and addition admission which may run from a few dollars for motor sports events to $20-70 for musical performers. Less well known Kansas State Fair entertainers may be viewed for free at the Lake Talbott stage.
Nex-Tech Wireless Grandstand performances for 2022 include Demolition Derby, TobyMac, Gabriel "Fluffy" Iglesias, Parker McCollum, T.I., Great White, Quiet Riot, and Eddie Montgomery
During World War 2, the Kansas State fairgrounds in Hutchinson was used to house German prisoners of war, but during the State Fair the POWs were move to Fort Riley.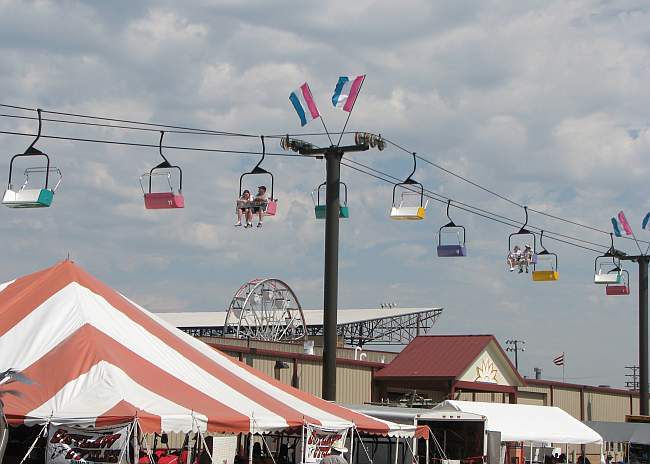 Kansas State Fair Sky Ride took 5 months and $800,000 to build in 2002.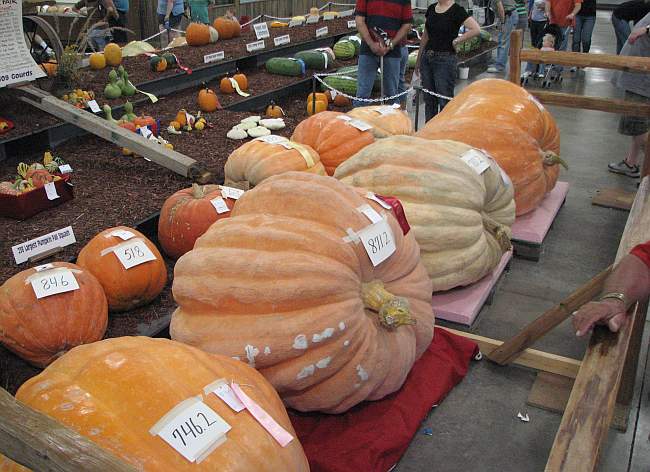 The second pumpkin weights 871.2 pounds.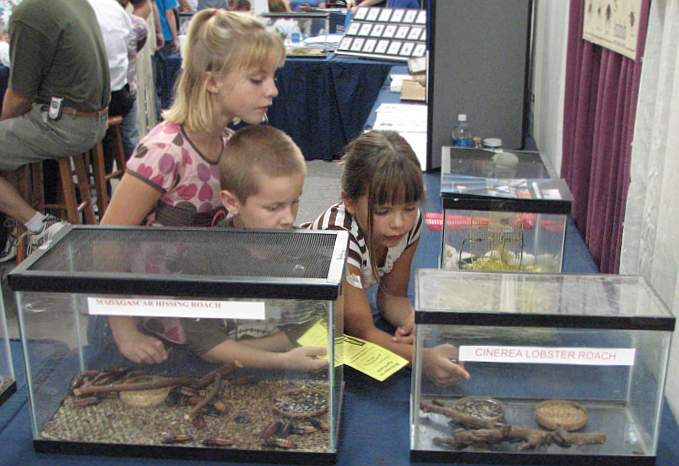 Children admiring roaches at the Kansas State Fair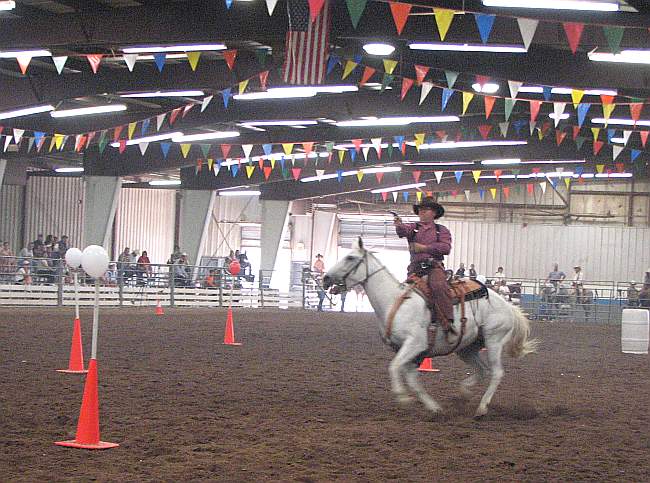 Cowboy (& cowgirl) mounting shooting competition on a timed circuit.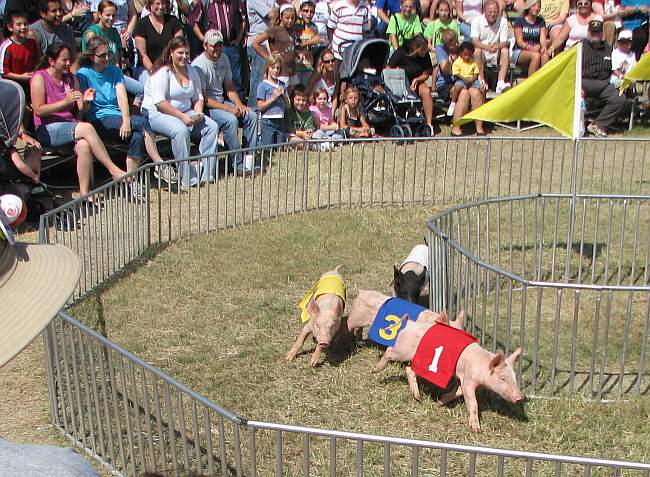 The crowd cheers for their favorite porker.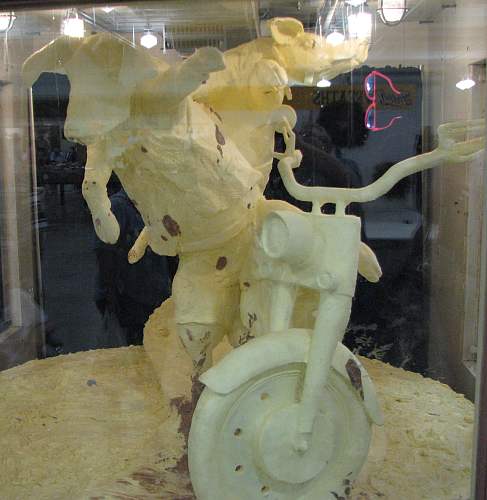 Obligatory State Fair butter sculpture - took 99.5 hours to make and 800 lb. of butter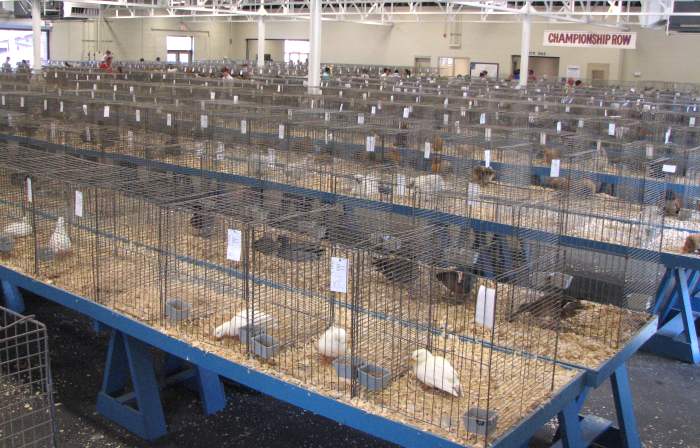 Hundreds of entries in the Kansas State Fair rabbit & poultry building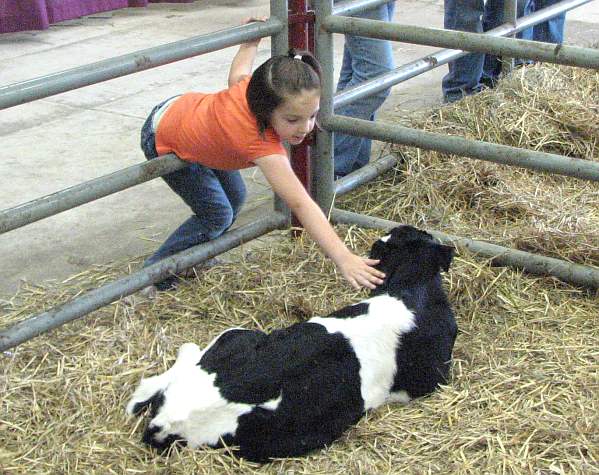 Girl petting a calf in the Prairie Pavilion at the Kansas State Fair.

Kansas State Fair web site
Hutchinson Kansas Restaurant & Attraction Guide
Kansas Attractions Kansas Travel & Tourism Home
copyright 2007-2022 by Keith Stokes