Kansas Mennonite Relief Sale
Kansas State Fairgrounds
2000 North Poplar
Hutchinson, Kansas 67502
620-665-7406

April 14 & 15, 2023

Kansas Mennonite Relief Sale Map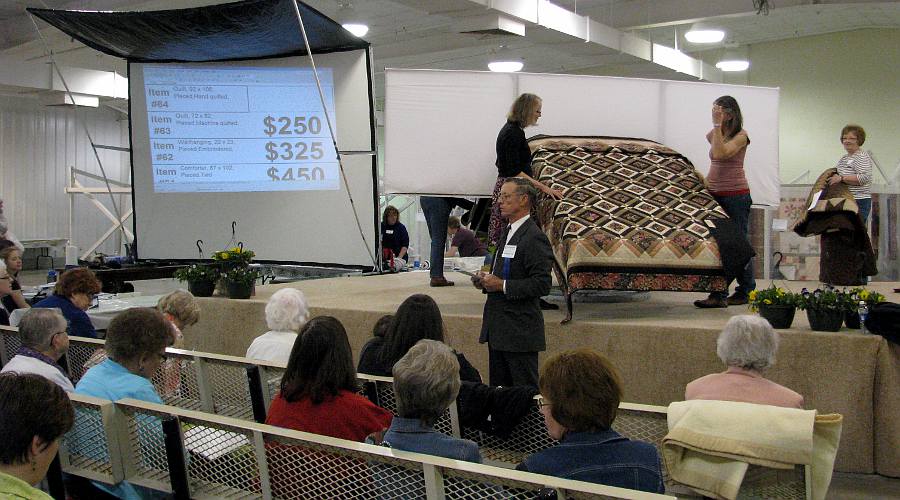 Quilt Auction at the Kansas Mennonite Relief Sale
The Kansas Mennonite Relief Sale at the Kansas State Fairgrounds in Hutchinson, Kansas is an annual festival and benefit auction with ethnic foods, quilt auction, crafts, music and the Run For Relief. The proceeds help fight world hunger and provide relief. Started 51 years ago, the Kansas Mennonite Relief Sale has been an annual event of the Mennonite Central Committee (MCC), a relief organization formed in 1920.
The Kansas Mennonite Relief Sale is the largest church bazaar that I have ever seen and raises about $500,000 a year. It is put on by 70 Mennonite, Brethren in Christ, and Amish congregations and fills seven large buildings. There are multiple silent and live auctions with items as diverse as candy, old tractors, hand crafted furniture and automobiles. One auction was devoted to over 200 hand made quilts. There is food available in every building, but the biggest spread is the Feeding of the Multitude, serving cafeteria style German food to 7 - 10,000 people.
We sampled raisin pie, donut hole like "New Year's cookies" and cherry moos made with cherries, flour, sugar & cream. Good, but not great. They are having to mass produce these items. Breakfast was verenika & sausage. The sausage was nothing special, but the Ukrainian verenika (cottage cheese filled pasta dumpling served with rich ham gravy) was very good. It was the best dish which we tried at the Relief Sale.
Take along a cooler so you can take home sausages, cheese and other German or German influenced foods.
Kansas Mennonite Relief Sale Official Site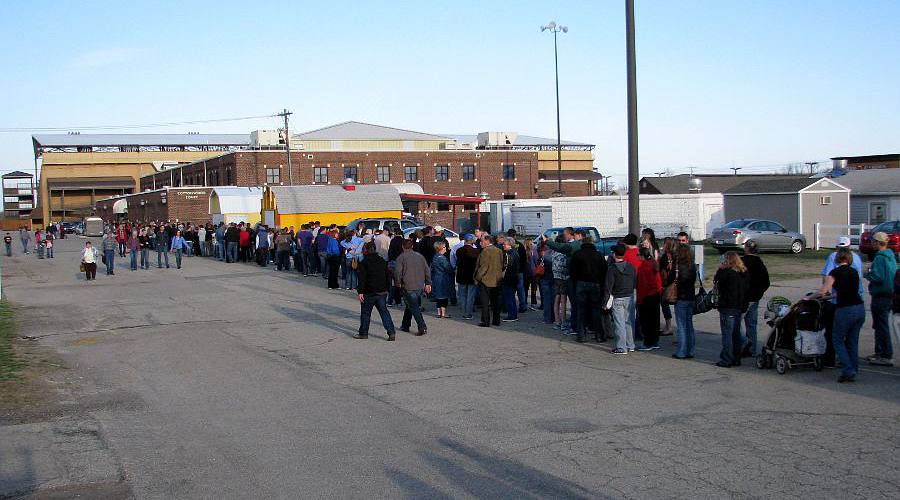 The line for the Feeding the Multitudes at the Kansas Mennonite Relief Sale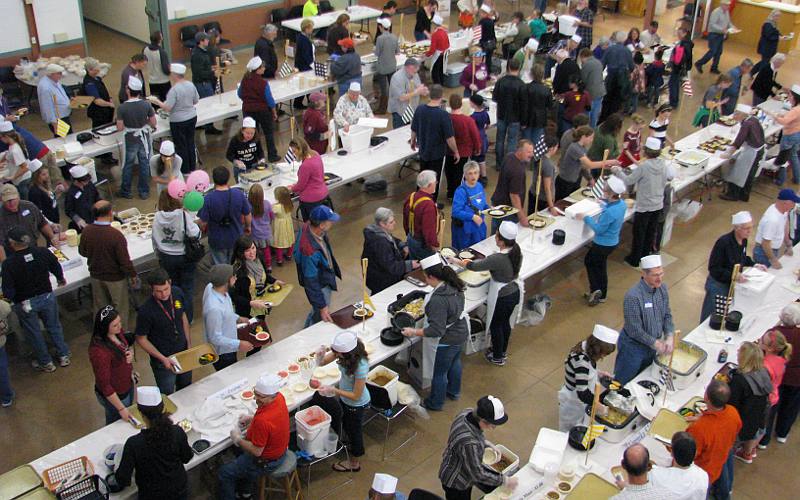 When the line finally got into the Feeding the Multitudes, there were 4 cafeteria style serving lines with German food and lots of seating.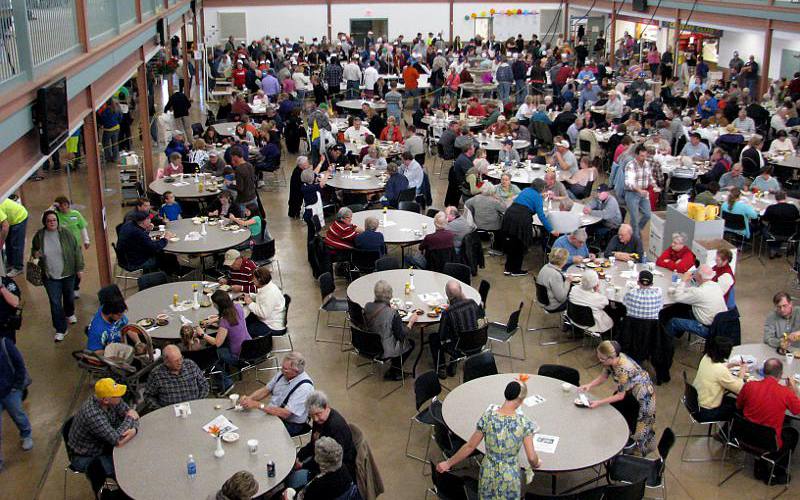 Over 400 people can be seated at one time at the Feeding of the Multitudes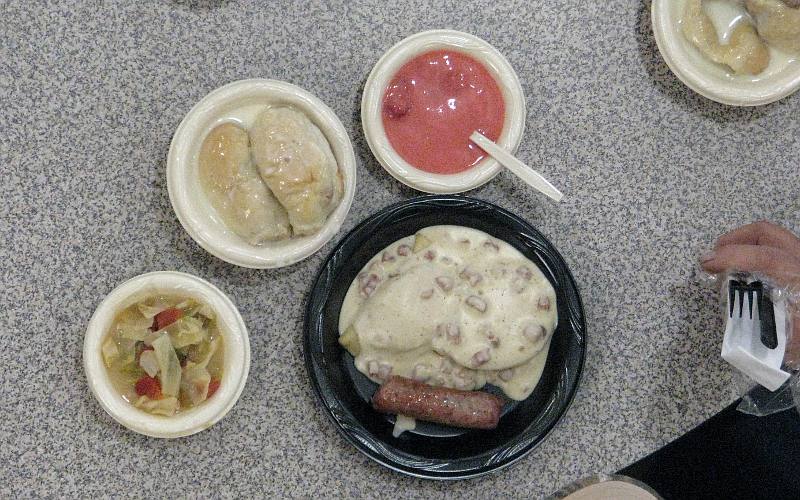 Mennonite Borscht (without beets), bohne beroggi (sweet pastry stuffed with bean paste), cherry moos,
verenika (dumplings made with noodle dough and dry cottage cheese) with ham gravy and sausage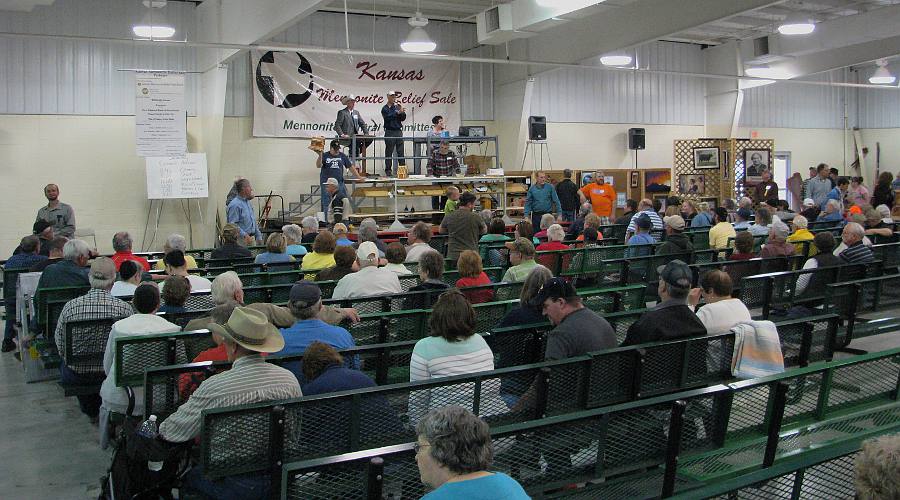 The General Auction features antique tractors & vehicles, tools, children's toys, décor items, handcrafted furniture, antiques, and more.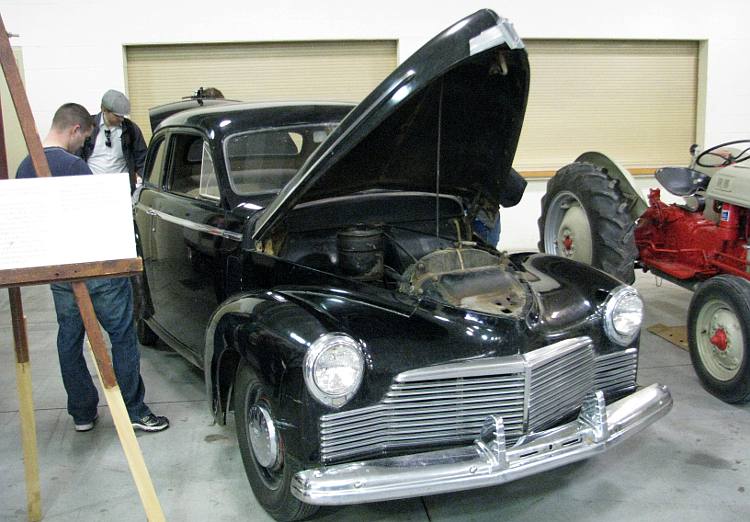 1942 Studebaker Coupe with 101,000 miles and original paint & interior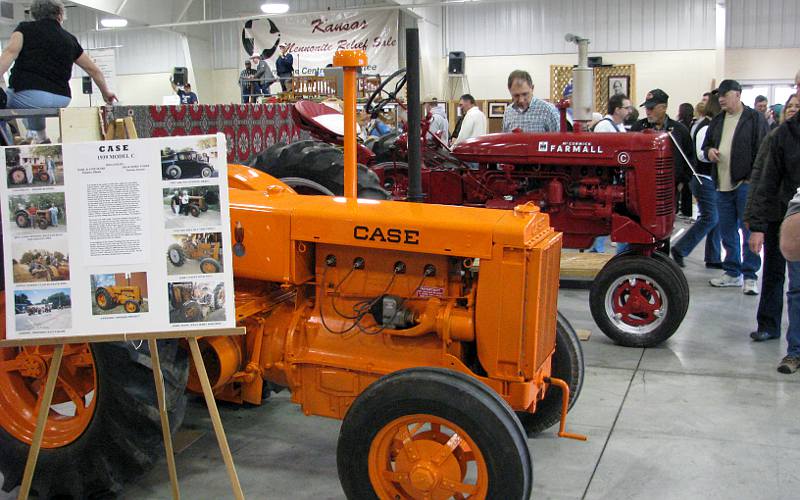 1939 Model C Case Gas Tractor and 1951 IHC Farmall Model C tractor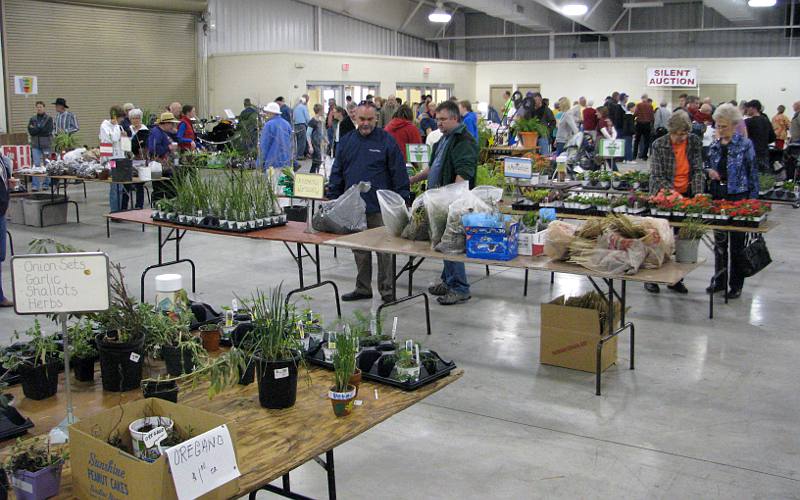 A wide variety of house plants, bedding plants, perennials, grasses, bulbs, roots, shrubs and trees are sold in flats and singles.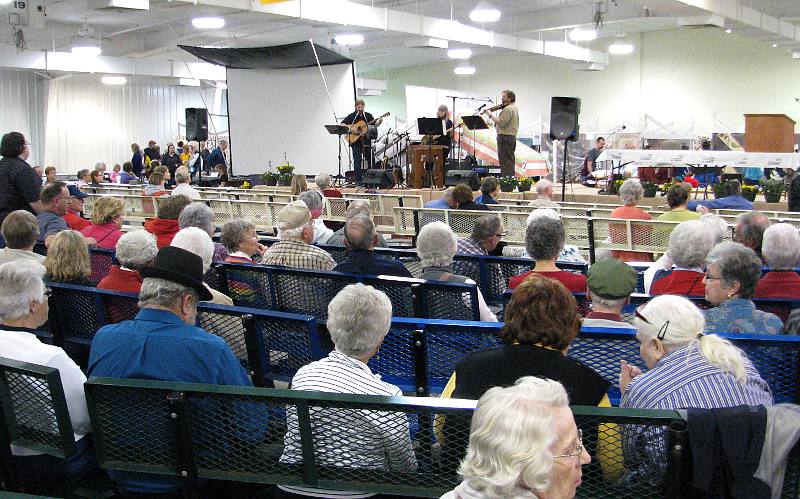 Concert by Doug and Jude Krehbiel with Jesse Graber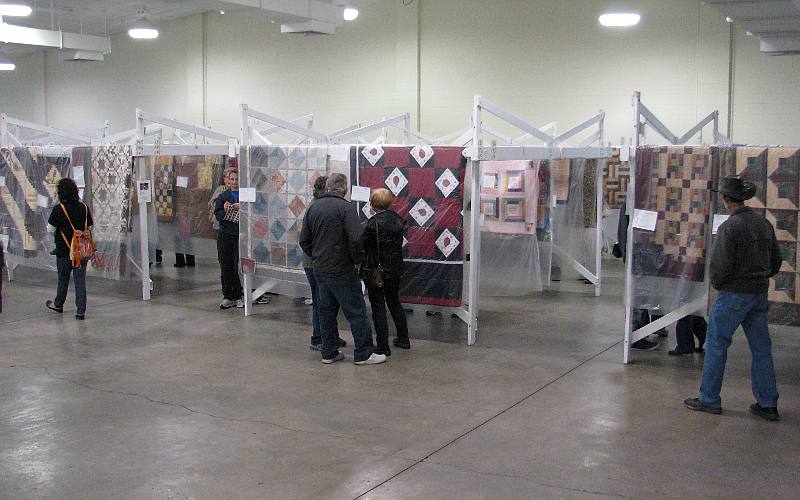 Examining quilts before they go to auction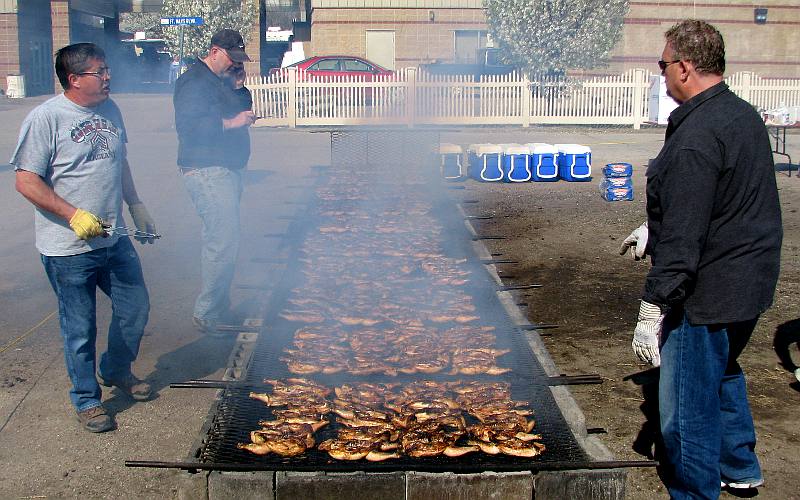 Chicken barbecue on Saturday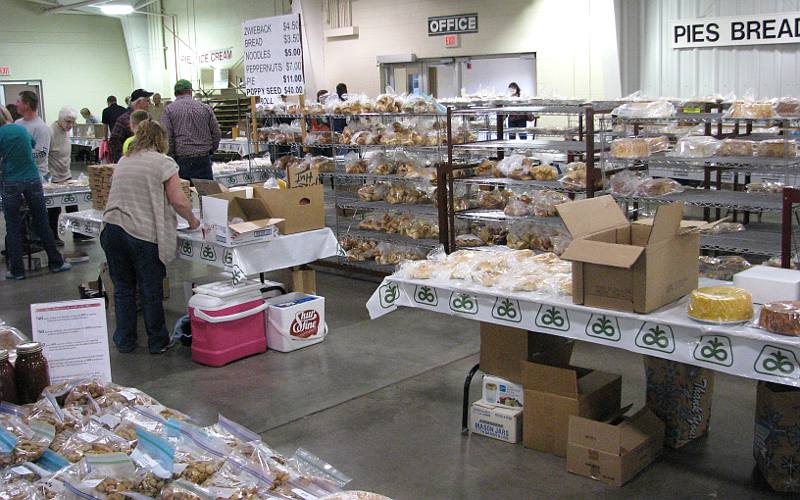 Pies, breads and noodles -
other areas have many other baked goods including New Year's cookies (Porzelchen or Niejoash koake)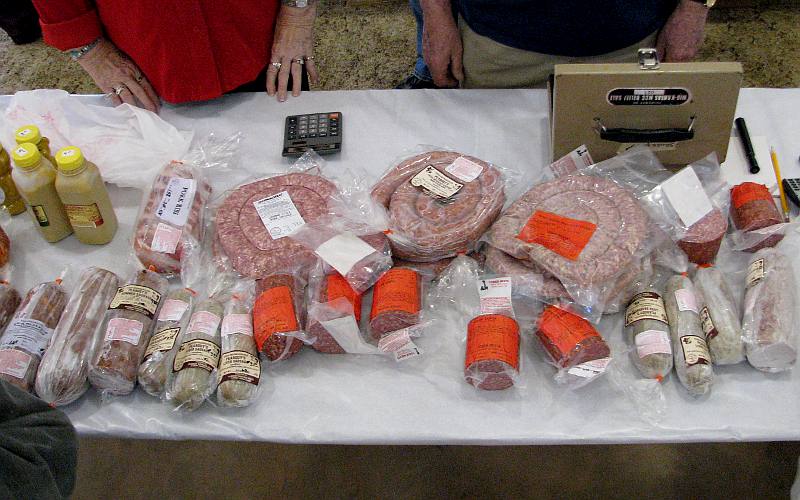 smoked sausage, liver sausage, summer sausage, pork ribs, whole hams and mustards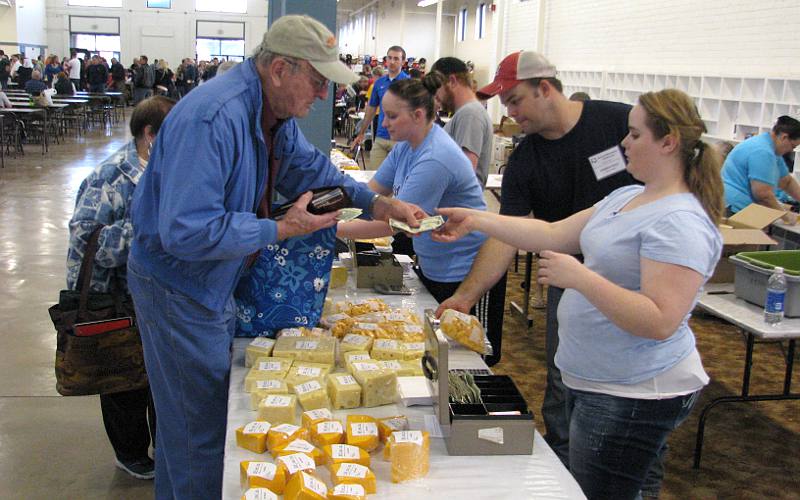 Baby Swiss, Amish Butter Cheese, Mild Swiss, Longhorn Mild Cheddar and Cheese Curds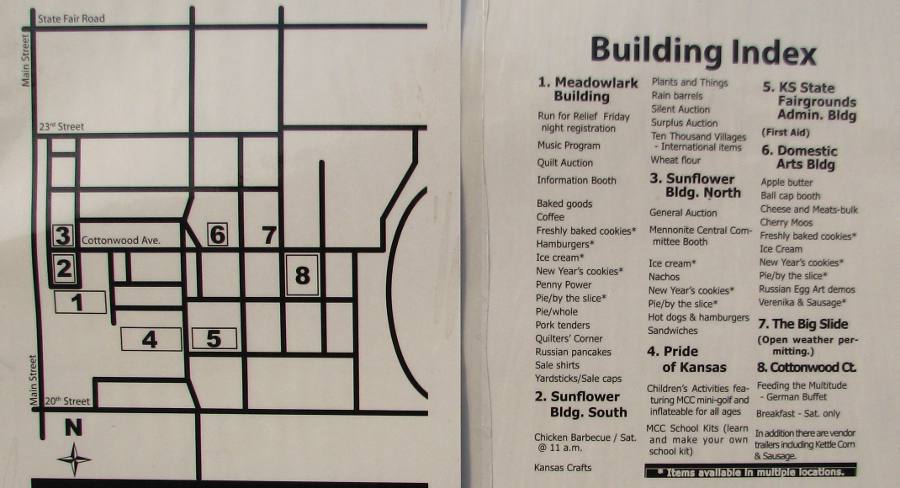 Map of the 2013 Kansas Mennonite Relief Sale
Relief Sale Official Site
Hutchinson Kansas Restaurant & Attraction Guide
Kansas Attractions Kansas Travel & Tourism Home
copyright 2013-2023 by Keith Stokes