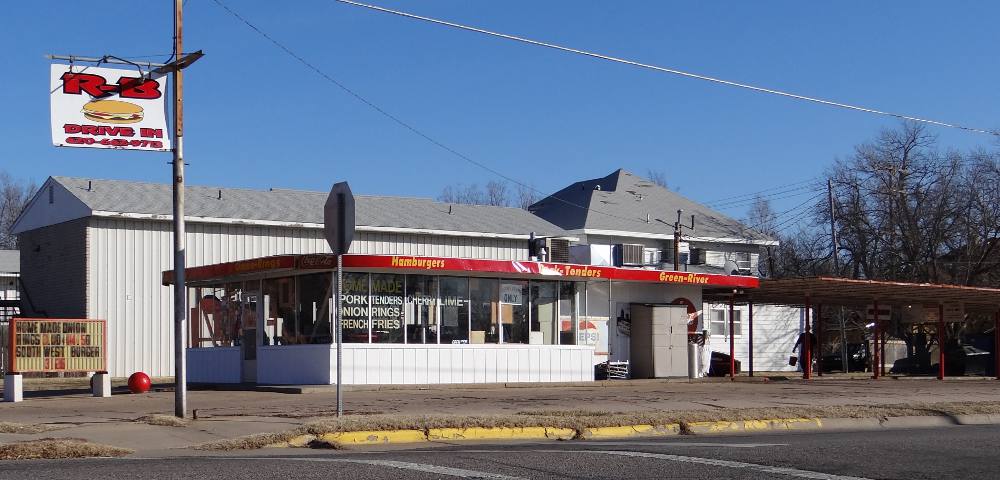 R-B Drive In - Hutchinson, Kansas
The 1948 R-B Drive In in Hutchinson, Kansas is a real treat. When my coworkers heard I was going to Hutchinson for a weekend the first time, two former Hutchinson residents insisted that I go to R-B. It wasn't easy (R-B has very limited hours for a restaurant), but I am glad that I made a special effort. As soon as I saw the R-B Drive In sign in the photo at the top of this page, I suspected I was visiting a classic local restaurant.
With great restraint, I didn't order a handmade malt, but I did get a double cheeseburger, hand cut French fries and fresh onion rings. Though not cooked to order and kind of squashed down, the cheeseburger tasted good. A "double" turned out to be larger, not two patties.
Since that first visit, I've been back to R-B Drive In about once a year. For many of those years Charles and Pam Wheeler operated R-B Drive In. Pam is the daughter of one of the original owners and she and Charles took it over in 1984. The restaurant sold to Kirk and Julia Johnson in 2016 and we were a little anxious when we made the next visit. Prices, decor and menu looked much the same, but the restaurant was doing so much business that it would be an hour before they could start preparing our food. We photographed the new menu and decided to return to eat on a different trip.
I returned in 2019. At 1:30 on a Saturday afternoon, there was a 30 minute wait before they could start cooking a new order, but this time I had brought a book and was prepared to wait. While waiting, I chatted with Kirk Johnson and other customers. Almost every customer to come in had called their orders in ahead and only 4 other customers actually dined in the small dinning room.
The good news is that the food is still every bit as good and continues to be great on visits in 2020, 2021 and 2022!
R-B's burgers are available in a variety of sizes, up to the triple beltbuster, a 3 pound hamburger for $25. $27 with cheese. A 1 pound beltbuster is $20, or $22 with cheese.
The "home cut" French fries are great, and still an amazing bargain at $1.50. You can get a whole pound of them for only $3. The homemade onion rings (4-6 depending on size) are very good and only available Tuesday, Thursday evening, Friday and Saturday..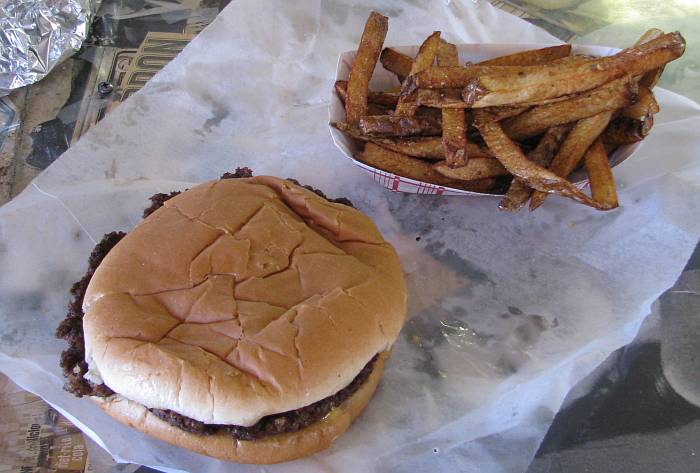 Double cheese burger and hand cut French fries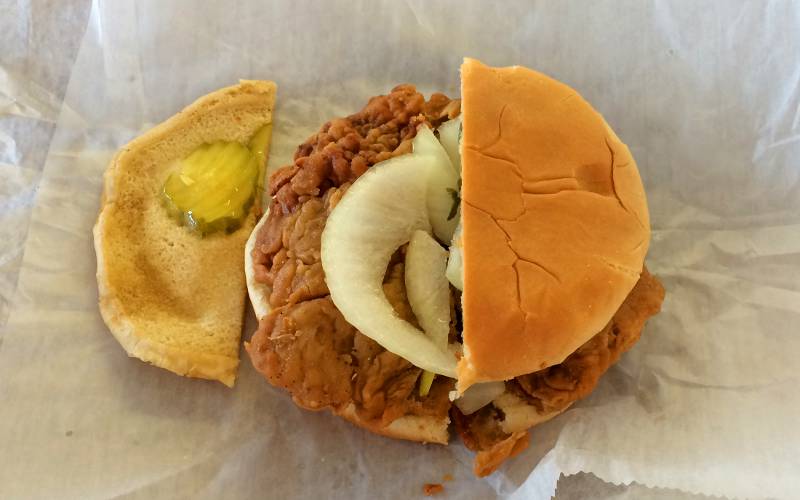 Handmade pork tenderloin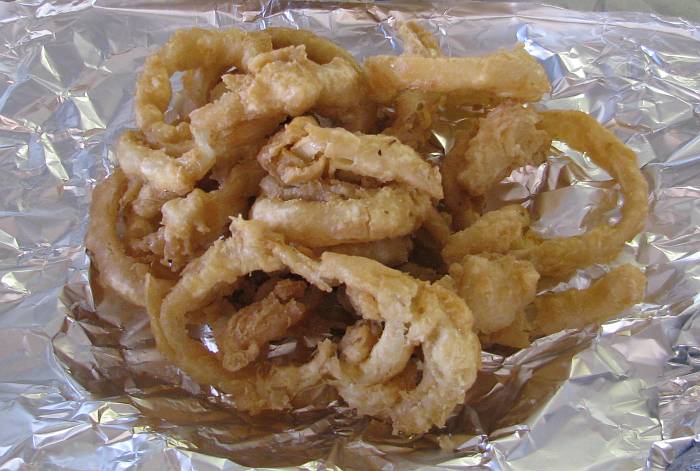 R-B's homemade onion rings are ONLY available Tuesday, Thursday evening, Friday & Saturday.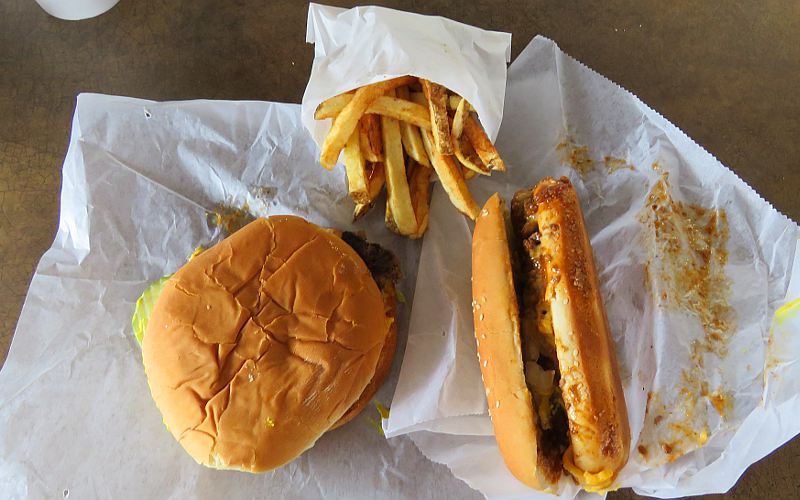 1/4 pound "double" with cheese small fries and chili, cheese dog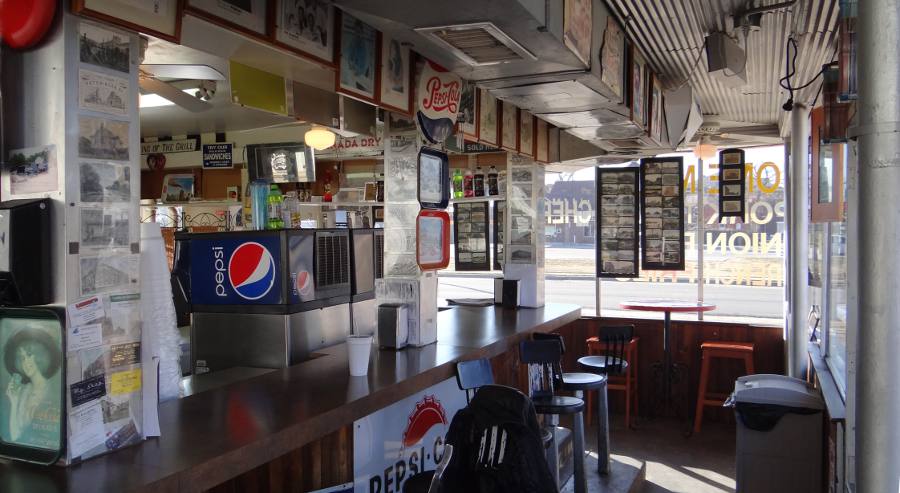 R - B Drive Inn counter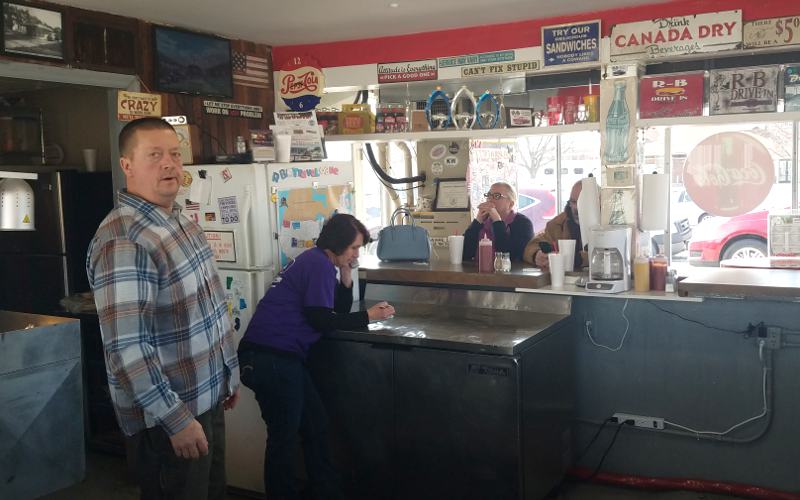 Kirk Johnson behind the counter at R-B Drive In in 2019 - Kirk asks customers where they are from so that
he can update what states or countries people have come from on US and world maps.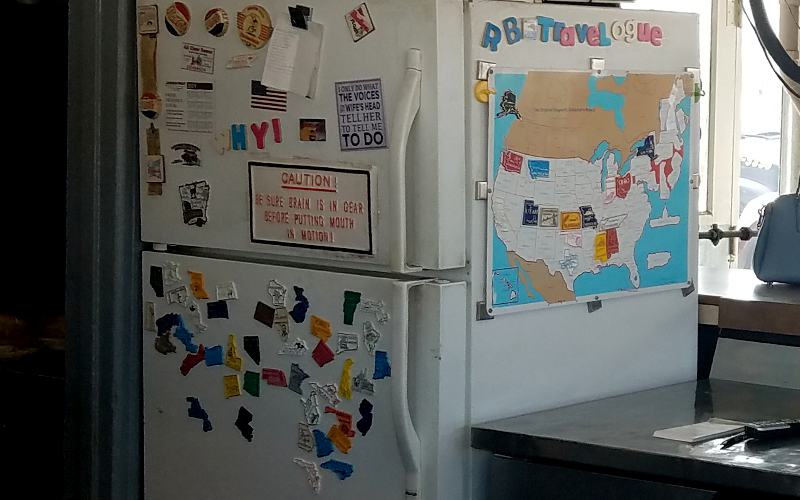 Only a few states were represented after 2 months of 2019.
In 2018 there were 42 states and 8 countries.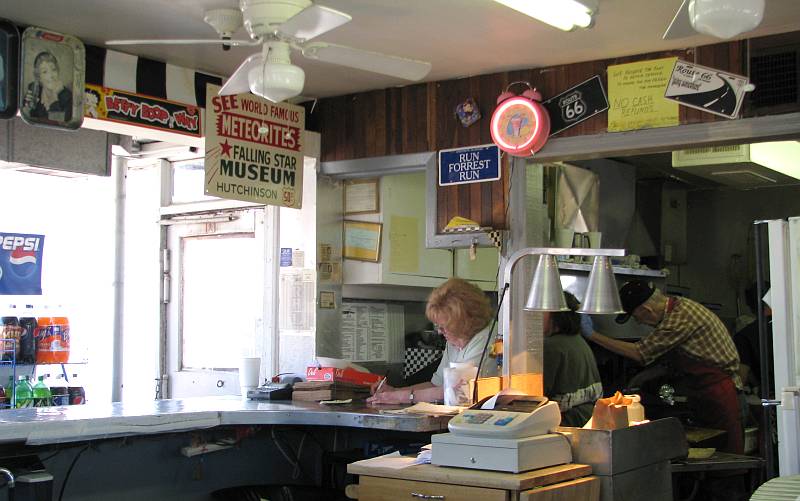 Pam Wheeler working behind the counter at R-B Drive In in 2009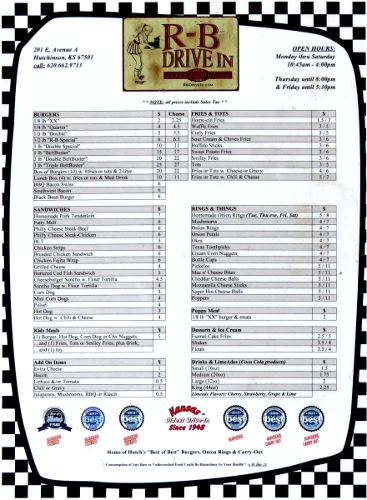 R-B Drive In menu from July 2022
Hutchinson Kansas Restaurant Guide
Unique Kansas Restaurants Kansas Attractions
copyright 2009-2022 by Keith Stokes