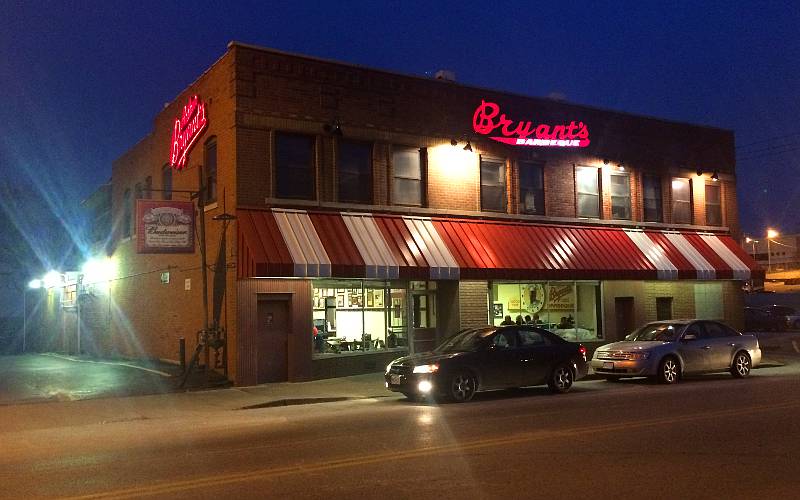 Arthur Bryant's Barbeque - Kansas City, Missouri
Arthur Bryant's Barbeque at 18th & Brooklyn in Kansas City, Missouri was once the most famous Kansas City BBQ restaurant and one of the most famous in the country. Its history can be traced from Henry Perry, "the father of Kansas City barbecue."
Henry Perry began serving smoked meats to Kansas City Garment District workers from an alley stand in the early 1900s. He later moved his stand into a series of buildings in the 18th & Vine Jazz District. Arthur Bryant and his uncle Charlie worked for Perry and Charlie took over the restaurant when Henry Perry died in 1940. In time, Arthur took over the operation.
Arthur Bryant's barbecue restaurant moved to this location a few blocks farther east at 1727 Brooklyn in 1958. When Arthur died in 1982, the restaurant was closed for 2 years before being reopened by his niece, Doretha Bryant, and other partners. No members of the Bryant family have been involved with the restaurant for many years.
At one time, I traveled to Arthur Bryant's several times a year, but Kansas City barbeque has come a long way in the past 30 years and I now only get back there once a year or less. The product at Bryant's is little changed since my first visit in 1985, but Kansas City barbecue has matured and tastes change.
My usual order is a huge combination sandwich with a lot of pork and beef on a double deck sandwich made with a third slice of white bread between the two meats. It would easily be enough for three sandwiches. That is a good thing - at $10.95 it feels like you are paying for three. Most people get a sandwich or ribs with fresh cut french fries cooked in lard.
Arthur Bryant's has three sauces: original (which can still be seen aging in large bottles in the front window) sweet, and rich & spicy. I can't see a lot of difference in the taste between the later two. They are both sweeter and less peppery than the original. I prefer the original and while it isn't my favorite BBQ sauce, it goes well with this food. I rarely add sauce to the meat at most KC barbeque restaurants, yet I tend to drench the meat and fries at Bryant's. The fries wouldn't need so much sauce, but they are consistently undercooked.
Bryant's place in Kansas City barbecue is largely its history and the old building which it occupies. While waiting in line to order, you will pass photographs of presidents and other celebrities eating at Bryant's as well as other memorabilia, such as the editorial cartoon which the Kansas City Star published when Arthur Bryant died.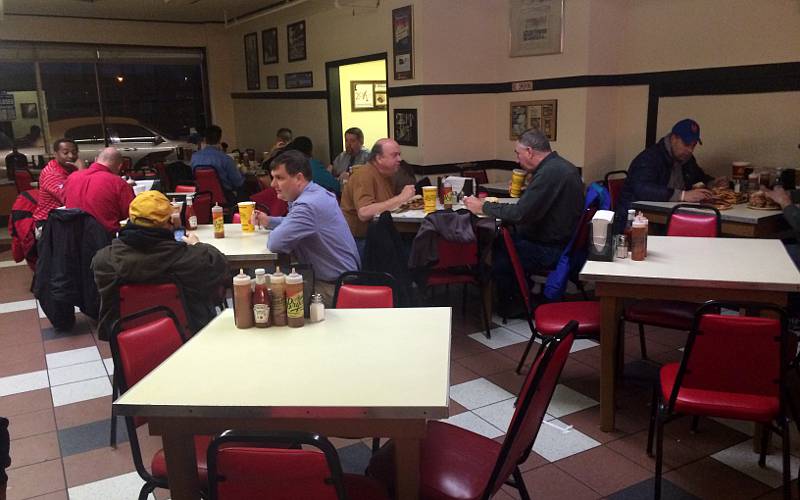 Arthur Bryant's main dining room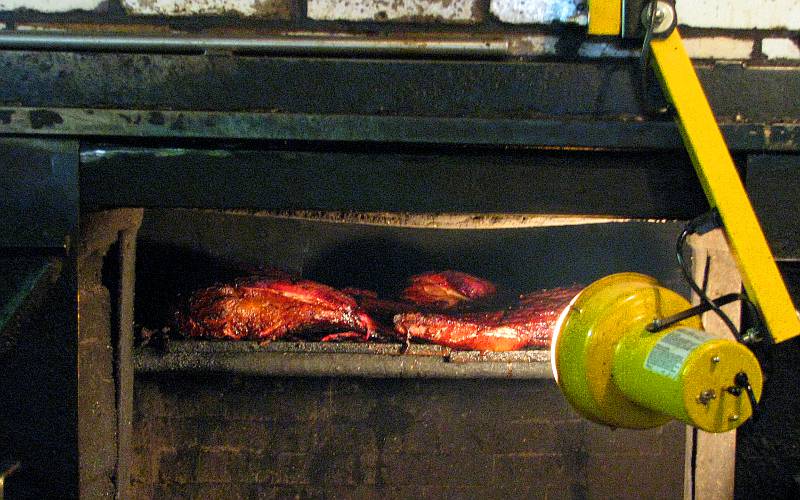 Meat in the pit oven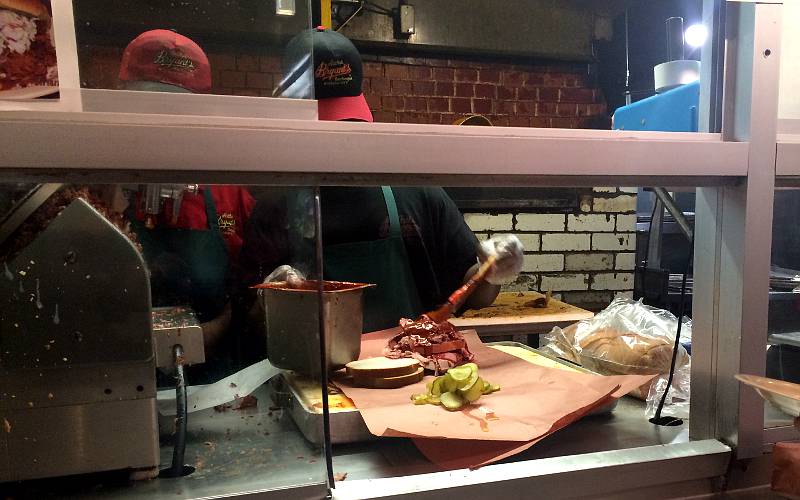 Preparing a two meat sandwich to go - all carry out orders are wrapped in butcher paper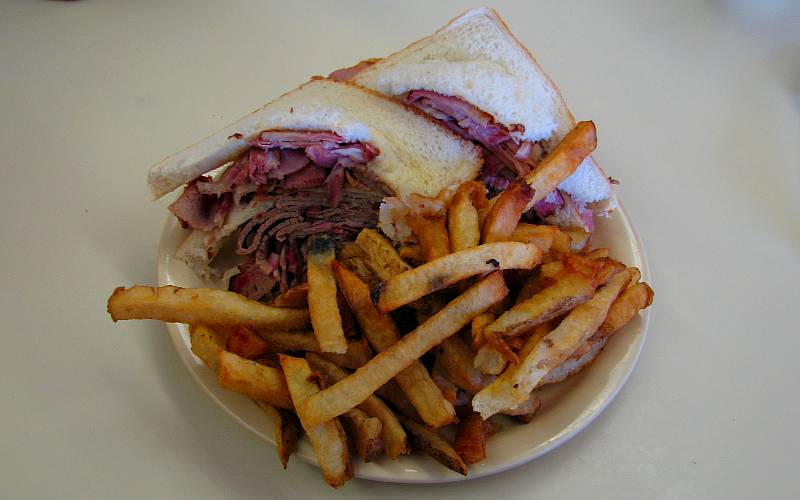 Beef & sliced pork combination sandwich with fries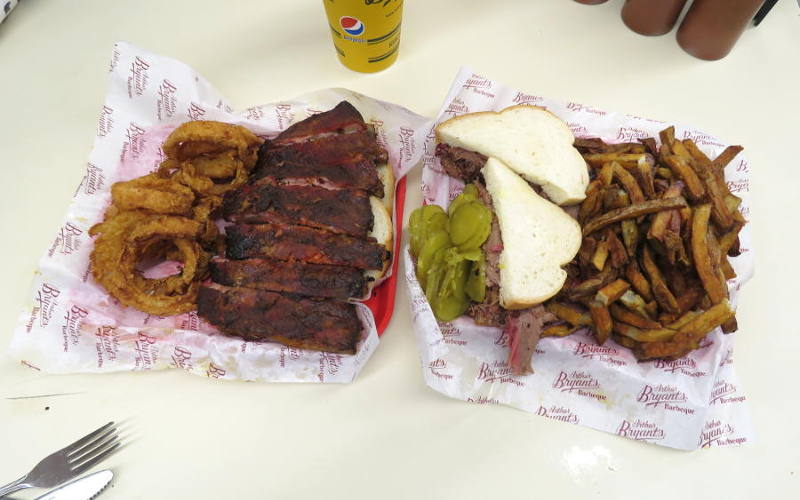 Half slab with onion rings and brisket sandwich with fries

Arthur Bryant's sauces: Rich & Spicy, Sweet and Original

Original sauce aging in a 5 gallon bottle


Arthur Bryant's Barbeque Menu in July 2021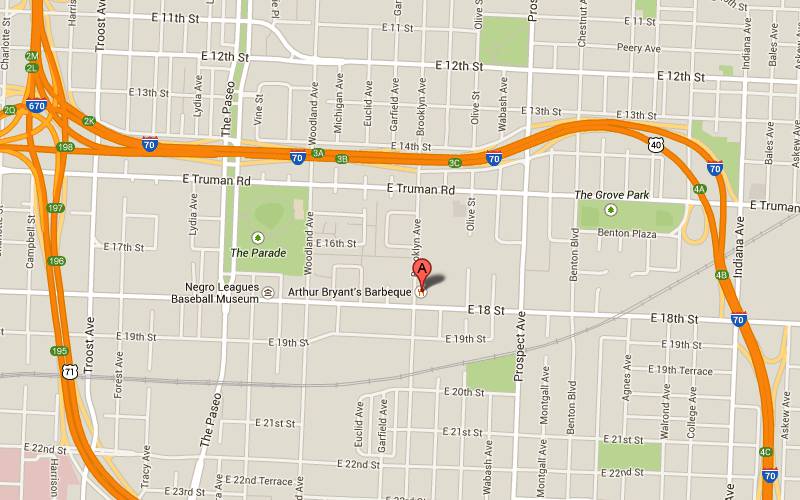 Arthur Bryant's Barbeque Map
Arthur Bryant's web site
Kansas Restaurants Kansas Travel & Tourism Home
copyright 2009-2021 by Keith Stokes