C. Frogs
3935 W 69th Terrace
Prairie Village, Kansas 66208
(913) 601-5250

Sunday - Thursday: 11AM - 9PM
Friday & Saturday: 11AM - 10PM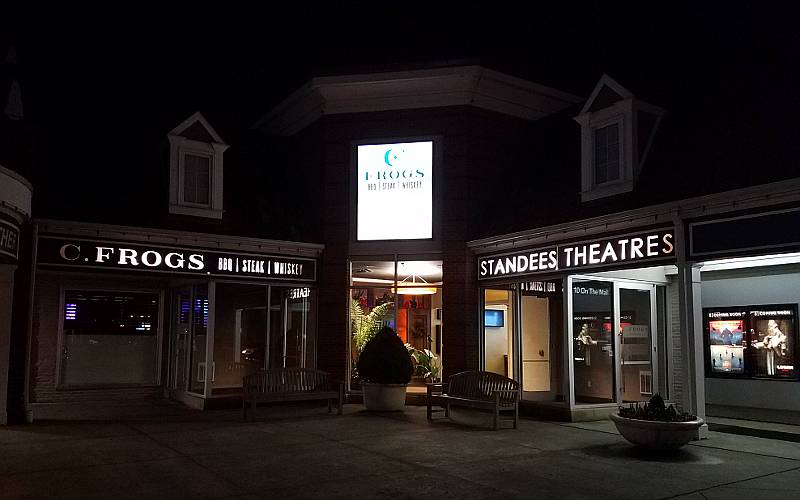 C. Frogs - Prairie Village, Kansas
C. Frogs in Prairie Village, Kansas is an upscale barbecue and steak restaurant which opened in the summer of 2016. It is the third restaurant at this location, attached to Standees movie theater. After two visits, I am favorably impressed with this restaurant.
The menu is well written and has many dishes I wish to sample. On our first visit, we tried two appetizers, the bacon wrapped shrimp in Louisiana butter sauce with broiled bleu cheese, and the chicken fried oysters with red pepper jam on roasted creamed corn with smoked bacon. Both were very good and the bed of roasted cream corn made the fried oysters dish that much more of a treat. Since we had a lot of food, most of the corn went home with us and it reheated well.
I was particularly wanting to try the BBQ, so on the first visit, we had chicken, burnt ends and sausage. The sliced sausage had no flavor from the smoking, but the chicken was good and the burnt ends were very good. So were the onion straws and French fries. This is a great place to go when wanting BBQ in a nice setting. C. Frogs serves Hillsdale Bank BBQ sauce.
Two desserts on the menu were particularly intriguing and we had the Baked Alaska which was served with flaming crème de menthe. The ice cream cake portion of the dessert was fine, but I really enjoyed the toasted marshmallow taste of the meringue topping. It is a large dessert, really too large for just two people.
Our second visit was for Sunday brunch and we we were joined by another couple, so we could sample more dishes. At brunch, for $15.95 you select one breakfast entree from a selection of 13, plus all that you wish from a cold buffet with shrimp, bruschetta, cheeses, smoked salmon, salads, fruits, pastries, grilled vegetables, sausages, pates and terrines. The smoked salmon was particularly good. My favorite hot item wasn't an entree, but a side dish with both the smoked brisket hash and the omelet stood out - the fried breakfast potatoes with onion. The potatoes were crispy on the outside and tender inside, while the onion gave them a sweet finish.
The regular lunch menu is also available during the Sunday brunch and I had the least expensive steak on the lunch menu, the Frogs Angus Steak for $16. The 8 ounce grilled teres major steak topped with whiskey cream and garlic mashers and roasted corn poblano and sweet peppers. The steak was cooked medium rare, exactly as ordered and I enjoyed it, but I think I would have preferred it to have been topped with the house steak butter.
The servers did a good job during both of our visits. They were attentive without being intrusive and were willing to offer opinions on dishes when we asked for advise. During the second visit, although we didn't think the food was particularly slow, the server apologized for our wait and offered us a free dessert. The sour cream apple walnut cobbler was excellent!
I look forward to returning to C. Frogs and sampling more of the varied and interesting menu. This restaurant is a nice addition to Johnson County.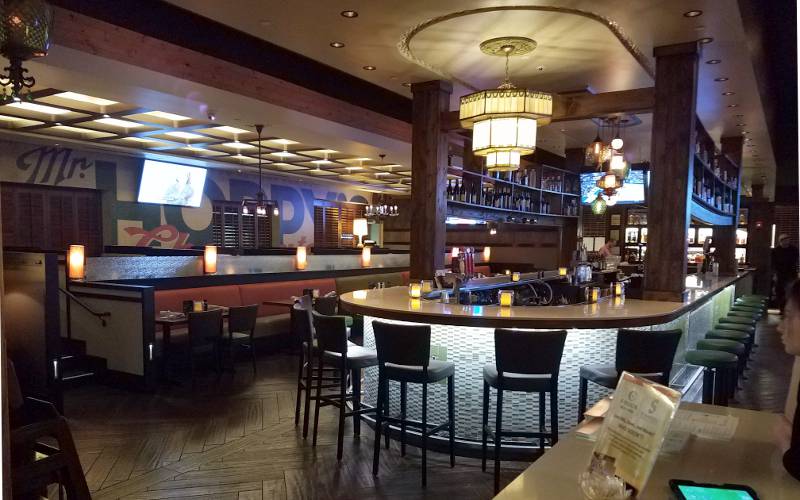 Most of the seating is at booths on upper levels on both sides.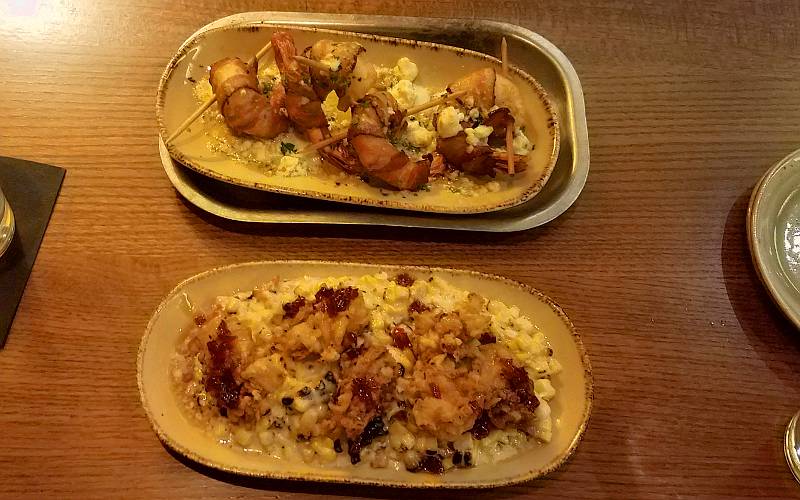 Bacon wrapped shrimp in Louisiana butter sauce with broiled bleu cheese.
Chicken fried oysters with red pepper jam on roasted creamed corn with smoked bacon.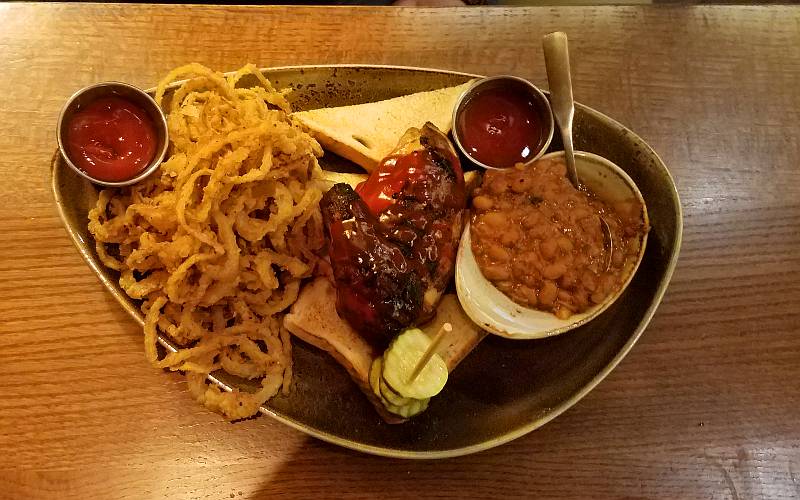 BBQ Plate rotisserie 1/4 chicken with onion straws, smoked BBQ beans and Hillsdale Bank BBQ sauce ($10)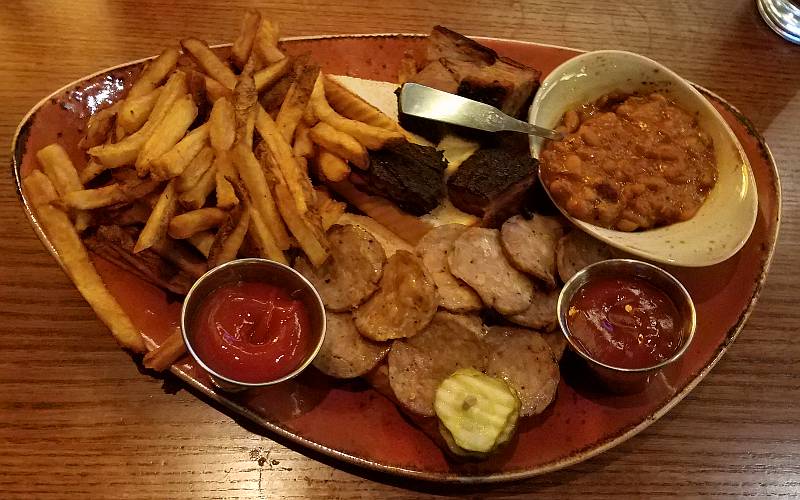 Two meat BBQ plate: burnt ends & sausage with fresh cut fries and smoked beans ($18)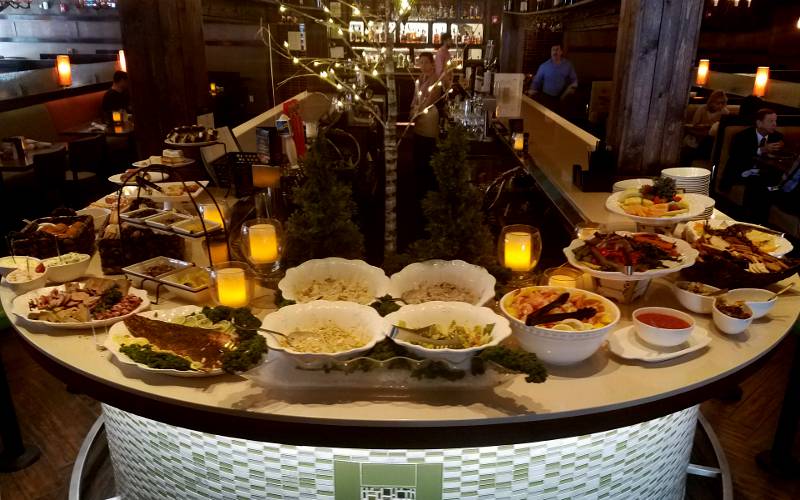 Cold buffet at Sunday brunch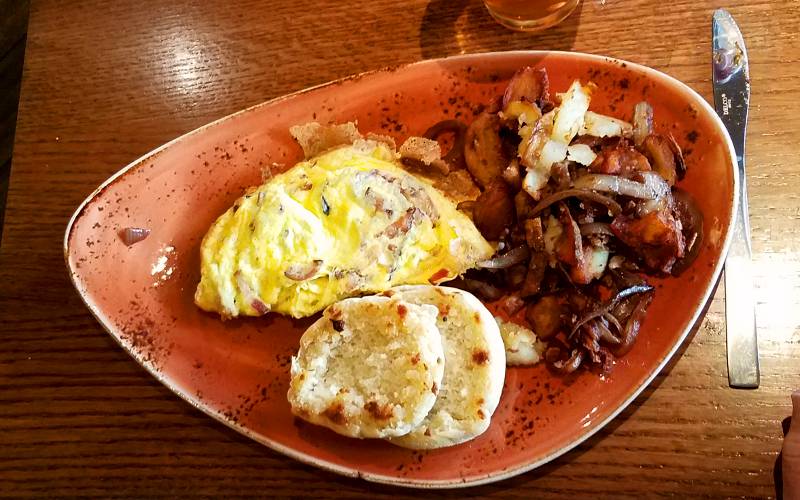 Double smoked bacon and sharp cheddar omelet served with Wolferman's English muffin and potatoes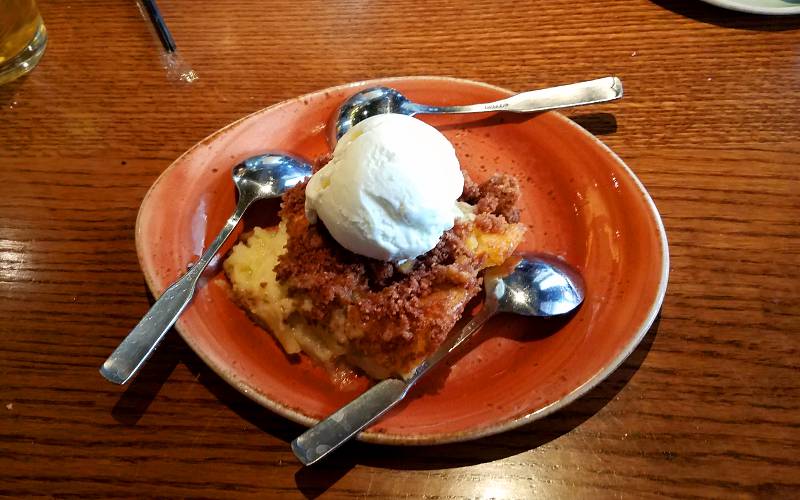 Sour cream apple walnut cobbler
| | |
| --- | --- |
| C. Frogs lunch menu from January 2017 | C. C. Frogs dinner menu from January 2017 |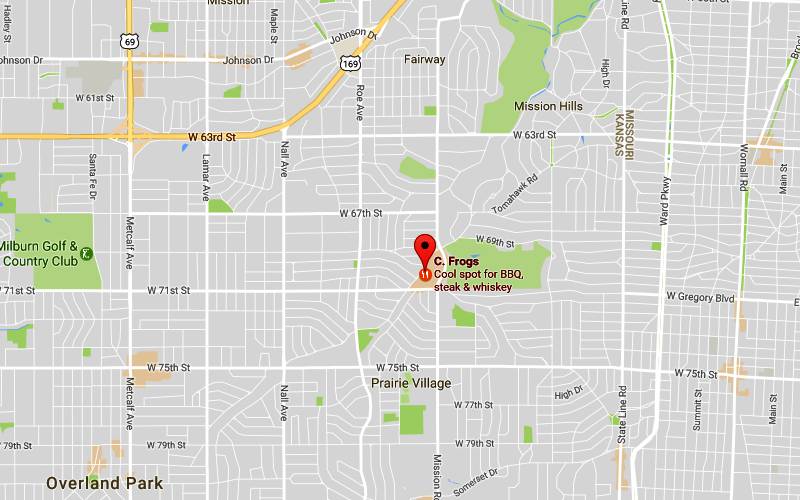 C. Frogs Map
LS-2/17 copyright 2017 by Keith Stokes