| | |
| --- | --- |
| Char Bar | |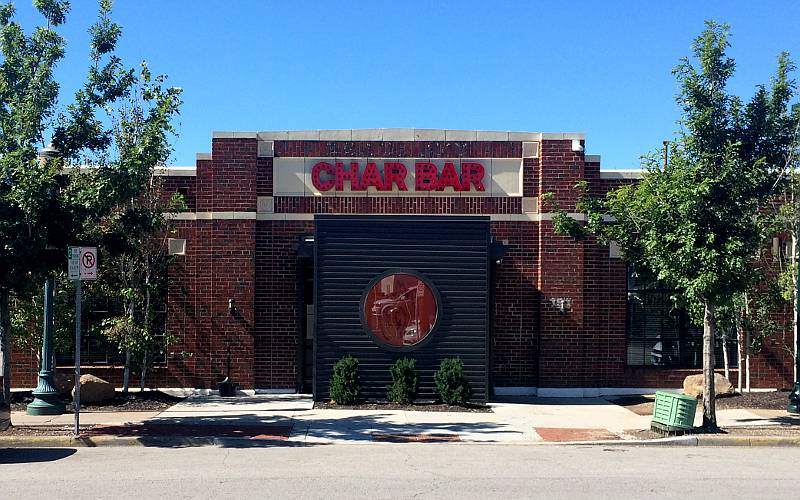 Char Bar - Kansas City, Missouri
Char Bar Smoked Meats & Amusements opened in the Westport neighborhood of Kansas City, Missouri in November 2014. The 7,000 square foot restaurant has an outdoor beer garden with a large patio bar, picnic tables, lawn croquet course, bocce court, tire swings and two outdoor fire pits.
But Char Bar isn't just about fun. It has a large (for a BBQ restaurant), eclectic menu which will satisfy BBQ lovers, vegetarians and those looking for creative dishes which they may have not had before.
Our first visit was just a month after Char Bar's opening and while the food was good, nothing struck us as great. Four of us had the $44 Whomp Platter, which is a sampling of all 6 sliced meats, burnt ends, half slab, a bucket of fries, jar o' pickles & two junior nice fixin's. My favorite dish on that visit was our appetizer - the lobster deviled eggs. The lobster didn't taste "charred" as described in the menu, but it still was very good. The fries were good, but neither the pit beans or smoked corn succotash appealed to us.
We waited 9 months for our second visit and were more "wowed" this time, with our only complaint being that several of the meats were not very warm. We tried two combination trays, which let us sample pork ribs, sausage, pulled pork, black angus brisket and burnt ends, between them. The classic burnt ends were my favorite and both the sausage and ribs were very good. The pulled pork was the only meat which I would avoid the next time. Overall, the meats had good flavor from the smoking and rub. I felt no need to add sauce to anything but the pulled pork and brisket.
The trays each came with the choice of a mini "nice fixin" (BBQ pit beans, potato salad, cabbage slaw, carrot raisin slaw, kale-pecorino slaw or smoked corn succotash), but we both selected upgrades - hand cut fries and jalapeno cheesy corn bake. The fries were seasoned and good. The jalapeño cheesy corn bake was a real treat. It is less about corn and more about the cheese and spices than others I have. I like the portion which we took with us as a dip for corn chips, more than than as a side dish.
There are two Meat Mitch Whomp! Competition BBQ Sauces and two hot sauces on the table. The Meat Mitch Char Bar Table Sauce (which is also served on the side with the trays) is sweet and tangy, reminding me of another sauce that I can't quite place. The spicier Meat Mitch WHOMP! Naked BBQ Sauce was my favorite.
We didn't try any of the the specialty drinks, but there is a large drink menu.
Our food came out in less than 10 minutes and the service was exemplary.
Char bar has continued to impress us on subsequent visits. We can now also recommend the Jumbo Chicken Wings (red eye coffee brined whole wings, spicy bbq drizzle, buttermilk chive dressing), but the ribs and burnt ends have been the standouts.
Char Bar on Burgers, Brew & 'Que
Burgers, Brew & 'Que came to Char Bar in Westport for Season 2, Episode 3 Hot, Charred and Crispy. Host Michael Symon said he loves Char Bar and raved about the Burnt Heaven (smoked burnt ends, smoked sausage, fried jalapeños, chipotle bbq mayo, creamy slaw, egg bun) and the Cheesy Hushpuppies (stone ground grits fritters, beer blanc, jalapeño jam). The sandwich looked awfully good and we intend to try during one of our upcoming visits.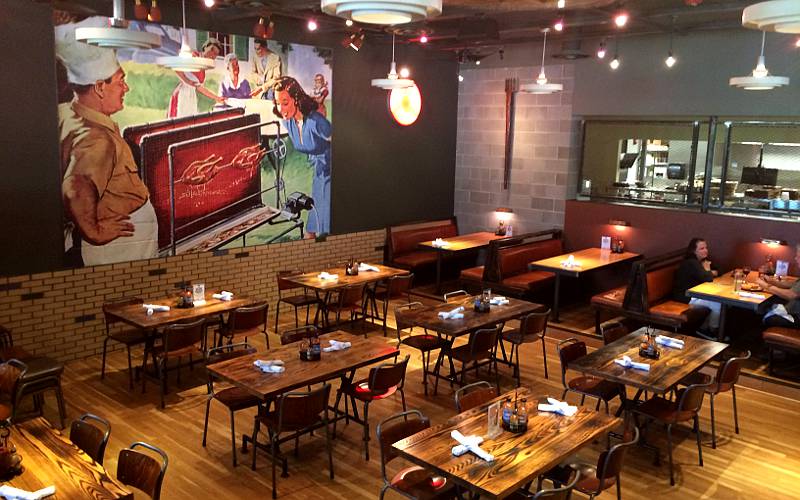 Lower dinning area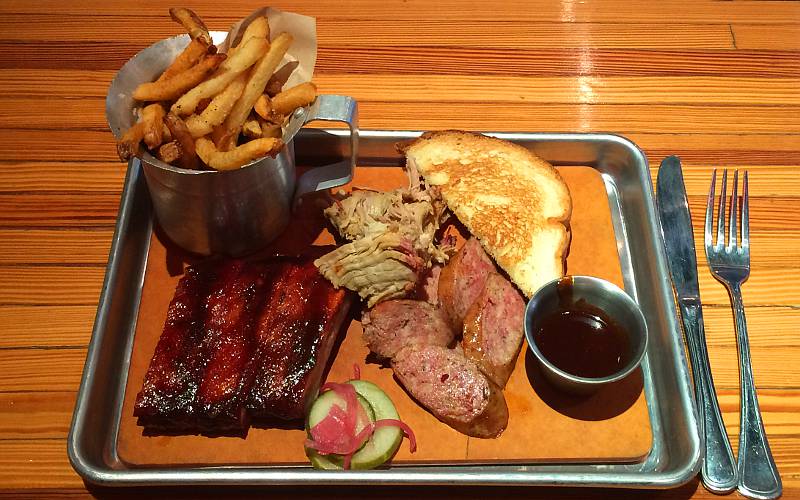 The Whole Hog Tray - three rib bones, pulled pork & hand cranked sausage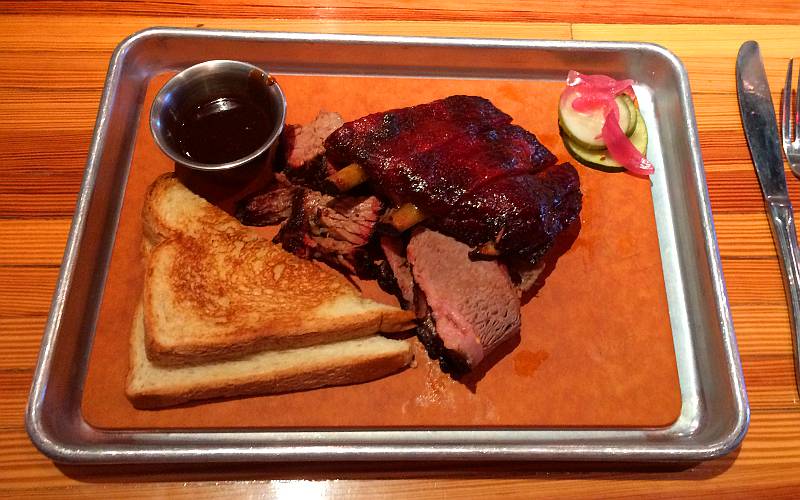 The Holy Trinity Tray - three rib bones, black angus brisket, burnt ends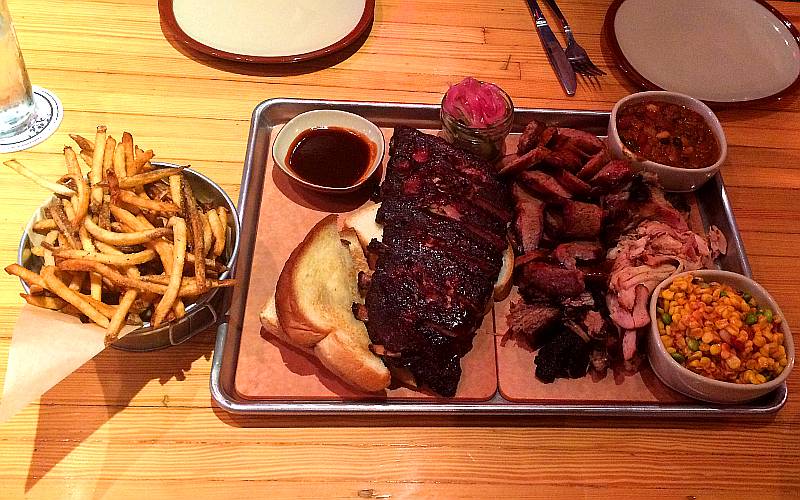 Whomp Platter (described above)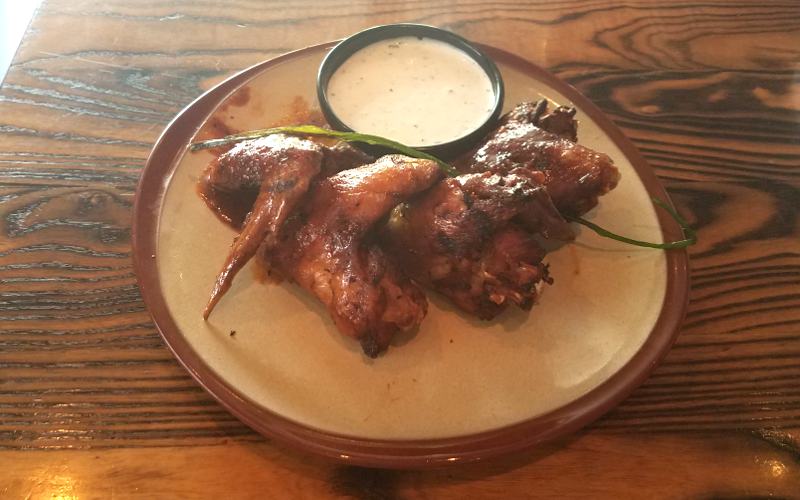 Jumbo Chicken Wings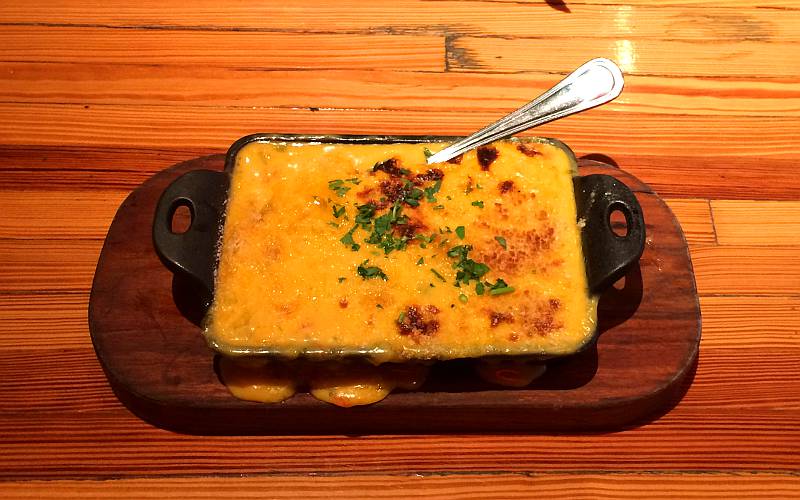 Jalapeño cheesy corn bake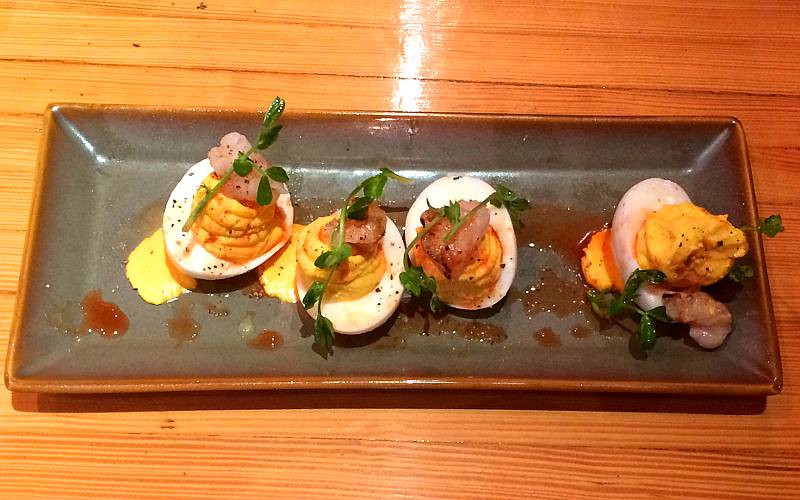 Lobster deviled eggs - charred lobster, free range eggs, pea shoots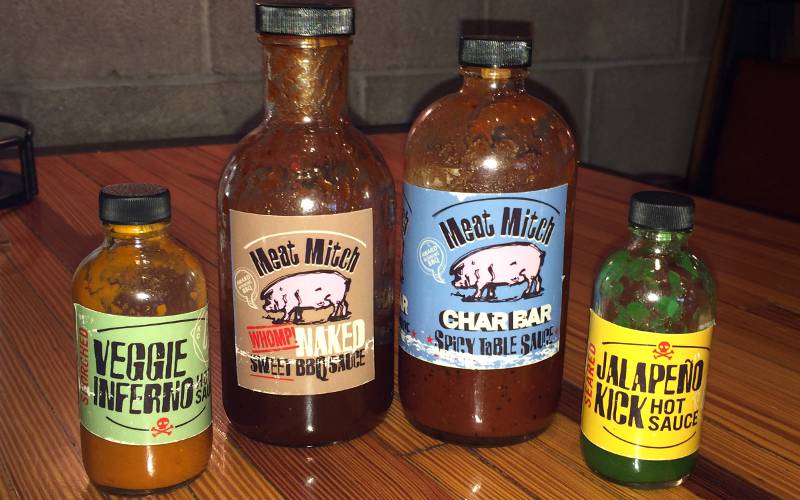 Meat Mitch BBQ sauces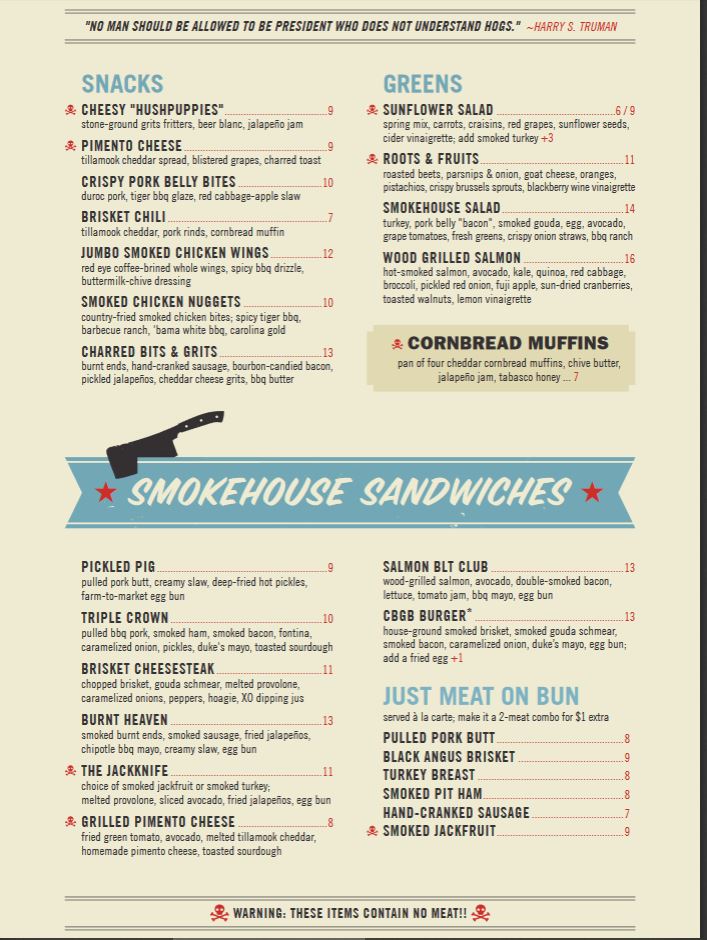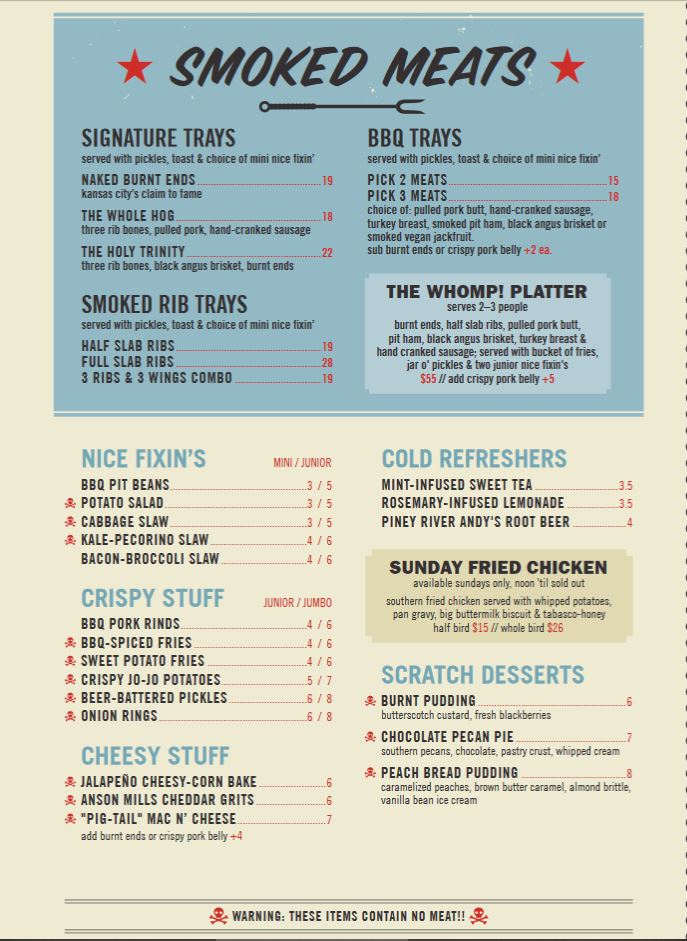 Char Bar Menu from September 2019 - the skull & cross bones denote items without meat.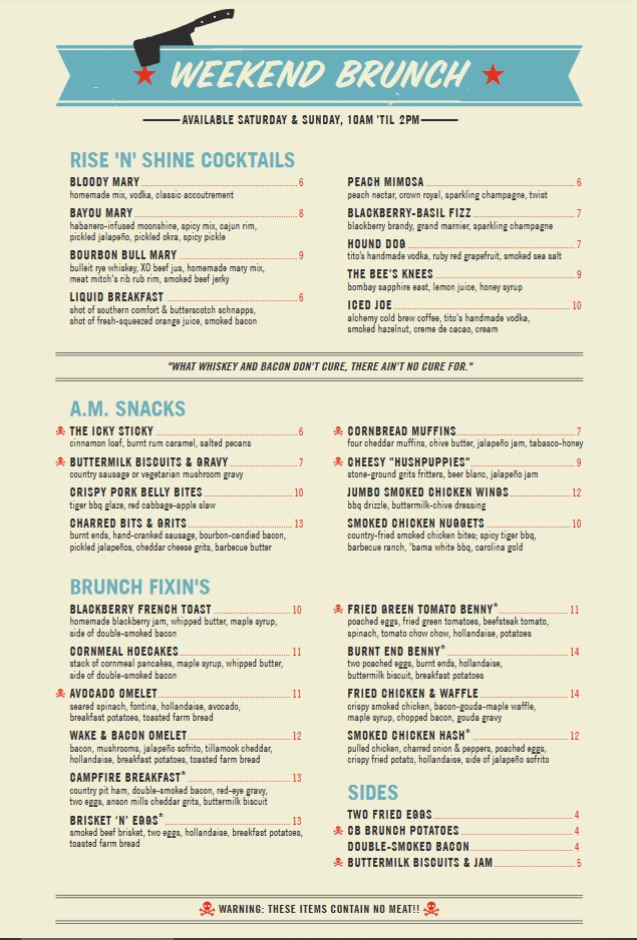 Char Bar Brunch Menu Saturday & Sunday until 3PM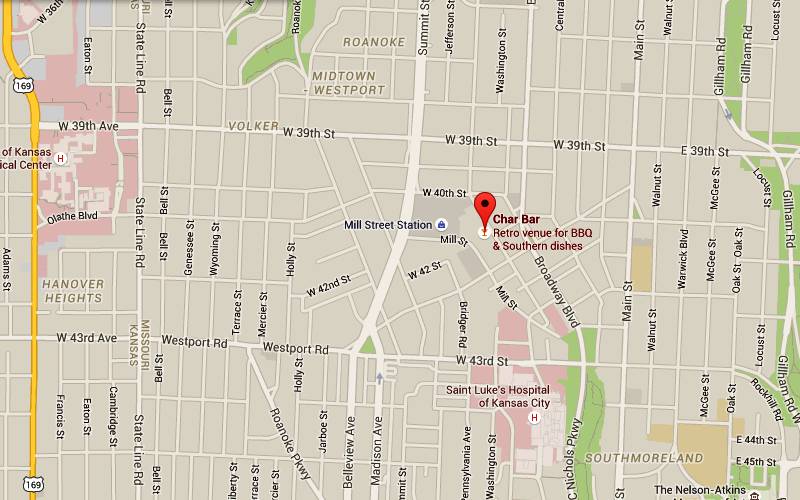 Char Bar Map
copyright 2014-2020 by Keith Stokes