Kansas City T-Bones

CommunityAmerica Ballpark
1800 Village West Parkway
Kansas City, Kansas 66111
(913) 328-BALL

May 7 - September 2, 2019
Exhibition games only before 5/17

Community America Park is part of The Legends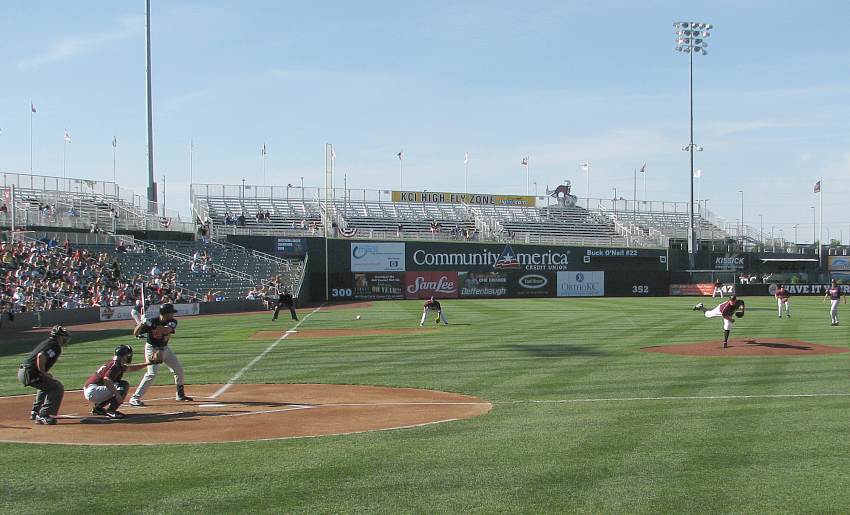 Kansas City T-Bones - CommunityAmerica Ballpark
In 2019, the Kansas City T-Bones will have their 16th season, and play at CommunityAmerica Ballpark at the Legends in Kansas City, Kansas. Until 2010, the T-bones were in the Northern League, but it folded in 2010. The T-Bones were the 2008 Northern League Champions.
The KC T-Bones are now in the Central Division of the American Association of Independent Professional Baseball. The AAIPB was started in 2006 and currently consists of 13 teams. The T-Bones were the 2018 American Association Champions!
There are a lot of nice things to say about going to a baseball game at this modest ballpark. Parking is free and most parking is less than 100 yards from the stadium entrance.
The T-Bones stadium is much smaller and has fewer food options than a major league baseball stadium, but it is still a fun location. There is green space beyond the outfield, where people can sit on blankets and let their children play around them. Beyond that, you can see people playing basketball. There are contests and activities every time the teams switch between batting and the field.
The best seats in the house are padded and are still only $16. On my first visit, we were able to get seats behind the home dugout with only two weeks lead time. The T-Bones still let you put your feet up and and set food on the dugout. We could watch the play and players, so much more than we did the night before at the Kansas City Royals, and the players (and umpires) could hear us when we shouted. Other tickets start at only $6.50.
Beverages at T-Bones games are cheaper than at the major league parks. Beverages may cost as little as 1/2 what they do at Kansas City Royals baseball games. Food prices are more comparable. I think the ballpark food is more for snacks than for a meal. Some of the more interesting options can be found at the Tiki Shack, beyond 3rd base.
Until 2011, CommunityAmerica Ballpark was also the home of Major League Soccer's Kansas City Wizards. But in 2011 the Wizards changed their name to Sporting Kansas City and moved a couple of blocks away into the brand new stadium.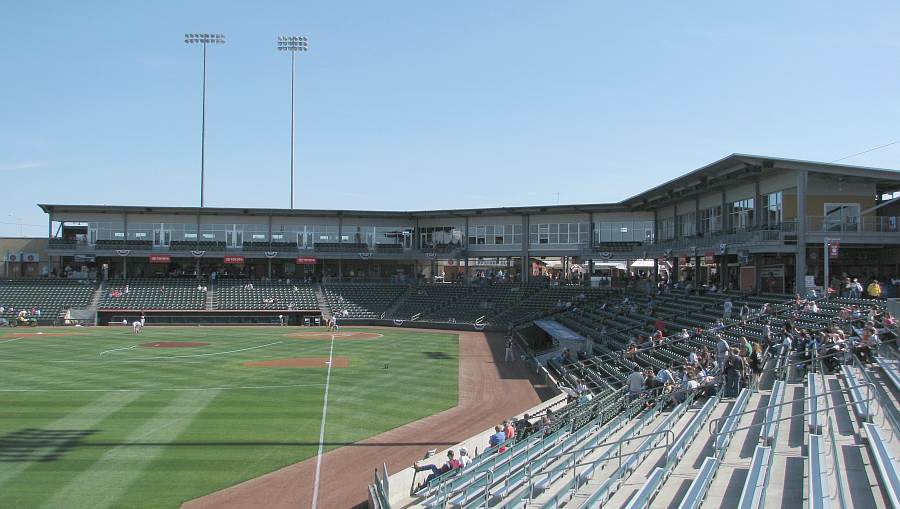 CommunityAmerica Ballpark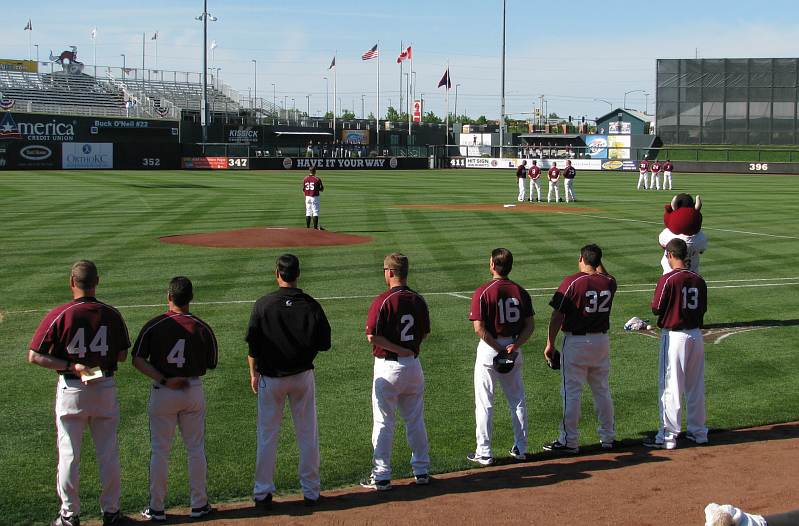 Kansas City T-Bones during the national anthem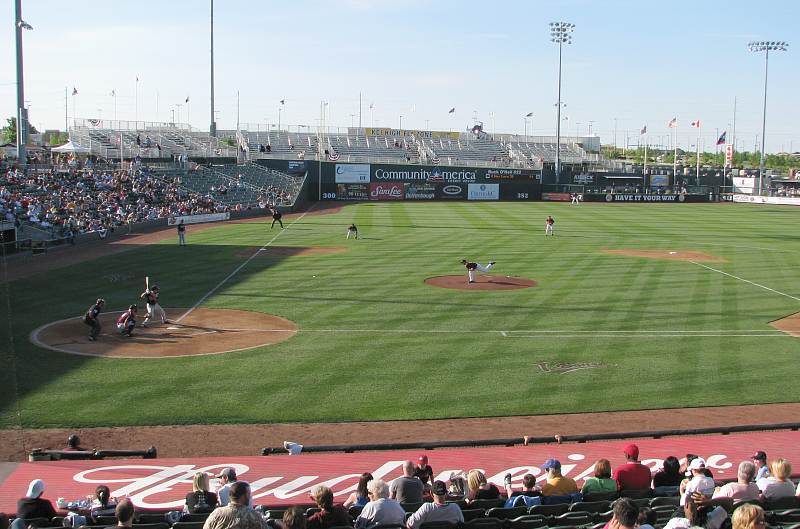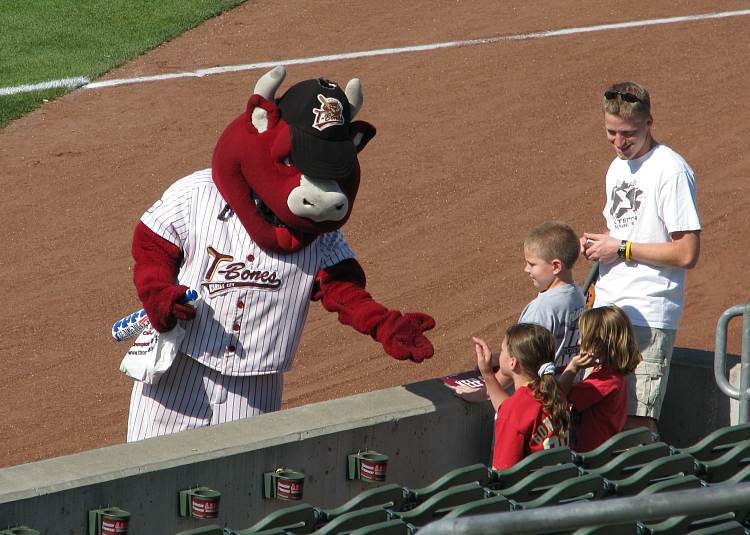 "Sizzle" greeting young T-Bone fans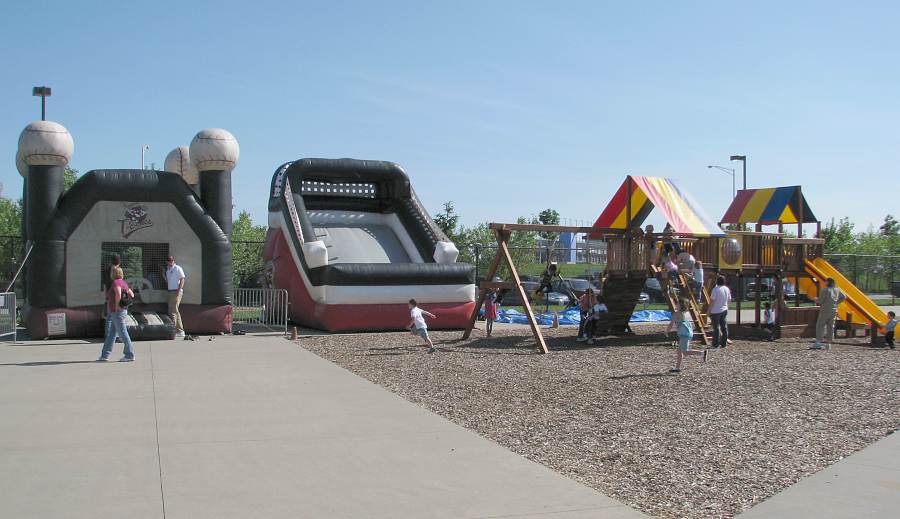 Children's play area and inflatables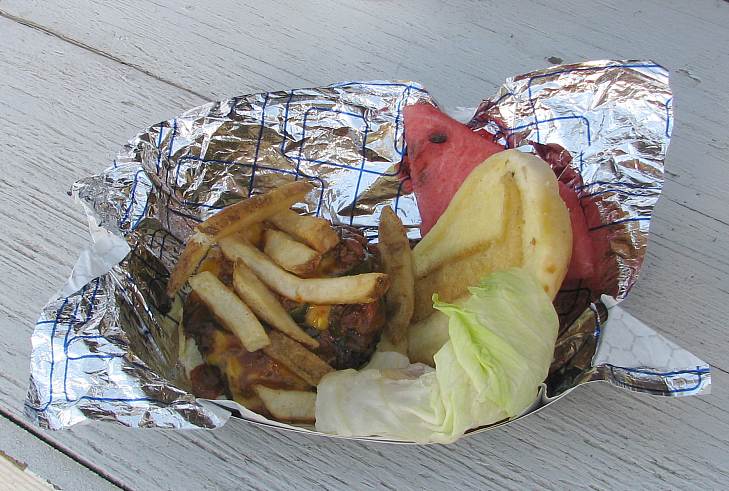 Grand Slam Burger from the Tiki Hut - jalapenos, chili, French fries and nacho cheese.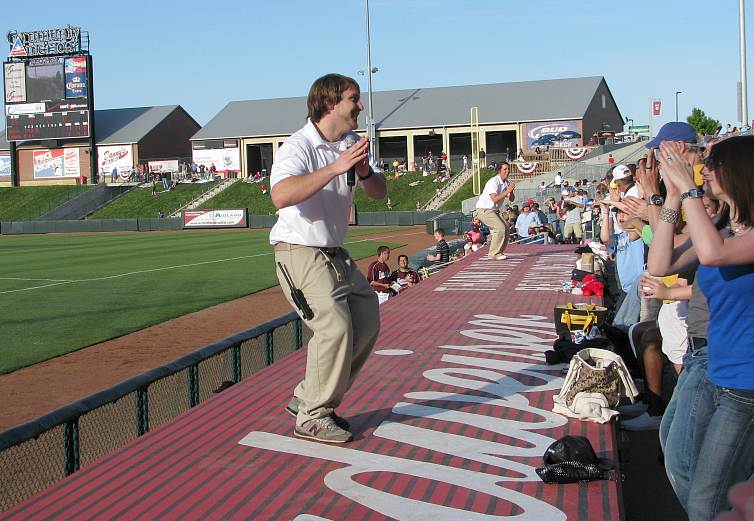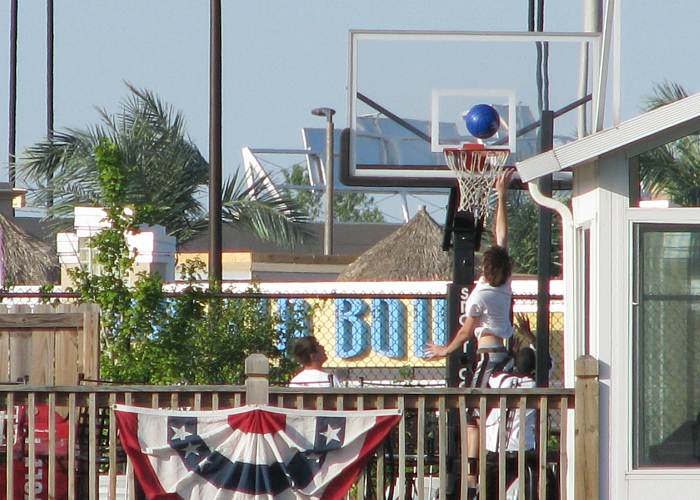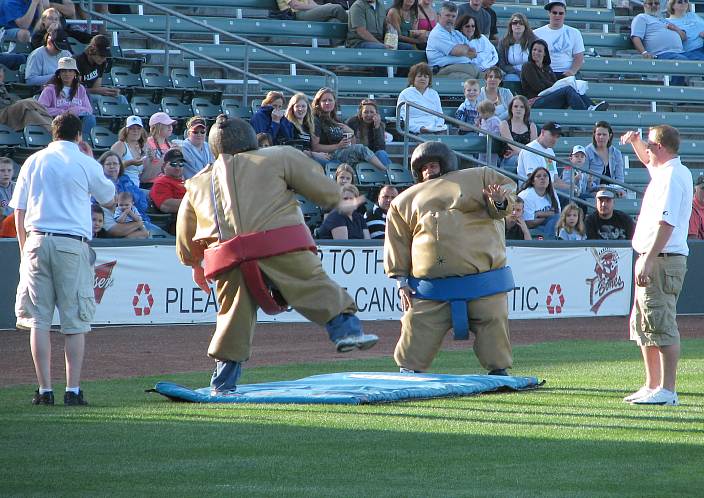 Sumo Wrestling between innings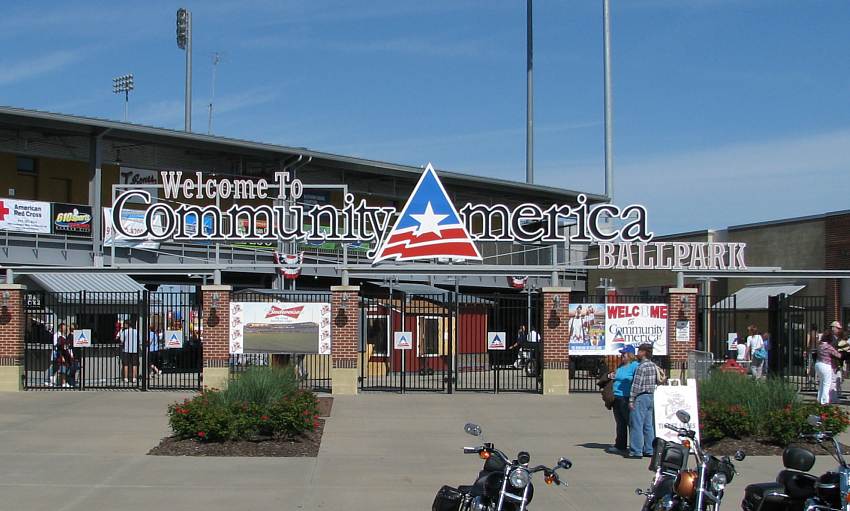 T-Bones online home Legends in Kansas City
Kansas Restaurants Kansas Travel & Tourism Home
copyright 2009-2019 by Keith Stokes