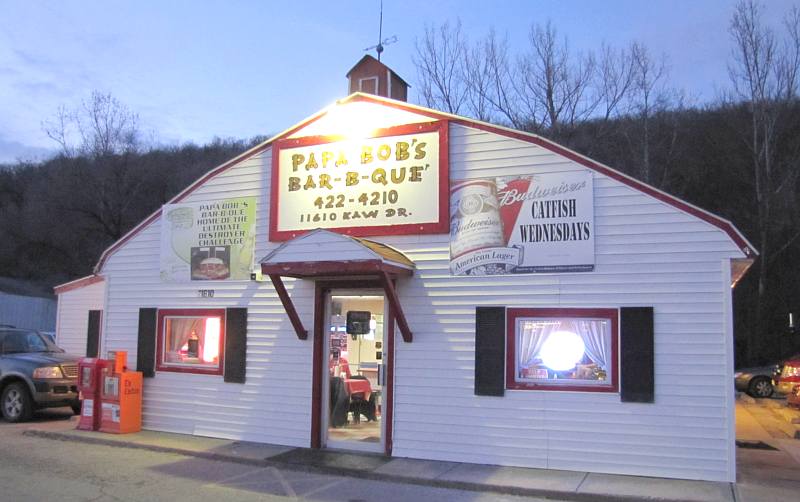 Papa's Bob's Bar-B-Que
Papa Bob's Bar-B-Que is a three year old restaurant which is located a mile and a half east of Bonner Springs and a mile and a half west of Edwardsville, has a Kansas City, Kansas address.
During my first visit to Papa's Bob's, I had the Deluxe Meat Platter (2 ribs & 2 sliced meats, plus the choice of 2 sides) for $13.95. I selected sausage and pulled pork for the meats and the only two sides made in house, coleslaw and baked beans.
The ribs were a bit tough, but had a good hickory smoky flavor. The pork was a little bland, but the sausage was quite good and worked well with the house BBQ sauce. The slaw was made with very little sauce and tasted like sweet cabbage. The beans were smoky and even sweeter - still quite good despite no noticeable meat mixed in. The were served very warm in a mug.
I got order of Taner's Terriifical smoked wings to go. The 10 small, dark wing thirds were fairly tough when I ate them later in the evening, but the same nice hickory flavor as Papa Bob's other smoked meats. There really wasn't very much meat for $6.75 and they neglected to include a dipping sauce.
Service was mixed, but quite friendly. When Papa Bob's wife learned that it was my first visit, she went over the menu with me carefully. She even brought me a sample of the horseradish pickle chips - a very sweet, mildly horseradish flavored bread and butter pickle that is actually Nathan's Gourmet Sweet Horseradish Pickles.
Several friends joined me for the second visit to Baba Bob's. The BBQ pork ribs had a good flavor, but were still a little tough and stringy. The burnt ends were cut into small bits that had excellent flavor from the hickory smoking. They were well done and tender. The fried catfish fillets were a nice size, The crinkle cut french fries were ordinary frozen fries.
Papa Bob's menu said that the onion rings were "not home made... but they look and taste like they are." They were better than the fries, but no one would mistake them for home made. My favorite of all the side dishes was the Nathan's Gourmet Sweet Horseradish Pickles.

The sausage was still the best meat tried, both the the sausage that Papa Bob's started with, and the flavor from smoking.
Papa Bob's Bar-B-Que appeared on the Travel Channel's Man Vs. Food on August 11, 2010 and hosted a watch party that evening. Adam Richman took the "Ultimate Destroyer Challenge" on May 12, concluding two days of filming the restaurant.
The Ultimate Destroyer is a 12" hoagie with a half pound each of pulled pork, sliced pork, ham, turkey, brisket and sausage. It also has 3 half pound smoked hamburger patties and 4 slices of bread. It must be eaten with a half pound of fries and four dill pickle spears or 4 jalapenos. You pay $48 in advance, but get your money back if you can eat it without a bathroom break in 45 minutes.
The Man Vs Food TV episode really didn't make the food at Papa Bob's look very appealing. I predict that the other two Kansas City restaurants featured on the show, Stroud's and Oklahoma Joe's BBQ, will both see much more business because of the national TV coverage.
Cigarette smoke was an issue during our first visits to Papa's Bob's Bar-B-Que but Kansas has since enacted a state wide smoking ban and it is no longer be a problem.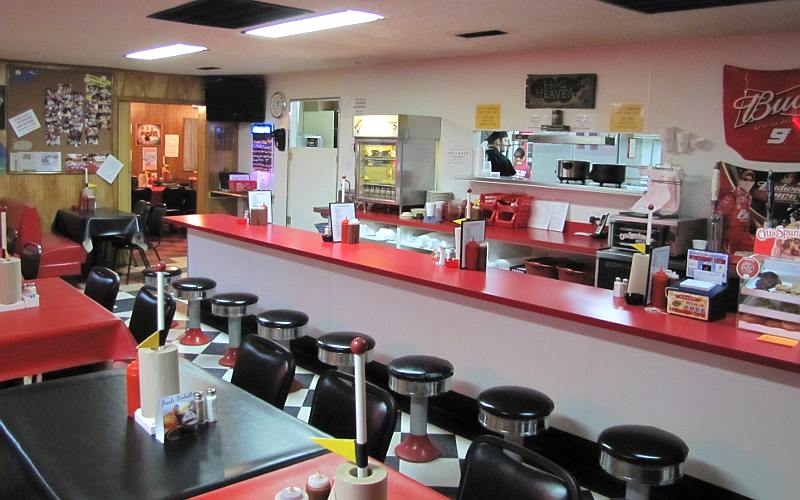 Papa Bob's main dining room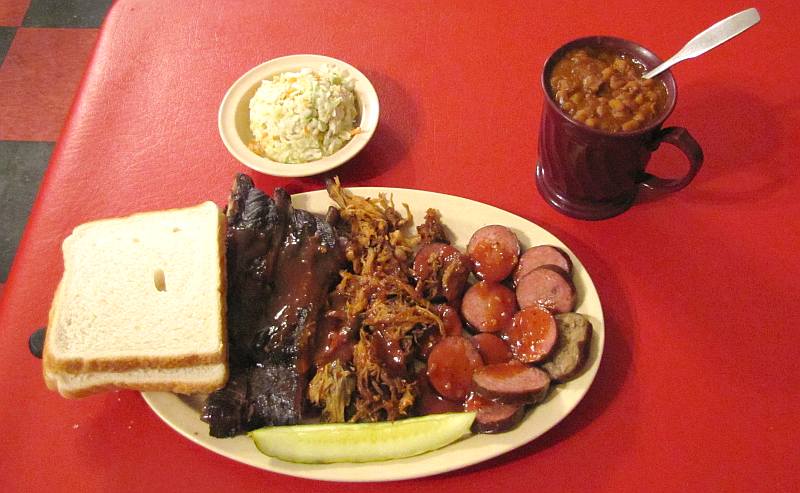 Deluxe Meat Platter (2 ribs & 2 sliced meats, plus the choice of 2 sides)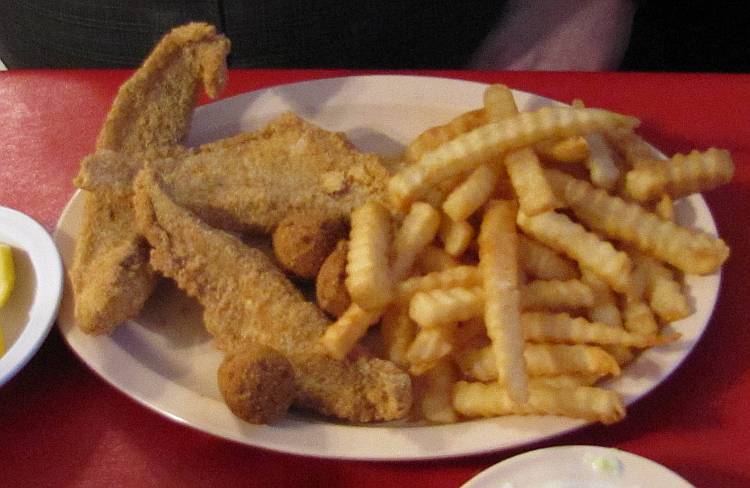 Fried catfish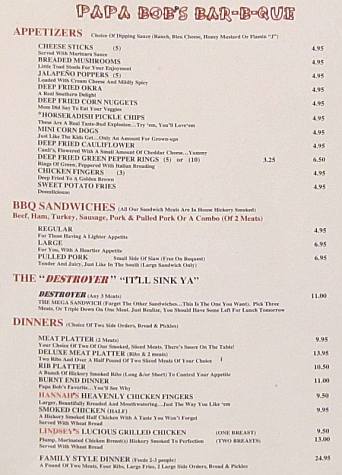 Papa Bob's Bar-B-Que menu from March 2010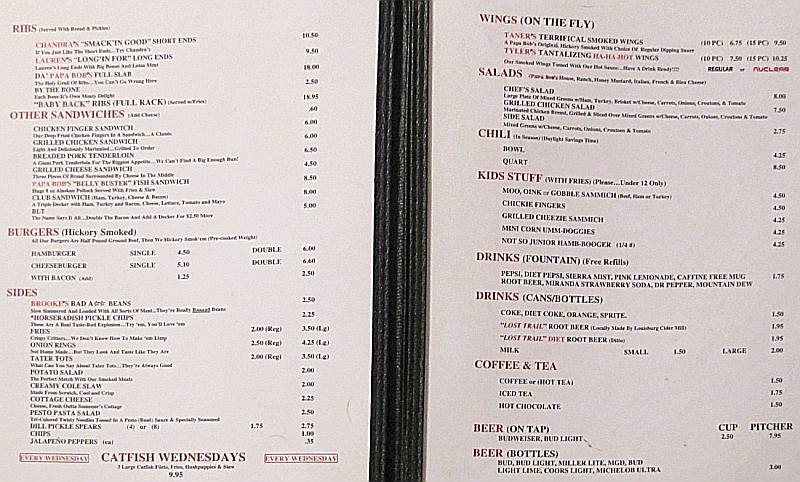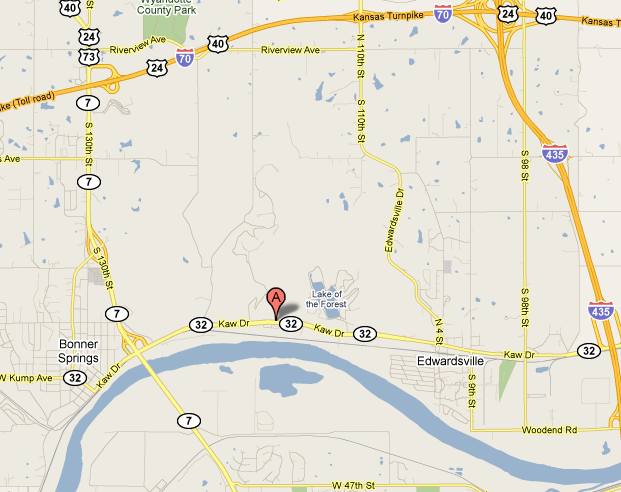 Papa Bob's Bar-B-Que map
Unique Kansas Restaurants Kansas Specialty foods
Kansas Attractions Kansas Travel & Tourism Home
copyright 2010-2015 by Keith Stokes