T-Rex Cafe

1847 Village West Parkway
Kansas City, Kansas 66111
(913) 334-8888

This is an archive page.
T-Rex Cafe Closed Permanently
on August 13, 2017

T-Rex Cafe Map T-Rex Cafe Menu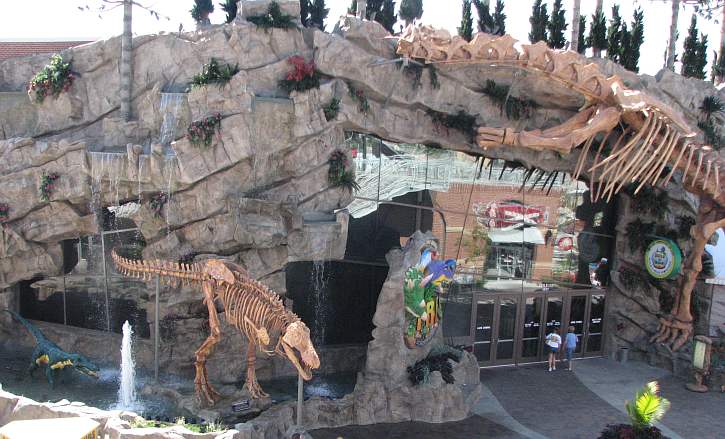 Dinosaurs dwarf the customers at the entrance to the T-Rex Cafe
This is an archive page. T-Rex Cafe closed permanently, without notice, on August 13, 2017
The T-Rex Cafe at the Legends in Kansas City, Kansas is the first in what may become a chain of restaurants. The second T-Rex Cafe opened recently at the Downtown Disney's Market Place in Orlando, Florida. The theme of the restaurant is dinosaurs, ocean, ice age, meteors and fire.
T-Rex Cafe solidly meets the criteria of being a memorable Kansas Restaurant on the basis on atmosphere, but they do better than the typical theme restaurant on the food. The food does take second place to the entertainment and marketing, but it is still very good. More about the food on page 2.
The exterior of the large restaurant has plants, water, smoke, and several dinosaur skeletons. The largest feature is the 125' long skeleton of an Argentinosaurus. The T-Rex Cafe interior is filled with giant creatures from dinosaurs, to mammoths, to nautilus, to an enormous octopus that looms (and moves) above much of the dinning area. The sound level is always high at the T-Rex Cafe, and some may find the noise of the periodic "meteor showers" to be a little too much.
T-Rex Cafe is worth visiting, even if you are not ready for a meal. In addition to walking through and viewing the many moving creatures, there is a large gift shop with a Build-a-Dino, and the Paleo Zone where you can pay for your children to dig for hidden fossils or pan for precious stones.
The wait for a table at the T-Rex Cafe can be long at times, but if you are in a rush, there is open seating at the Ice Bar.
T-Rex Cafe Map T-Rex Cafe Menu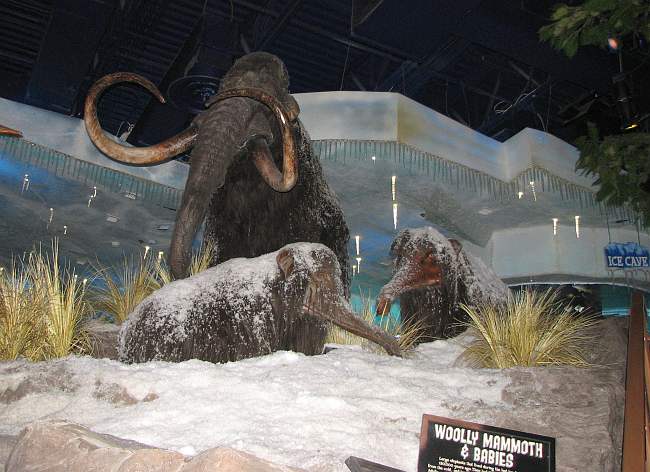 Woolly Mammoth and Babies next to the stairs to Ice Age dining room - snow falls
on the mammoths periodically.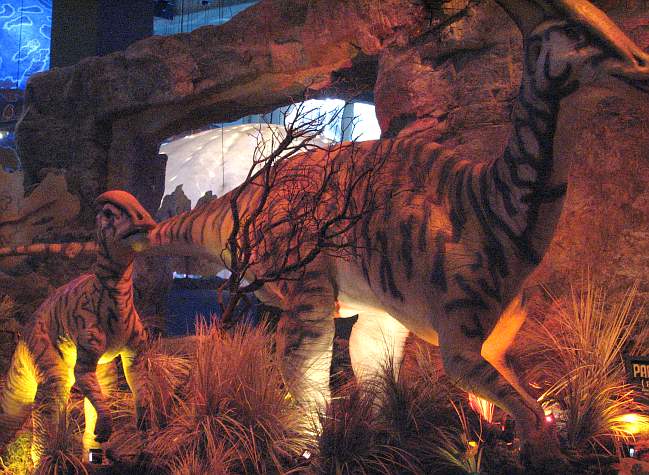 parasaurolophus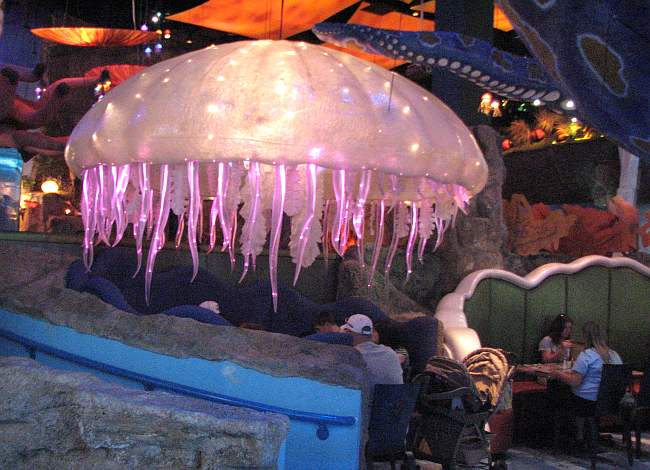 Giant jelly fish hovering over a booth at the T-Rex Cafe.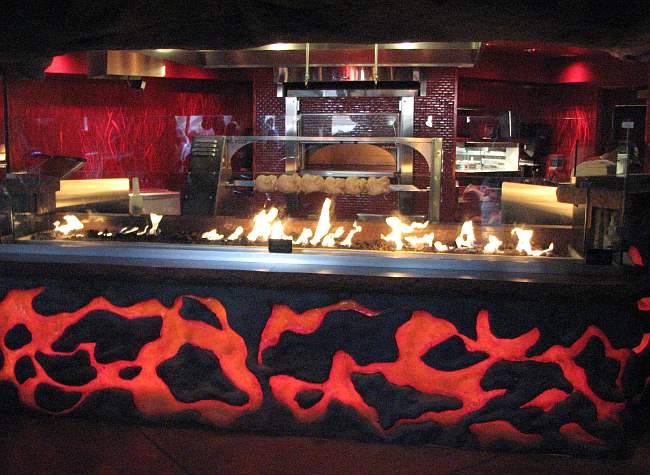 T-Rex Cafe kitchen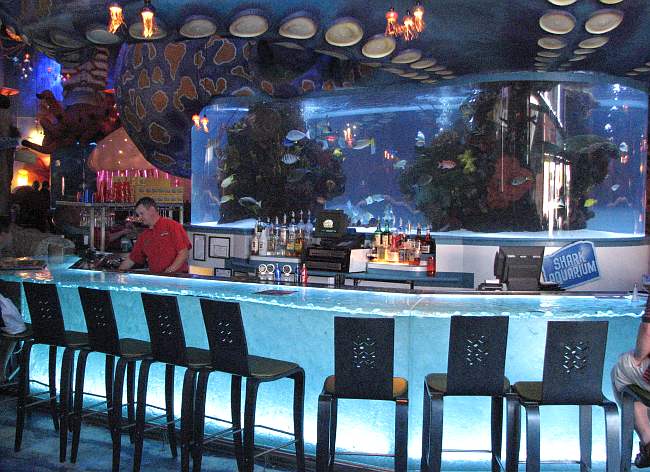 "Ice" bar and one of the T-Rex Cafe's three large aquariums.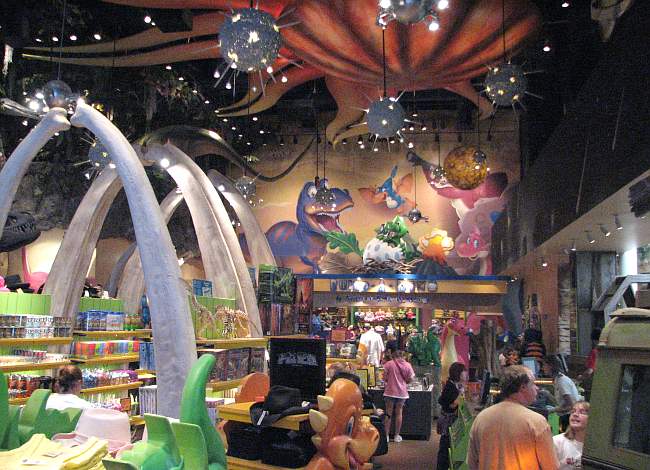 T-Rex Cafe Gift Shop and Build-A-Dino.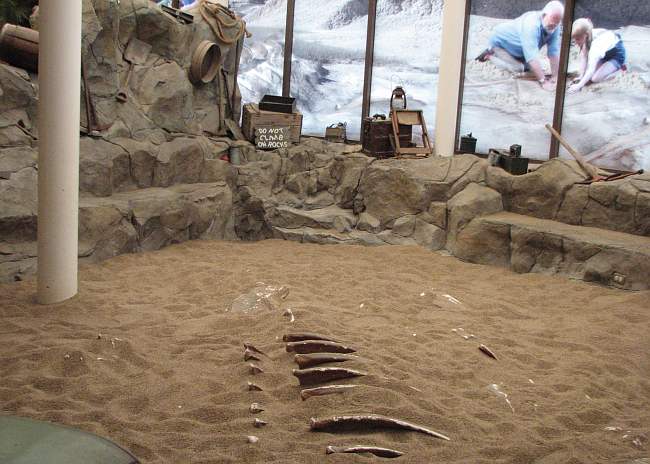 Paleo Zone children's digging area.

T-Rex Cafe Map T-Rex Cafe Menu
T-Rex Cafe Review Page 2
Kansas Restaurants Kansas Travel & Tourism Home
copyright 2007-2017 by Keith Stokes