University of Kansas
Booth Family
Hall of Athletics

11651 Naismith Drive
Lawrence, Kansas 66045
(785) 864-3141

Monday - Saturday: 10 AM - 5 PM
game day schedule free


Booth Hall of Athletics at Allen Fieldhouse - Lawrence, Kansas
The Booth Family Hall of Athletics at the KU Allen Fieldhouse in Lawrence, Kansas is a shrine to sports at the University of Kansas. All though it is devoted to all of the sports at the University, I think it is a must visit for fans of College Basketball. The Booth Hall is billed at 26,000 square feet, but the museum is less than a quarter of that space and includes a gift shop. The facility opened in 2006 and is open year around.
Two hallways lead from the Booth Family Hall of Athletics into Allen Fieldhouse and display the retired basketball jerseys. The original "Beware of the Phog" banner is also on display.
The most famous Kansas Sports memorabilia is Dr. James Naismith's 13 Original Rules of Basket Ball which were written in 1891. They are housed in the DeBruce Center, which is another wing off of Allen Fieldhouse and can be reached by going right from the second floor of the Booth Hall of Athletics or from its own entrance, north of the Booth Hall.
The original rules are in the side of a hallway, opposite the "Wall of Quotes," and can be easily missed as you walk down the hall. They are not visible until a button is pressed next to their display case. They are then dimly lighted and there is a recording of Dr. Naismith talking about writing them.
Between Booth Hall and the DeBruce Center, there are three stores where University of Kansas sports memorabilia and apparel can be purchased.
Booth Hall of Athletics Game Day Schedule
On home football game days, the Hall will close 30 minutes before kickoff.
On home basketball game days, the Hall will close 3 hours before tip off and re-open 90 minutes before game time.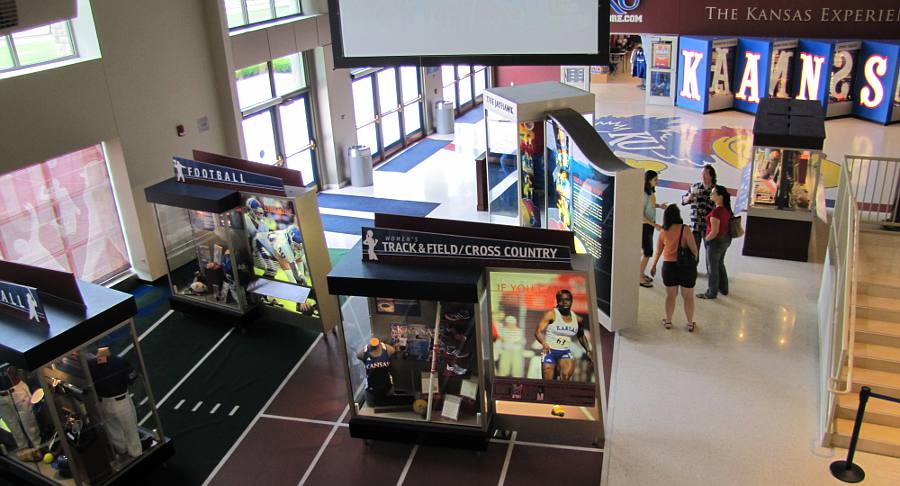 Game and The Gear: This section highlights the 18 current athletic teams at KU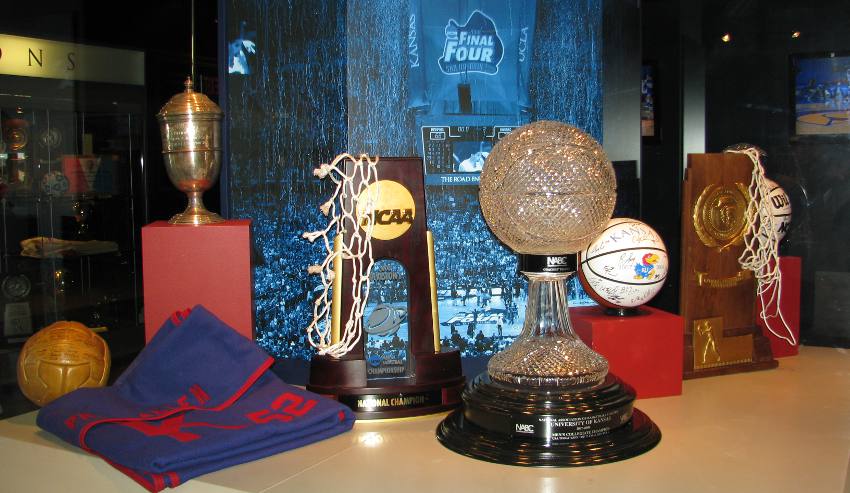 University of Kansas basketball trophies
KU has won twelve national championships with five in men's basketball: 1922, 1923, 1953, 1988 & 2008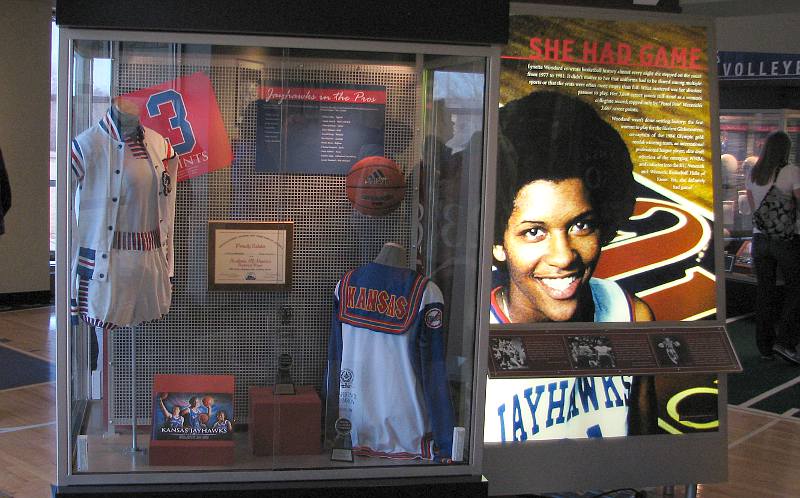 Lynette Woodard was a four time All American, who became the first female member of the Harlem Globetrotters and first KU
woman to have her jersey retired - she averaged 26 points per game and scored 3,649 points in total during her four years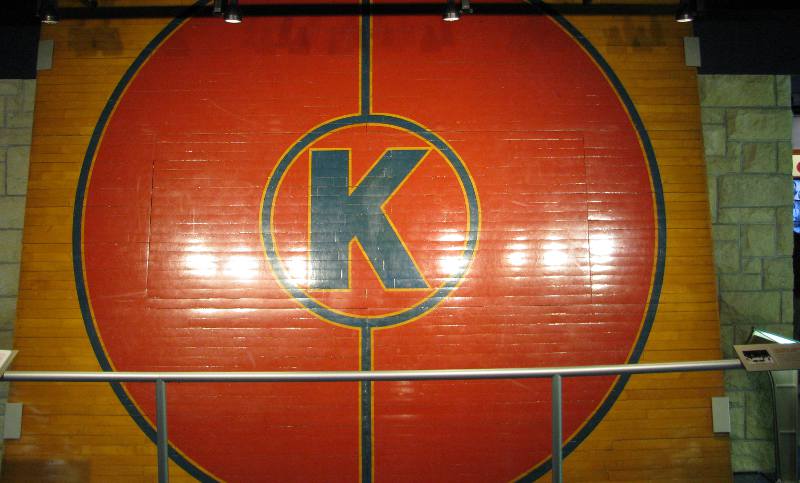 Original Allen Fieldhouse center court floor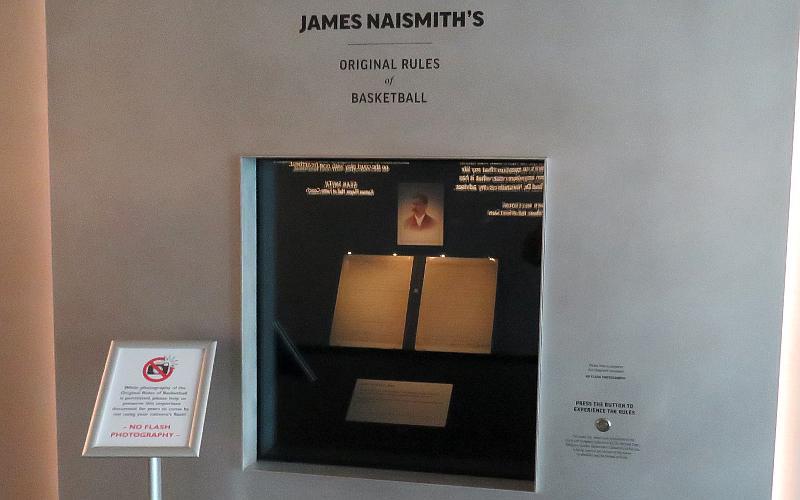 Dr. James Naismith's 13 Original Rules of Basket Ball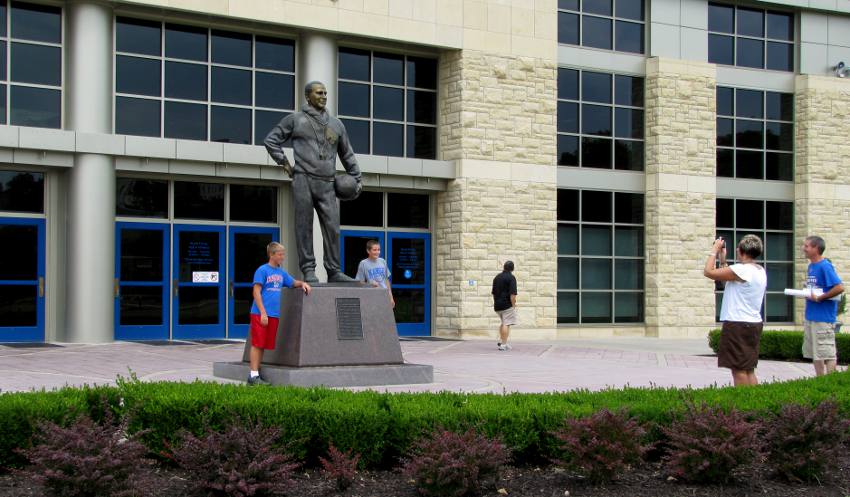 A KU family posing with the Phog Allen statue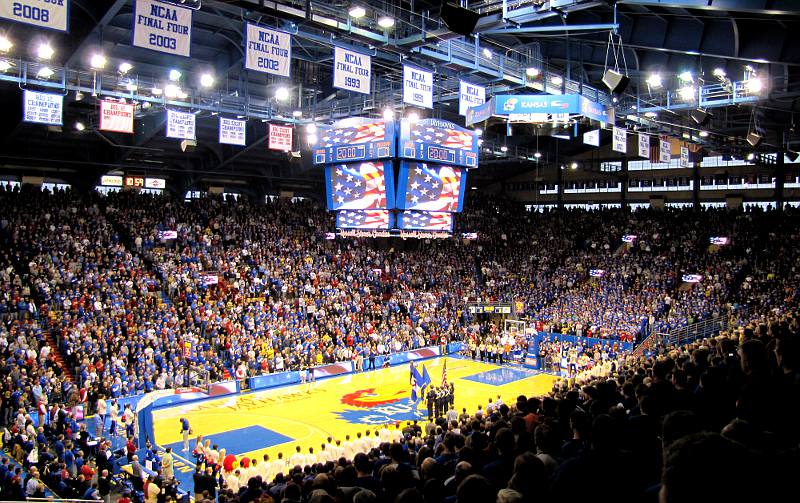 The playing of the national anthem at the start of a KU men's basketball game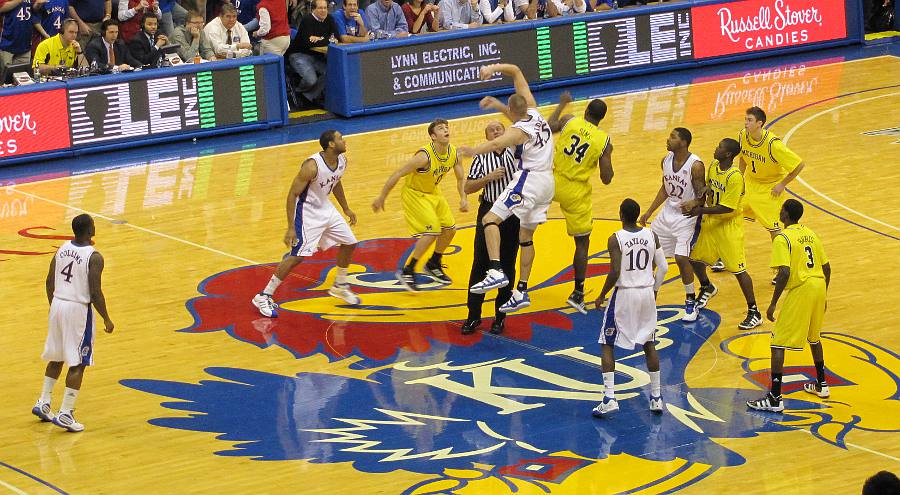 Cole Aldrich goes up for the tip off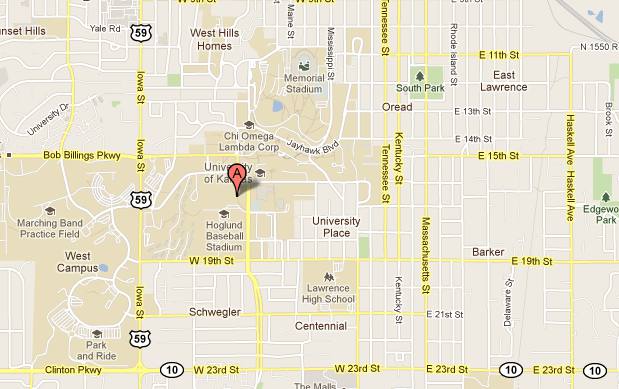 Booth Family Hall of Athletics Map
University of Kansas Natural History Museum web site
Kansas Attractions Kansas Travel & Tourism Home
copyright 2009-2019 by Keith Stokes