75 Cafe
(Executive Catering)

7425 Quivira
Shawnee, Kansas 66216

Archive only - closed in September 2010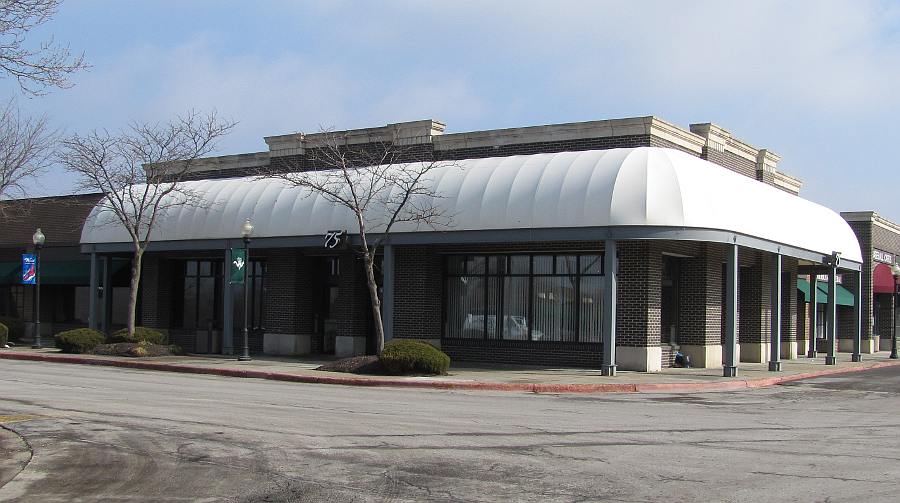 75 Cafe (I wonder how many people passing by do not no there is a restaurant here?)
This is an archive page only. 75 Cafe closed in September 2010. Wxecutive catering has also closed since that time.
Chef Greg Roith opened 75 Cafe near Quivira and 75th Street in Shawnee, Kansas, early in 2009. Greg has operated the Executive Catering company for many years and has a 120 person, event space next door. 75 Cafe is open for lunch Monday through Saturday, but is only open for supper on Thursday and Friday nights.
You order your food at the counter and it is brought to your table. When we had supper, the food was brought to our table by a server who also did a fine job of maintaining our drinks and bussing the table. At lunch time, we were pretty much on our own.
The lunch menu is sandwiches, soups and salads, with most lunches running $8.50-9.25. The 75 Turkey Press (turkey, roasted red pepper, goat cheese & spinach tossed with a balsamic vinaigrette on sourdough bread) is served with potato chips, sweet slaw or pasta salad for $8.50. It is a delicious, large sandwich with a great flavor. The 75 Cafe chips are thick, crisp and taste like shoe string potatoes.
The Goat Cheese Salad (organic arugula with goat cheese, roasted red peppers, balsamic onions, and roasted portabela mushrooms, tossed in a balsamic vinaigrette and topped with goat cheese) is also $8.50. I wish the salad was a bit larger, but I can't fault the ingredients at all. The greens and grilled peppers & mushrooms were accompanied by plenty of the flavorful goat cheese.
In the evenings, 75 Cafe continues to offer the lunch menu, but also offer specials. The night we were there, they offered 4 dinner specials priced from $14-19. We had the pan seared Pacific snapper with garlic mashed potatoes & grilled vegetables for $15.99, and the fillet with the same sides for $18.99. I took a chance and ordered the fillet the way I wanted it (medium), and that was the way it came. That may not sound like a big thing, but it seems that most restaurants in this area bring medium well or well done meat when I order medium or medium rare. The sides were both good, as was the fish.
Finishing the meal, we returned to the counter to purchase a dessert. 75 Cafe serves a variety of elaborate cupcakes. We settled instead on a cupcake sized pumpkin cheesecake for $4. I thought it was the best part of the meal, but my guest thought there should have been more pumpkin flavor.
Sadly, more recent visits to 75 have shown significant service problems. When they messed up our order on one visit, we still had a good time and didn't think that much about it. But on the most recent visit in August of 2010. there were three major service gaffs. The food was still good, but I was embarrassed to have taken people there.
75 Cafe does not have liquor license, but you are encouraged to bring your own wine.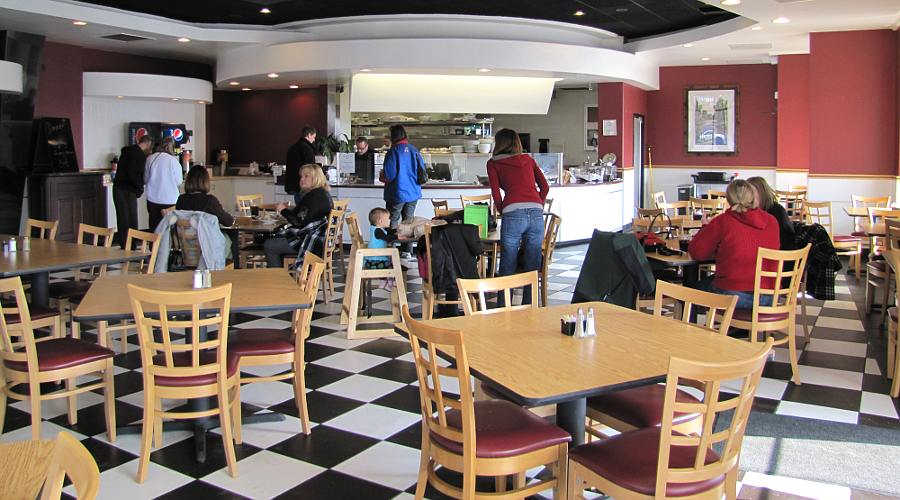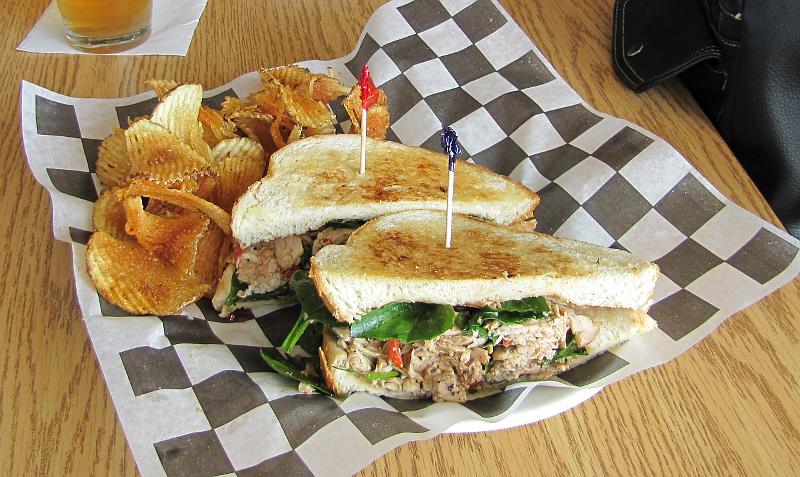 75 Turkey Press and homemade potato chips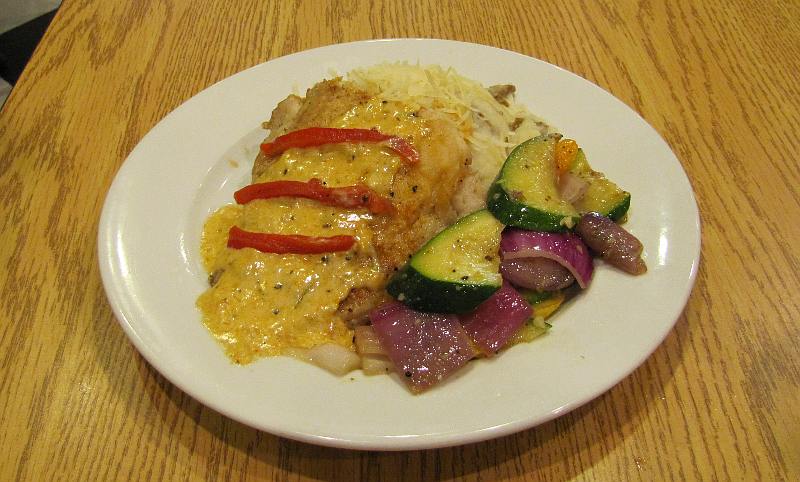 pan seared Pacific snapper with garlic mashed potatoes and grilled vegetables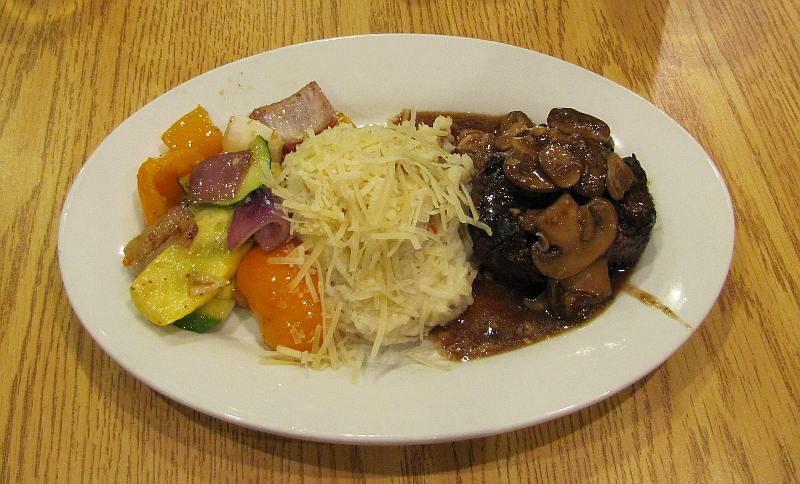 fillet with garlic mashed potatoes and grilled vegetables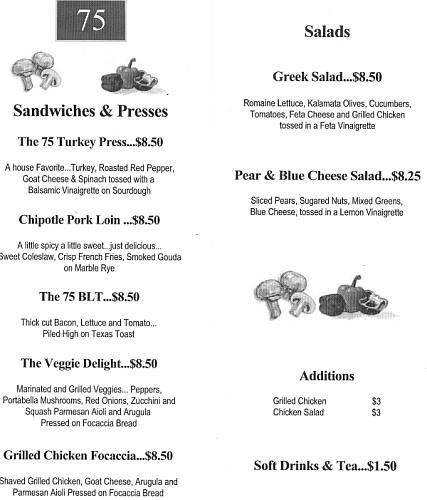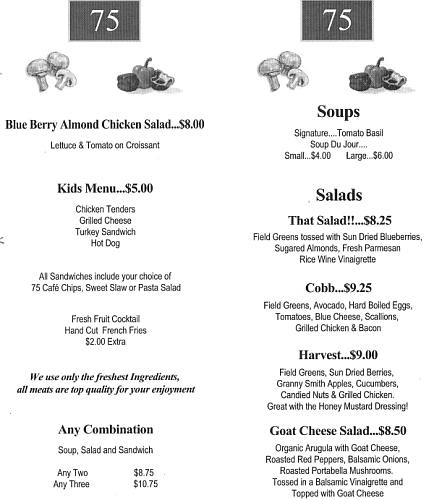 75 Cafe menu from April, 2010
Unique Kansas Restaurants 75 Cafe web site
Kansas Attractions Kansas Travel & Tourism Home
copyright 2010 by Keith Stokes