The Junction on Santa Fe

12804 Santa Fe Trail Drive
Lenexa, Kansas 66215
(913) 303-3665

11AM - 9PM Sunday - Thursday
11AM - 10PM Friday - Saturday

The Junction Menu The Junction Map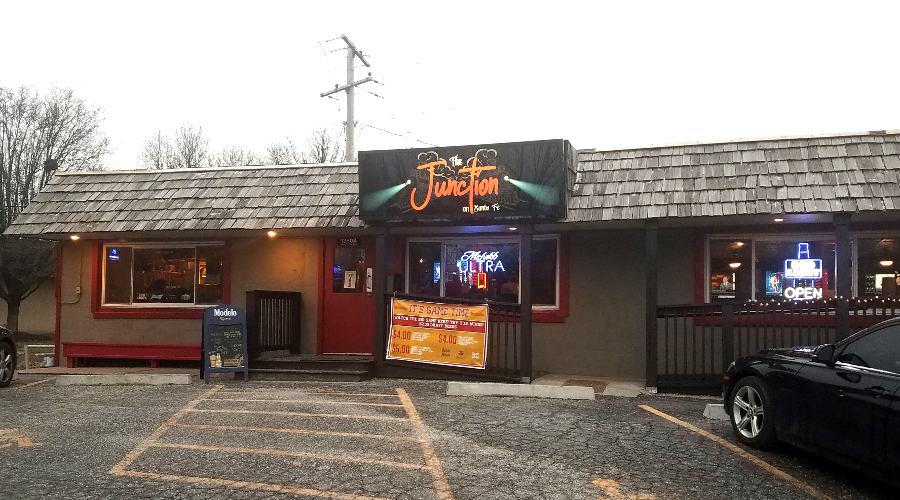 The Junction on Santa Fe - Lenexa, Kansas
The Junction on Santa Fe in Lenexa, Kansas is the newest restaurant at this location, which until last summer housed Hayward's BBQ. We have visited The Junction on Santa Fe, five times since its November opening and there are a lot of good things to say about the food, including a burger which has made our Best Burgers in Kansas list.
Ribs and chicken or the combination platter are not available before 4 PM, but there are plenty of other meats. including burnt ends, pulled chicken, pulled pork, brisket, turkey, sausage, and ham.
My favorite meat so far is the Whiskey Wings, which are also a great value, 6 whole wings for $7 or 12 for $13. The wings are brined overnight, then smoked and finished in the fryer before tossing in you choice of Buffalo, hot, BBQ or Kung Poa sauce. The spicy Kung Poa sauce is my favorite, but I recommend getting the sauce on the side.
Actually, I recommend getting the sauce on the side on all the meats. The house BBQ sauce is a sweet, thin sauce which I prefer leaving off. Get it on the side and you can choose for yourself.
The Junction has a nice line up of specialty sandwiches, such as the Junction Grilled Cheese sounded fabulous (Crispy sourdough, smoked brisket, and chopped beef caramelized onions, bourbon bacon jam smoked gouda, provolone & 2 onion rings), but failed in the preparation, the cheese wasn't even melted and there is quite enough cheese to balance the other ingridients. $12.50 with fries.
The Barnyard Beauty ha your choice of Smoked Pulled chicken $8.50, Smoked Pulled Pork 9.50 Slow Smoked Brisket 10.50 Burnt Ends 9.50 Smoked Turkey 8.50 or Slow Smoked Ham 7.50 with pickles and BBQ sauce is more effective. We have tired the chicken and burnt ends. The burnt ends were pretty fatty, something one of us likes and one does not.
The Backwoods Smokey Burger (Yes, they spell it "smokey.") is an 8 ounce patty with smoked cheddar, candy bacon, BBQ sauce & fried onion is a hit! Juicy, with large slices of sweet smoky bacon and onion straws which really made it work. The only thing I would change is the bun, which is small and falls apart during the meal. $12.50 with fries.
I'm not usually a fan of seasoned fries, but I'm a fan of the Junction's deep fried wedge potatoes seasoned with their rub. The onion rings are large, with a flavorful breading and smoky horseradish sauce on the side. It is hard to chose between these two side. The beans taste too much like the house sauce for me to be a big fan, but not everyone agrees.

This is about half od the small dinning room.

Sliced meat platter - choice of three meats plus fries and slaws.
This style of fries was only served on the first visit.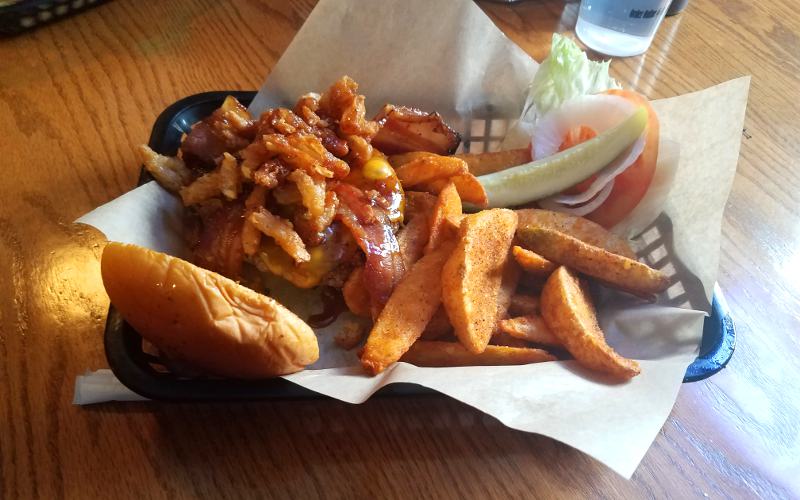 Backwoods Smokey Burger

Barnyard Beauty (burnt ends)

Half slab smoked baby back rib dinner

Smokin' Joint O-rings

Whiskey wings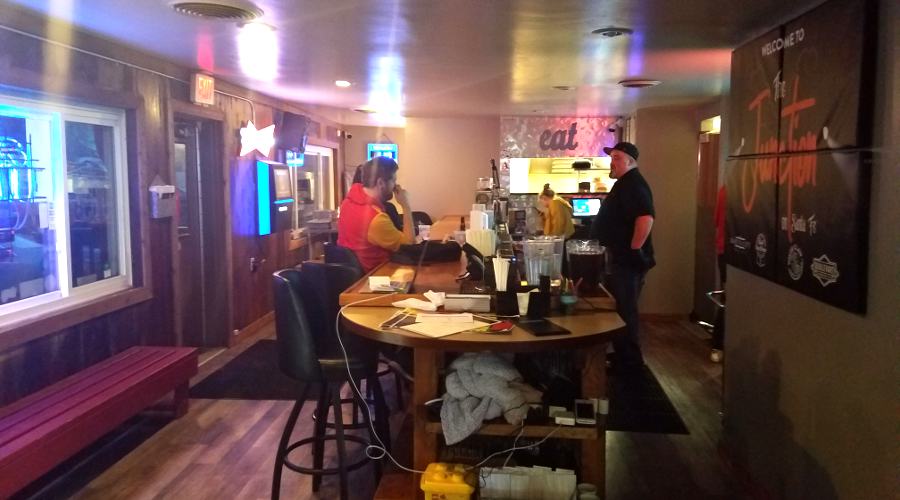 The bar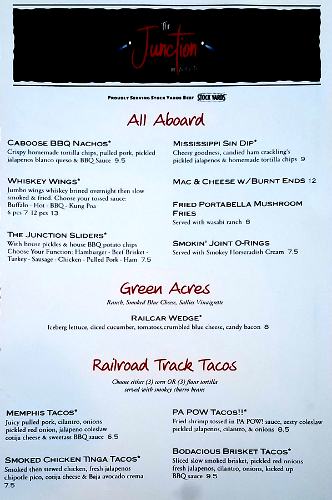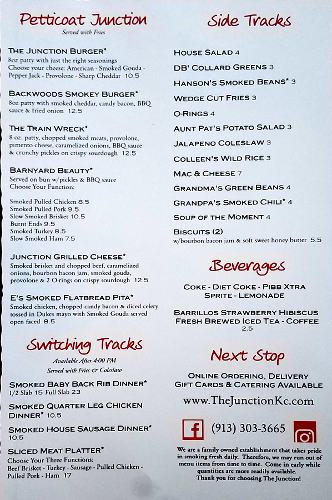 The Junction on Santa Fe menu from February 2020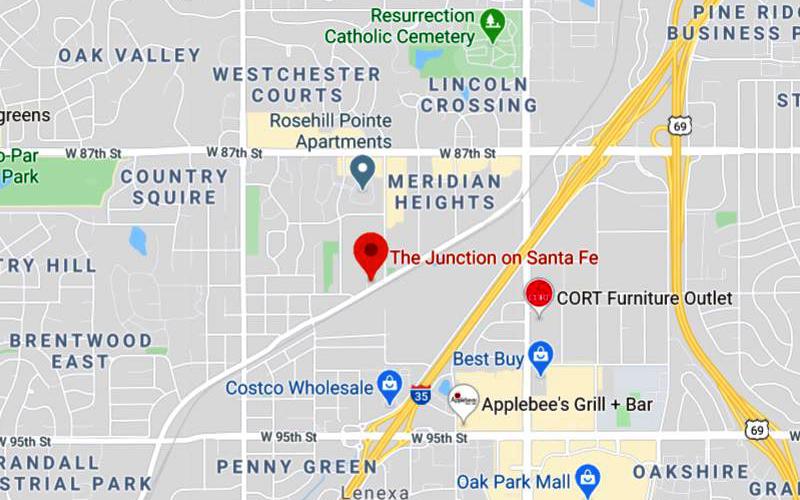 The Junction on Santa Fe Map
Unique Kansas Restaurants Kansas Best Burgers
Kansas Attractions Kansas Travel & Tourism Home
L copyright 2019-2020 by Keith Stokes