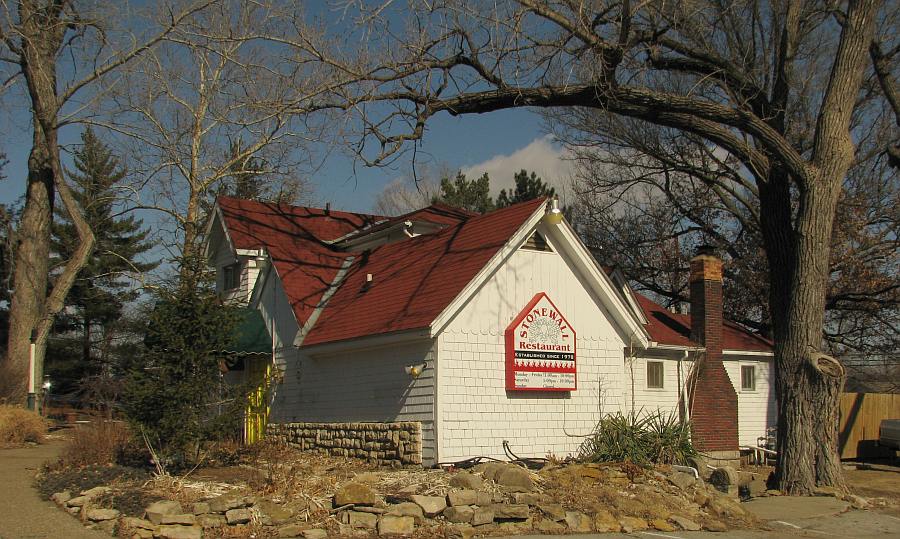 Stonewall Inn - Lenexa, Kansas
This is an archive page. The Stonewall Inn closed in February 2002. A new restaurant, Grinders Stonewall, opened at this location in the summer of 2014.
The Stonewall Inn in Lenexa, Kansas has a neat, country feel that is a surprise in the metropolitan area. The somewhat decrepit old building reminds me of some pubs I visited in England. I don't think there are two straight lines in the building. Although the owners don't play up the history, the building has a tradition of being haunted and sometimes staff will share a few of their stories of past incidences.
The Stonewall Inn has been open since 1978, but the current ownership is only a bit over a year old. The prices have gone up some with the new owner, but this is still one of the most reasonable restaurants in the Kansas City area. And the service has been much more consistent since the change.
The Stonewall restaurant has a second building across the parking lot - Stonewall Pizza and Coffee Bay - which doubles as a coffee shop and pizza parlor. Outdoor dining is available at both buildings, but the restaurant building has a particularly nice patio.
Most food served at the Stonewall is simple: pan fried chicken, catfish, liver & onions, meat loaf, chicken livers, pork tenderloin and smoked pork chops. Most meals are around $9 with a vegetable and potato. The most expensive item on the menu is your choice of all you can eat chicken and/or cat fish with vegetable, soup or salad, and mashed potatoes & gravy for $13.25.
But my favorite meals are the lunches. The fresh cut French fries and made to order burgers are very good. So is the BBQ pulled chicken sandwich, which has enough chicken for two sandwiches.
The Stonewall has a full bar which is also a bargain, with 20 ounce domestic draws for $2 and daily specials.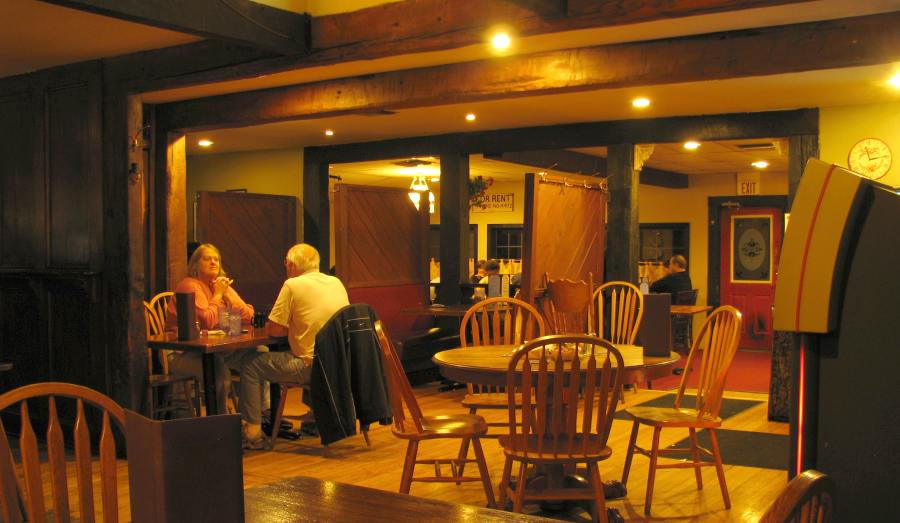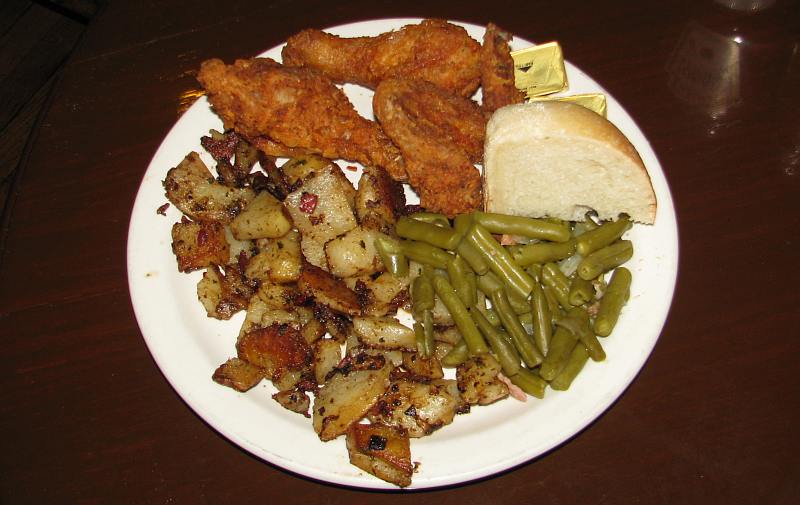 Pan fried chicken, home fried potatoes and green beans for $8.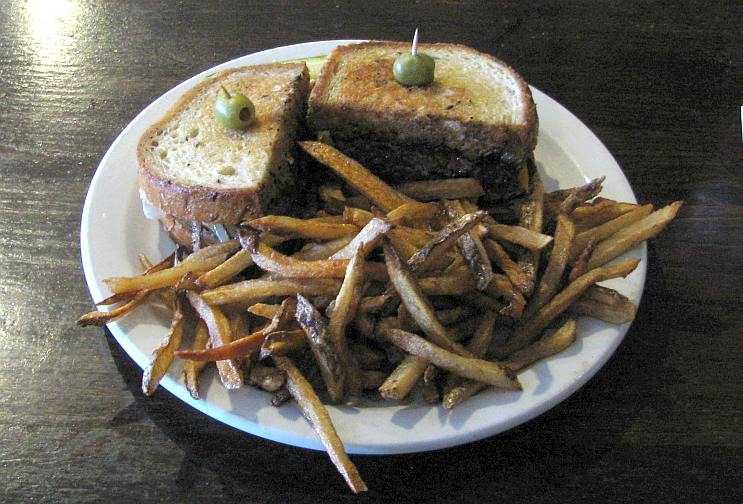 Signature Patty Melt sandwich with fresh cut French fries for $7.95.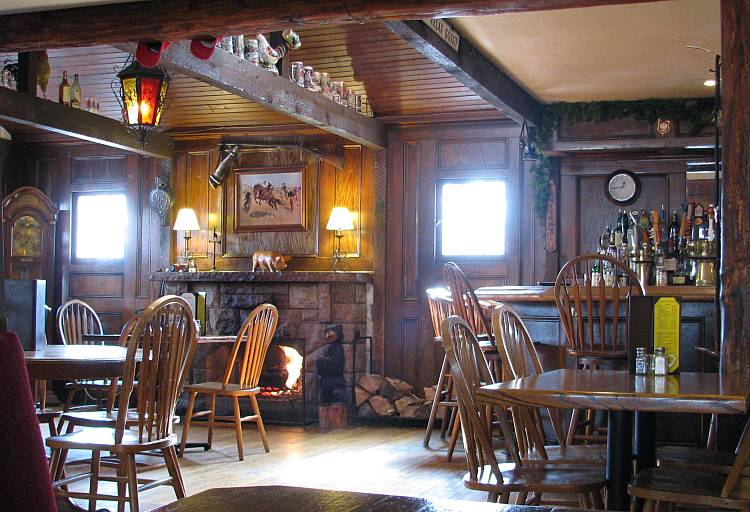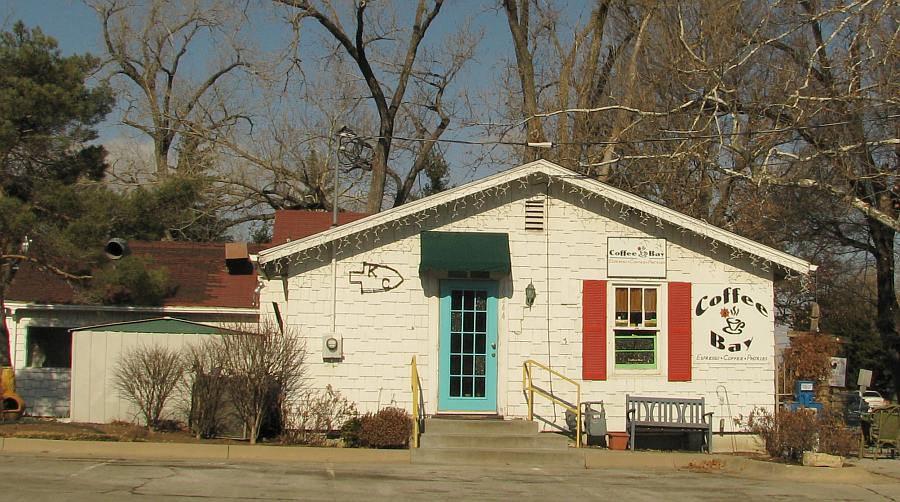 Coffer Bay and Stonewall Pizza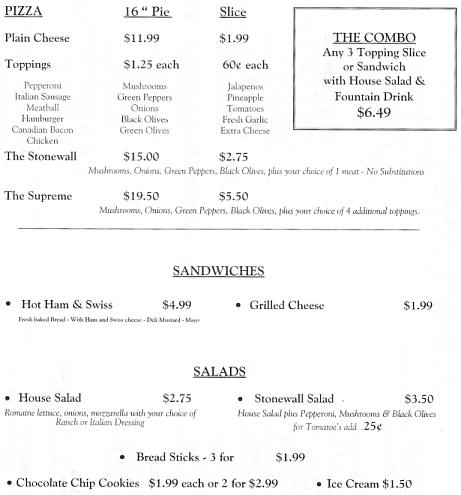 Unique Kansas Restaurants
Kansas Attractions Kansas Travel & Tourism Home
L-11/09. copyright 2009-2012 by Keith Stokes