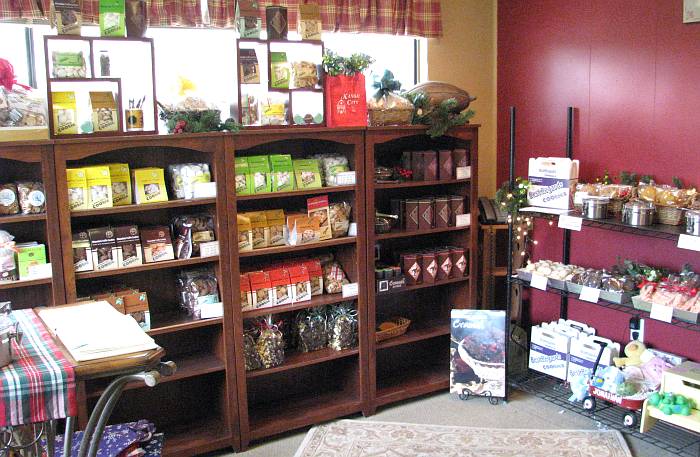 Best Regards retail showroom.
This is an archive page only. Best Regards has moved to 6759 West 119th Street in Overland Park and is now Best Regards Bakery & Cafe.
Robert and Cherrie Duensing started Best Regards in 1993 as a firm selling gift baskets for corporate giving, and continues that business today. But following 9/11, small businesses were going out of business and the Duensing's had a harder time finding the gourmet cookies that were part of their gift baskets. They ended up creating their own recipes and baking their own cookies.
Best Regards bakery in Olathe, Kansas, makes candies and bakes a wide variety of gourmet cookies. Their operation is both retail and whole sale, and you may shop in the small retail area at the front of their bakery. But go hungry, Best Regards' retail shop offers samples of all their cookies and the samples aren't small. I ended up only sampling 4 or 5 of the flavors.
The two main types of cookies being offered are soft cookies and tea cookies. The tea cookies have a longer shelf life and are the ones used in the gift baskets.
But I am a fan of the baked from scratch, soft cookies. My favorites are the chocolate chip and Toby's Spiced Apple Pie cookies. The cookies weigh 4 ounces, are individually wrapped, and sold for 2.59 & $2.99 respectively. There are discounts for larger quantities.
Other flavors of soft cookies include cranberry orange, oatmeal raisin. and oatmeal chocolate ship. The spiced apple pie cookie is only offered in the fall, and there are other seasonal flavors.
The tea cookies come in lemon, Margarita, snickerdoodle, chocolate mint, chocolate truffle and pumpkin spice. Best Regards' snickerdoodle tea cookies were featured on the Rachael Ray Show in the fall of 2007.
There were no samples of the chocolates, so I can't comment on the candies.
Best Regards is in a small industrial park, one block west of Kansas City Road. Turn west at 123rd Terrace (by the gas station). Go one block and turn right on Winchester Street. Best Regards is the second business on the left.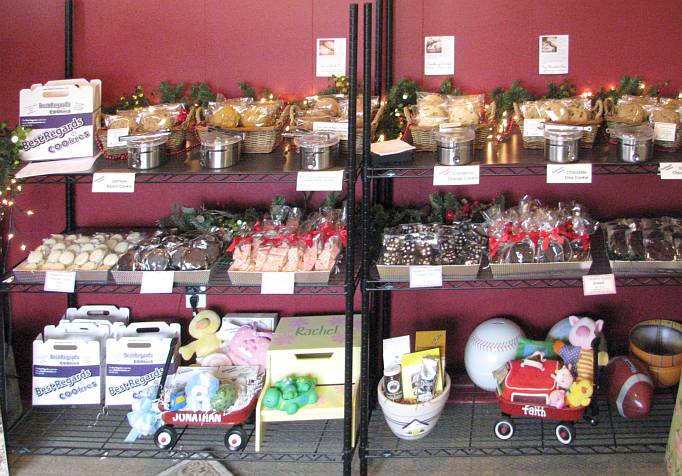 Soft cookies on the top shelf, candies in the middle.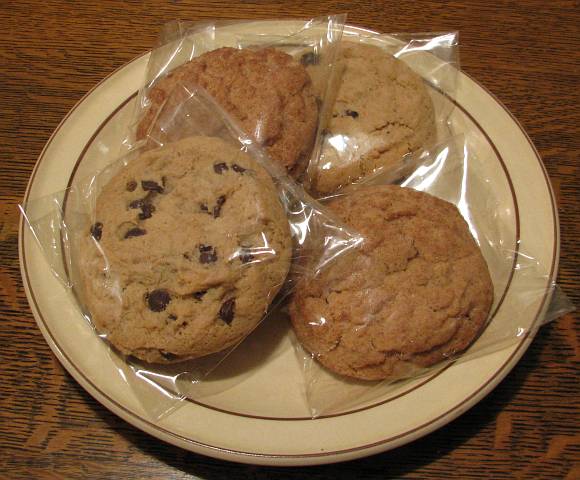 1/4 pound chocolate chip and Toby's Spiced Apple Pie cookies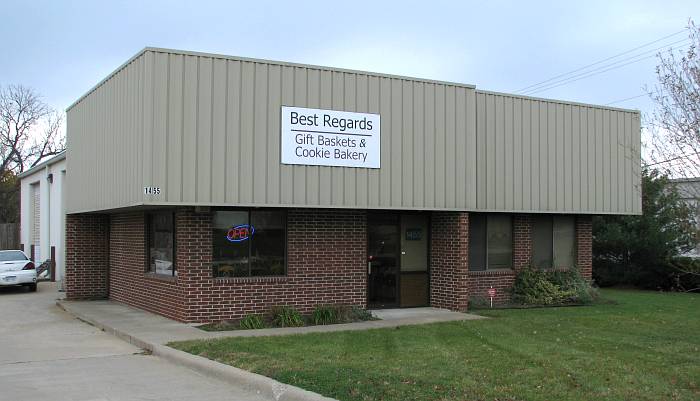 Best Regards - Gift Baskets and Cookie Bakery

Olathe Restaurants & Attractions Best Regards website
Kansas Restaurants Kansas Travel & Tourism Home
copyright -2008-2015 by Keith Stokes