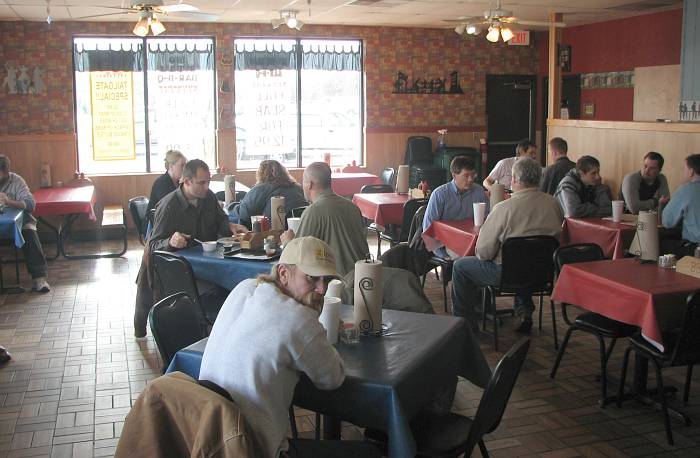 Big Bubba's Bar-B-Q - Olathe, Kansas
Archive Page - Big Bubba's closed in 2010
Big Bubba's Bar-BQ in Olathe, Kansas has a BBQ sauce unlike any others that I know in the Kansas City area - sweet and similar to some commercial seafood sauces (the kind with out horseradish). The sauce is available in regular and hot. Low carb versions of the sauce are also available but I haven't tried those. All are available to purchase in bottles to go.
Before going in for the first time, I recommend studying the menu at the drive thru, or the one at the bottom of this page. The menu at Big Bubba's website appears to date from 2006.
Big Bubba's menu is large and complex, but it is not on the wall near the entrance for you to review. Instead, you walk up to the counter and have to consult a multi paged binder next to the register. When I first stepped up to the counter, the person at the register pointed out a couple of specials in the binder, than started an order on the register, looking at me expectantly, not giving me time to look at much of the menu and make the best choice.
After a few visits, my favorite items on Big Bubba's menu are the brisket and pulled pork. The BBQ pork ribs, smoked (baked) potato and French fries are also good.
The wait for food at Bubba's is at least twice as long as the other BBQ restaurants in Olathe, but not unreasonably long. I think meals at Big Bubba's would be more enjoyacble if they provided silverware instead of plastic in the dining room.
Sorry, but Big Bubba's closed. It was replace in 2010 by McGuire's Smokehouse which has also closed.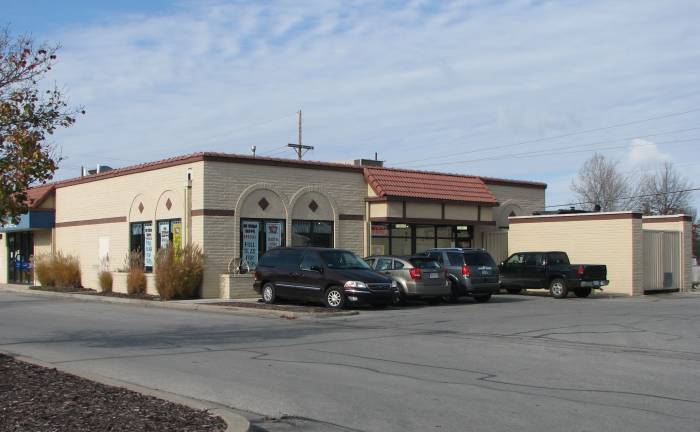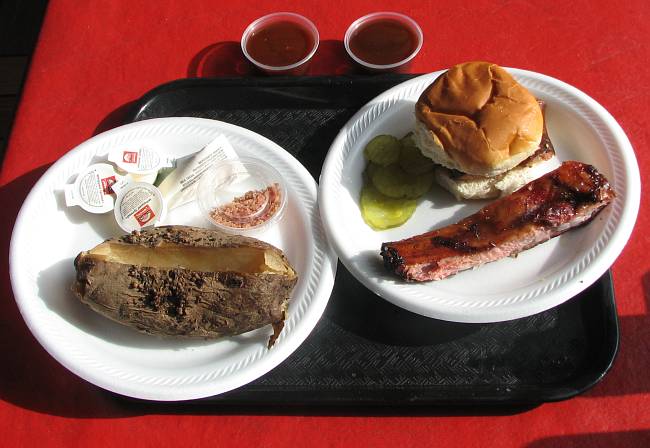 Smoked Potato, regular sausage sandwich and one rib.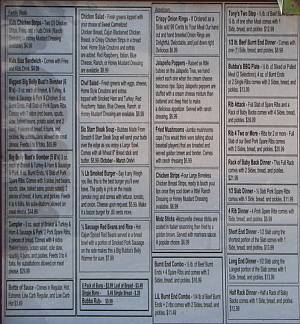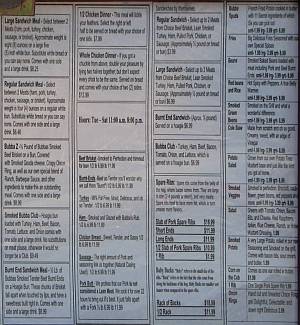 Click on the images for a larger version of Big Bubba's menu from November, 2008.

copyright 2008-2015 by Keith Stokes