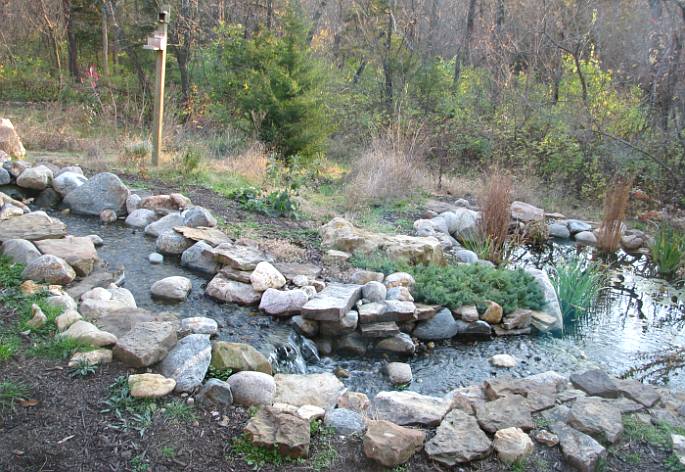 Wild bird area outside Ernie Miller Nature Center
The 113 acre Ernie Miller Nature Center and park in Olathe, Kansas was purchased by the City of Olathe in 1966. It offers 3 miles of trails that are open from dawn to dusk, and the nature center which is open limited hours on Tuesday through Sunday. Visiting the park and nature center is free, but there are fees for certain activities.
The Nature Center has an outdoor amphitheater, large stream aquarium, bird feeder court with butterfly & hummingbird gardens, and other exhibits including live amphibians, turtles & snakes. Ernie Miller has several cages for the display of live birds of pray and was exhibiting a red tail hawk and a great horned owl at the time this was written. More owls were expected at that time.
There is also a small Nature's Corner Gift Shop.
Over 170 species of birds may be seen at Ernie Miller Nature Center during various seasons of the year. They include osprey, 8 species of hawks, and 2 species of falcons.
Ernie Miller Park is named for Ernest Miller, who was a civic leader, merchant, editor and columnist of the Olathe Mirror, and a real estate broker, known affectionately as "Mr. Olathe." His family were some of Olathe early settlers, coming to Olathe by covered wagon in 1855.

Ernie Miller Nature Center Hours
November - February

Tuesday - Saturday: 9AM-4:30PM
Sunday: 12:30-4:30PM

March - October

Monday - Saturday: 9AM-5PM
Sun: 1-5PM
Closed on Sunday in June, July & August
Nature Center closed from Noon till 1PM
Trails and outdoor exhibits open dawn to dusk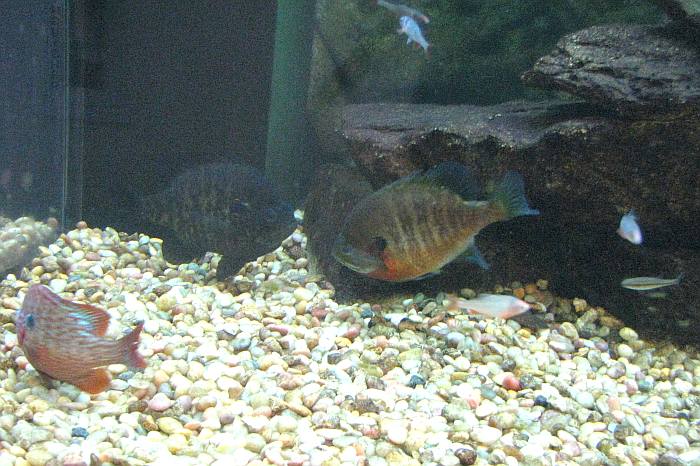 Bluegill (Lepomis macrochirus) in the Ernie Miller Nature Center stream aquarium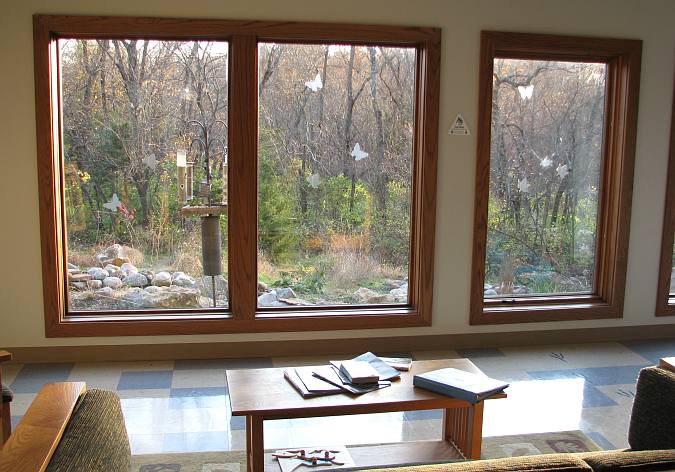 A comfortable spot to watch wild birds at the bird feeders and use bird identification guides.
A microphone brings the sounds of the birds inside.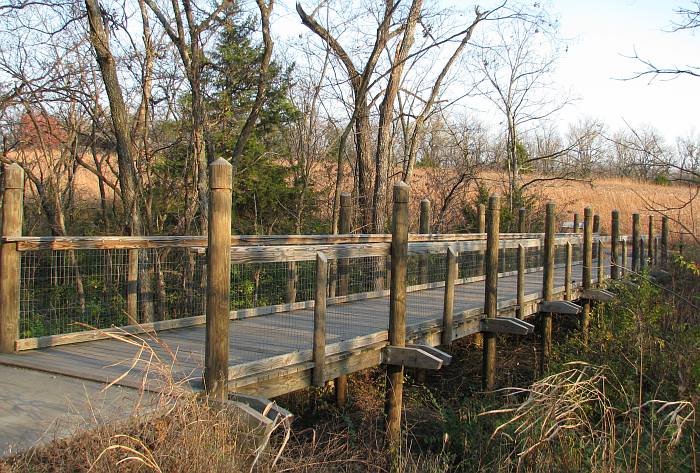 Start of one of the Ernie Miller Nature Center's 3 miles of hiking trails.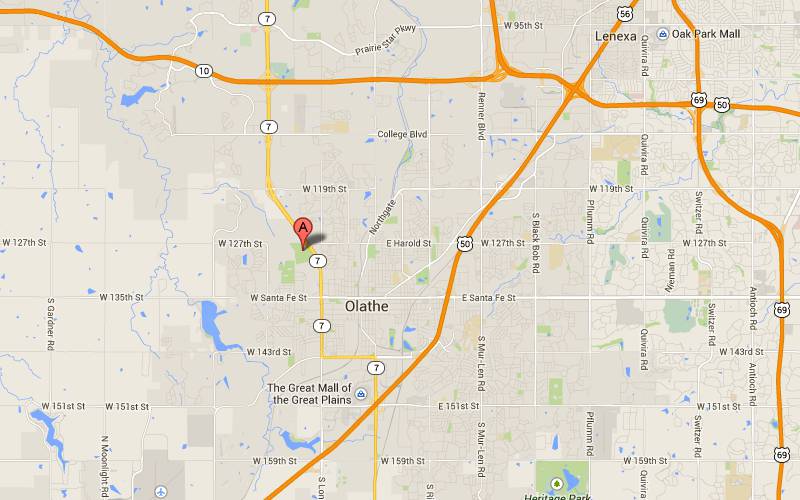 Ernie Miller Nature Center Map
Mahaffie Stagecoach Stop Ernie Miller Nature Center Website
Olathe Restaurant & Attraction Guide
Kansas Attractions Kansas Travel & Tourism Home
copyright 2008-2015 by Keith Stokes