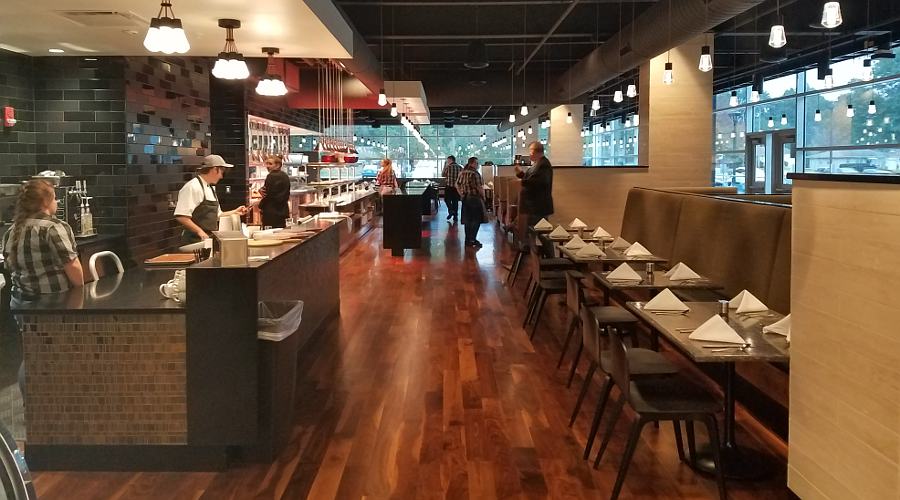 Broadmoor Bistro's new dinning room
Broadmoor Bistro in Overland Park, Kansas is a restaurant operated by Shawnee Mission School District students. The student restaurant opened in the cafeteria at Broadmoor Technical Center on 83rd Street in 2000 and expanded with a 3,000 square foot Bistro addition, along with a bakery, full culinary display kitchen, and classroom in 2008.
The Bistro moved to a new facility for the 2017-2018 school year. The new restaurant is larger and more contemporary, but also more institutional. They were not offering tours of the kitchen and classrooms when I dined at the new facility (they did at the old one), so I can't comment on back end.
Broadmoor Bistro is only open Wednesday evenings during the school year. They keep the same menu for 2 months at a time. For $30 you get your choice of two starters from a small selection of appetizers, soup or salad, the choice of entree, and choice of dessert. On our first visit at the original location, I selected juniper herb rubbed chop of wild boar with chili roasted posole, Asian pear puree and butternut squash. The boar was good, and the posole was better than I expected, but I was surprised how much I enjoyed the pear. My wife had chicken roulade - pan seared organic breast of chicken stuffed with spinach, goat cheese, sun dried tomatoes, braised in kalamata olive jus with Swiss chard and celeriac polenta.
My favorite items were the smoked Nantucket scallops and fried leaks that garnished the salsify soup. The presentation of the soup was interesting. The server brings a large shallow dish with the scallops and leaks in the center. Then a second server poured the soup into the dish, around the garnish. When the next table with 6 people were served soup, it took 5 people to bring it out.
On our next visit, my had Crispy Sea Bass with melted leeks, celeriac whipped potatoes and grapefruit "Air" for her entree, while I had mesquite grilled South Texas antelope chop with green chili & cheese grits, onion jam, Swiss chard, and red eye gravy. The antelope had too much "char" flavor from the mesquite, it overpowered the flavor of the meat. But I really enjoyed the onion jam.
My first meal at the new location was November 1, 2017. The menu and food was similar to past experiences, but the service had significantly degraded. These are students and I don't hold them to the same standards as professional restaurants, but the kitchen was also very slow. With my doing all I could to make it go faster, my meal still took and hour and a half.
The meal started with house made bread and plum jam. My starters were sausage flatbread and curry meatballs. The flatbread with sweet sausage had good flavor and was firm enough to pick up to eat, but still tender. The plate was warmer than the meatballs, which were mildly seasoned.
My entree (chosen from 5 options) was bourbon braise beef, with sweet potato in turnip gratin and Brussels sprouts. The roast beef was flavorful and served with a bourbon reduction. The sweet potato and turnip were in layers. The Brussels sprouts were only slightly cooked and a little tough. They has been seasoned with a bitter herb.
There were a couple of dessert choices, or diners could select a desert from the bakery display case. I chose an "apple butterscotch" from the case. It looked like a muffin, but was more like a rather hard cookie. It was OK, but not as good as it looked. I think it may have been a few old.
Advance reservations are required and can only be made online. Reservations are made through Open Table.
The Broadmoor Bistro hosts fundraising James Beard Foundation dinners. At one time, they were $60 for a 5 course meal by a nationally known chef. The price has fallen to $45, a bargain for an experience like this. They take place about once a month during the school year on a Tuesday night.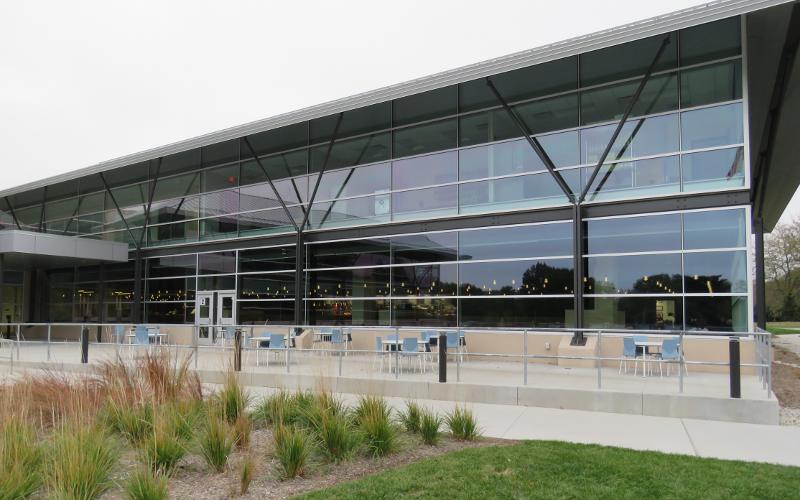 Broadmoor Bistro's new location at the Center for Academic Achievement in Overland Park, Kansas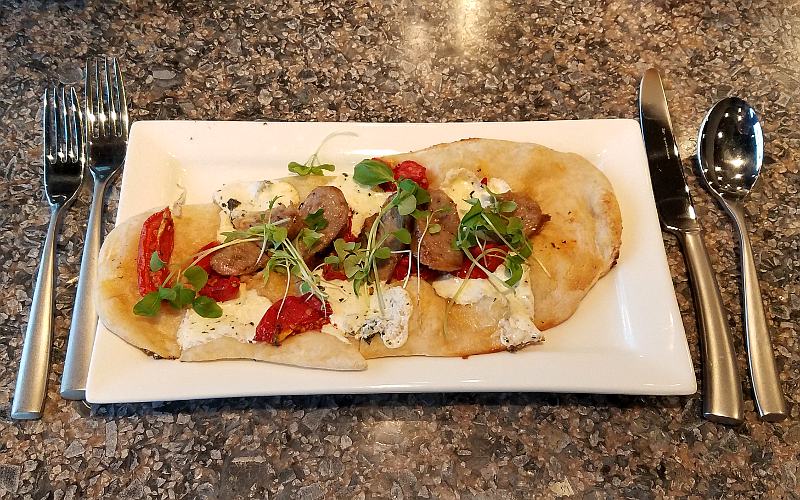 Flatbread sausage, tomato, mozzarella cheese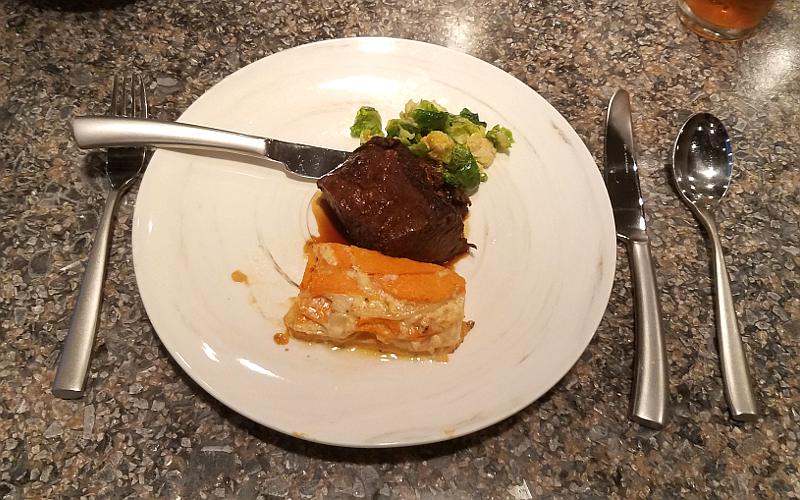 Bourbon braised beef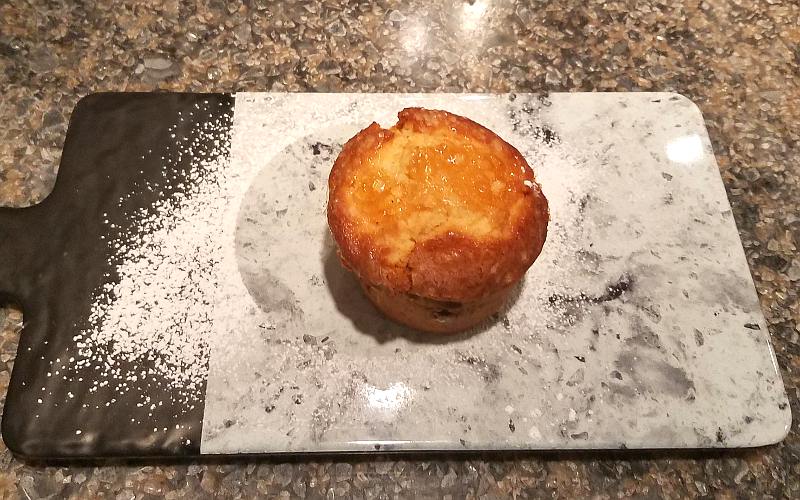 Apple butterscotch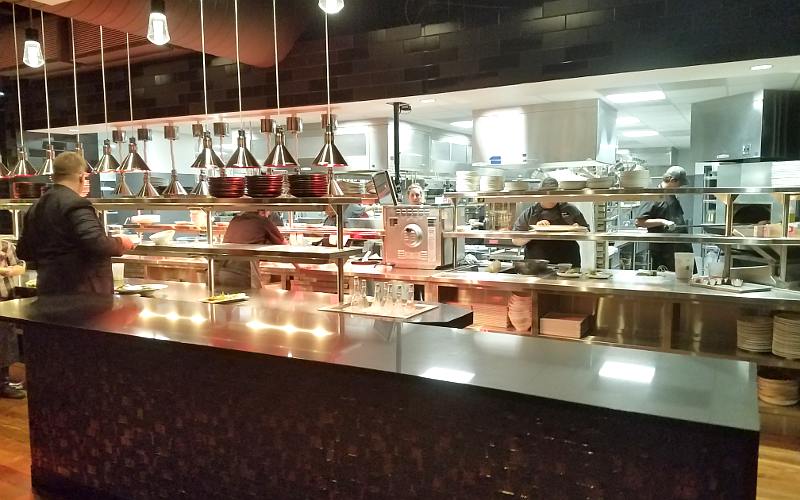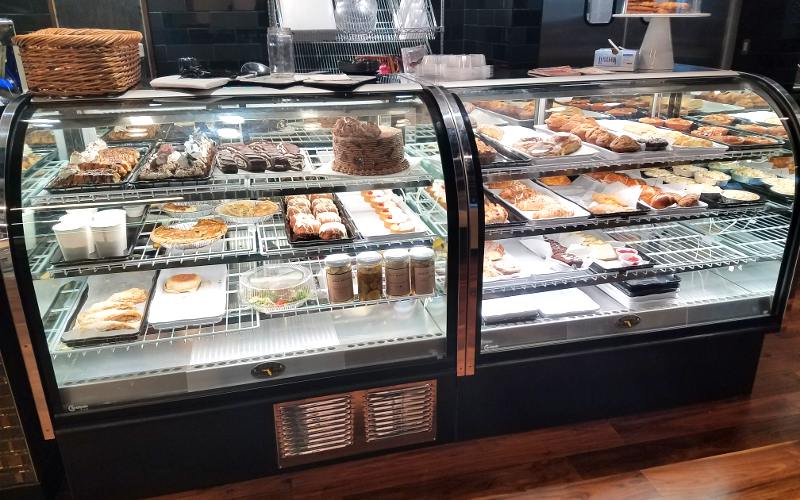 Additional pastries and candies available to purchase and take home.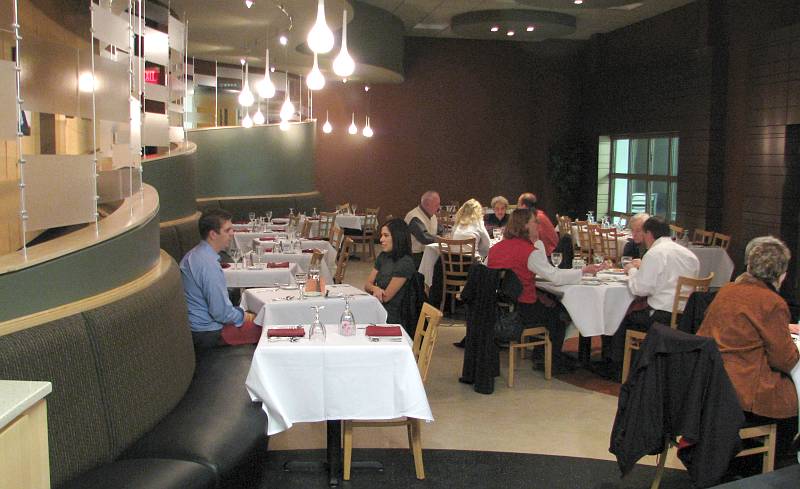 The dinning room from the former location at Broadmoor Technical School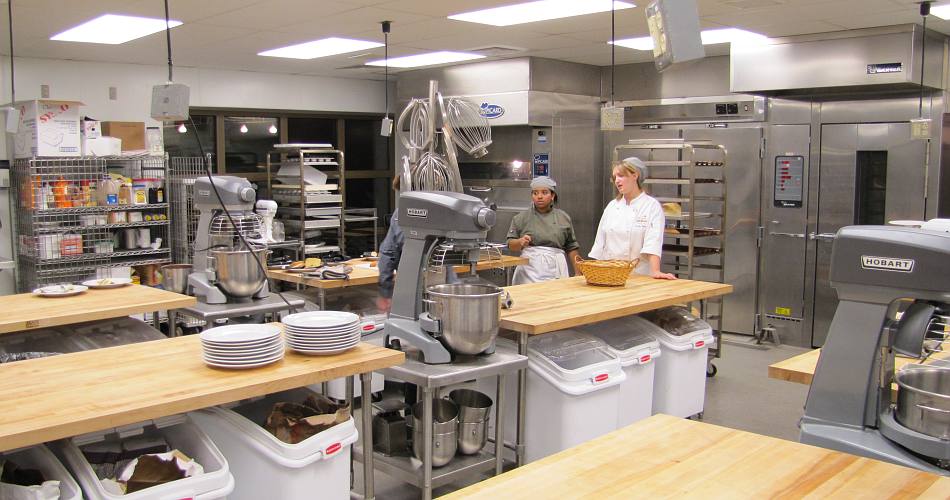 Broadmoor Bistro bakery from the former location at Broadmoor Technical School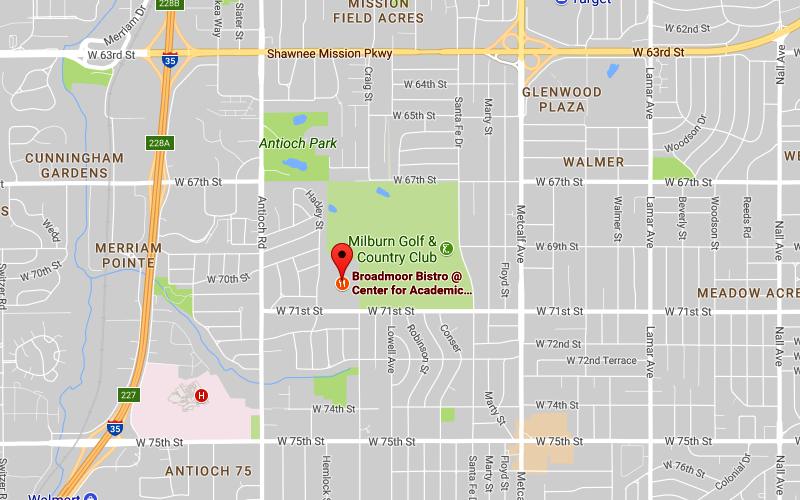 Broadmoor Bistro Map
Broadmoor Bistro website
Kansas Attractions Kansas Travel & Tourism Home
LS-2/14 copyright 2009-2017 by Keith Stokes