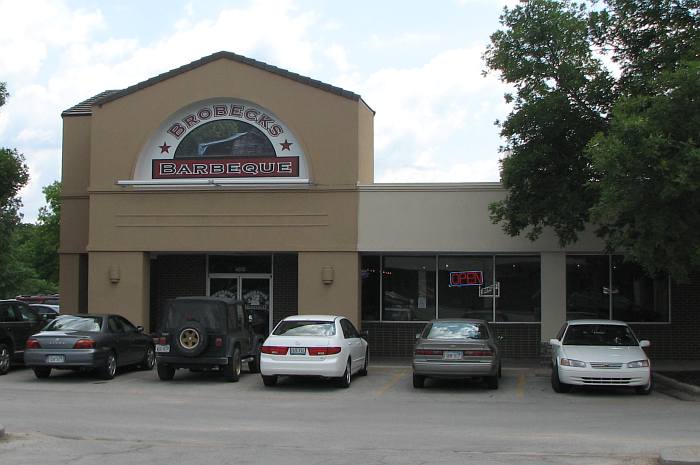 Brobecks Barbeque - Overland Park, Kansas
Brobecks Barbeque in Overland Park, Kansas should be one of the best known Kansas City area BBQ restaurants, but still seems to be a well kept secret. Doug Brobeck formerly owned the Stillwell Smokehouse and has been operating at this location since November of 2007.
Brobecks provides service at the table, rather than going to the counter, something rare at the less expensive BBQ places in the Kansas City area. And that service is very good; attentive without being intrusive, and doing all the little things correctly.
Brobecks BBQ offers a lunch special that is plenty of food: regular sandwich with 1 or 2 meats, 1 side and a drink for $9.95. I recommend Brobecks Combo Platter with three pork ribs, Polish sausage & one sliced meat, with 2 sides for $13.95. Enough food for two not very hearty eaters.
Brobecks' BBQ ribs are quite good. Both the flavor and texture are superior. Brobecks dry rubbed ribs have so much flavor that they are even good without sauce. The brisket is less smoky - closer to roast beef than Que. The only meat which I haven't cared much for is the pork, which is bland to my palate, but probably appeals more to those that eat BBQ less often.
The smoked ham salad at Brobecks' is an unusual BBQ option, but I like it. The serving of ham salad is large and the plate was heaped with crackers and Brobecks' own cooked potato chips - a great deal for $5.25. The chips come seasoned with the house dry rub and are excellent.
Brobecks sides dishes are my favorite part of the meal. The fries are perfectly cooked - thick, tasty and crispy. The cheesy corn is black peppery and very good. The beans look like they just came out of a can, but do have good flavor.
There are two BBQ sauces on the table in squeeze bottles. One is semi sweet, with a peppery taste. The other is mustard based, with a similar peppery component. Neither one is very hot, but they are both distinctive. There is a table near the entrance with choices of other BBQ sauces (including Gates and KC Masterpiece), hot sauces and bread.
Brobecks Barbecue is off Roe Avenue, north of I-435.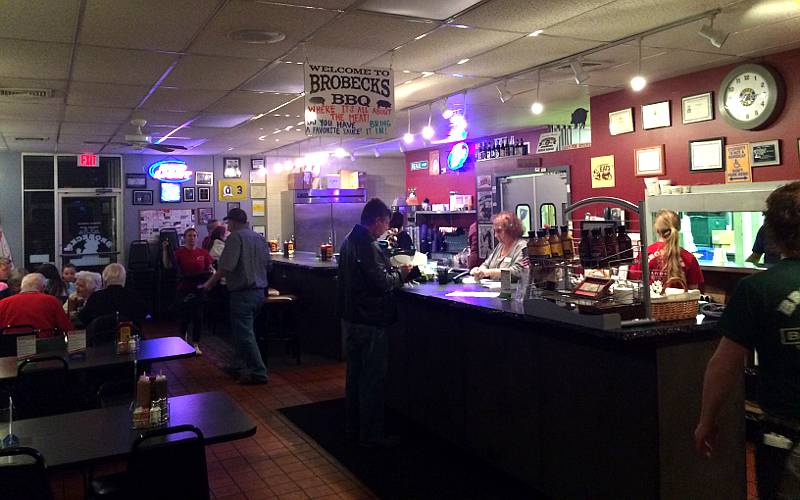 Brobecks Barbeque counter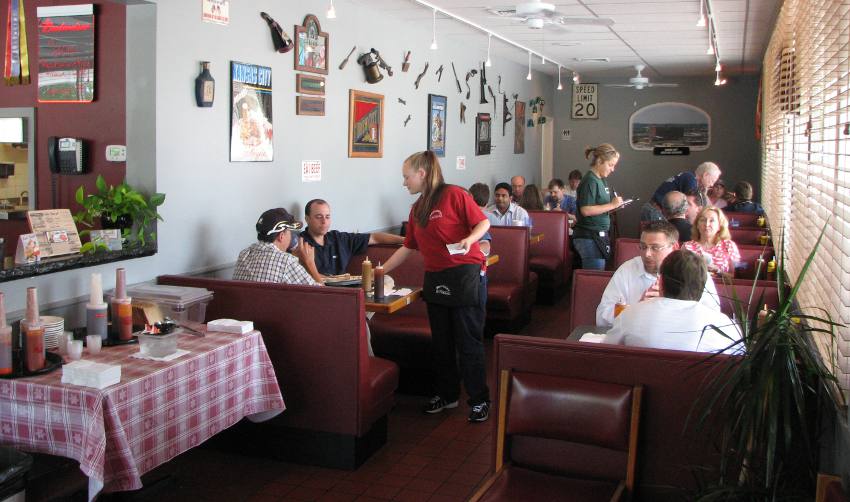 Brobecks dining room - here are a few more tables near the counter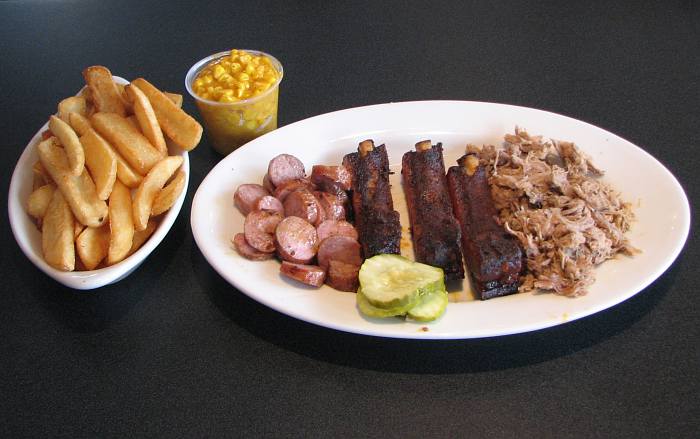 Brobecks Combo Platter: 3 ribs, sausage and one sliced meat with any two sides dishes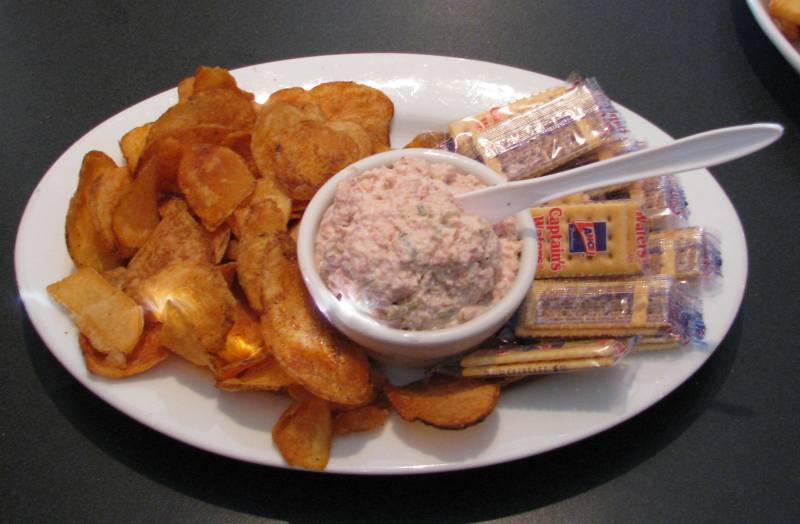 Brobecks' potato chips, smoked ham salad and crackers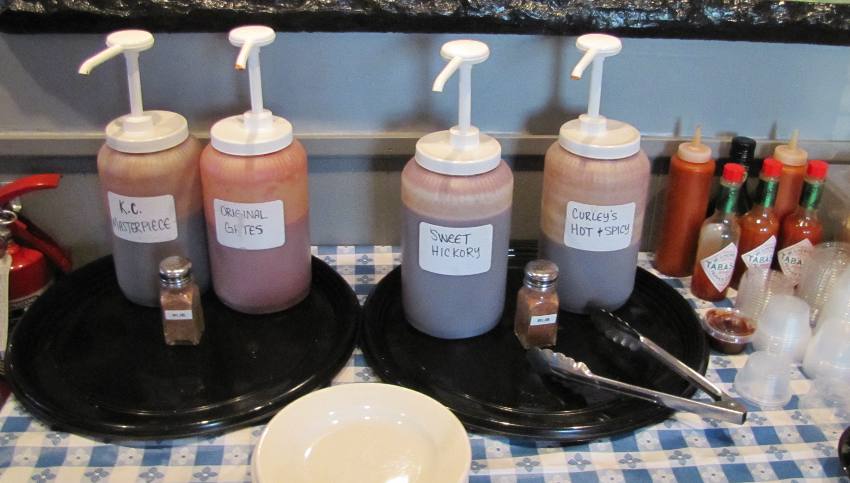 Only two sauces are on the table, but these sauces are also available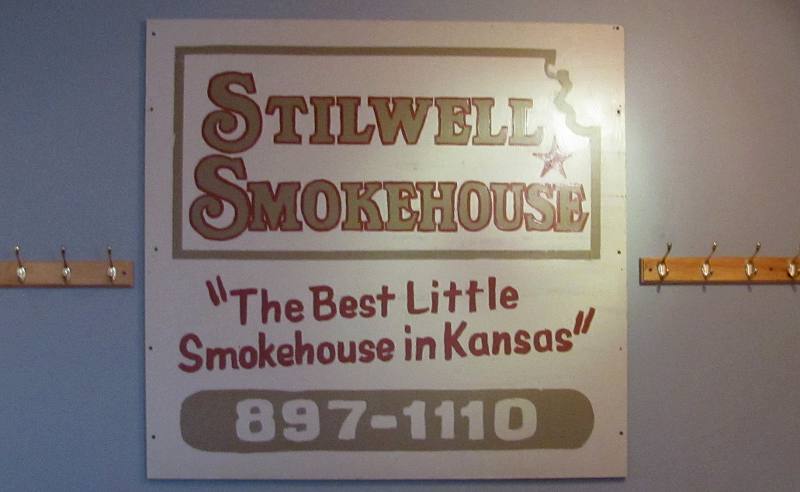 Brobecks' previous restaurant was the Stillwell Smokehouse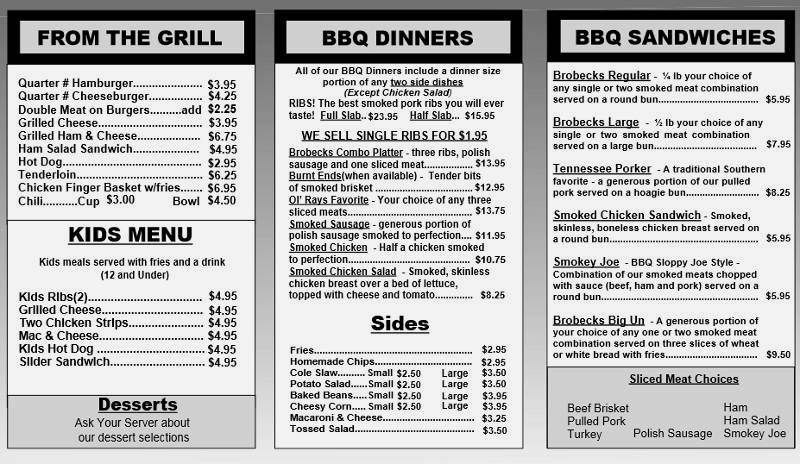 Brobecks February 2018 menu.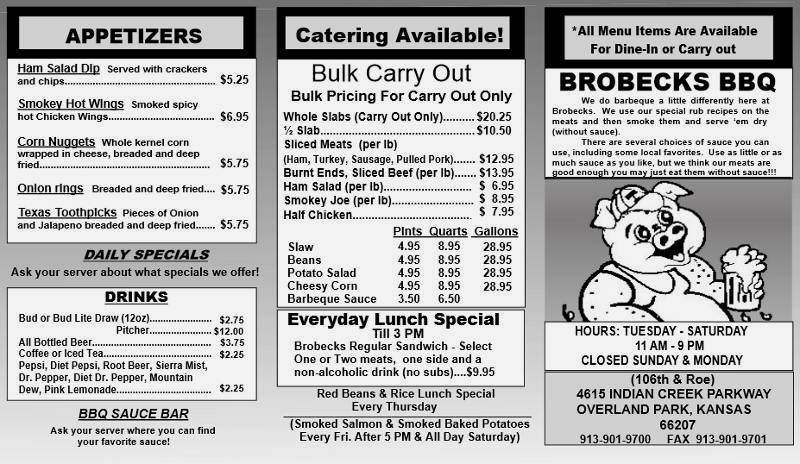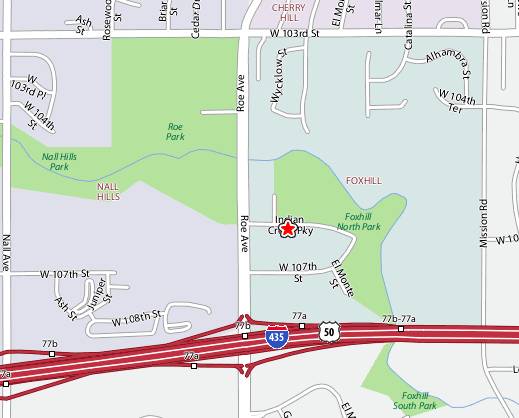 Brobecks Barbeque Map
Brobecks Barbeque web site
Kansas Restaurants Kansas Travel & Tourism Home
copyright 2008-2018 by Keith Stokes