GrandStand Burgers

4942 Merriam Drive
Overland Park, Kansas 66203
(913) 362-0111

Monday, Tuesday & Thursday: 10:30AM - 7PM
Wednesday: 10:30AM - 6PM
Friday & Saturday: 10:30AM - 9PM

Grandstand Burgers Map Grandstand Burgers Menu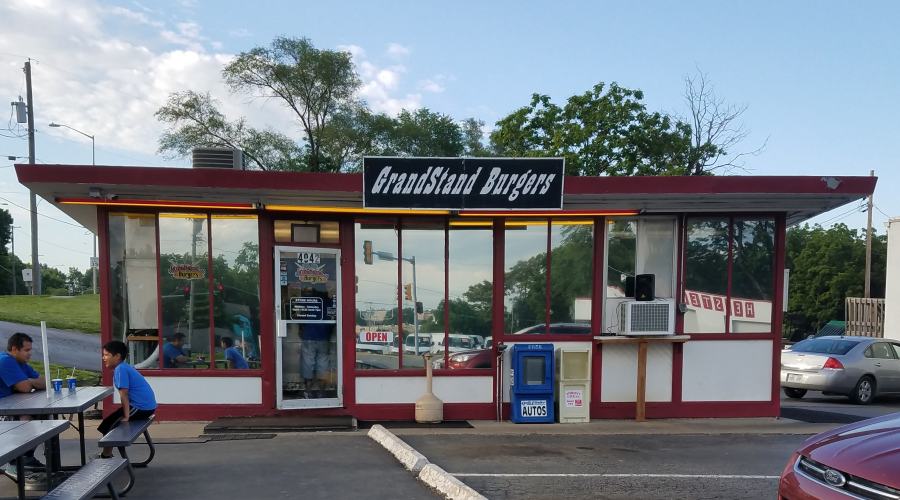 Grandstand Burgers - Overland Park, Kansas
Grandstand Burgers in Overland Park, Kansas is located just a couple of blocks north of I-35 at the corner of Antioch Road and Merriam Drive. Many people confuse the location with Shawnee or Merriam, but it really is in Overland Park.
The 16 year old restaurant is a tiny place with no seating though 2 or 3 people may stand and eat at the small counter, plus picnic tables out in front. But that doesn't keep people away. The line to order went out the door much of the time during my visits and a 30 - 40 minute wait for food is not unusual. The kitchen is equally small, but very busy. On the first visit, four people were working in a space smaller than the kitchen in a small apartment. The small size does limit what they can do - other than the handmade hamburgers, it appears that most everything else is cooked from frozen.
I have sampled the 1/3 pound $4.75 cheeseburger on multiple visits. On my first visit, the burger was over cooked to the point of being dry and slightly tough. On the second try, I asked if they could cook it medium, and they said they could cook it to only 168 degrees on request. It was still well done, but not over done and quite enjoyable. I recommend everyone request the 168 degree burger, even those who prefer well done.
The hand burger patties are freshly hand formed, but with the tiny kitchen, most other items are are made from frozen.
The $2.75 onion rings are quite good for made from frozen, but the hot wings and French fries are less - I didn't care as much for them as for what I can prepare myself from frozen at home. We recommend skipping the fries and going for the tater tots! The tots are long, flat and about a third of the thickness of other tater tots and shapped like Tetris pieces. They are crispy and have more flavor than most tots.
The $6 pork tenderloin doesn't appear to be hand breaded, but it is one of the best pork tenderloins in metro Kansas City. Tender and with a batter which has great flavor.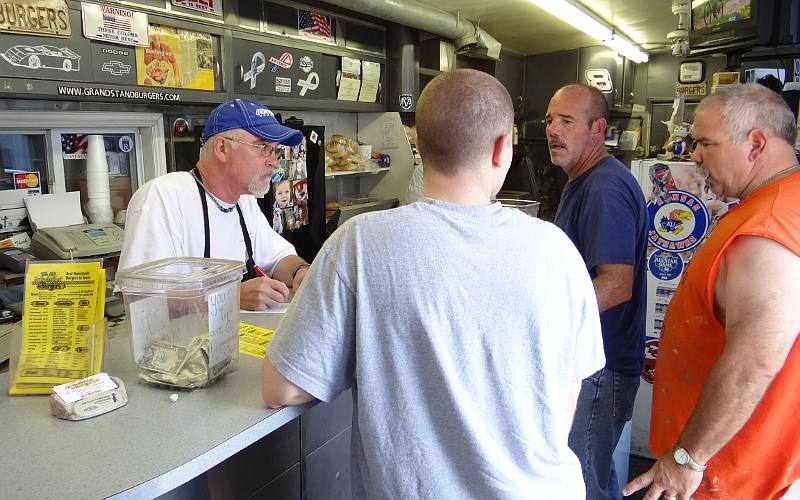 Squeezed in through the door and placing an order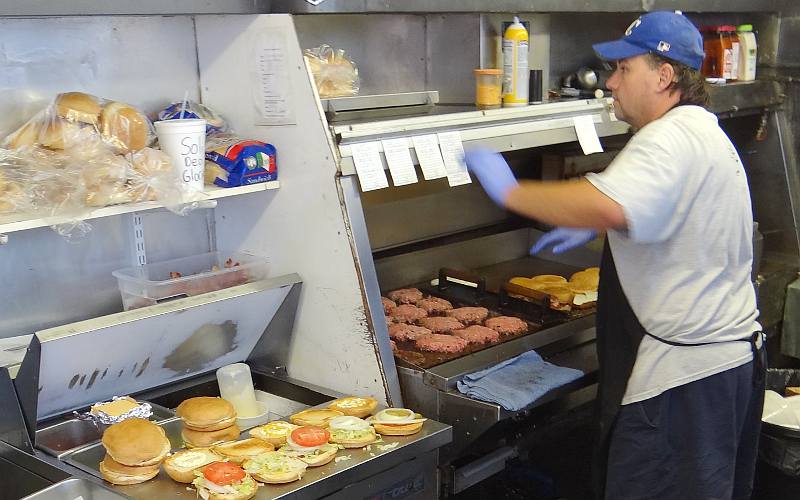 Every inch of the tiny grill is used keeping up with the orders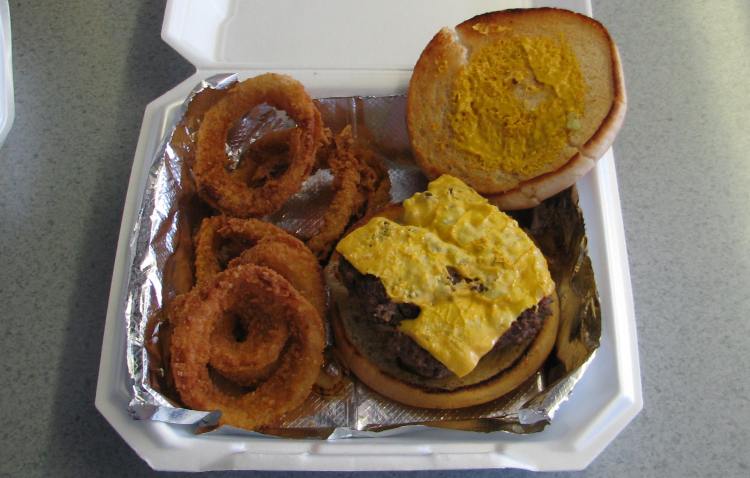 Onion rings and cheeseburger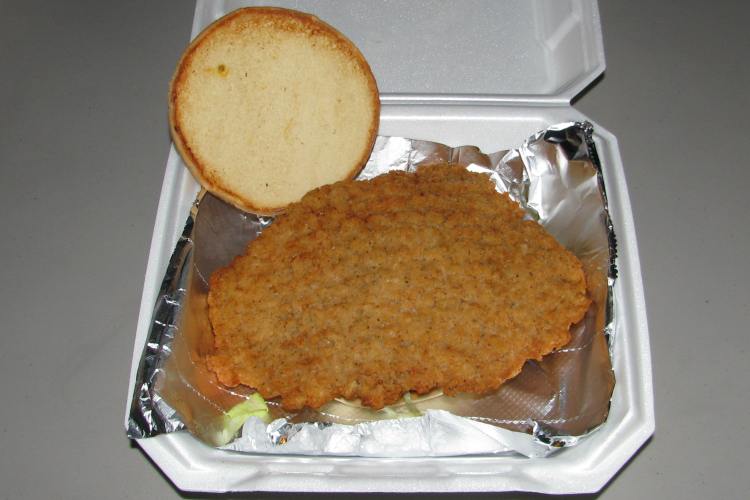 Pork tenderloin sandwich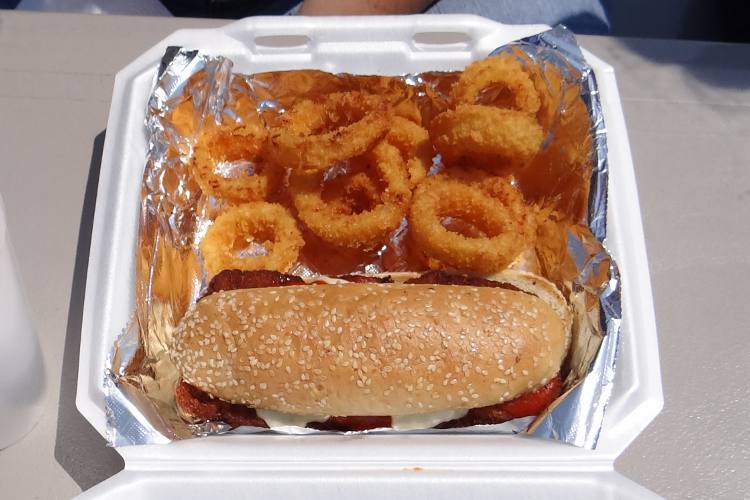 Italian Steak Sandwich with marinara sauce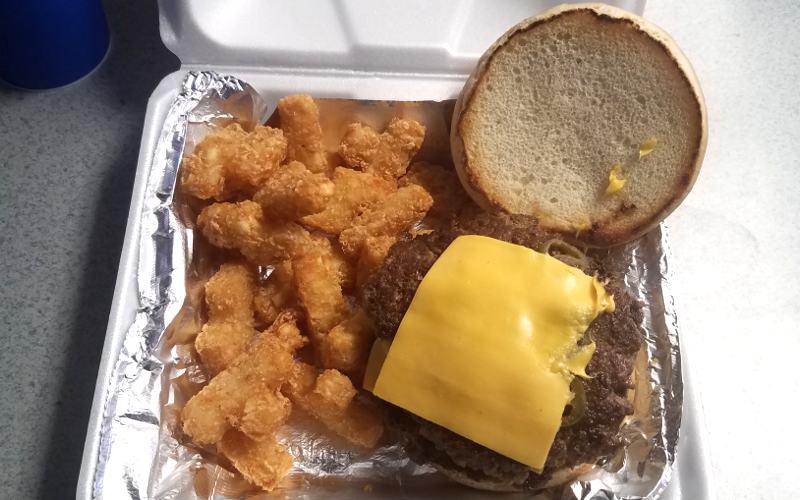 Tater Tots and a double 1/3 lb cheeseburger with grilled jalapenos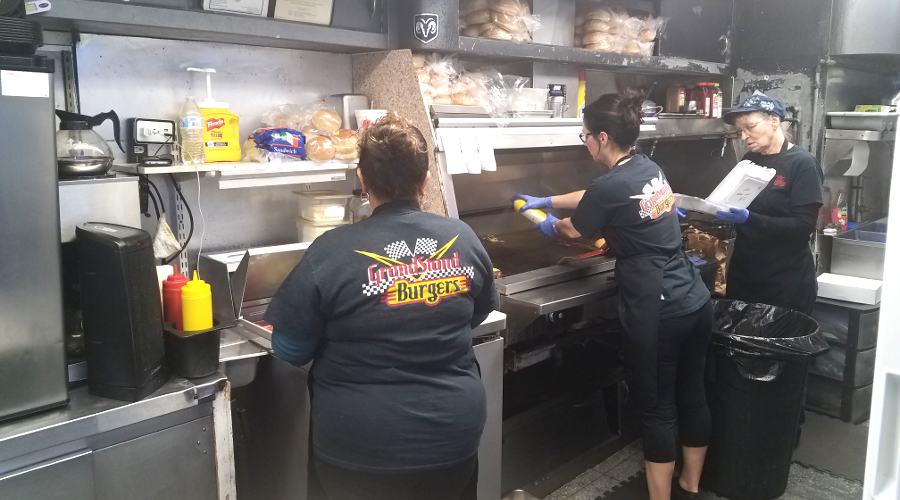 This is the entire kitchen at GrandStand Burgers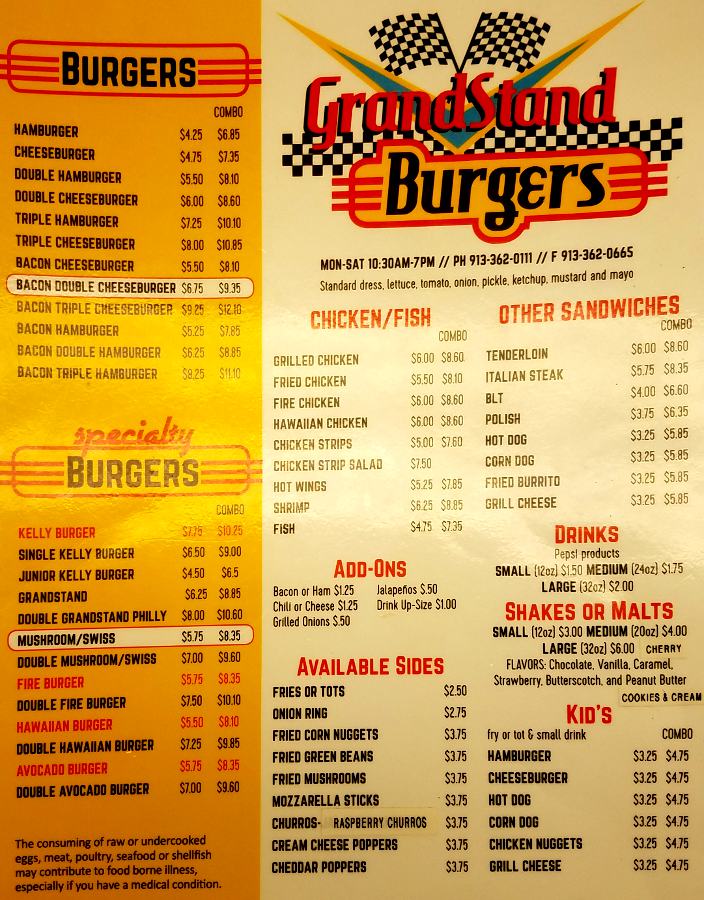 GrandStand Burgers Menu from March, 2019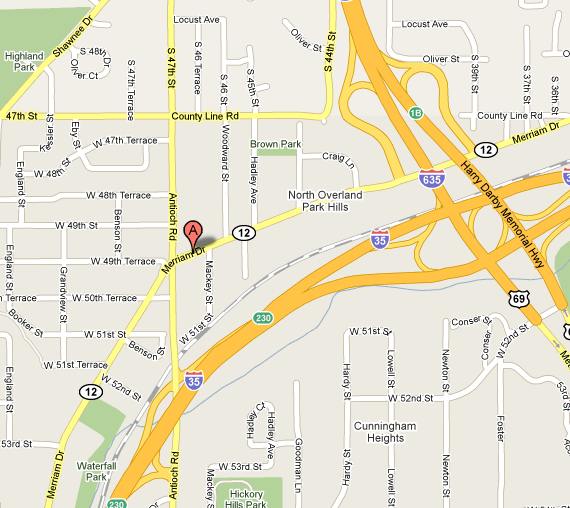 Grandstand Burgers Map
Unique Kansas Restaurants
Kansas Attractions Kansas Travel & Tourism Home
LL-11/09. copyright 2009-2019 by Keith Stokes