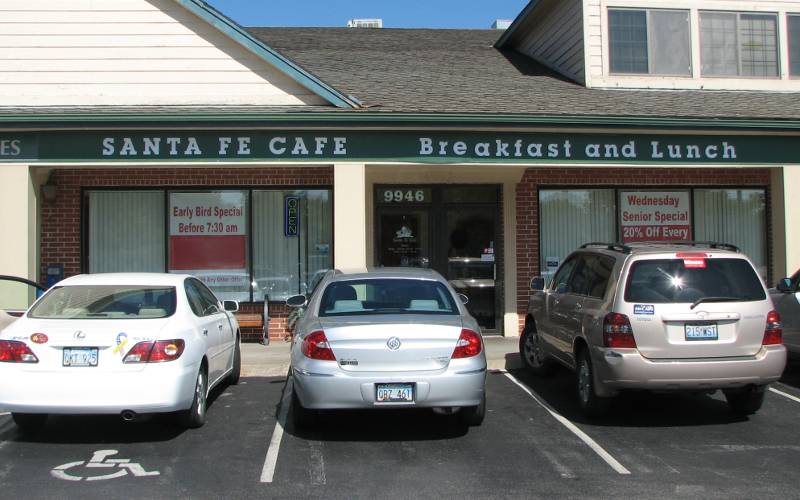 Santa Fe Cafe - Overland Park, Kansas
The Santa Fe Cafe in Overland Park, Kansas is an excellent place for a traditional American breakfast which offers a smaller lunch selection until 2PM daily. The breakfast menu has many breakfast items, including French toast, eggs benedict, pancakes, waffles, biscuits & gravy, pork chops, omelets, burritos, steak, and potatoes. Expect to spend $7-10 on breakfast, not including the beverage. The service and food are homey and good.
Although I am not normally big on breakfast foods, my favorite dishes at Santa Fe Cafe are all breakfasts, with the Bacon Skillet being one of my favorite breakfasts anywhere. The wheat toast is wonderful. They used to serve very good crepes, but they are no longer on the menu.
There are a long list of sides including grits and several types of toast, meats & potatoes. I recommend the Trail Taters which are cubed potatoes grilled with onions and green peppers and are a 50 cent up charge from hash browns.
The lunch menu is shorter than usual from a diner like restaurant Santa Fe Cafe. Other than the standing daily specials, the lunch portion of the menu is mostly sandwiches. The sandwiches are good and the burgers, pork tenderloin sandwich and onion rings are quite good. The French fries are under cooked, frozen crinkle cut that are very disappointing.
During one of our visits, there was a band playing country music in the back of the second dining room. The band was called Not Quite Country and was playing at lunch each Monday. I overheard a woman at the next table say, "that is the least offensive music I have heard in a restaurant."
Santa Fe Cafe is open from 6 AM to 2 PM daily. From 7 AM on Sunday.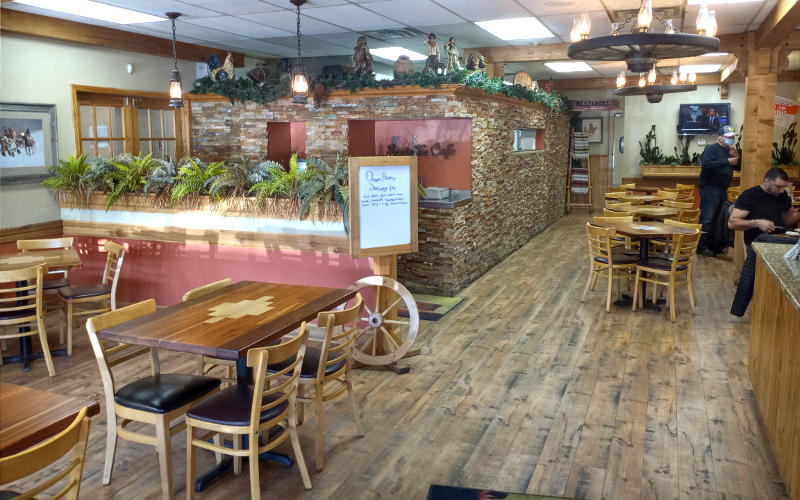 One of the two dinning rooms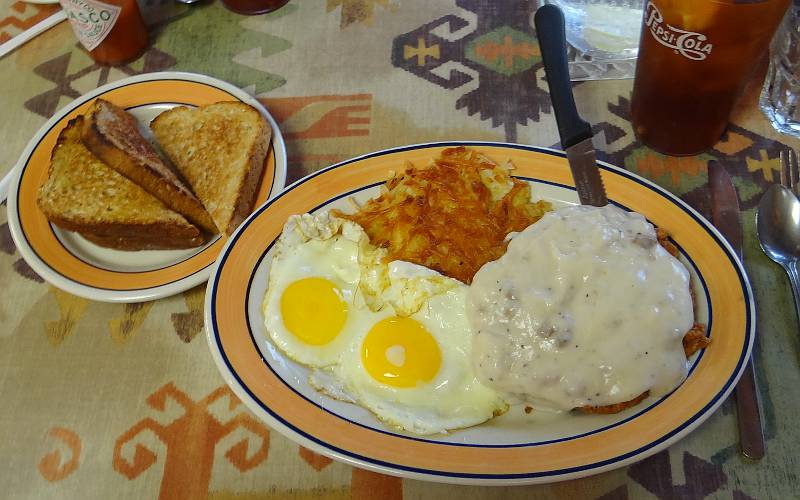 The Farmer - Chicken fried steak, 2 eggs, biscuit & gravy,
hash browns and toast. ($10.47)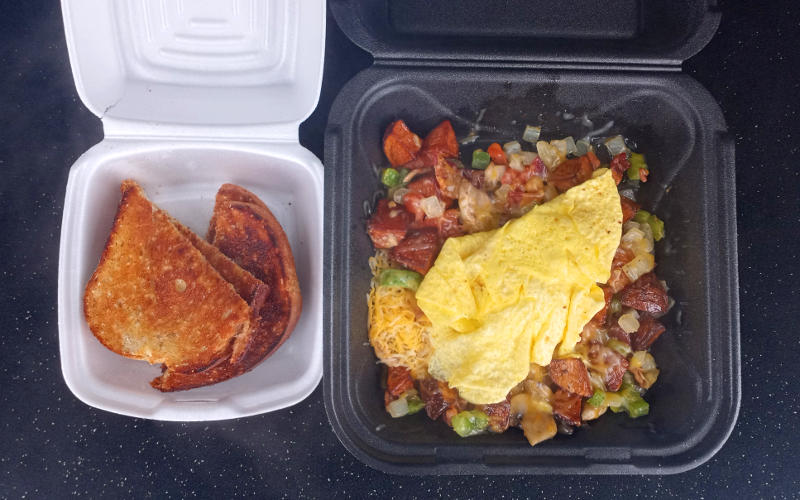 Bacon Skillet - Trail tators with bacon, green pepper, onion, mushrooms, tomatoes
and cheddar jack mix topped with two eggs any style and served with toast. ($9.71)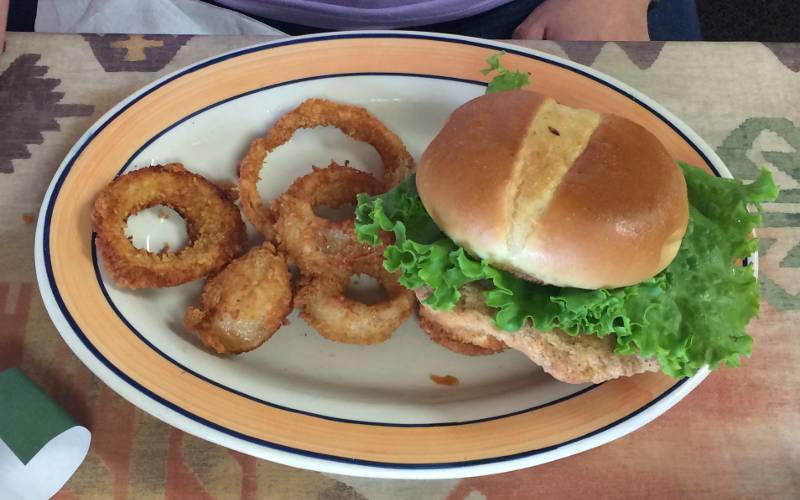 Pork tenderloin and onion rings ($9.69)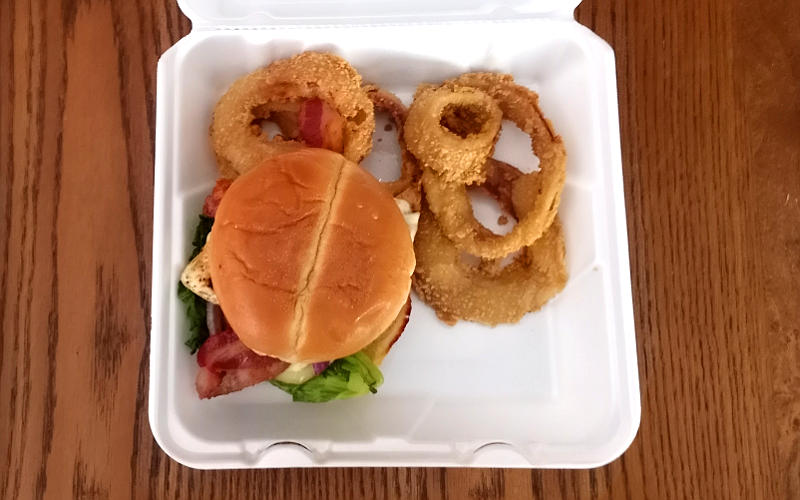 Chicken Monterey - Hand breaded chicken breast topped with Swiss cheese, bacon,
shredded lettuce, onions, pickles, tomato and ranch dressing. ($9.60)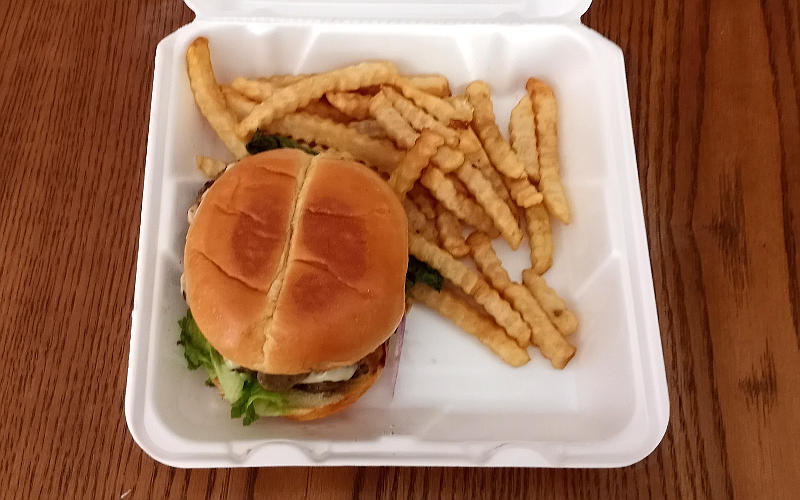 Mushroom & Swiss Burger with fries ($9.95)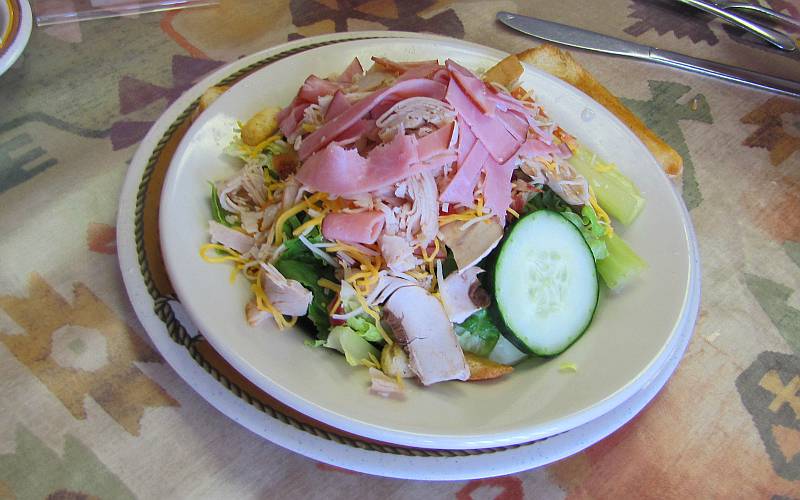 Country Chef Salad - lettuce tossed with ham, turkey, bacon, mushrooms, tomato,
carrot, celery, egg, cucumber, croutons and served with the dressing of your choice. ($10.47)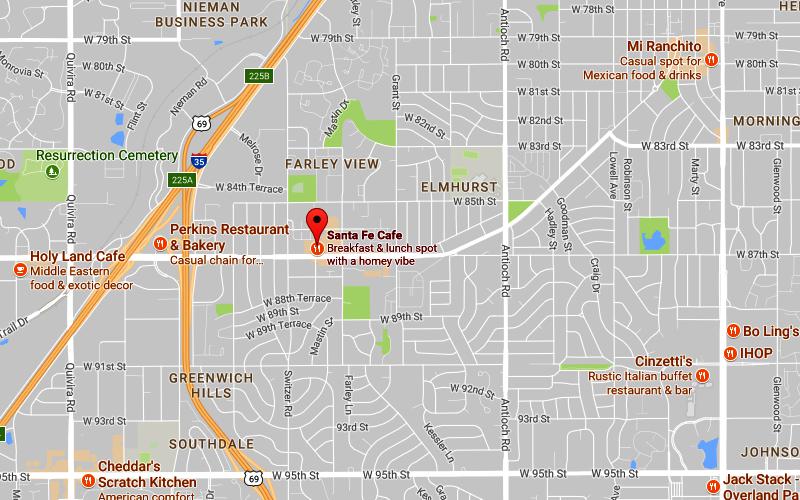 Santa Fe Cafe Map
copyright 2008-2021 by Keith Stokes