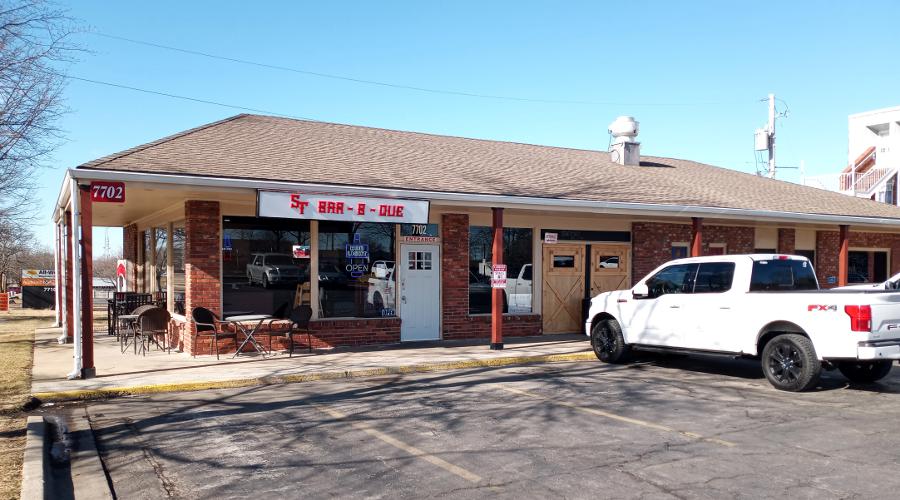 Smoketown BBQ - Overland Park, Kansas
Smoketown BBQ on Shawnee Mission Parkway in Overland Park, Kansas was opened in September 2020 by some former employees of Johnny's BBQ which was located about a mile away in Mission, Kansas. Johnny retired and his restaurant closed 8 months earlier, after operating for 43 years.
My favorite item is the first one I had, The Big Memphis, a large pulled pork on a toasted bun topped with coleslaw for $8.99. I think it is the best Carolina sandwich I have had since Kansas City Masterpiece Restaurant closed years ago. I think it would be even better with crushed red pepper in vinegar served on the side.
I also ordered French fries and onion rings. The 6 ounce of frozen crinkle cut fries for $2.89 were crispy and meaty. The onion rings ($3.89) did nothing for me and I ate only a couple of them.
On the second visit, I had the Sampler Plate which is served with beef (brisket), ham, pulled pork, turkey, sausage and beef burnt ends, French fries, 3 slices of Texas toast and 2 pickle spears for $23.99. I liked all the meats, with the brisket being my favorite. To my taste it has just the right amount of fat. The burnt ends don't have the texture I look for in classic burnt ends, but I still enjoyed them quite a bit. I'm not a big BBQ turkey fan, but this had more flavor from the smoking than many and was quite good with just a little sauce. The sausage is mild and I definitely wanted sauce with it. The pulled pork was also mild, OK, but not as much a treat as I found with slaw to be on The Big Memphis sandwich. I brought home more meat than I ate.
The Texas toast was very good. Much better than the toast or plain bread at many KC BBQ restaurants.
I also got a side of BBQ beans for $2.99. The beans reminded me of canned Bush's Best, with a little less meat. Not bad, but I can easily get that from a can.
I was joined on my third visit to Smoketown BBQ. We ordered a small chili ($4.89) with onions ($0.39), 6 wings ($9.59) and a half chicken dinner ($13.49 with Texas toast and the choice of two sides). The chili was a real treat, meaty with only a few beans and lots of flavor, while not being very spicy. I usually want my chili hotter, but was quite happy with this and will have it again. The wings were small, but I was given 9 instead of 6. They were smoked and lightly finished in a deep fryer. They were served with BBQ sauce and while I liked them, didn't satisfy the flavor profile that I am usually thinking of when i order wings - Buffalo sauce and blue cheese dressing for dipping. I would order chicken instead of wings.
The half chicken was a very small chicken which had also been finished in the fryer (Something Johnny's did), but had nice flavor from the smoking and rub. It was very lightly sauced, but needed no more sauce.
On the final visit before writing this review, I had the $15.89 rib dinner with 3 ribs, two sides, pickle and texas toast. I felt there should have been more meat. The ribs were tender. Although the meat was nicely smoky, there was little flavor from the rub. In addition to fries, I had the macaroni & cheese, which was fine, if not a standout.
There are three sauces: regular, sweet and hot. They all have tomato and vinegar. The sweet sauce is a little smoky. The hot sauce is a medium heat, which is hotter than most hot BBQ sauces in KC. I prefer a mixture of the sweet and hot sauces.
I enjoy the 1970s & 1980s music which includes artists like U2 and Led Zeppelin. The employees appeared to make no Covid precautions.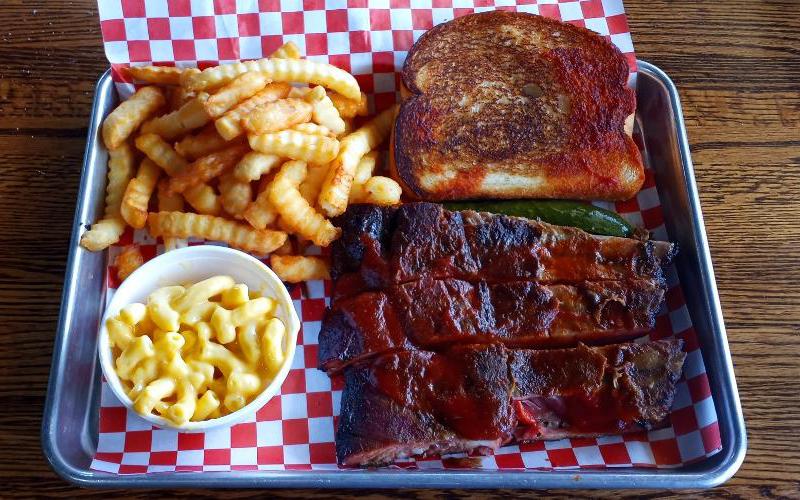 Rib dinner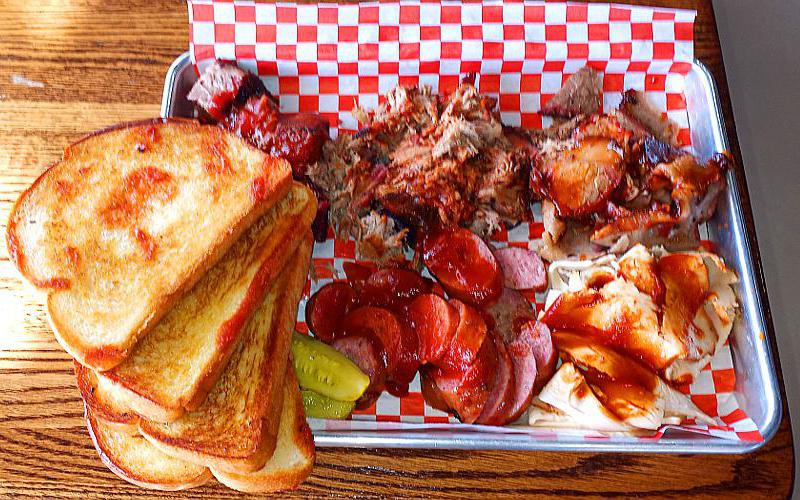 Sampler Plate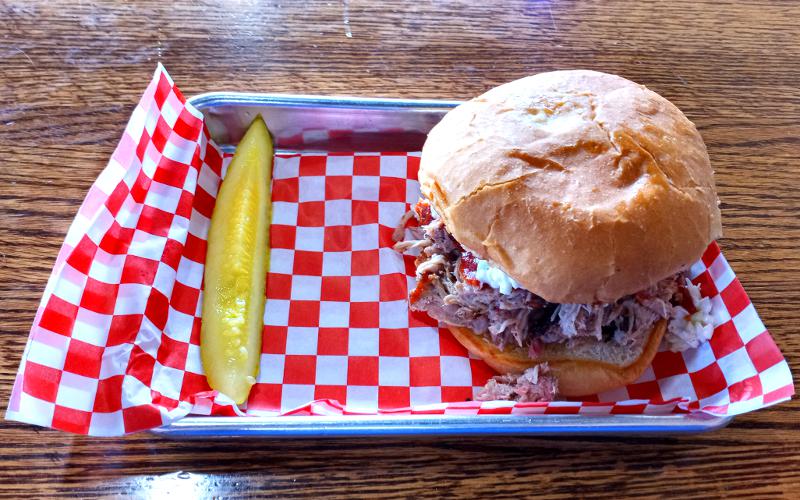 The Big Memphis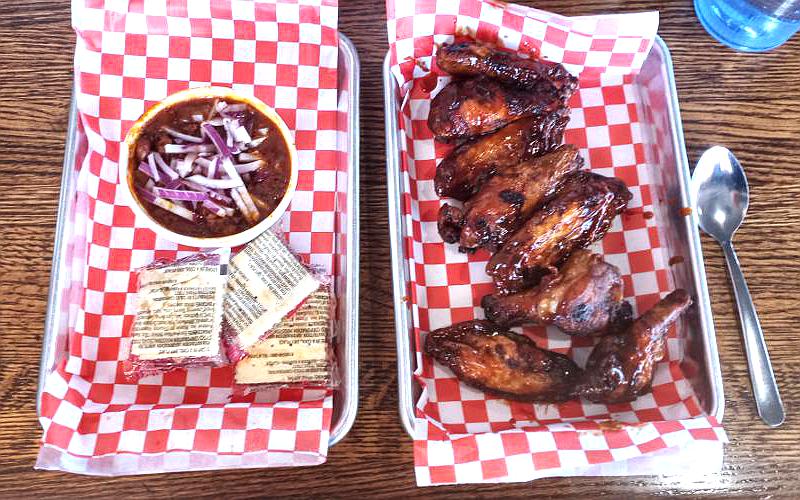 Chili and smoked chicken wings




Smoketown BBQ Menu from February 2022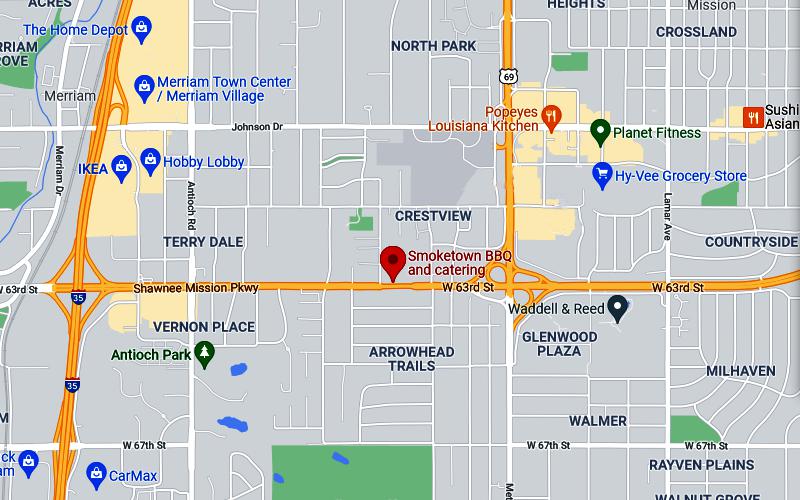 Smoketown BBQ Map
copyright 2021-2022 by Keith Stokes