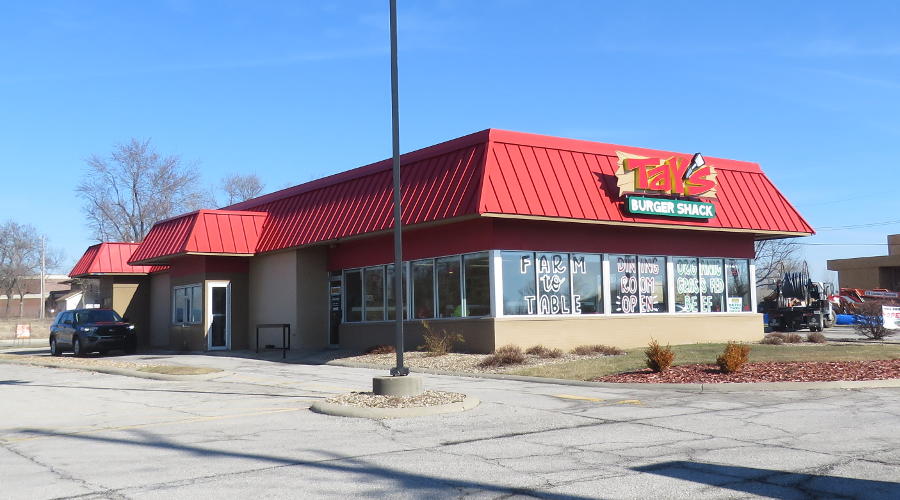 Tay's Burger Shack - Overland Park, Kansas
Archive Page only: Tay's Burger Shack announced on July 15, 2022 that they were permanently closing their Overland Park location due to staffing shortage. Their North Kansas City location remains open.
You don't usually think farm to table and fast food at the same time, but that is what Tay's Burger Shack does in Overland Park, Kansas.
Tay's Overland Park is just off US-69 at 151st Street. It is the second location for Tay's which has been in Kansas City, Missouri since late 2014. Tay's advertises that they do not use microwave ovens or freezers. The buns are made daily and the French fries are hand cut.
The menu is very short: burgers, hot dogs, chili, fries and fresh baked cookies. The smashed down burgers come with single, double and triple patties or a "homerun" with 4 patties. They are made from organic, grass fed beef.
The first time I dined at Tay's, I arrived early and since there was only one other occupied table in the dining room, I decided to get a table at the far side of the room and dine in. I had a single combo with drink and fries for $8.79. The cheeseburger was smashed flat, cooked very well done and was brought to my table in about 5 minutes. The counter person made a point of saying my name and continued to use my name when checking on the customers in the dining area about every 5 minutes.
First the bad: I did not particularly care for the buns which I found bland and a little thick in relationship to the smashed flat hamburger paddy. To my taste the burger was over cooked, losing some of its flavor and juiciness.
The good: Grilled onions were included as a no charge option. There are premium condiments like sriracha ketchup, sriracha mayonnaise and Guilden's spicy mustard (must ask for the Guilden's). The thin fresh fries were very good, as good as a fast food restaurant ever has.
I also tried a $7.89 chili chz dog. It was made with a Nathan's hot dog. I found that the house made buns worked better with the chili dog. The sandwich was good sized. The chili is made with beans and is not very spicy, tasting primarily like the hamburger. I ordered it without cheese and enjoyed the chili dog.
On my second visit, I had the 4 patty homerun. It was more food than I needed, but I enjoyed this burger much more than the first. The bun seemed better with the extra meat and the burger was more juicy.
Tay's serves Pepsi products plus a house special orange drink which was good, though a little sweeter than I would choose.
Tay's has a "Hall of Honor" a set of bulletin boards where they post photo of those who have eaten a 4 patty "homer" with fries, two homers, or three. That seems like a fairly low bar for a sandwich, but there was only one photo on the board for 3. There is also a board for "Tay's Little Sluggers!" who have eaten a kids homerun and fries.
Gluten free buns available.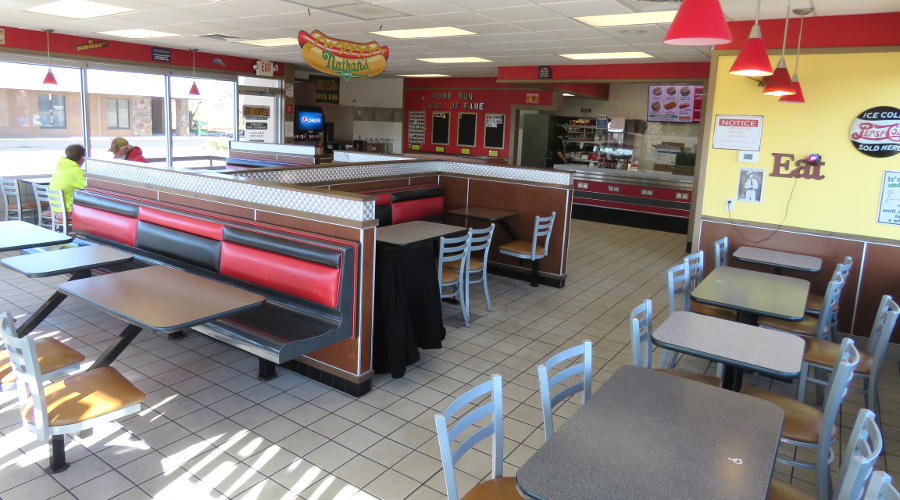 Dinning room (this building was once a Hardee's)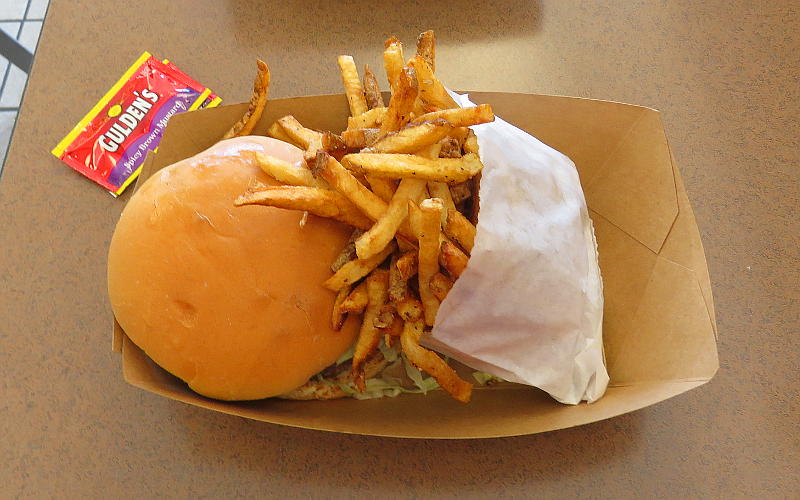 Single with fresh cut French fries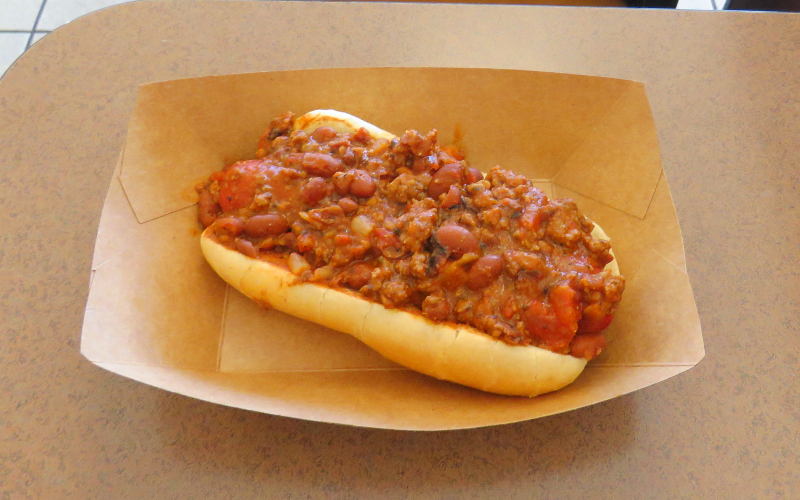 Nathan's chili dog (shown without cheese which comes standard)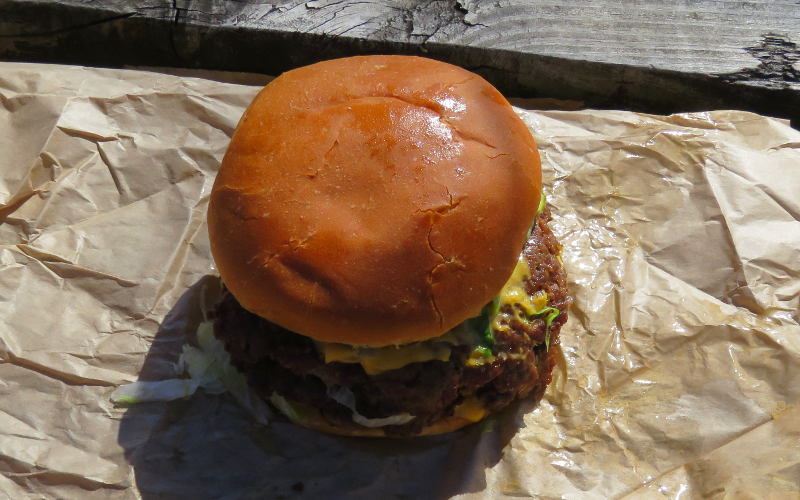 Homerun burger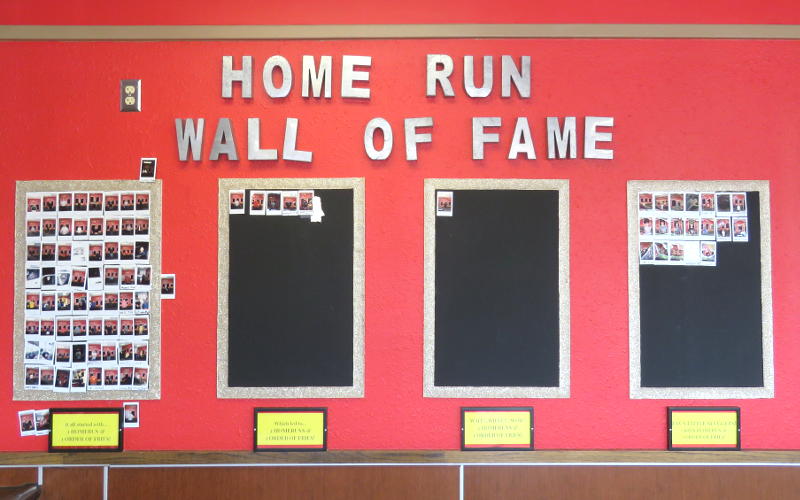 Home Run Hall of Fame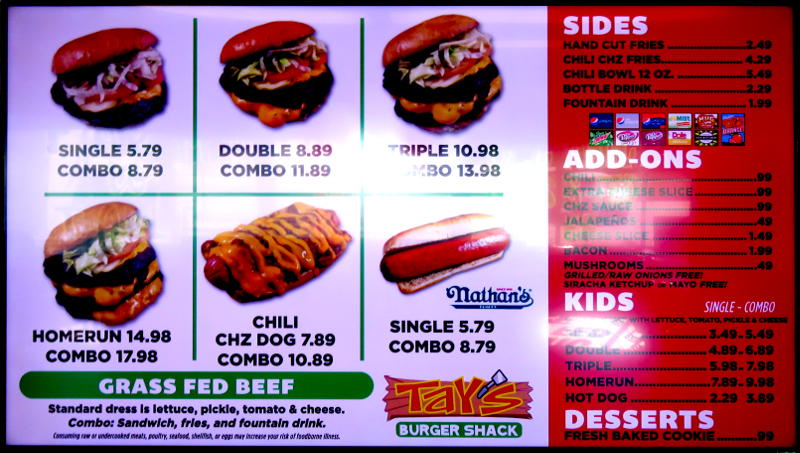 Tay's Burger Shack Menu from February 2021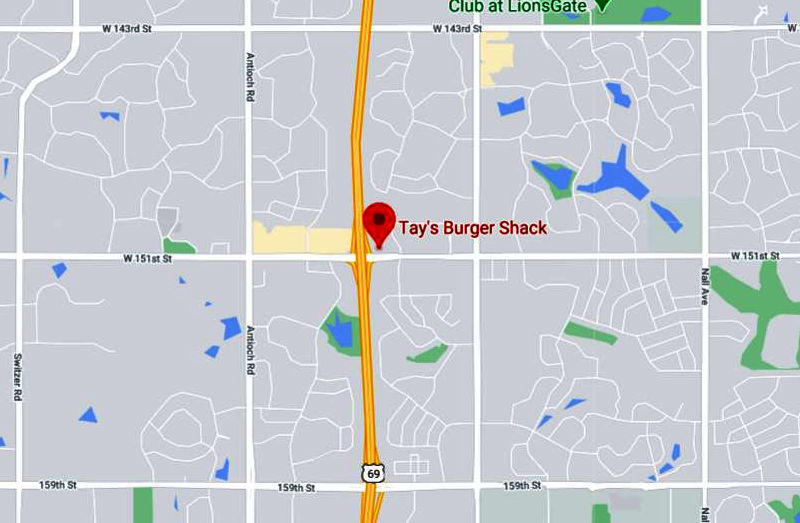 Tay's Burger Shack Map
copyright 2021-22 by Keith Stokes