Deep Creek Waterfall
at Pillsbury Crossing
Wildlife Area


Southeast of Manhattan, Kansas
(785) 539-9999
Open daily 6AM - 10PM Free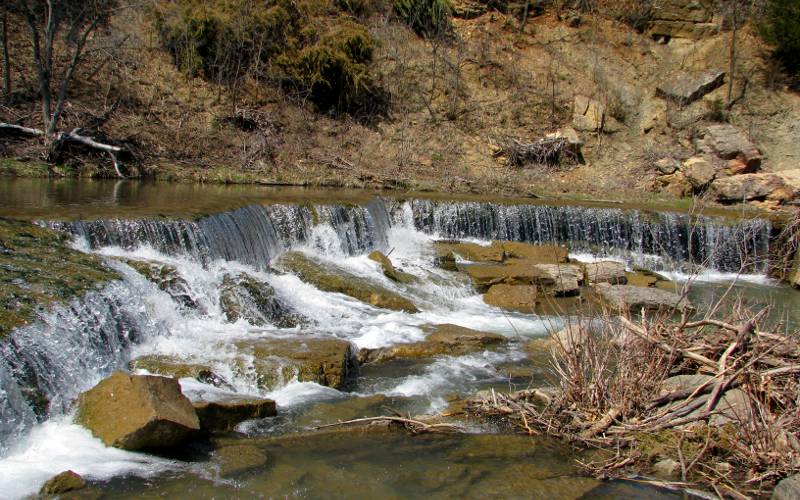 Deep Creek Falls is currently about 60 feet wide during high water. The ledge extending along the far bank will
collapse someday and the falls will be about 20 feet shorter.
One of the most beautiful spots in Kansas is the Deep Creek Waterfall at Pillsbury Crossing Wildlife Area, a few miles southeast of Manhattan, Kansas. The site gets a fair number of local partying teens, as well fishing, hiking, canoeing visitors in the summer, but this beautiful 60 feet long, 5 feet high waterfall has been getting a lot more year around attention from travelers crossing Kansas. There is no place nicer than sitting on a rock near the base of Deep Creek Waterfall on a sunny Spring day.
Pillsbury Crossing is a low water river crossing where vehicles following Pillsbury Crossing Lane drive a 100' stretch through a few inches of running water. The Falls are just a few dozen feet down river from the crossing and can be reached from parking spots next to the east side of Pillsbury Crossing. Deep Creek Waterfall can also be reached from the north side where you must climb down about a 30' rock face. The climb isn't bad if you are careful, just enough to add a little adventure to the visit. The more risky footing is stepping into the very shallow water. The wet rocks are extremely slick.
The Pillsbury Crossing Wildlife Area was donated to the Department of Wildlife and Parks in 1967. The 59 acres along Deep Creek provide public access to one of the most scenic areas of the northern Flint Hills region. Located seven miles southeast of Manhattan, the natural flat rock crossing was named for pioneer J. H. Pillsbury, who settled here in 1855.
There is a short hiking trail or hikers may follow the sides of Deep Creek. There is good channel cat fishing both above and
below the crossing. Other species include spotted bass, largemouth bass, bullhead catfish and carp. During normal stream flow, you may canoe, kayak, or take a small row boat upstream for 1/2 mile. Swimming is prohibited.
Primitive camping is available at Pillsbury Crossing Wildlife Area, but only by special permit. Alcohol consumption is prohibited!
To get to Pillsbury Crossing Wildlife Area from I-70, take exit 316 and go north on Deep Creek Road 5 miles. Turn right on Pillsbury Crossing Road approximately 2 miles to Pillsbury Crossing Lane. These are all dirt roads.
To get to Pillsbury Crossing and Deep Creek Waterfall from Manhattan, drive south on Highway 177 two miles to Deep Creek Road. Turn left and drive three miles to Pillsbury Crossing Road. Follow Pillsbury Crossing Road two miles.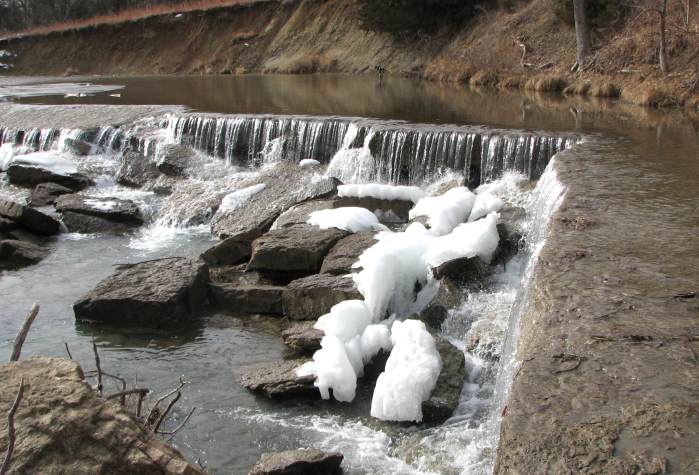 Deep Creek Waterfall in January of 2008.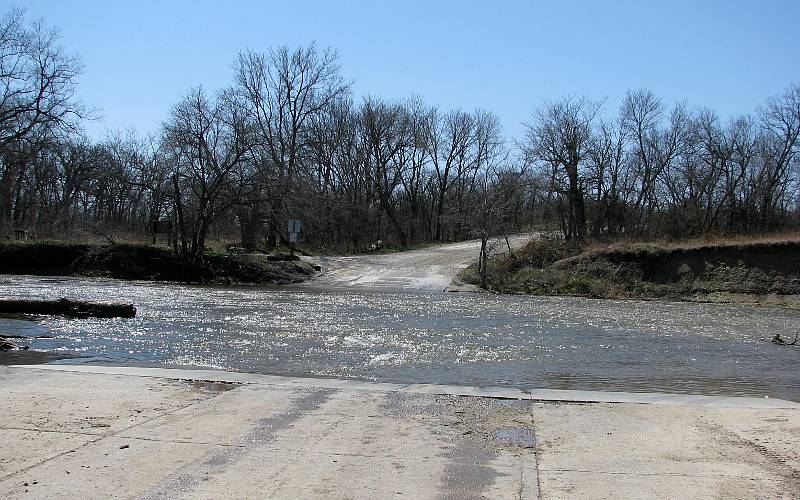 Pillsbury Crossing becomes impassible during high water, but was fine this April day.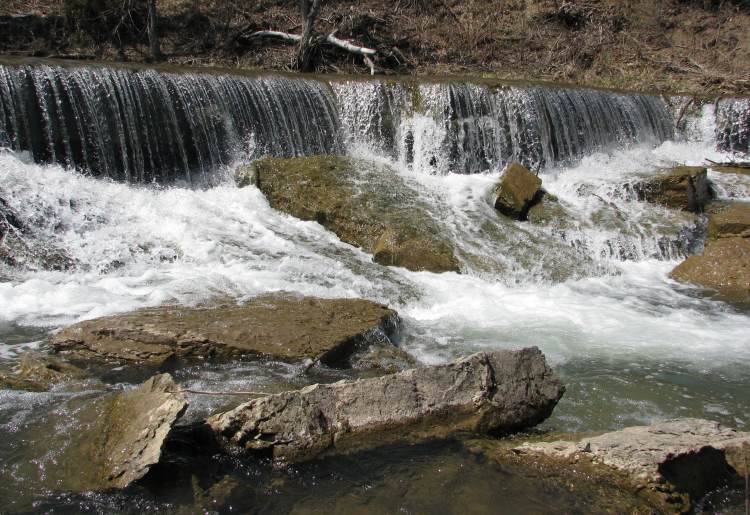 Deep Creek Waterfall on a sunny June day in 2008.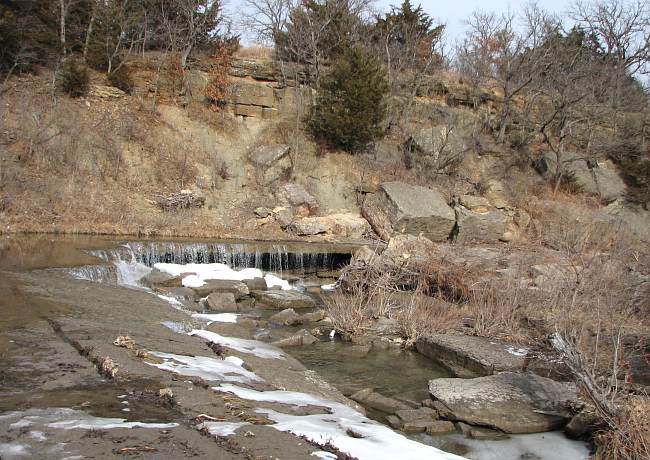 The cliff face behind Deep Creek Waterfall is a challenging but reasonable climb.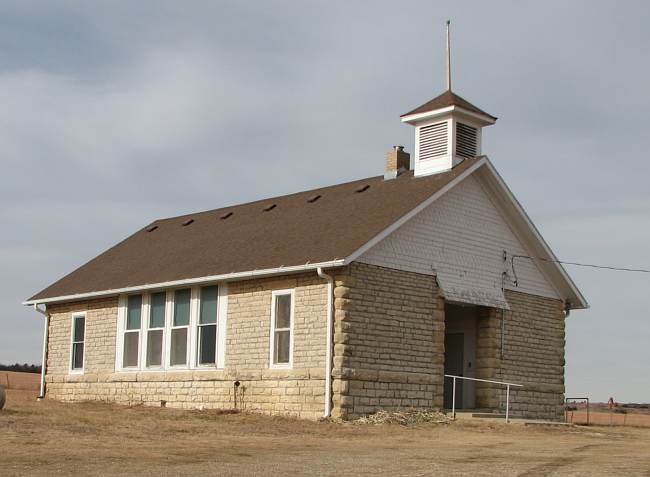 You will pass the 1892 Deep Creek Schoolhouse as you come north from I-70. The school house still
serves as a community meeting place and stands as a monument to the settlers who came to the Deep
Creek area.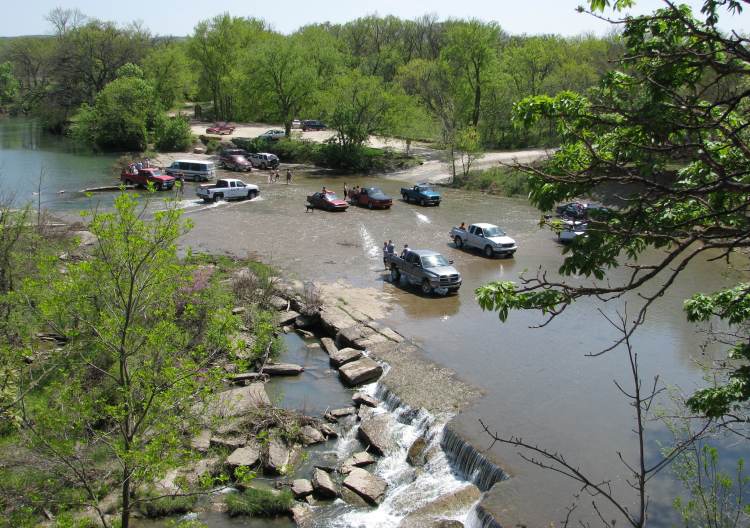 Manhattan teenagers enjoying the shallow river above the falls on a sunny May afternoon.
This photo was used as the cover of the Fall 2011 issue of K-Stater magazine.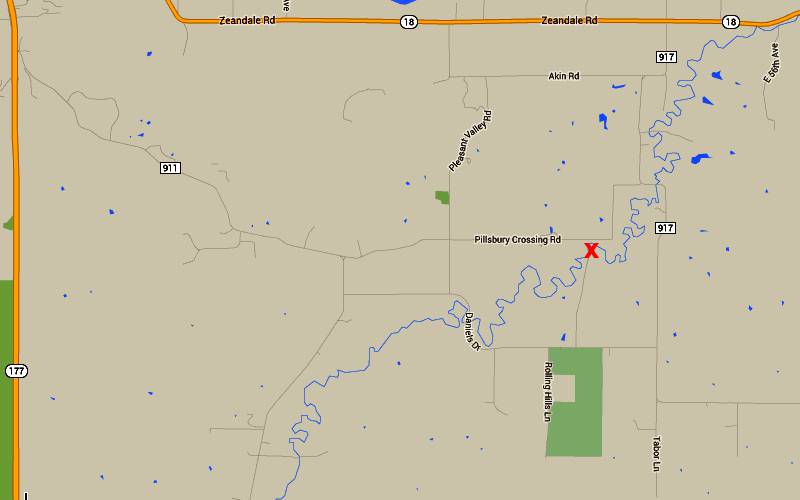 Deep Creek Waterfall Map
Kansas Waterfall Guide
Kansas Attractions Kansas Travel & Tourism Home
copyright 2008-2020 by Keith Stokes