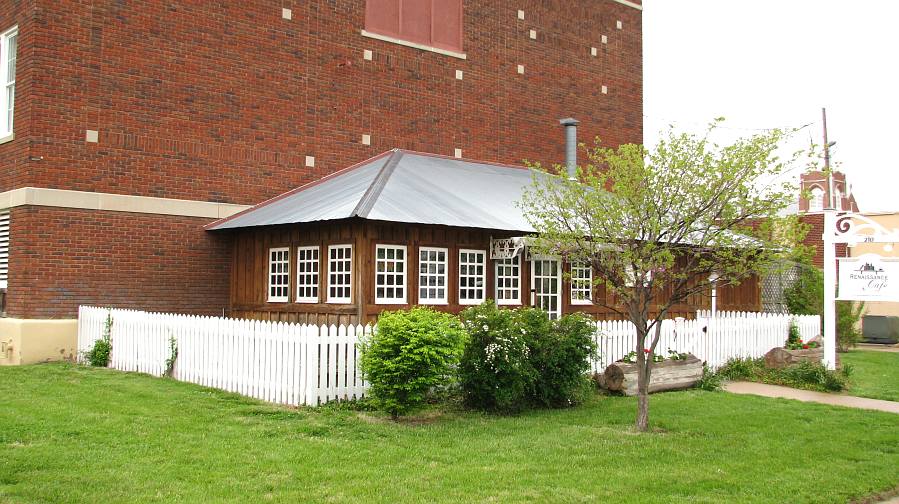 Searching for restaurants for KansasTravel.org I find many in unusual locations. I find far fewer that provide unique, fine dining at a reasonable price. Renaissance Cafe does both of those things and is located in Assaria, Kansas (south of Salina) a town of less than 500 people.
After 6 visits, Renaissance Cafe is one of my favorite Kansas restaurants.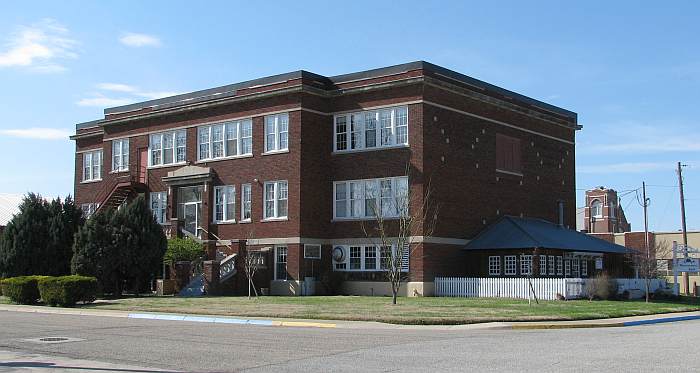 Renaissance Cafe in the former 1919 Assaria High School
The Renaissance Cafe surrounds a sunken gymnasium in a 90 year old high school building. The lower level is filled with games. For many years, the Renaissance Cafe was open for weekday lunches and served the kind of food you would expect to find in a rural Kansas restaurant. It is no longer open for lunch, but on Thursday, Friday and Saturday evenings, chef Kevin O'Brien has made the Renaissance Cafe a reasonably priced, fine Italian restaurant.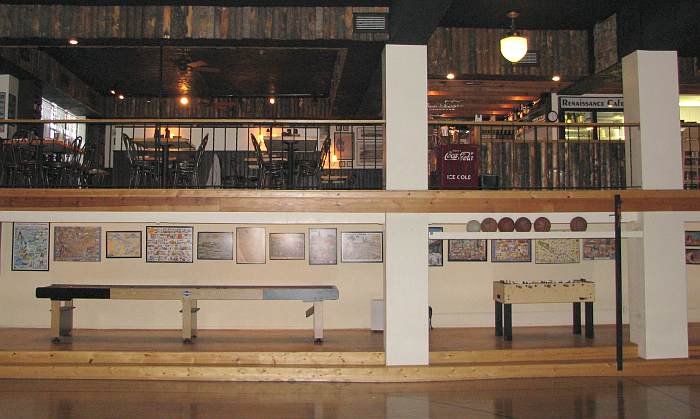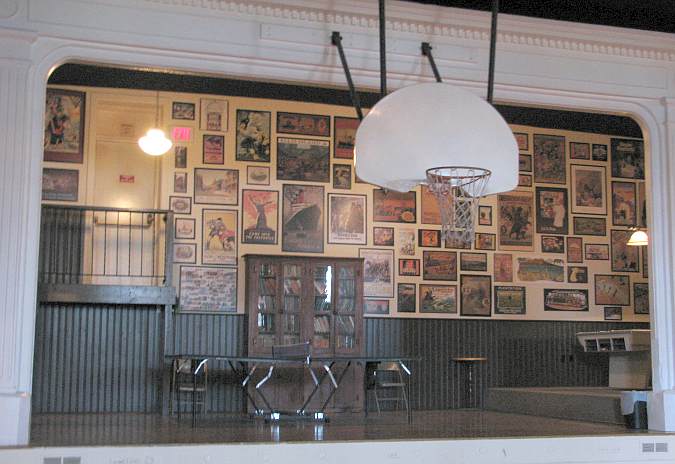 Ping-Pong and pool on the old stage.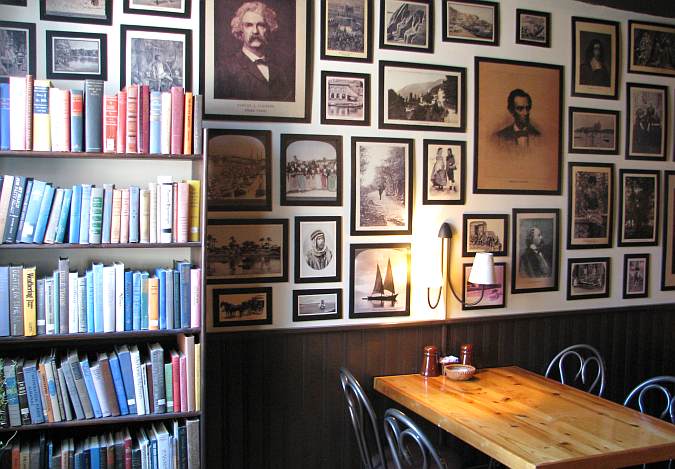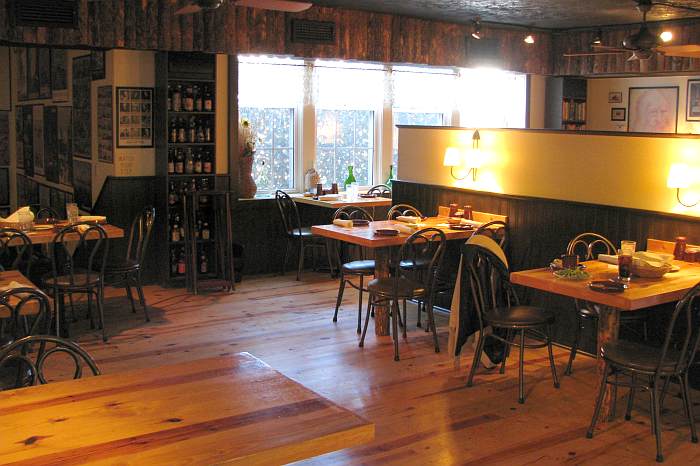 Renaissance Cafe serves northern Italian influenced food. House specialties include Cardamom Crusted Duck Breast, Steak Venato, and Proscuitto Wrapped Chicken with gorgonzola garlic sauce. Entrees range $17-26 and come with a choice of salad or soup, a vegetable and starch of the day. Pastas are $15 ala carte. Half orders of pasta are available. Desserts are $5. These prices were current in August 2013.
The menu changes every few months. On my first visit to the Renaissance Cafe, only 10 entrees and daily specials were offered, but that was plenty of choice. Everything sounded good and making a selection was a real chore.
After a bit of a private debate, I ordered Steak Venato: grilled ribeye dredged in seasoned bread crumbs and smothered in a savory sauce of brown mustard, shallots, mushrooms, cognac and cream. I couldn't decide between the soup of the day (roasted onion) or the salad (romaine hearts topped with spiced pecans, dried cranberries and homemade gorgonzola blue cheese dressing). So I ordered both.
The soup was good, but the salad was spectacular. I've now had the gorgonzola salad every time I've visited the Renaissance Cafe.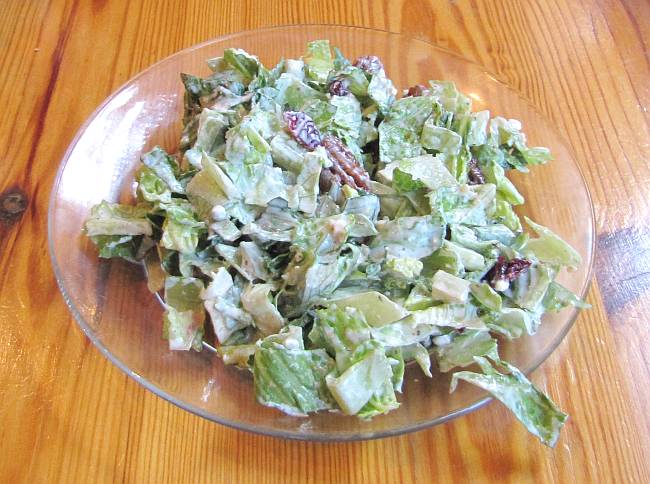 Gorgonzola salad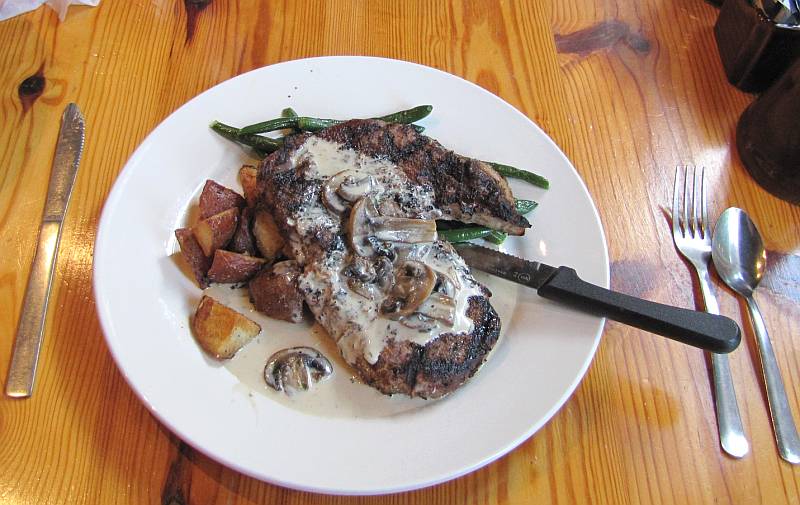 Ribeye steak, green beans and red potatoes
The steak was one of the best I have ever had, particularly at the price point. Lightly charred on the outside and perfectly done on the inside. I've had the steak Venato again, a couple of time and the steak was still every bit as good as the first visit.
I don't usually eat desserts, but I couldn't resist trying a selection from the dessert menu. They said that the Dark Chocolate Bread Pudding with bourbon vanilla sauce was the most popular dessert, but I couldn't resist the "Cookies, Cream and Coffee," homemade vanilla bean gelato with amaretti cookies and the chef's own espresso habanero sauce. This one isn't for everyone, but I thought it was the perfect conclusion to the meal. The Italian macaroons were a nice counterpoint to the hot sauce. This dessert has not been offered during my more recent visits, but a couple of the macaroons were brought with the check.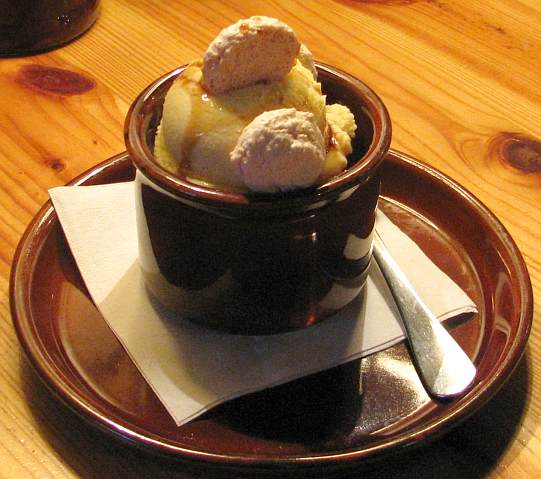 Vanilla bean gelato with amaretti cookies and espresso habanero sauce
On my second visit, the dessert selection was entirely different and I had an apricot crostada that was heavenly - apricots baked in a light crust and topped with a homemade caramel. My companion tried the balsamic strawberry shortcake, which was good, but not as impressive. The second visit also gave me a chance to try the liver and onions - which were the best I have ever had.
Renaissance Cafe serves no liquor but does offer domestic ($3.50) & imported beers ($4), as well as a modest wine list starting from $5 a glass or $22 a bottle. The most expensive wine is a Langtry Meritage at $65.
I keep hoping they will someday add a hard cider to their list.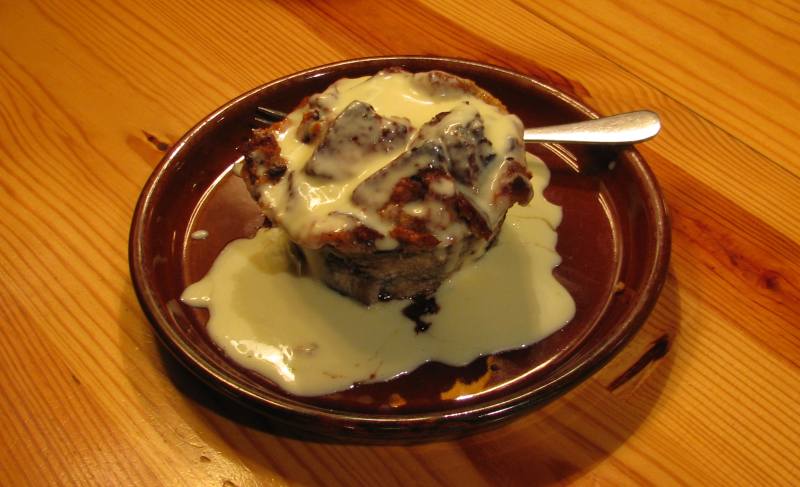 The dark chocolate bread pudding is lush and full of multiple flavors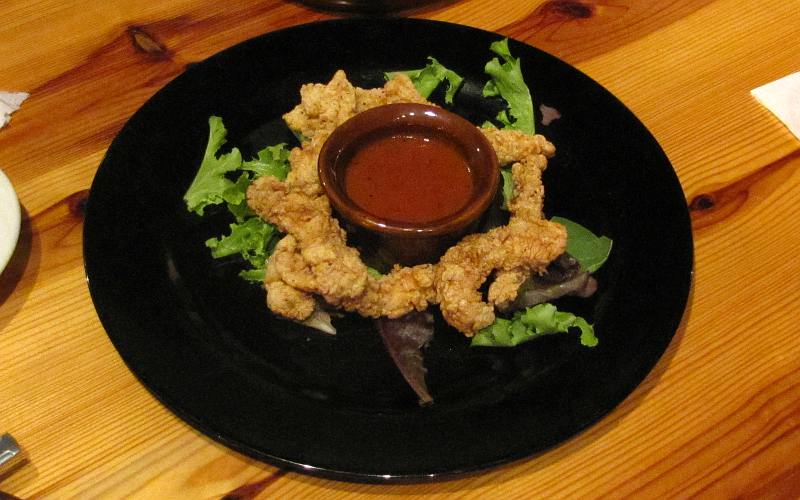 Crispy Calamari steak served with a roasted garlic aioli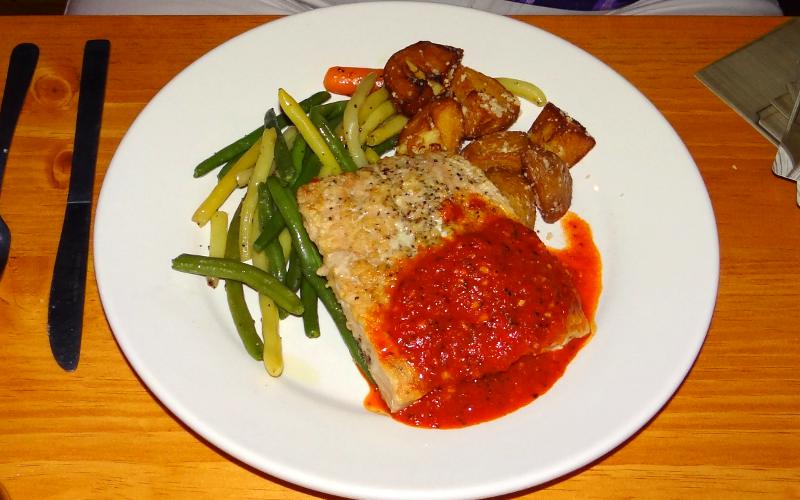 Salmon with roasted pepper and garlic sauce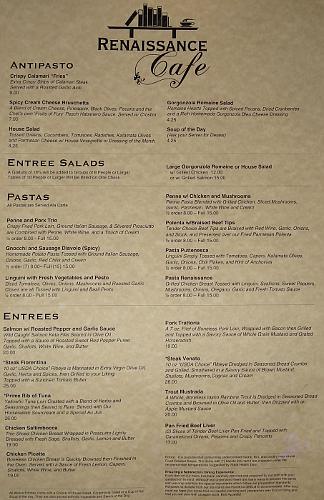 Renaissance Cafe menu from July 2014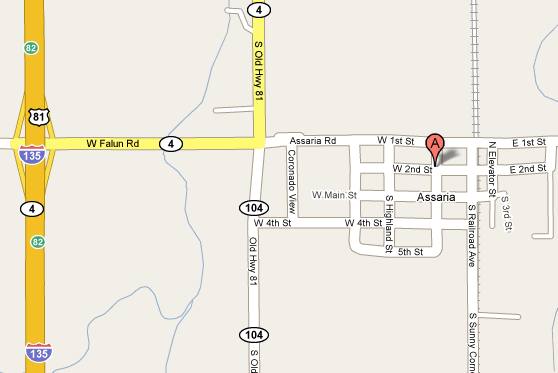 Renaissance Cafe Map
Renaissance Cafe web site with online reservations
Kansas Restaurants Kansas Travel & Tourism Home
-5/09. copyright 2008-2015 by Keith Stokes