Renaissance Festival
of Kansas City

628 N 126th Street
Bonner Springs, Kansas 66012
(800) 373-0357

weekends and holidays from September 2 to
October 15, 2017
10AM - 7PM (5PM Columbus Day)
adults $21.95 5-12 $12.95
Students with ID & over 64 $19.50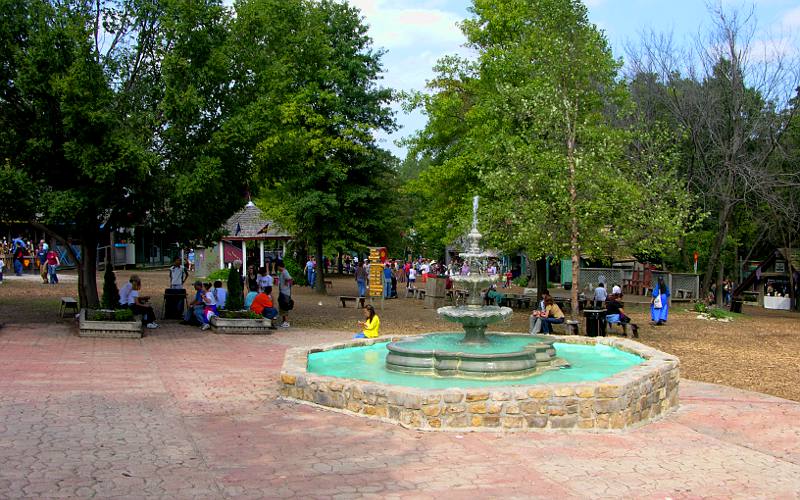 Hunter's Glen near the Kansas City Renaissance Festival main gate
The Kansas City Renaissance Festival is a theme park sized fair in Bonner Springs, Kansas, with lots of food, shopping and fun entertainment. 2017 is the 41st year of the festival. Each weekend has its own theme starting with Passport to the World and concluding with Witches & Wizzards.
The Kansas City Renaissance Festival has a cast of 150 costumed performers, supplemented by hundreds of costumed vendors, stage performers, and park guests who choose to wear garb and fill the 16 acre fair with the colors and sound. Cheer while knights in armor duel on horseback to win the Queen's favor. Enjoy shows on 20 stages. Let your children try rides and games while you shop for crafts, jewelry, art and costumes in over 160 booths. The food isn't as exciting as it was when the festival was a benefit for the Art Institute of Kansas City (Missouri), but still compares favorably with the Kansas City area's other major attractions. The apple dumpling with ice cream and the turkey legs are among my favorites.
In 2017, the Kansas City Renaissance Festival will run on Saturdays & Sundays from September 2 until October 15. The Renaissance Festival is also open on Labor Day and Columbus Day. The final two weekends in October, there is a different event called the Phantom's Feaste.
Allow a bare minimum of 3 hours to visit the Kansas City Renaissance Festival. Many visitors will spend most of the day. At any given time there may be a dozen or more performances taking place at venues scattered throughout the Renaissance Festival grounds. One stage hosts nothing but back to back magic shows.
In addition to food, drink, crafts and a few rides, there are other events taking place at the Renaissance Festival for additional fees. They include beer & bacon tasting, Queen's Tea, and a new Plague Escape Room.
Take 1-70 to K-7 (the Bonner Springs exit 224). Turn North for a few blocks, and banners & signs will lead you to the Festival Gates. The parking is free, and driving out from Kansas City, Missouri, there is no charge for that stretch of the Kansas Turnpike.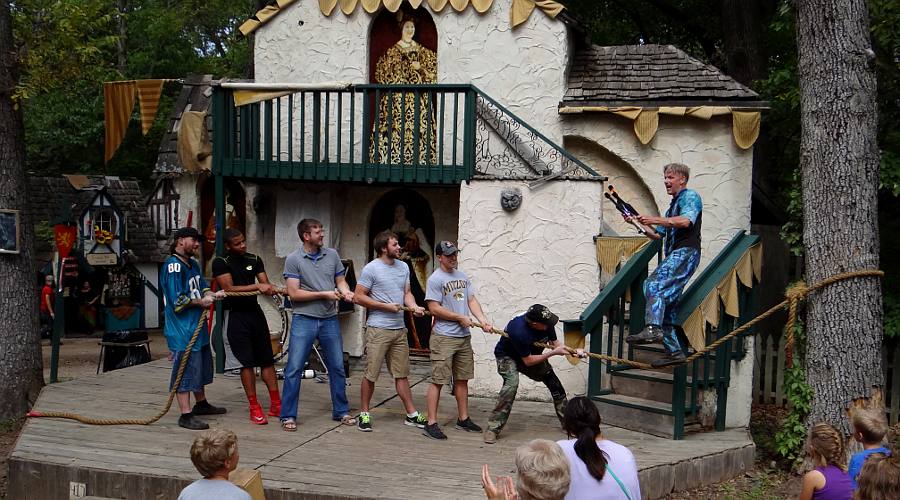 Bob the Juggler has entertained families at the Kansas City Renaissance Festival for more than a generation.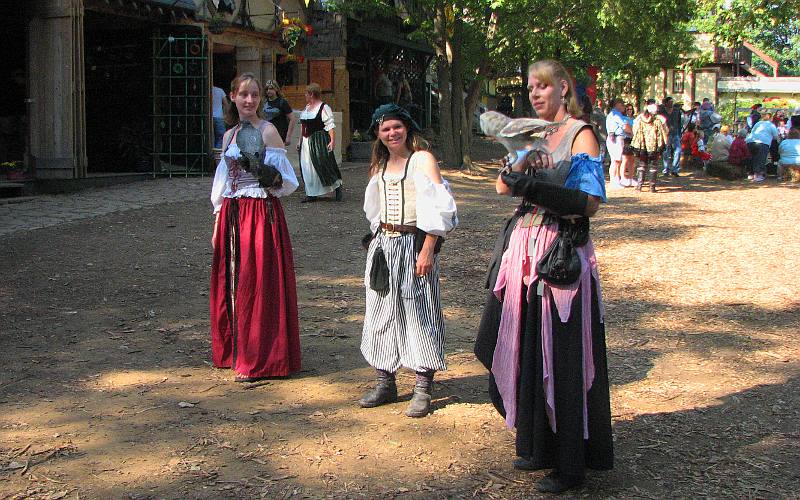 Birds of Prey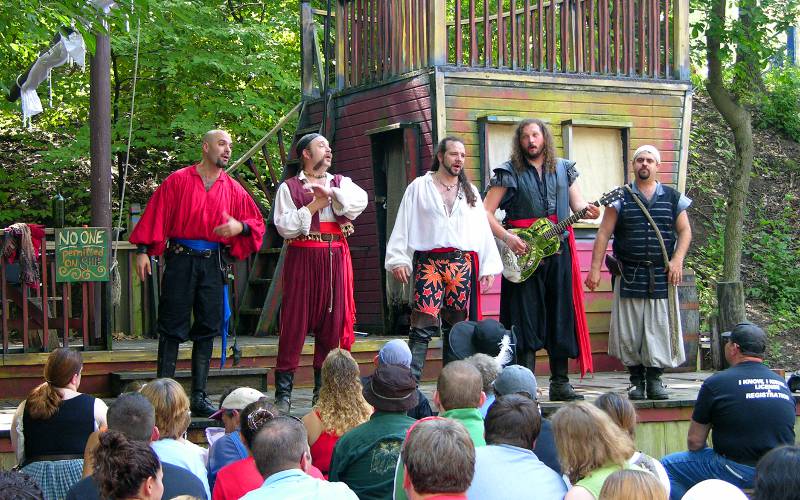 The Jolly Rogers, a pirate theme Renaissance folk group, have been favorites at the
Kansas City Renaissance Festival for many years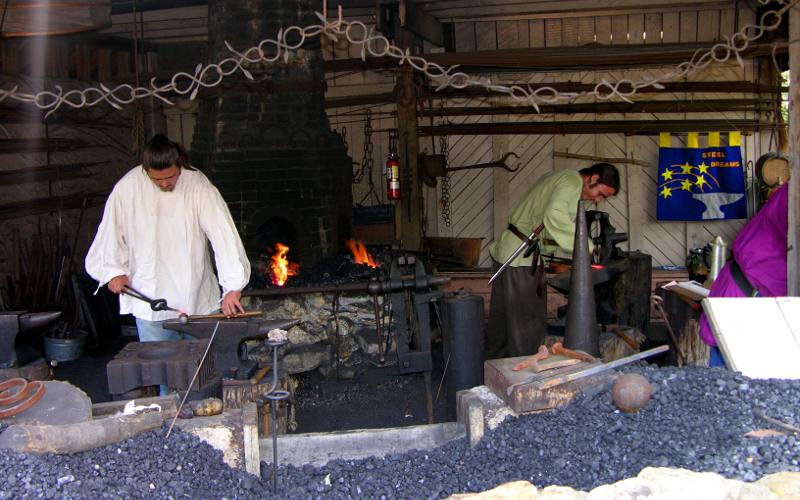 The working blacksmith's shop offers classes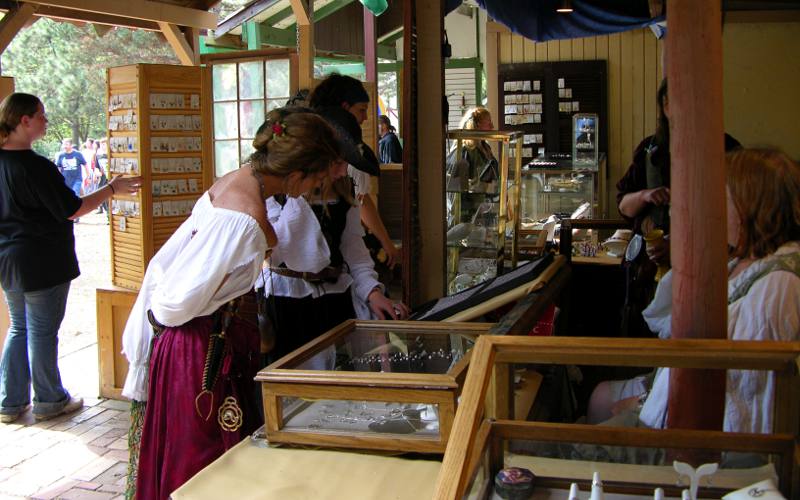 Shopping for jewelry crafted by popular Colorado metal artist, Jeff Gonner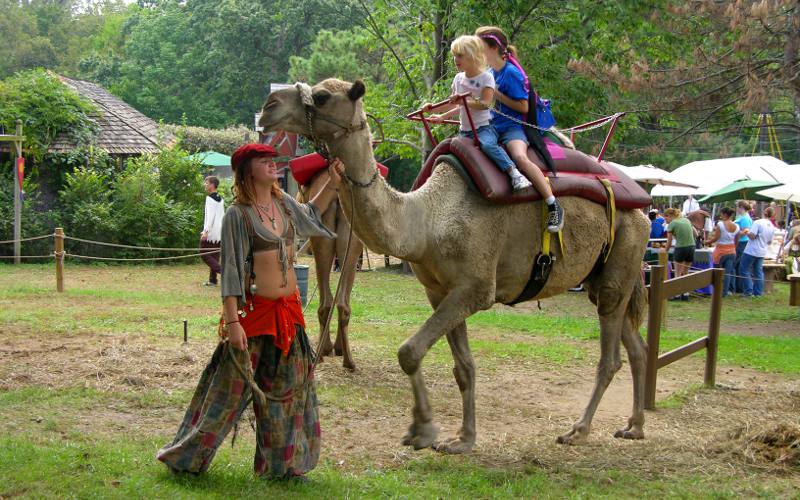 Elephant and camel rides have been favorites at the Renaissance Festival for many years.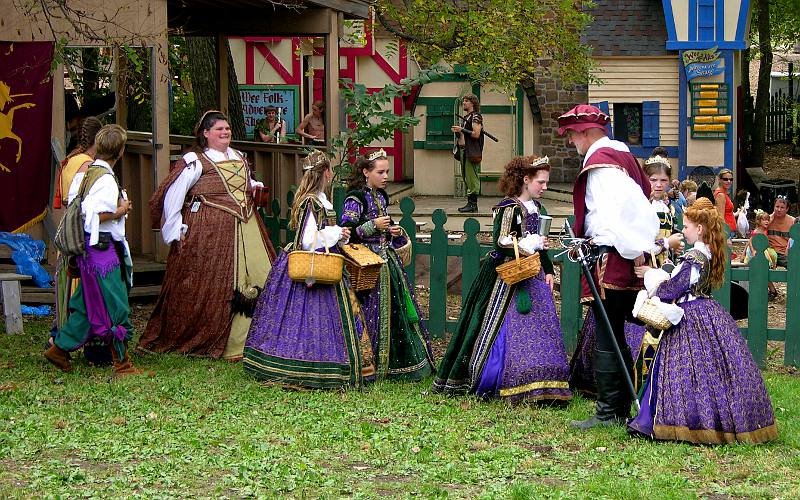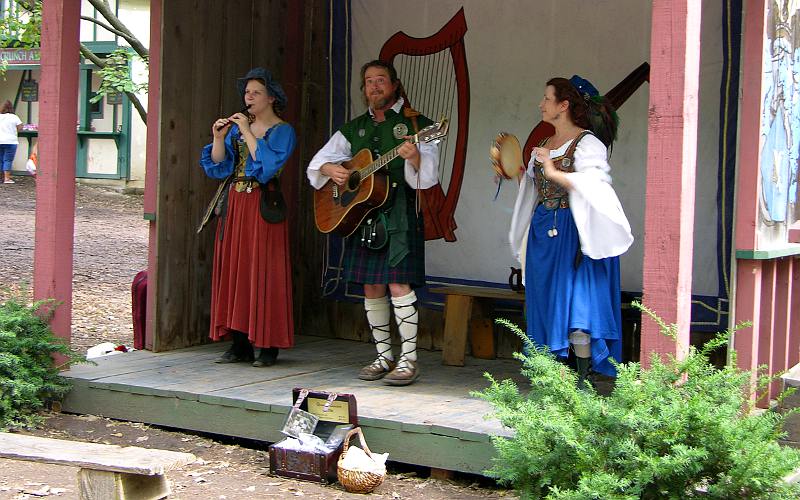 Queen's Gambit is an Oklahoma based Celtic band specializing in Irish and Scottish traditional music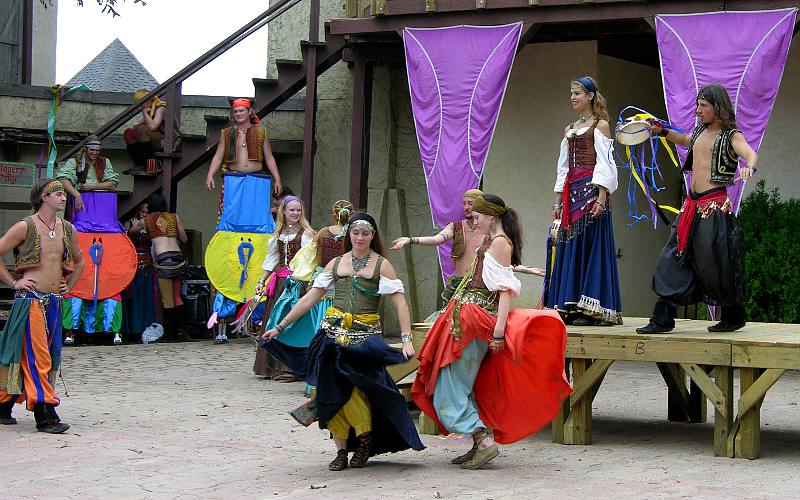 dancing near the maypole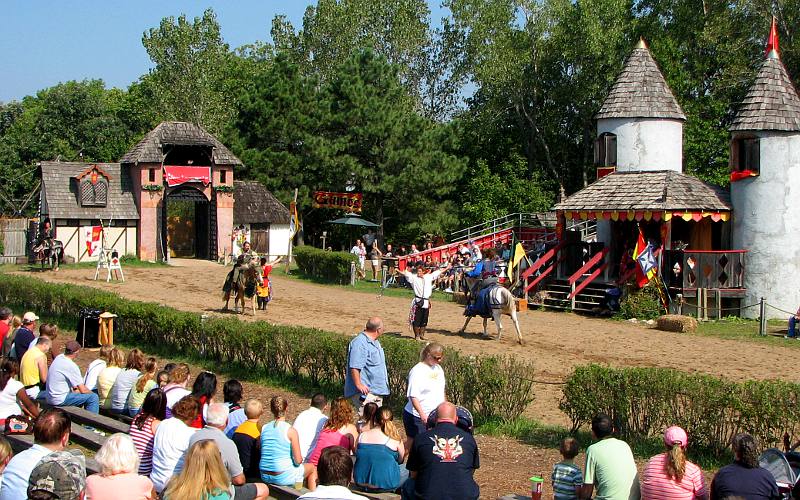 Jousting competition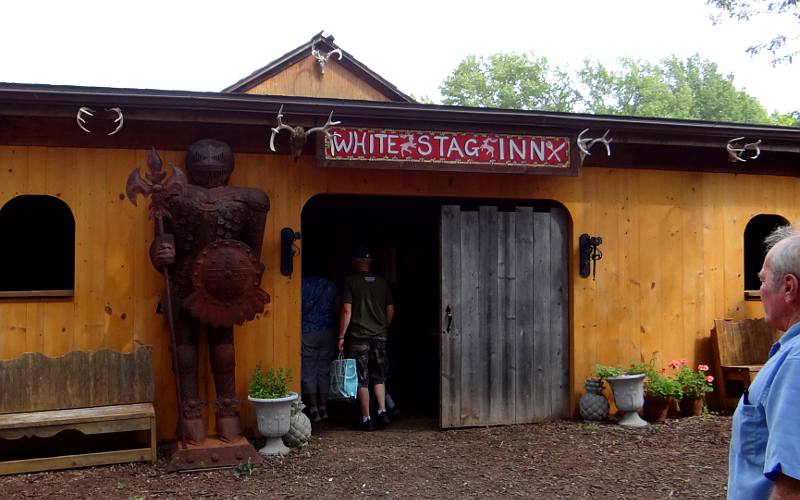 New for 2014, the White Stag Inn offers the first table service in the Renaissance Festival, but a menu with only 5 options.
For $10 (including soda), select from beef stew, Ruben sandwich & kettle chips,
meatball sandwich & chips, Cuban sandwich & chips, or waffles & fried chicken.
Phantom's Feaste
October 20, 21, 28 & 29, 2017
Return to the Kansas City Renaissance Festival Grounds for a special event. Limited to 150 guests each night, the interactive show starts each evening at 6:30 pm at the Front Gates of the Kansas City Renaissance Festival.
Torches will burn as you enter the gates and pass by the Fountain of Blood on your way to the dining area complete with candelabras and a six course meal served by the house hold staff of the castle, who will tend to your every need.
Guests are welcomed to come in costume to this Victorian event to further become a part of the evening!
Tickets are $45 for each seat with an additional charge for adult beverages.
Parents are encouraged to leave the little ones at home. This is an R rated event.
dine with the vampires
KC Renaissance Festival website
Kansas Attractions Kansas Travel & Tourism Home
copyright 2005-2017 by Keith Stokes