RJ's Bob-Be-Que Shack
5835 Lamar Avenue
Mission, Kansas 66202
(913) 262-7300

Monday - Thursday: 11AM - 9PM
Friday: 11AM - 10PM
Saturday 8AM - 10PM Sunday 8AM - 8PM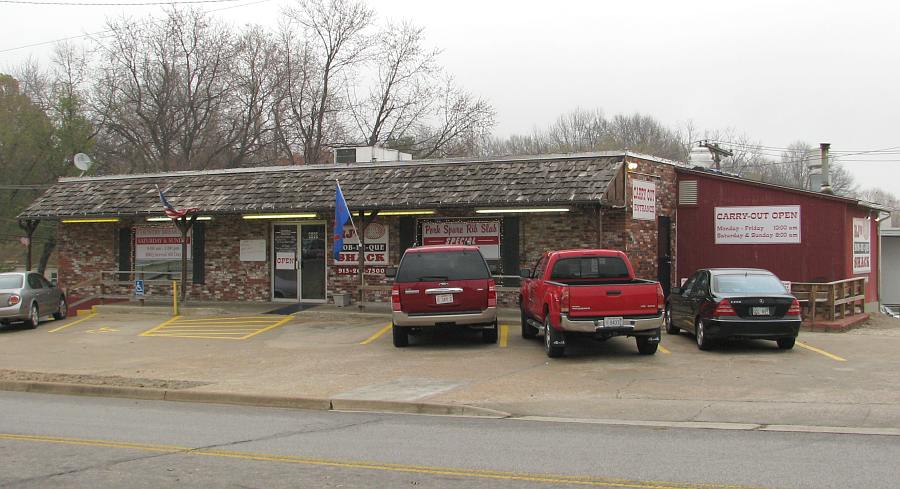 RJ's Bob-Be-Que Shack - Mission, Kansas
RJ's Bob-Be-Que Shack in Mission, Kansas looks like an old BBQ dive, but it had only been open 6 years when we first visited in in 2009. Although the Chef/owner's name is Bob, the restaurant is named for his son Robert, Jr.
RJ's is known for country style cooking, and the side dishes are among my favorite items. I particularly enjoy the cheesy corn bake and they do a good job on the lightly seasoned French fries. I was surprised to find that a side of corn on the cob was a whole ear, not just the 3 or 4 inch section that many restaurants serve.
After several visits, I have sampled pork ribs, lamb ribs, burnt ends, chicken wings, sausage, and brisket. The burnt ends are the only one I haven't cared for, but my favorite meats are lamb ribs and the meaty chicken wings, which have a lot of flavor from the smoking and need no sauce.
Two house sauces are provided - regular and spicy. Both are sweet with a hint of vinegar, and I don't think there is a big difference between them. But there is Tobasco sauce on the tables and you can make it as hot as you want.
On Saturdays and Sunday's RJ's Bob-Be-Que Shack serves country style breakfasts from 9AM - 1PM. Bloody Mary's are $5 during breakfast.
RJ's Bob-Be-Que Shack was one of the four Kansas City BBQ restaurants being featured on the July 12, 2-10 episode of the Food Network's Diners, Drive-ins and Dives.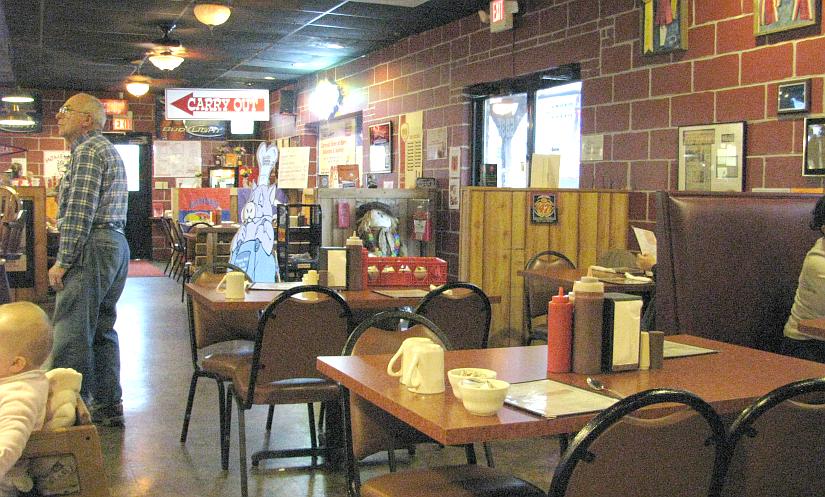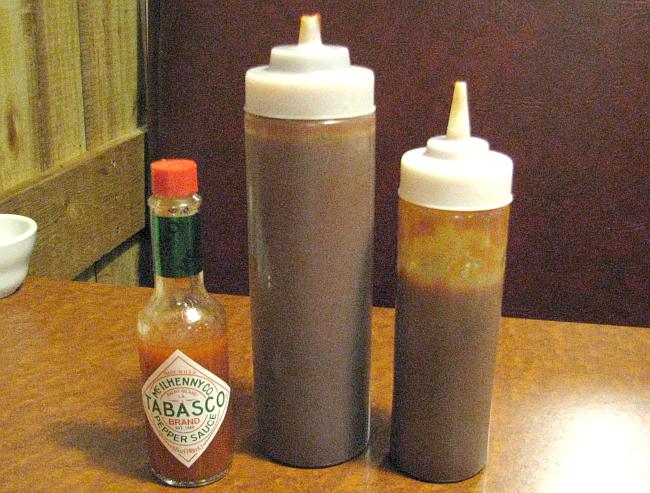 Tobasco Sauce, regular BBQ sauce, spicy BBQ sauce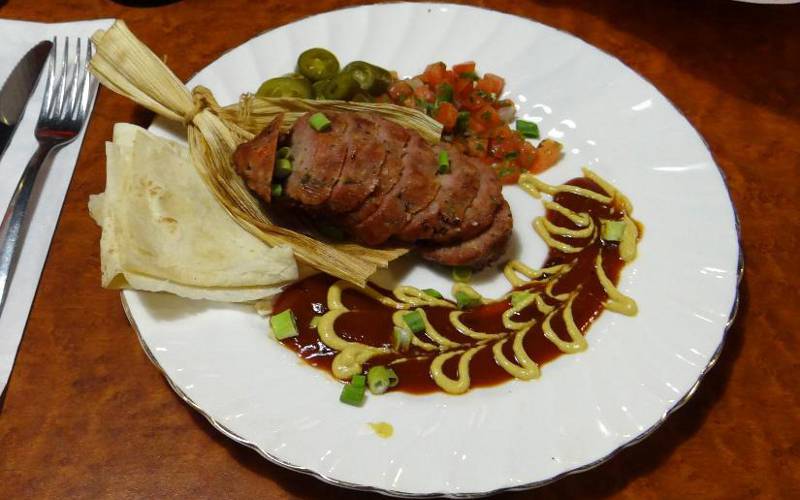 Jalapeno sausage appetizer which was introduced for the Diners, Drive-ins and Dives episode. Ground pork butt mixed with
diced jalapenos, rolled up in corn husks & smoked. Served with flour tortillas, dijon mustard & barbecue sauce. $7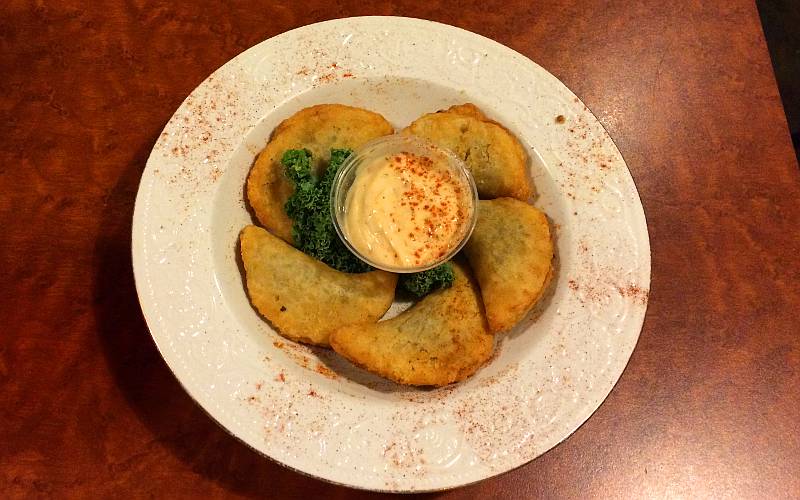 Bison Empanadas appetizer $6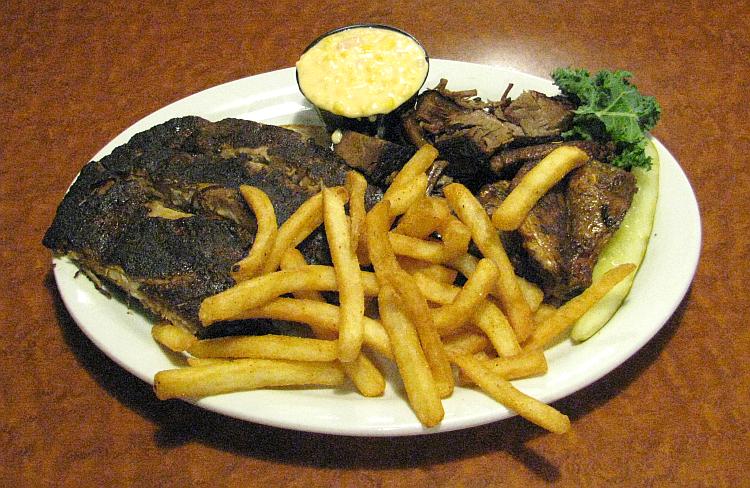 Shack platter with wings, burnt ends and 3 pork ribs and the choice of two sides for $14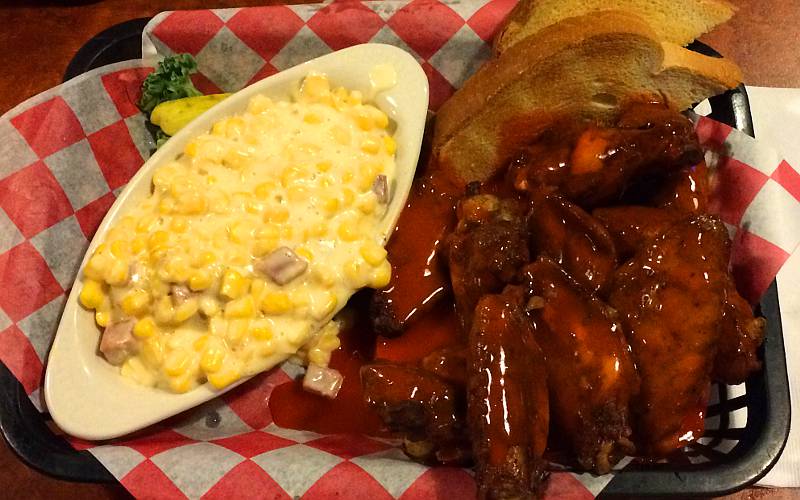 10 wing platter with cheesy corn bake $13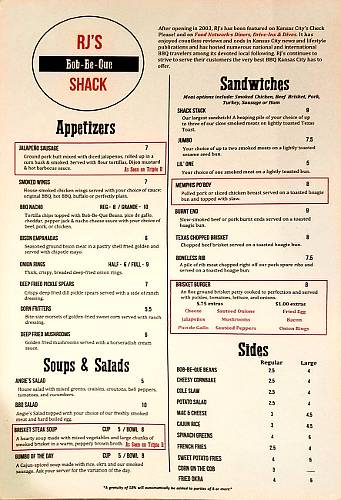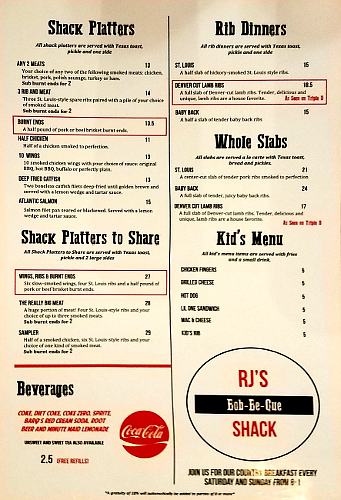 Click on the images for a larger version RJ's Bob-Be-Que Shack February 2019 menu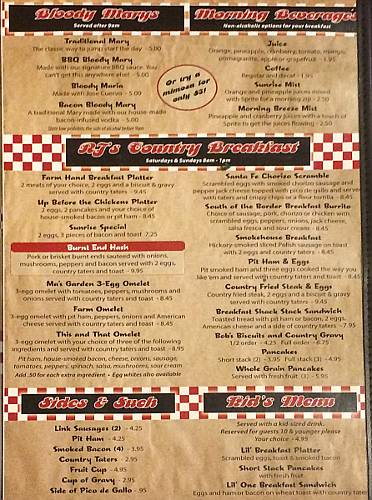 RJ's Bob-Be-Que Shack August 2015 breakfast menu
copyright 2009-2019 by Keith Stokes