B & C BBQ


355 North Washington Street
Wichita, Kansas 67202
(316) 807-9119

Monday - Saturday: 11 AM - 2 PM
hours confirmed January 22, 2015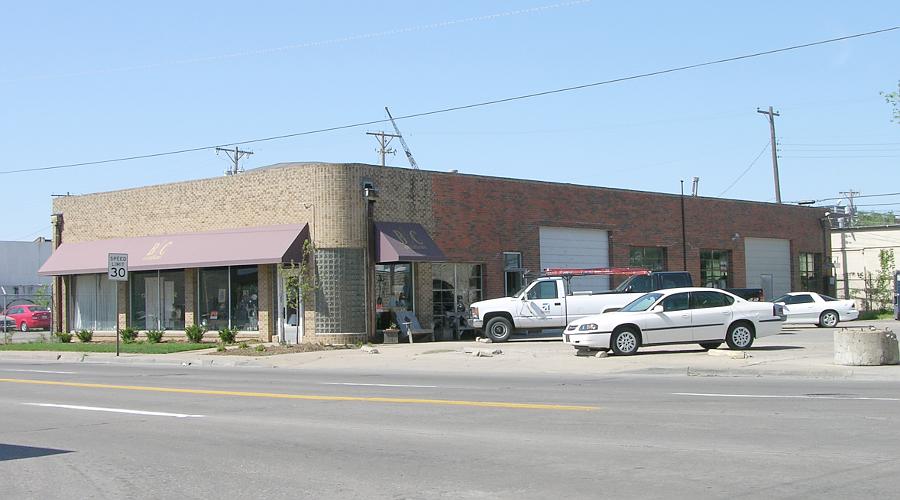 B & C BBQ
B & C Barbeque Restaurant occupies a former garage on the edge of the Old Town section of Wichita, Kansas. The front of the building used to have a gift shop selling decorative items. The back has a wonderful BBQ buffet, available only at lunch Monday - Saturday. You pay for your meal ($13 including beverage and sales tax) before going into the dining room.
B & C BBQ isn't even a little fancy. The plates are disposable and you get your own drinks & bus your own table. But there is an interesting atmosphere, and sometimes live blues on Saturdays
The side items (beans, potato salad) are good and the garlic coleslaw is a stand out. Every one of the meats (chicken, ham, sausage, ribs, pulled pork & brisket) is above average. The pulled pork is the best I have ever had, and the chicken is very tasty and so tender it is falling apart. For those that want to stay a little healthy, there is also a well maintained tossed salad bar.
On my first visit, I was disappointed in the sauce. It was very sweet - too sweet for my taste. But then I tried the bright red squeeze bottle which I had assumed was ketchup. It was a hot BBQ sauce. Very hot! You can mix the two sauces to match your taste.
The last time I dined at B & C, I observed a woman with two teenage girls come into the restaurant for the first time. When the mother saw the food table, she was thrilled. And the girls were every bit as impressed. As one of them walked past me with her plate of food, I overheard her say, "This is so cool!"
The buffet can also be purchased to go, though they limit how many ribs or sausage links you can take with you.
If you love BBQ, and like food with lots of flavor, B & C is a place you must visit. After living in metropolitan Kansas City for 30 years and eating at over 100 Kansas and Missouri BBQ restaurants I rate B & C as one of the best overall barbeque restaurants in Kansas or Missouri.
B & C Barbeque buffet menu: Beef Brisket,Pulled Pork, Ham, Turkey, Hot Links, Ribs & Chicken. Side Dishes, Baked Beans, Spicy Baked Beans, Potato Salad & Garlic Slaw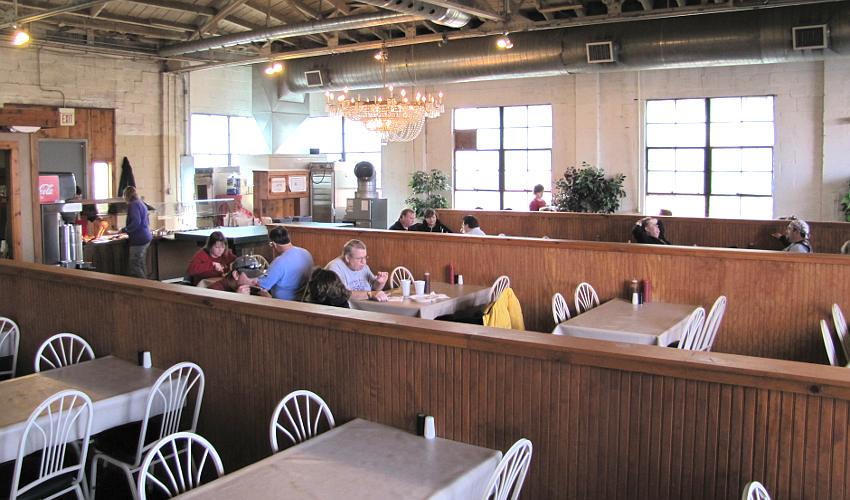 B & C Barbeque's dining room. I like the contrast of the old garage with its poured cement floor and the chandler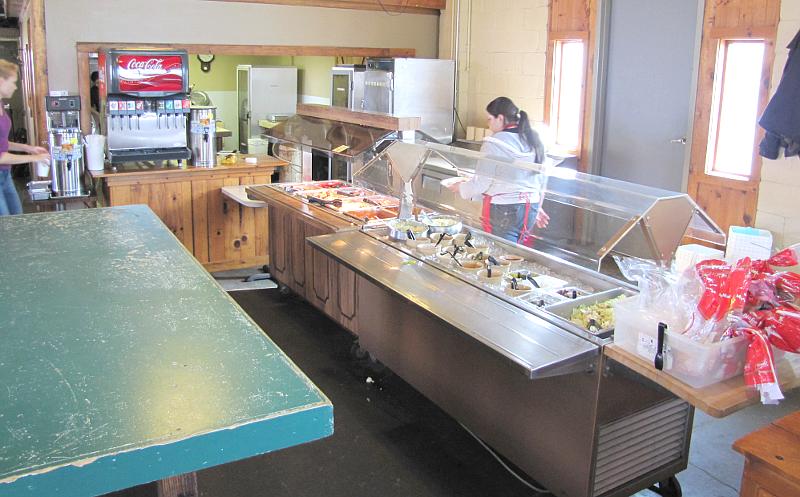 Salad bar at right, meats in the center, beverages at the left.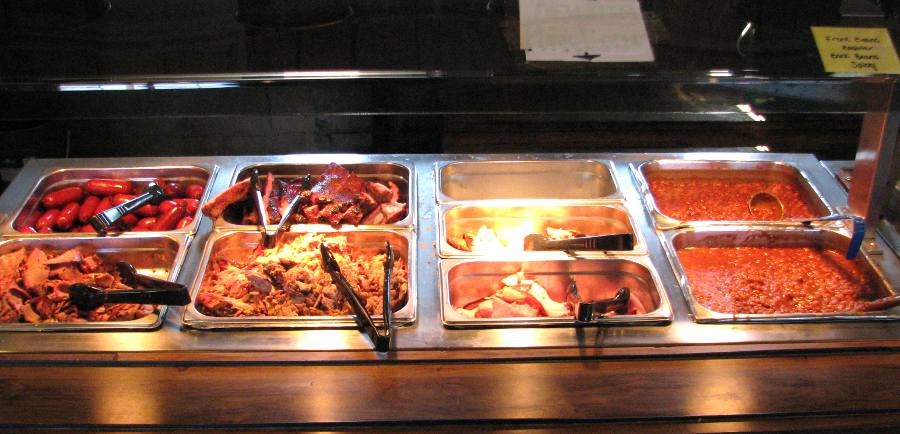 Smoked meats and two types of baked beans - I love the spicier beans (at the back)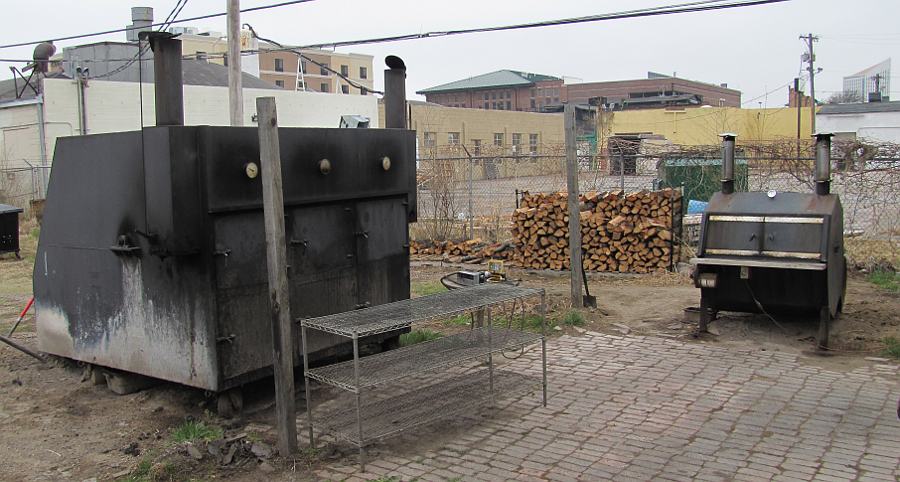 Smokers at use during the lunch time at B&C BBQ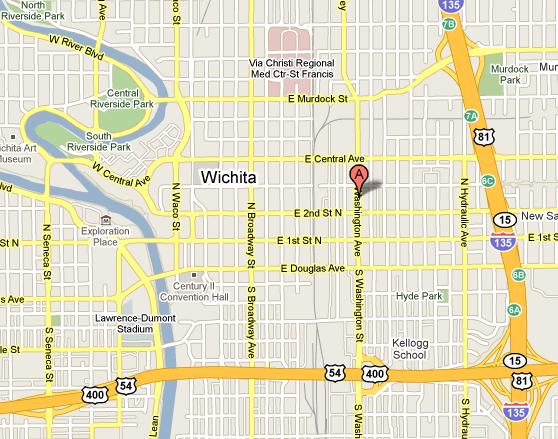 B & C BBQ Map
Unique Kansas Restaurants
Kansas Attractions Kansas Travel & Tourism Home
copyright 2006-2015 by Keith Stokes