Biblesta Parade

downtown city square
Humboldt, Kansas 66748
(620) 473-2526

Cancelled for 2020 due to
COVID19

also visit the Humboldt Historical Museum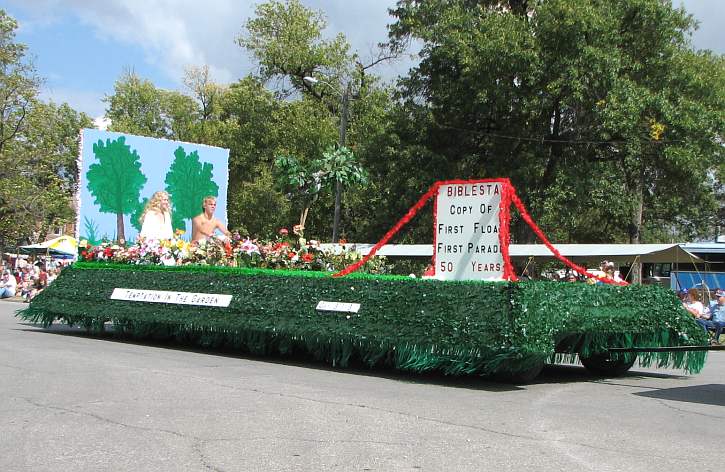 Temptation in the Garden - Genesis 3: 1-3. Recreation of the first float in the first Biblesta parade.
THE BIBLESTA COMMITTEE HAS DECIDED TO KEEP EVERYONE SAFE AND CANCEL THE
2020 FESTIVITIES.
Biblesta has been held in Humboldt, Kansas on the first Saturday in October, every year since 1957. The name is a combination of Bible and Fiesta.
There is also free gospel music and train and pony rides for the kids, plus food events at the Humboldt city square throughout the the day. Most of the food vendors are local, organizations rather than commercial vendors. Many of the booths offer pies and other baked goods that were prepared by members of the Humboldt community. In 2007, Larry Gatlin & The Gatlin Brothers performed.
The main event is a bible parade with bands, marching and equestrian units and the feature: floats depicting events from the bible. The floats begin the parade in the book of Genesis, and stay in order through the book of Revelations. The photos on this and the following page are from the 50th Anniversary Biblesta in 2007.
Most of the floats are new for a given year and are competing for prizes, but the Jonah and the Whale float is returns year after year.
The Biblesta parade is held in early in the afternoon and it is easy to get a good place to view the parade. The pace of the parade when these photos were taken was a bit slow, the units were 1-2 blocks apart, even at the beginning. But if you had spot near the start of the parade, it lasted about 45 minutes. The photos on these two pages represent over half of the parade entries and most of the Biblesta floats.
At 5PM on Saturday, everyone is invited to participate in a free ham and bean meal. Bring your own bowl! See the last photo on the second page to see the hundreds of pounds of beans cooking.
Other events during Biblesta include a 5K walk/fun run, gospel music and youth worship.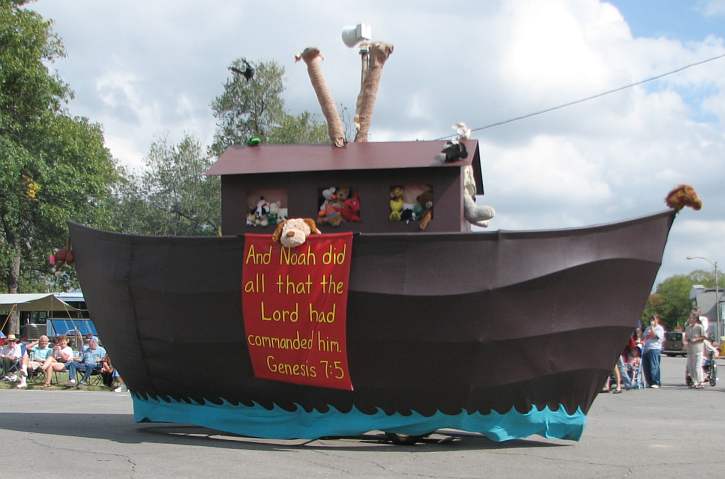 And Noah did all that the Lord had commanded him - Genesis 7:5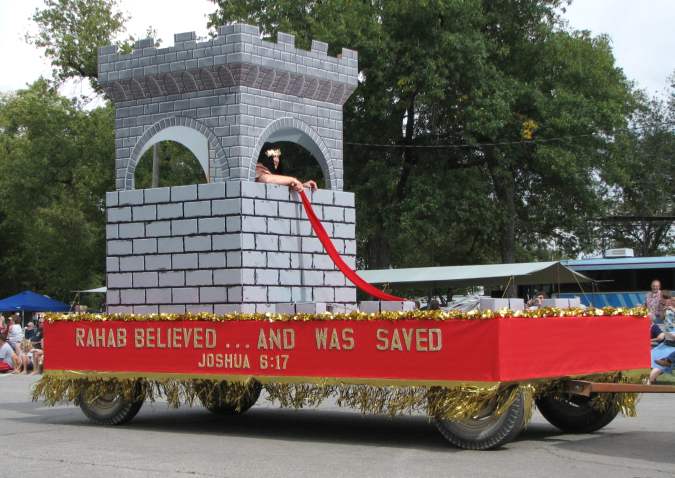 Rahab believed ... and was saved - Joshua 6:17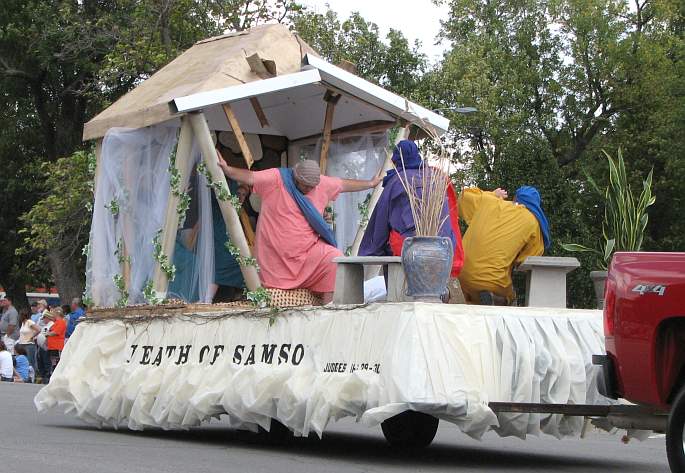 Death of Samson - Judges 16: 29-30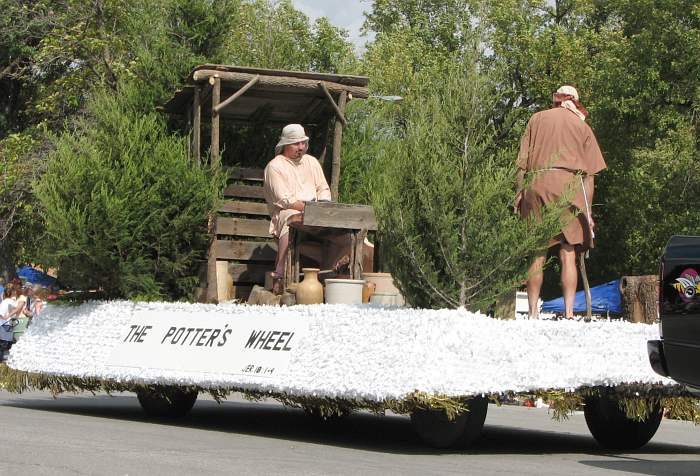 The Potter's Wheel - Jeremiah 18: 1-4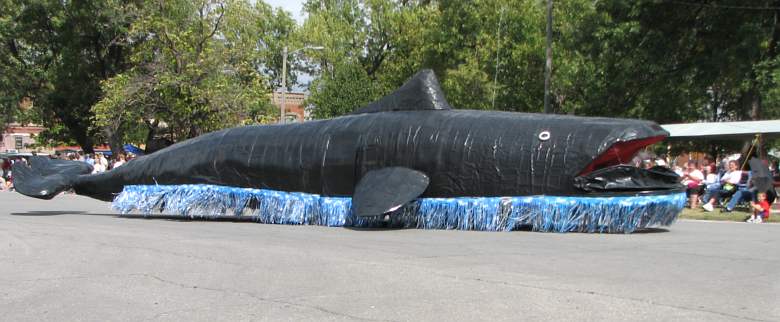 40' Jonah and the Whale has appeared in all but 2 parades. The narrow white line leading up from in front of the
dorsal fin in water spouting from the whale's blow hole.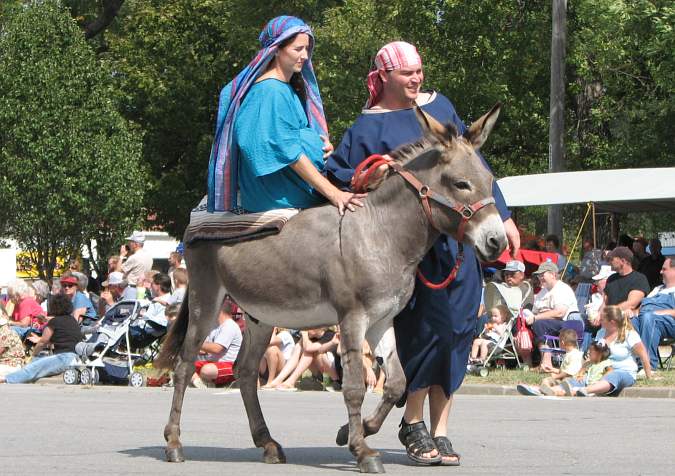 Journey to Bethlehem - Luke 2: 4-5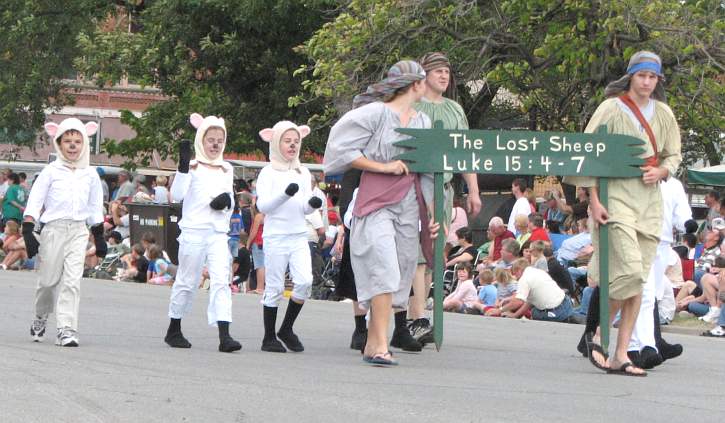 The Lost Sheep - Luke 15: 4-7
Page 2 of Biblesta photos Biblesta website
Kansas Attractions Kansas Travel & Tourism Home
copyright 2007-2020 by Keith Stokes