Humboldt Historical Museum
416 North 2nd Street
Humboldt, Kansas 66748
(620) 473-5055

The Museum is open Sundays 1:30 - 4:00 June through the 2nd week of October or by Appointment free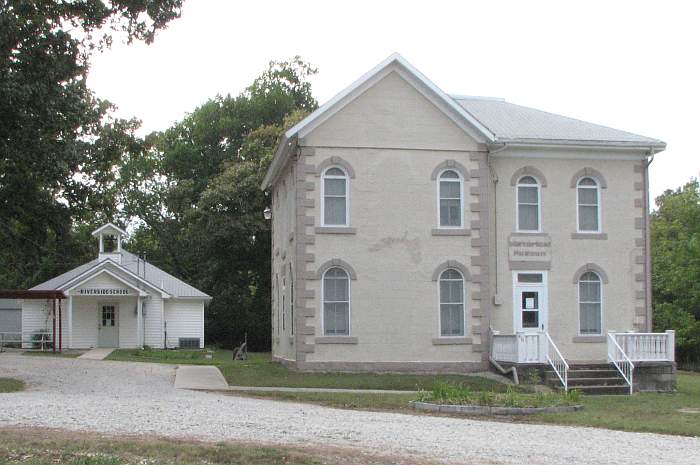 Fairview School replica and 1867 stone house at Humboldt Historical Museum
The Humboldt Historical Museum occupies 5 buildings on the west side of Humboldt Kansas.
Tours of the Humboldt Historical Museum complex begin in the 1995 replica of Fairview school. It houses Lewis Howland's iron toy collection, and many old pictures from Allen County. The second building on the tour is a stone house built in 1867, with a 1976 annex that houses several displays about the community, including Monarch Cement and the 50 year old Biblesta - Humboldt's annual bible parade. The older portion of the building is furnished with artifacts from all of the periods the building was used.
The third and fourth buildings at the Humboldt Historical Museum house tools and farm equipment.
The fifth and newest building at the Humboldt Historical Museum is across the street where it appears to have fewer visitors. Which is a shame, since it has the unique items that separates the Humboldt Historical Museum from other museums across Kansas. The building was originally constructed to house an enormous collection of scale model horse drawn circus wagon and stage coach that were carved by Lewis Howland of Iola, Kansas, The building also houses large displays about the two famous baseball players from Humboldt: Walter Johnson & George Sweatt, as well as a license tag collection going back to before the State of Kansas issued tags.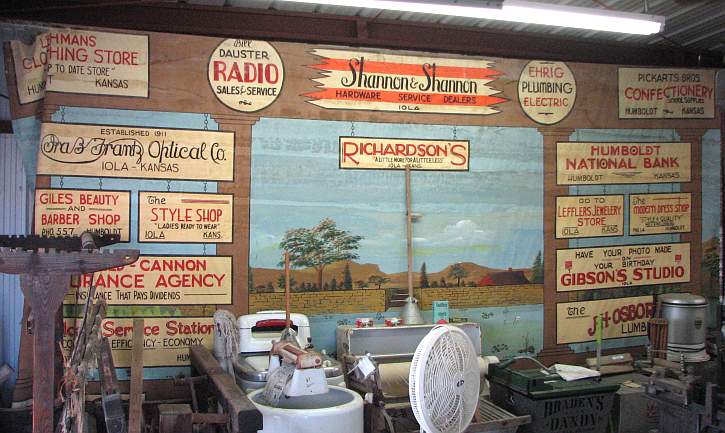 School stage curtain - includes businesses with 2 digit phone numbers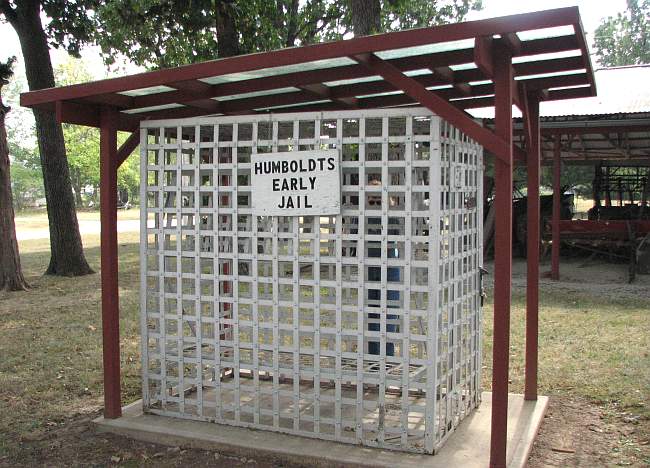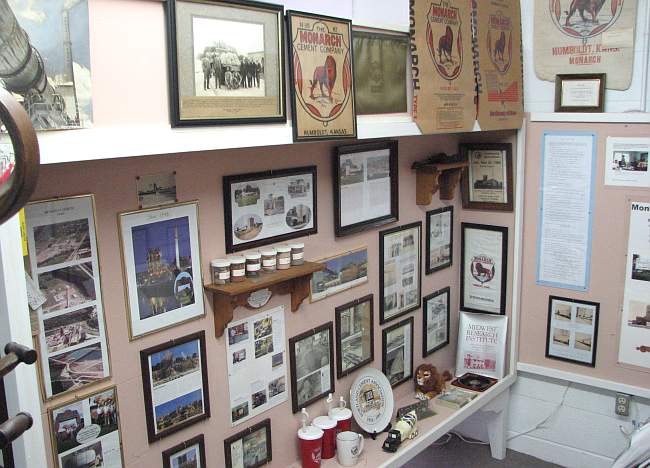 Display dedicated to Monarch Cement Company which has operated in Humboldt, Kansas since 1908.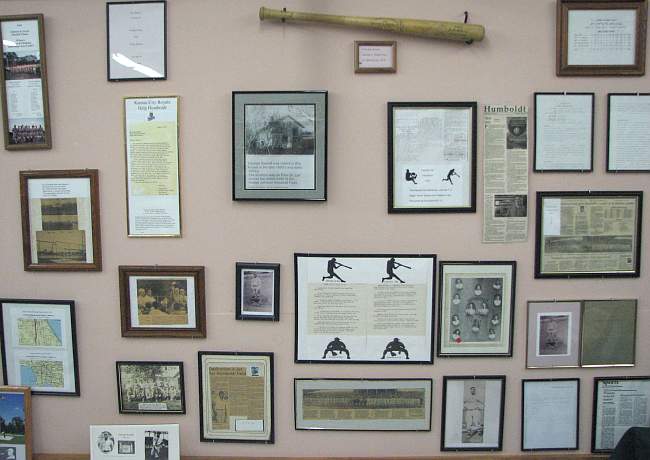 Display devoted to George Alexander Sweatt who was born in Humboldt in 1893. Sweat played second
and third bases for the Kansas City Monarchs, Chicago American Giants & the Chicago Giants. He played in
the first four Negro League World Series and his teams won three of them.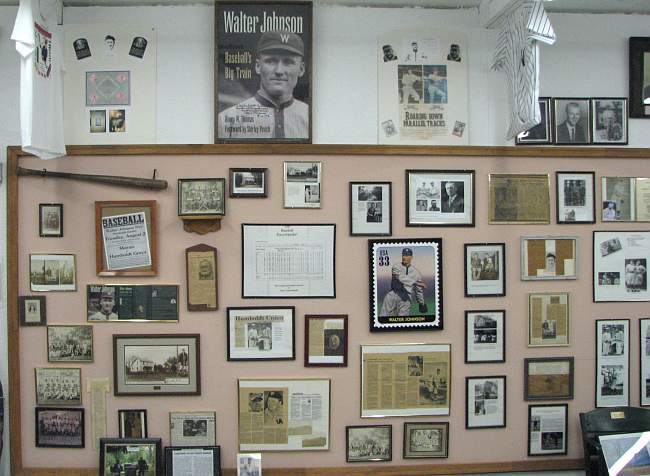 Display devoted to Walter Johnson, who was born in Humboldt in 1887. Nicknamed The Big Train, Johnson
was one of the most successful baseball pitchers of all time, with 417 career wins (2nd all time) and 110 career
shutouts (best all time). He played for the Washington Senators when they won in 1924 World Series - the
same year the George Sweat's Kansas City Monarchs won the Negro League World Series.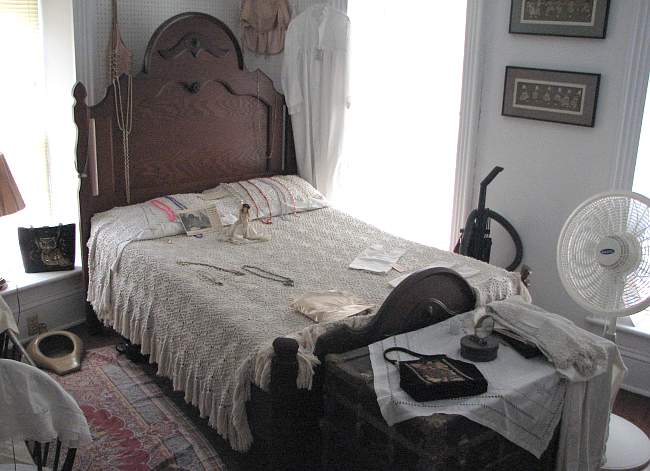 Bed in which Walter Johnson was born on November 6, 1887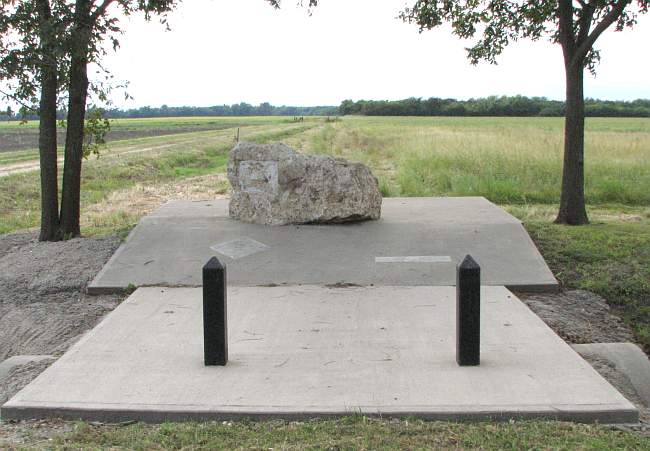 Memorial at the corner of the farm where Walter Johnson was born. Take Highway 169 north from
Humboldt, 2 miles to Iowa Road. Turn left on Iowa (gravel) one mile to the intersection of Iowa Road
and 900th Street. Don't fallow the directions from the Humboldt Historical Museum unless you wish to
on gravel for several miles.

Lewis Howland Collection - more of this museum Humboldt Historical Museum website
Kansas Attractions Kansas Travel & Tourism Home
copyright 2007-2022 by Keith Stokes