Eyegore's Curiosities & Monster Museum

732 Wisconsin Street
Cawker City, Kansas 67430
(785) 781-4736

Friday & Saturday 10AM - 7PM
Sunday & Monday 10AM - 5PM
Call before visiting

Eyegore's Curiosities & Monster Museum Map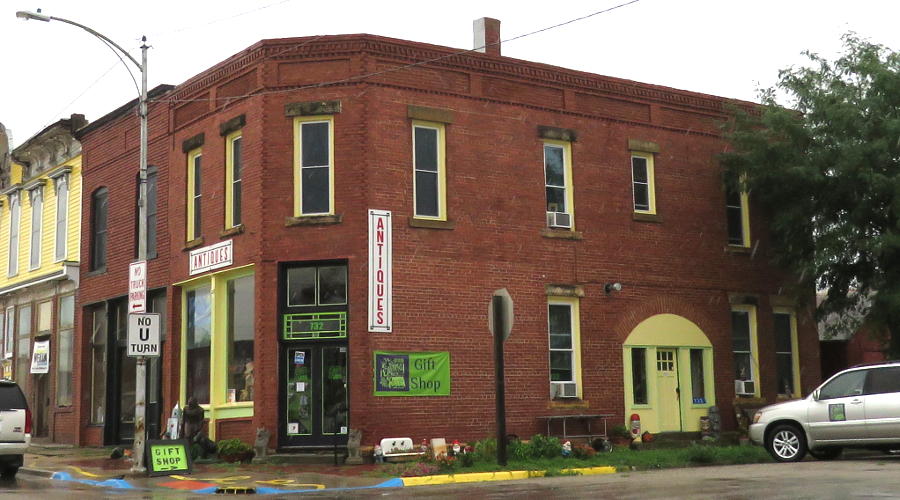 Eyegore's Curiosities and Monster Museum - Cawker City, Kansas
Eyegore's Curiosities and Monster Museum opened as Eyegore's Odditorium and Monster Museum in April 2021, about a block from the World's Largest Ball of Twine in Cawker City, Kansas. Matt Alford and Julie Agee fell in love with Cawker City during a cross county trip in 2020 and moved here from Virginia. Matt is a fan of the horror genre and has created many odd items to amuse and entertain visitors. They sell souvenirs, penny candies, hot sauces and some of Matt's grassroots art, but this feels much more like a gallery or museum than a gift shop. The Odditorium reminds me of a 1900's pharmacy and taxidermy shop that was in my home town when I was a child.
The name change was made in August 2022 after a cease and desist demand from Ripley's Believe It or Not!, which has the word "odditorium" trademarked.
Matt is a fine self taught artist with an eye for whimsy with a touch of horror. He and Julie have packed a lot of fun items into this little shop. The longer you look around, the more that you will fine.
The Odditorium has been a great addition to the community. Matt and Julie quickly became involved with Cawker City and the region. Within a few months they were making presentations about Halloween at a local school, story telling at a library, sponsoring a costume contest and making a maze for Trunk or Treat.
Note: Matt Alford is battling cancer and it may be necessary to temporarily close without advance notice. We recomend calling to confirm they are open before traveling to Eyegore's.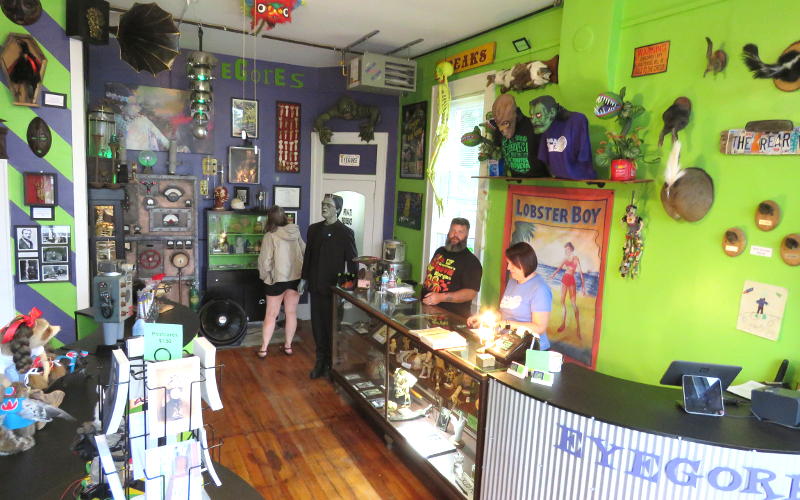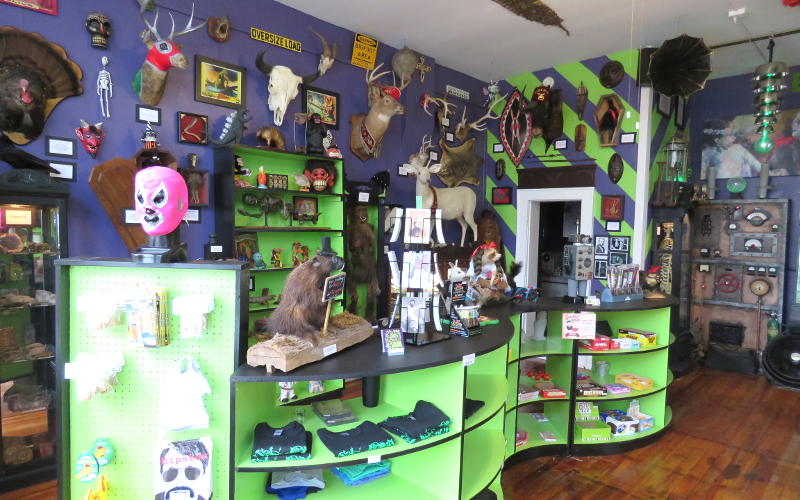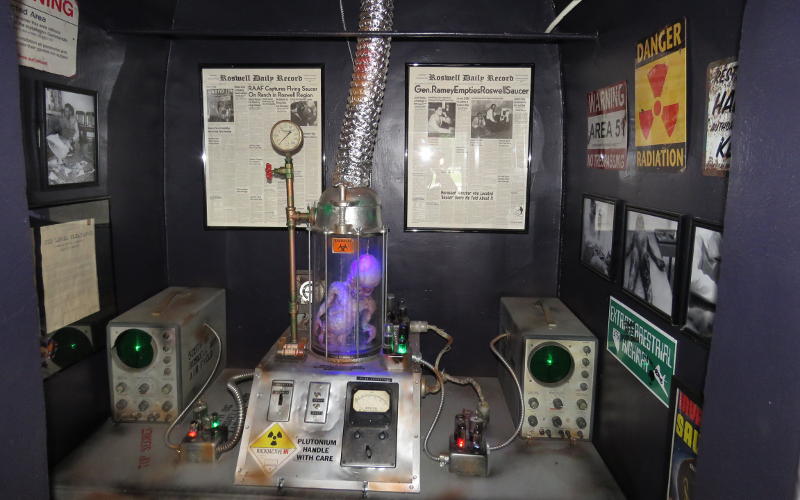 Area 51 - Roswell, New Mexico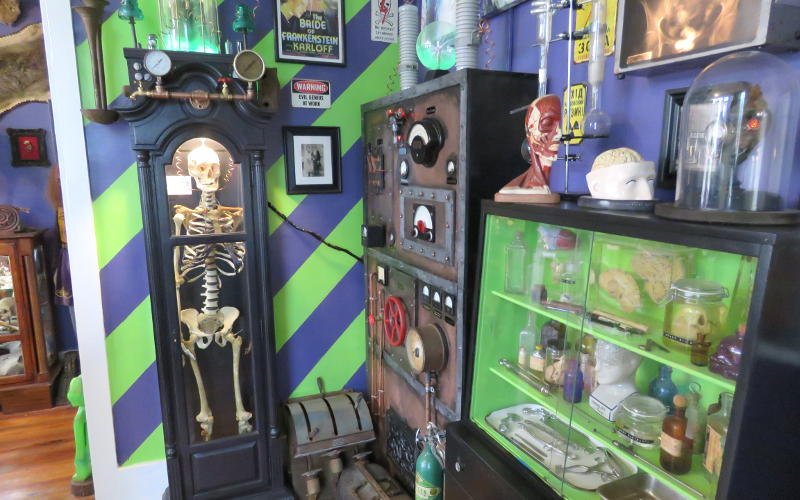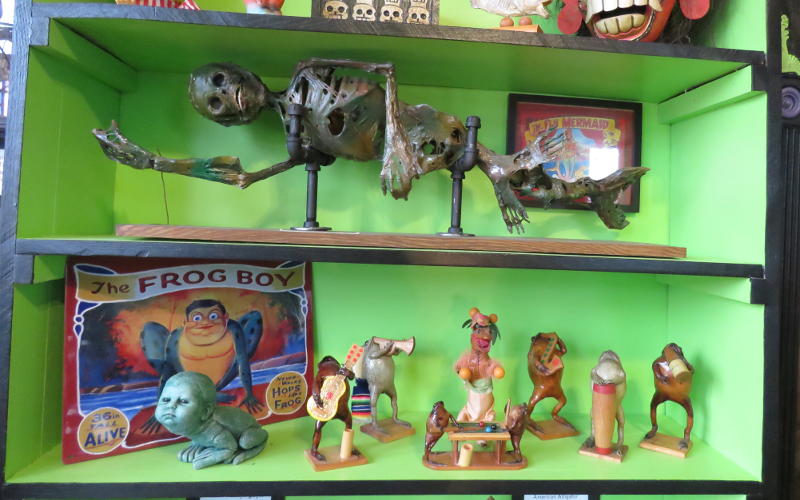 Mermaid skeleton and fog musicians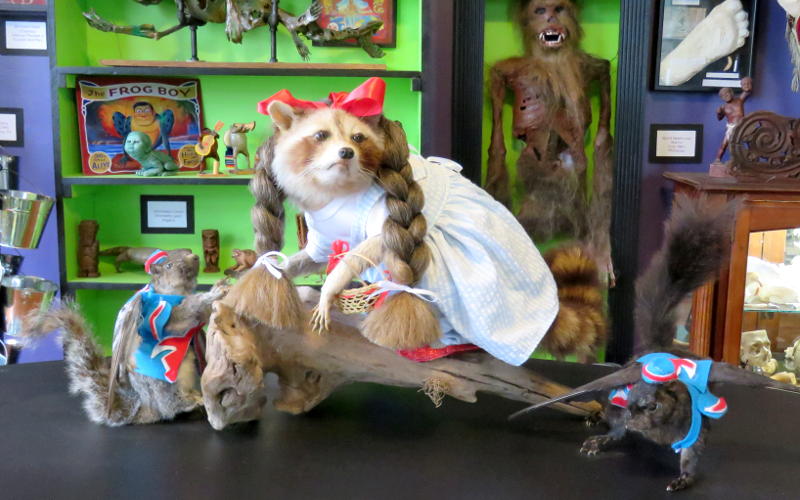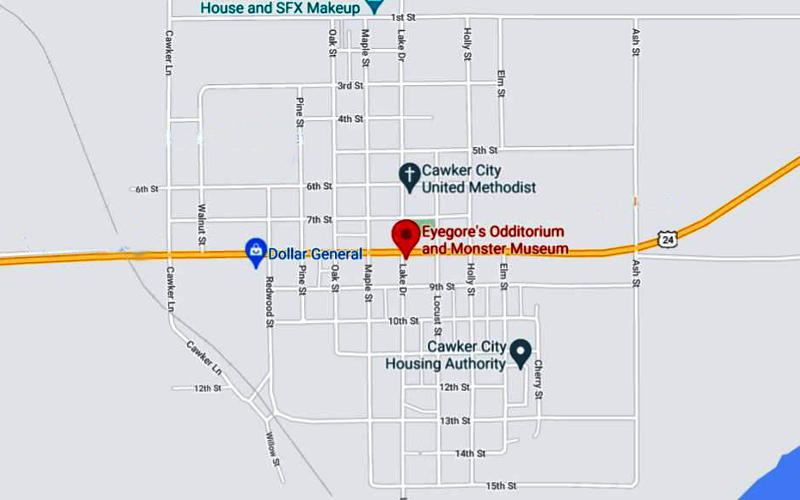 Eyegore's Curiosities and Monster Museum Map
Eyegore's Curiosities and Monster Museum
Kansas Attractions Kansas Travel & Tourism Home
copyright 2021-2022 by Keith Stokes