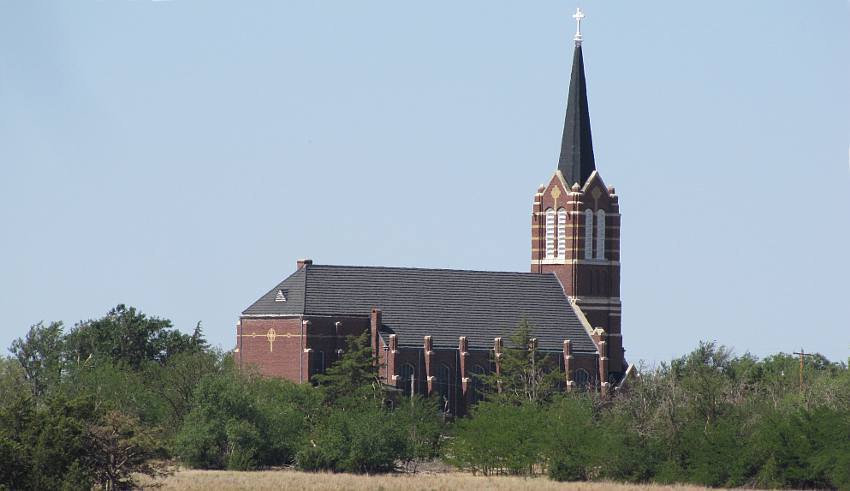 Immaculate Heart of Mary Church - Windthorst, Kansas
Although Immaculate Heart of Mary Church in Windthorst, Kansas no longer serves a congregation, it is preserved as a National Historic Site. Windthorst was an unincorporated community which was founded by German immigrant families who moved west from Cincinnati, Ohio in 1878.
Like many of the other large German Catholic churches in western Kansas, the present building is the third church at this location. The first church at Windthorst was built in the spring of 1879 and the second church was constructed in 1892. Work on the present Immaculate Heart of Mary Church began on May 4, 1912 and the building was dedicated on June 12, 1913. In July of 1997, Diocese of Dodge City closed the church, but a non profit corporation, Windthorst Heritage, Inc. was formed to care for the building.
Immaculate Heart of Mary Church is a red brick brick Gothic Romanesque Revival church with a gable facade fronted by a 125' projecting steeple. Buttresses support the church on each side. The church was not stripped of its statuary and ornamentation after the Second Vatican Council in 1963 and is one of the most ornate churches in Kansas.
Windthorst Heritage, Inc. appears to be largely made up of alumni of the Windthorst High School, which operated next to St. Mary Church from 1922 to 1970. Only the foundation of the school remains, but a memorial to the school was constructed in 2009.
To reach Immaculate Heart of Mary Church, turn south of US50 / US56, just east of Bellefont, Kansas on 132 Road. Drive 3/4 miles south until the road does a T at Correction Line Road (Garnett Road). At this point you will see the church steeple a few miles ahead of you. Turn left .6 miles and 132 Road will continue to the right. Drive 2 miles south on 132 Road, then turn right .5 miles on Iron Road. The church is a half mile farther south on 132 Spur Road.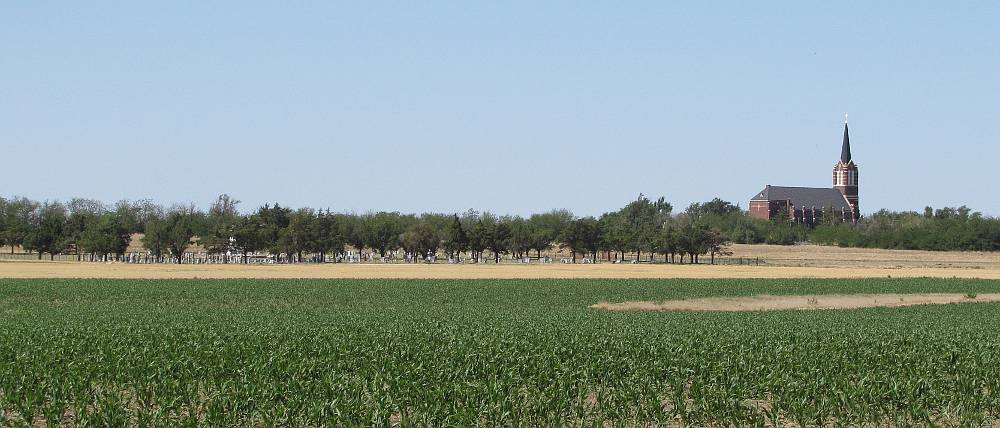 Holy Cross Cemetery with Immaculate Heart of Mary Church in the distance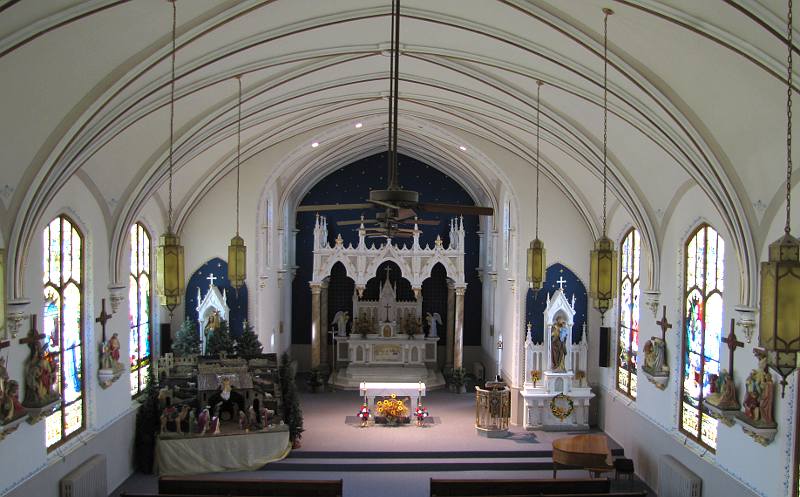 The "Christmas Crib" at the left was acquired in 1913 - when the church was in use,
the nativity was only displayed during the Christmas season.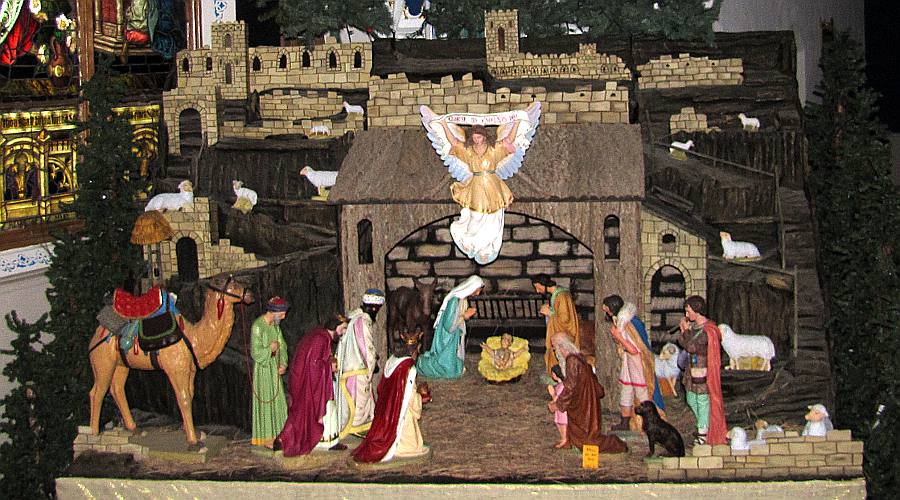 Christmas Crib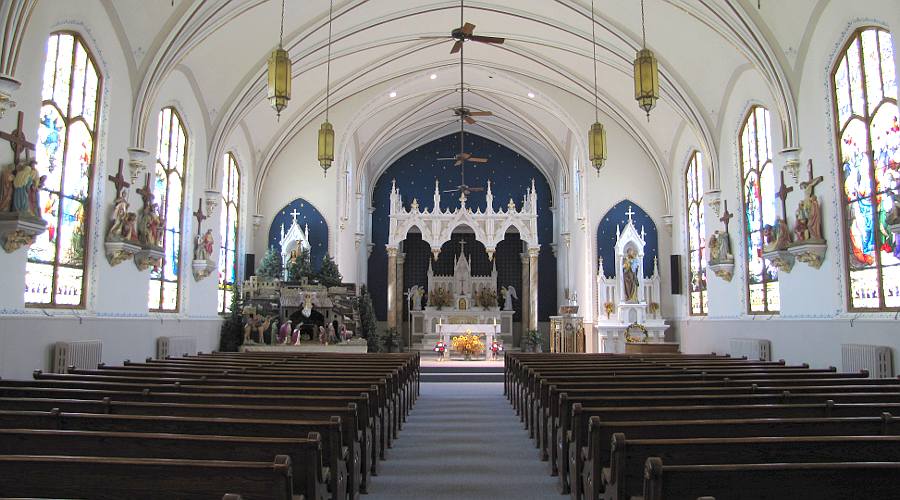 Immaculate Heart of Mary Church main auditorium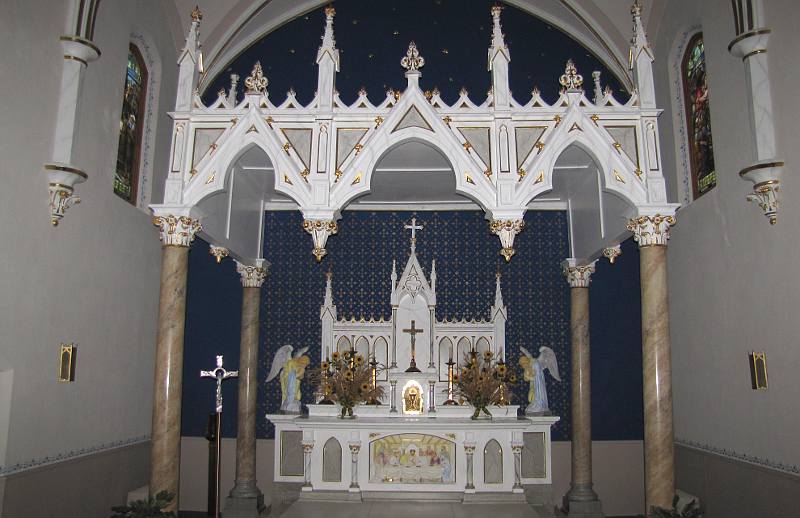 High altar and canopy - the altar was installed in 1918 along with the two side altars.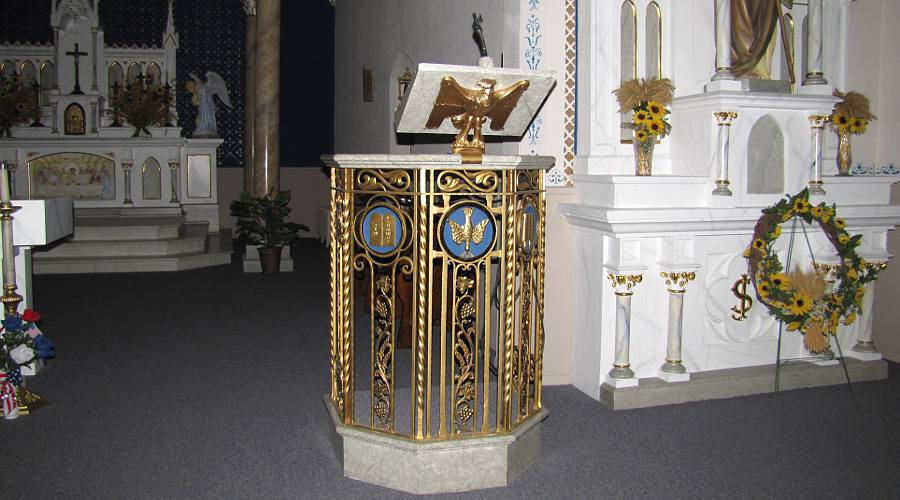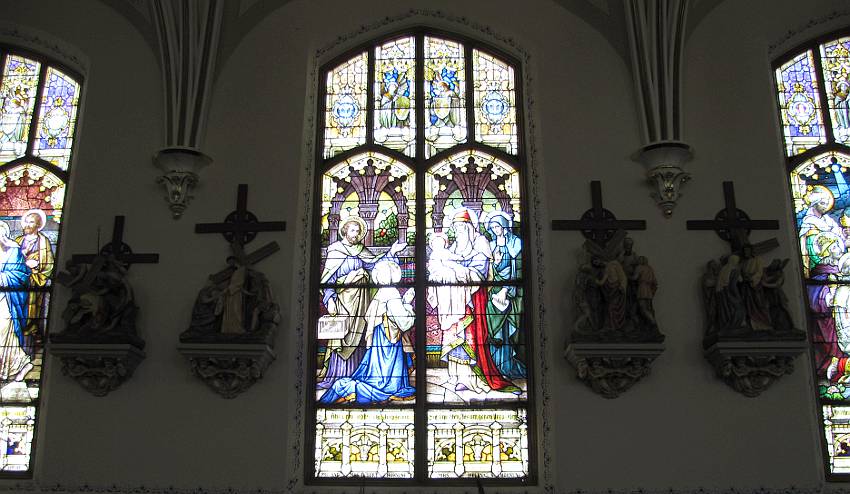 The windows were handcrafted in Munich Germany and installed in 1916.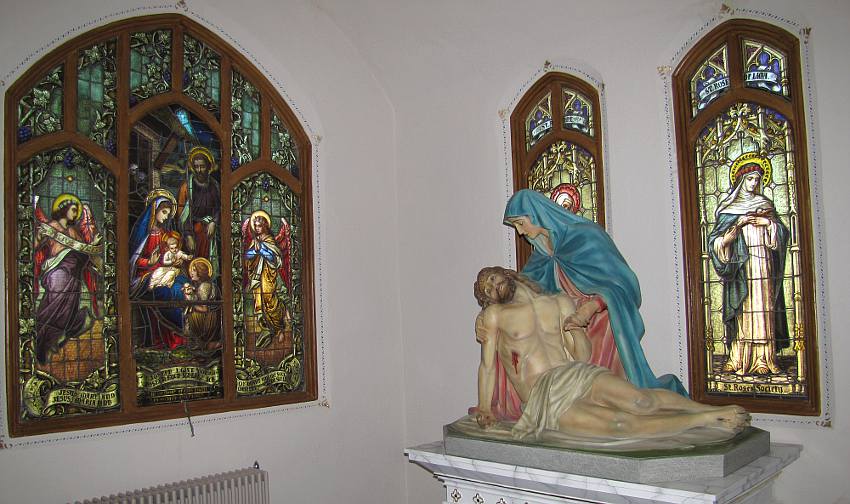 One of the two baptisteries flanking the church entrance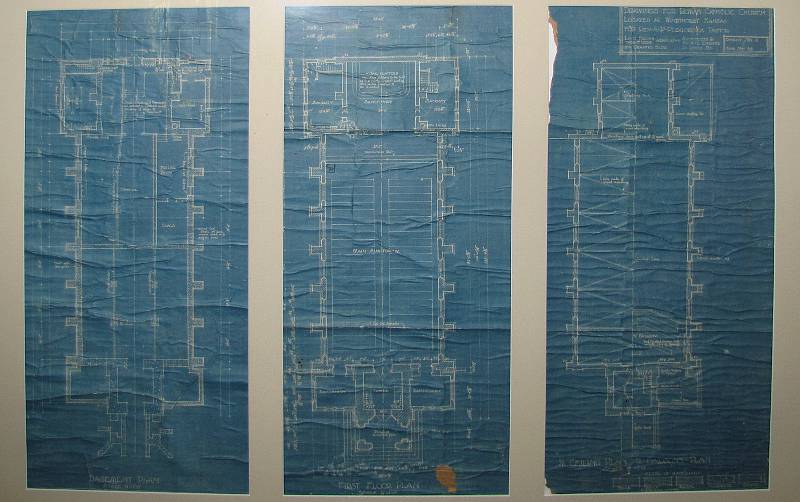 Immaculate Heart of Mary Church blue prints on display in the baptistery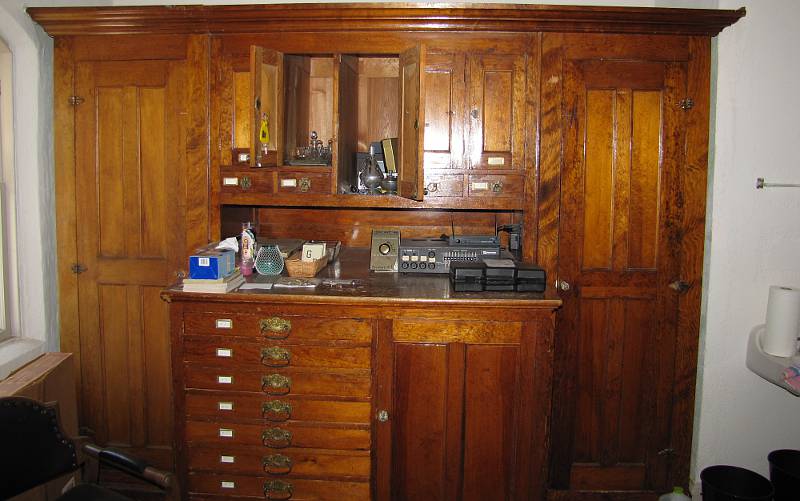 Sacristy credens where vestments and hangings are stored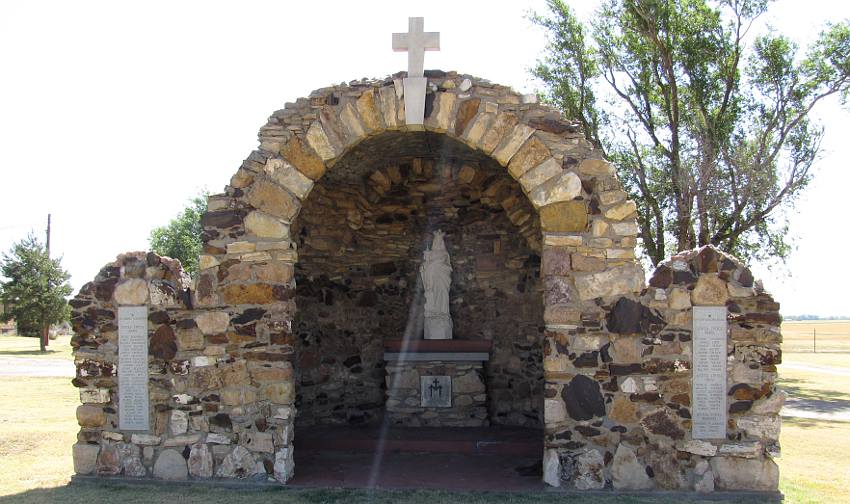 grotto in memory of Windthorst servicemen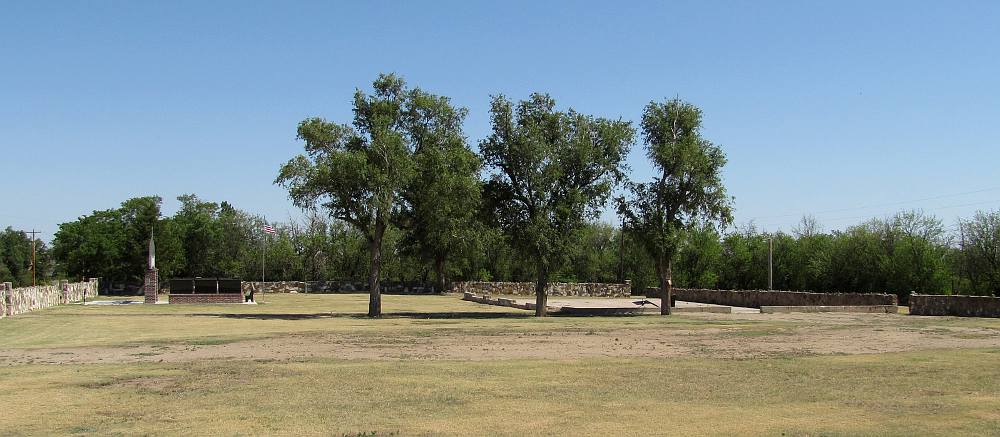 Church grounds and foundation of Windthorst High School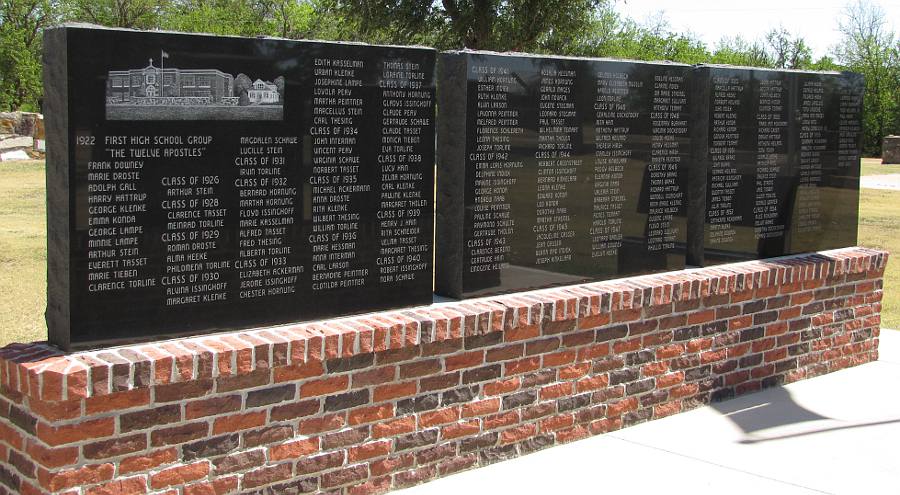 A memorial constructed in 2009 to honor the 427 graduates of Windthorst High School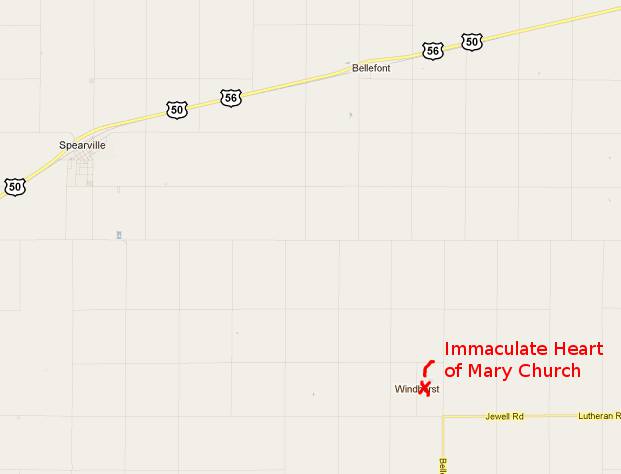 Immaculate Heart of Mary Church map
Beautiful Kansas Churches
Kansas Attractions Kansas Travel & Tourism Home
copyright 2011 - 2021 by Keith Stokes