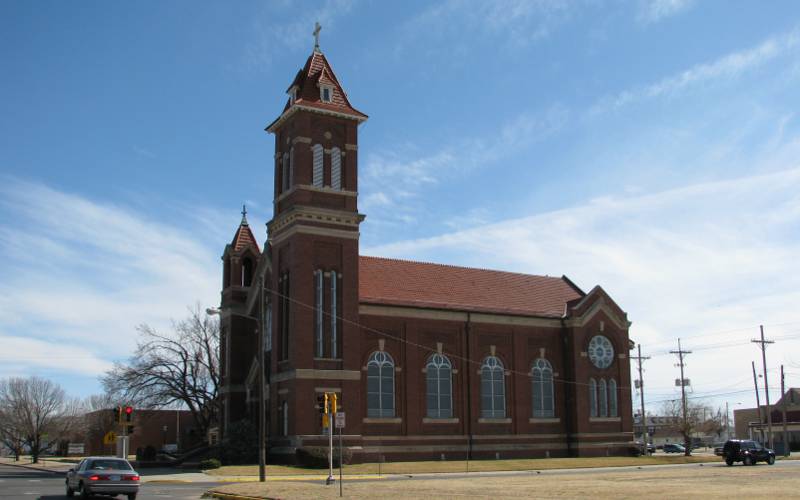 St. Teresa Catholic Church - Hutchinson, Kansas
Although the parish of St. Teresa Catholic Church in Hutchinson, Kansas has been in existence since 1872, the ground breaking for the present building took place on May 10, 1910 and it was dedicated on May 21, 1911. 1,500 people attended the dedication while another 1,000 waited outside. The completed and furnished church cost $51,000, including $1,000 for the high altar and $900 for the Stations of the Cross. The previous, wooden church building was purchased by the Calvary United Brethren Church and moved to 502 West Avenue A in Hutchinson.
The red brick Romanesque Revival church was designed by Emanuel L. Masqueray with a red tile roof and two square towers. The eastern tower stands 70' high and the western tower is 115' high. The church itself is 138' north to south by 48' east to west.
St. Teresa was added to the National Register of Historic Places in 1994.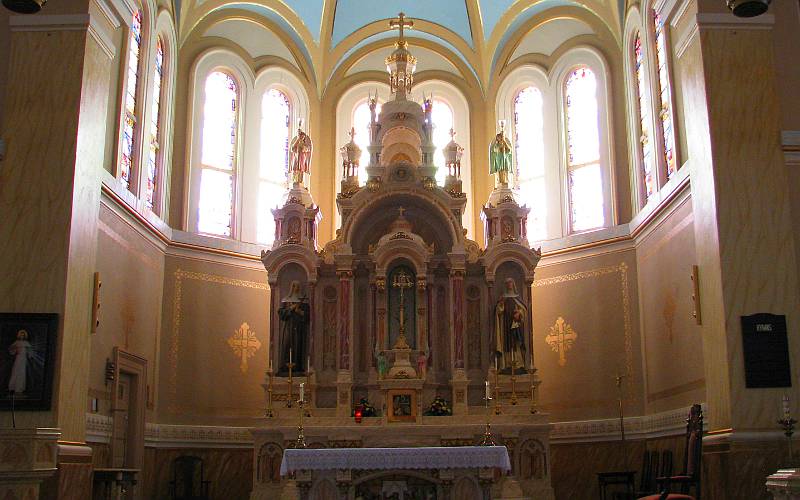 The original altar was replaced in 1914 by this Del Prado altar with white carrafo marble from Italy, golden yellow
marble from Mexico and gray from Vermont. The main part is a composition of marble dust called Seaglioli.
This altar required widening of the chancel and reinforcing the floor.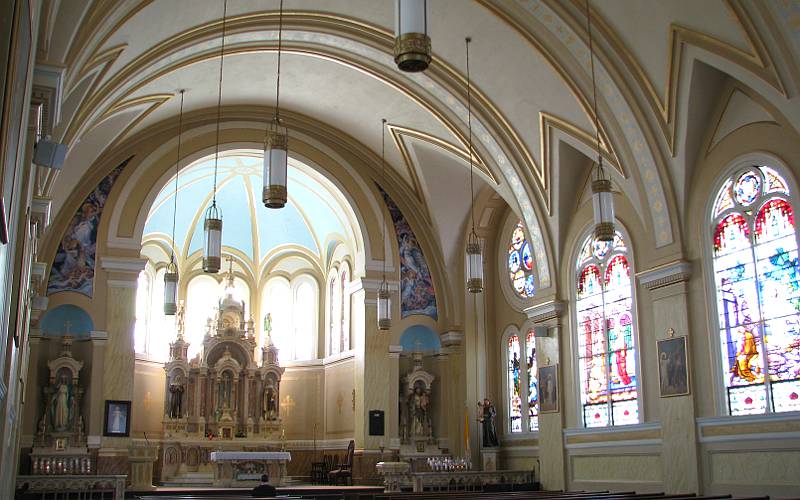 The two small altars were added at the same time as the main altar and were built to fit into the wall niches.
The small altar in front of the high altar came from a church in the nearby community of Turon. When that church was
closed, the priest at St. Teresa learned that it was available just a few days before it was going to be buried.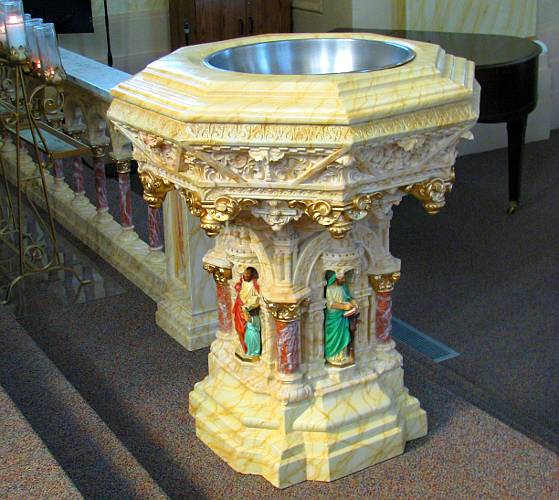 Original baptismal font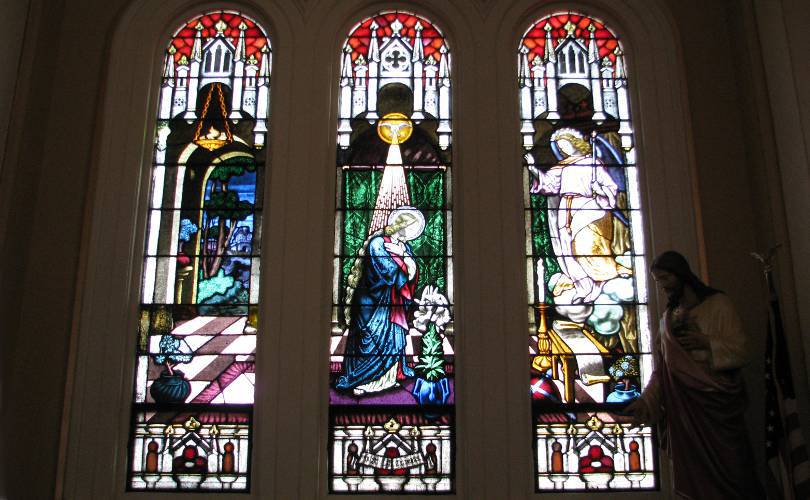 These three stained glass windows depict The Annunciation
(The angel Gabriel telling the Virgin Mary about the incarnation of the Son of God).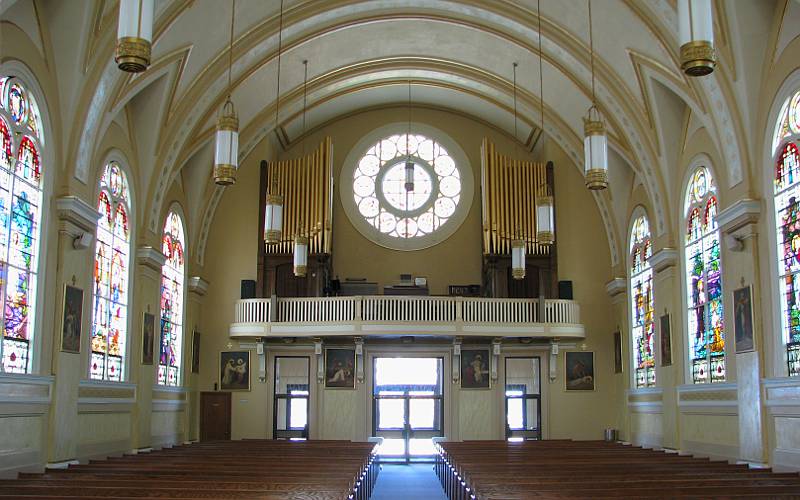 Choir loft with 1931 pipe organ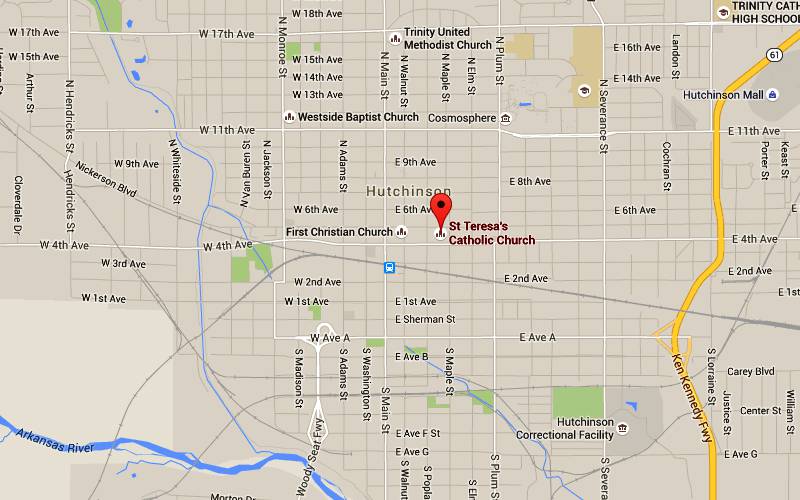 St. Teresa Catholic Church Map
LS-3/17 copyright 2009-2017 by Keith Stokes