Prairie Nut Hut
1306 Quincy Street
Altoona, Kansas 66710
(620) 568-2900

Open 11AM- 9PM
Tuesday through Saturday
CASH ONLY

Prairie Nut Hut Map Prairie Nut Hut Menu


"Ha-ha I've still got mine" at the Prairie Nut Hut

Altoona's Prairie Nut Hut
The Prairie Nut Hut in Altoona, Kansas is a unique little bar and grill that is well worth a visit. I hesitate to call it a "hole in the wall," since some would think that was a derogatory comment, but it is one in the best sense of the word. The exterior has been cleaned up since I first visited the Prairie Nut Hut and I think it had even more charm before it was cleaned up.
Originally opened in the 1940s or 50s (the present owners are uncertain), the Prairie Nut Hut was operated as the A&B Tavern and was well known for serving mountain oysters until closing in the 1980s. It was reopened mid 1990s, and is now a fun place to get generous servings of hamburgers, chicken fried steak and mountain oysters.
Including the stools at the small bar, the Prairie Nut Hut seats less than 40 customers. The floor is littered with peanut shells and the walls are decorated with T-shirts offered for sale that have messages like "I had a ball at the Prairie Nut Hut" or "Come in and have a seat, our mountain oysters are hard to beat." The walls used to be lined with photographs of people who had dined at the Nut Hut from all over the world.
For those of you unfamiliar with mountain oysters (also known as Rocky Mountain oysters, prairie oysters, cafe fries and other names), they are usually calf testicles, which are removed when a young bull is neutered. Other times they may come from a lamb, buffalo or hog.
At some restaurants, mountain oysters are close to the look and texture of fried oysters. At the Prairie Nut Hut, the breaded and deep fried nuggets and are closer in texture and appearance to fried chicken gizzards. Although smaller servings are available, a mountain oyster basket with French fries and pickles is about $9.99. Iced tea is only $1.25!
As good as the mountain oysters at Altoona's Prairie Nut Hut are, the hamburgers are even better. The Rohr burger (with grilled onions, mushrooms and Swiss cheese) is one of my picks for Best Burgers in Kansas. and the Chopped Sirloin Burger (a thick patty of chopped sirloin, wrapped in bacon and served on Texas Toast) and Green Chili Burger (grilled green chilies and Swiss cheese) are also very good. specialty burgers are $7.99-8.49. Non specialty burgers start at $3.09.
The Prairie Nut Hut also serves beer, wine and wine coolers, all for $2.75 or less. There is an stage and seating next to he building where there is karaoke and occasional guest performers.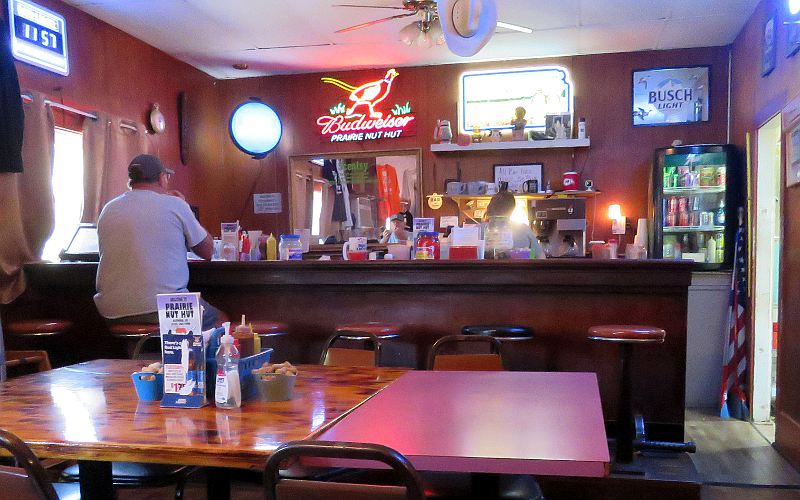 This shows nearly half of the dining room at the Prairie Nut Hu. The bar stools are original.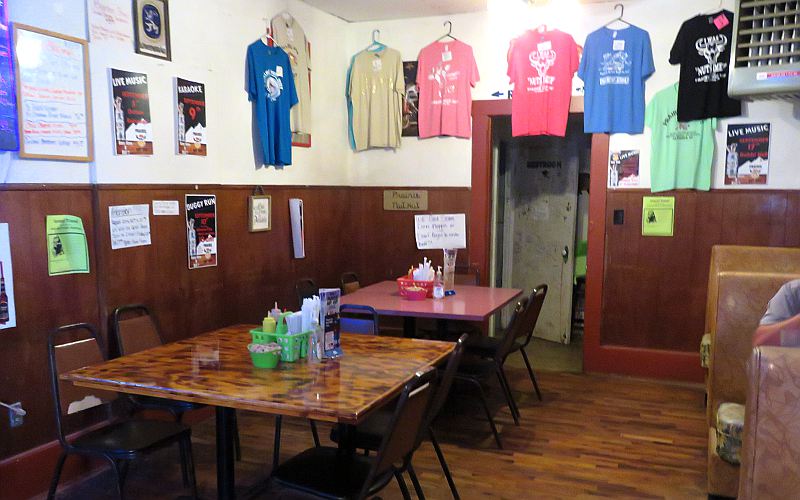 The three booths at the right are also original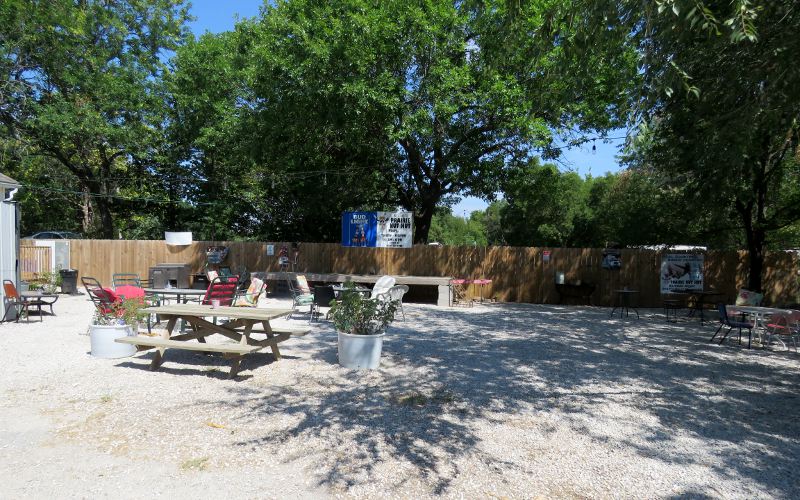 Outdoor seating and stage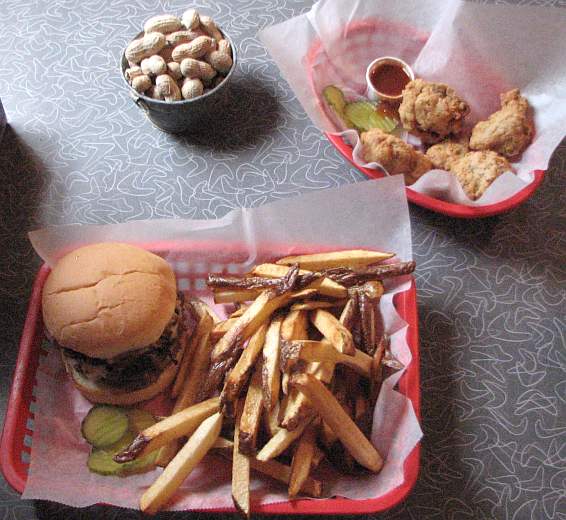 Clockwise: complimentary peanuts in the shell, prairie oysters side order,
Rohr burger with home fries.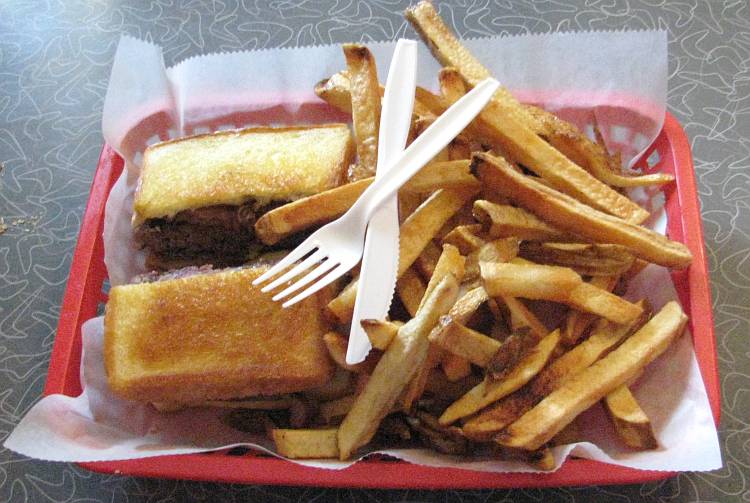 Chopped Sirloin Burger and home fries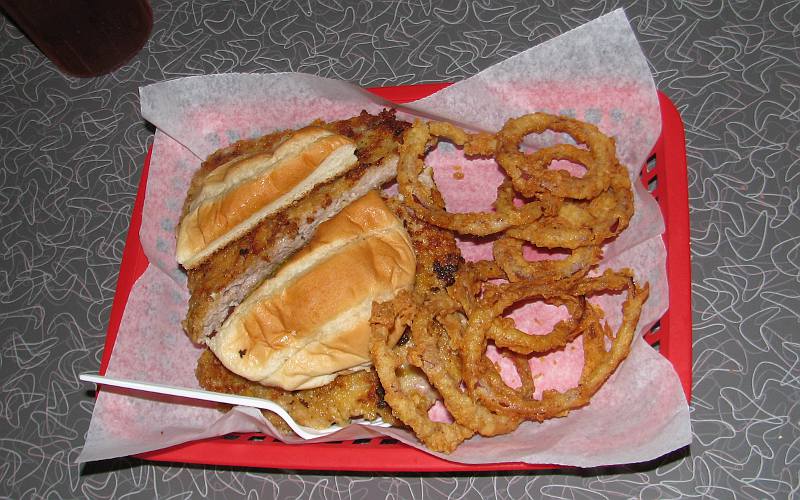 Pork tenderloin and onion rings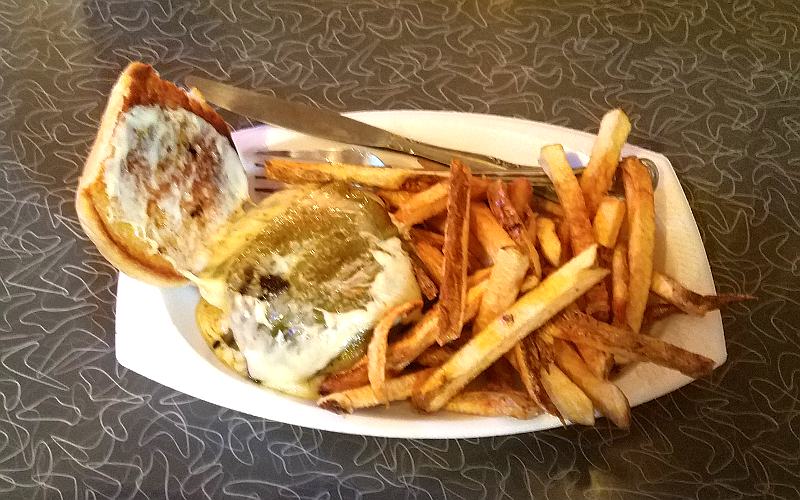 Green Chili Burger and home fries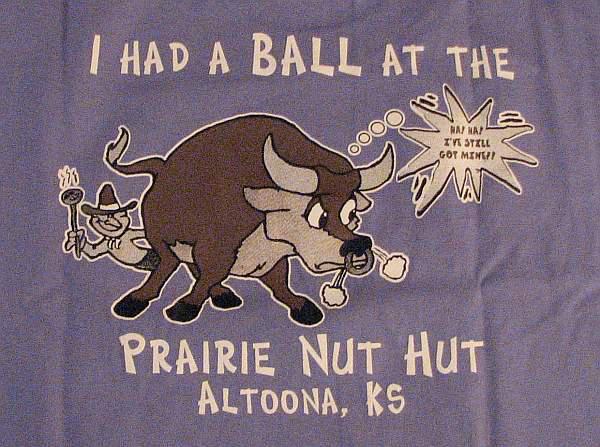 "I had a BALL at the Prairie Nut Hut" T-shirt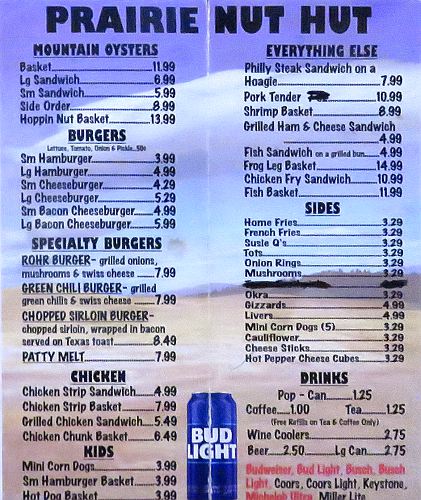 Prairie Nut Hut menu in August 2022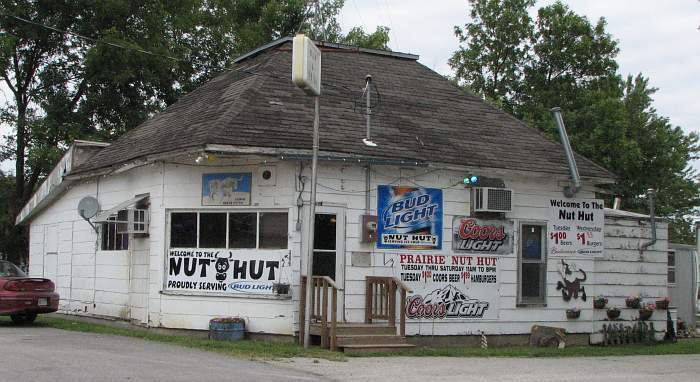 This is the way the Prairie Nut Hut looked when I first visited it in 2007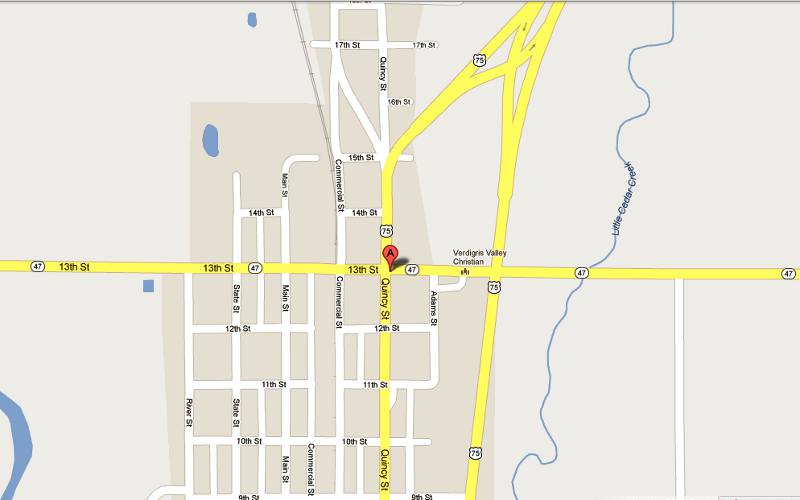 Prairie Nut Hut Map
copyright 2007-2022 by Keith Stokes