Seneca Hand Dug Well

301 North 11th Street
Seneca, Kansas 66538
(785) 336-6336 or (785) 556-4094

Tours available by advance appointment
free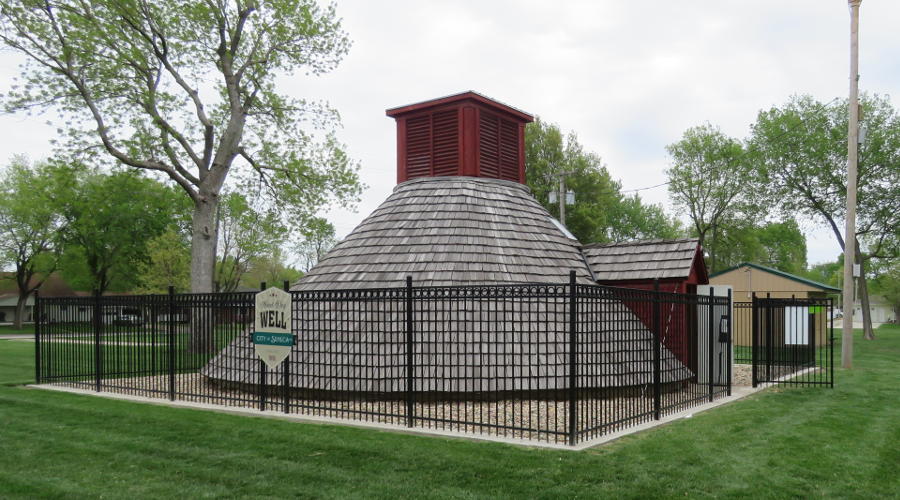 Hand Dug Well - Seneca, Kansas
Tours of the hand dug well in Seneca, Kansas are only available by advance appointment. The large 1895 well is no longer in use, but is rather interesting. It is one of two Kansas wells which vie for billing as the 2nd largest hand dug well in Kansas. The Seneca well is 34' wide & 65' deep, and the one in Westmoreland is 29' wide & 38' deep. Both wells also claim to be the 2nd largest hand dug well in the World (after the one in Greensburg, Kansas), but there is no governing body to certify something like that. The Seneca well is wider than the Greensburg Big Well, which is 32 feet wide, 109 feet deep and a few years older.
Over 130,000 bricks, 100 cords of stone, 570 barrels of cement and 20,000 feet of lumber went into the construction of the Seneca Hand Dug Well. The first levels of the well are constructed of rock set in mortar, while the lower portions are brick and mortar. The rock walls are laid in sections about four feet high, constructed from the ground level downward. Heavy planks are still visible beneath each section. During construction, three to four feet of soil was removed. Then bridge planks were driven about three feet out into undisturbed soil and a ring section of rock wall was laid upon the exposed inner end of the planks.
The process was repeated until the well was approximately 50 feet deep. At that point the diameter was decreased about three feet forming an offset ledge in the rock wall and bricks were used for the remaining 15 feet.
Originally water was pumped from the well by engine driven pumps from an adjacent building, but they were replaced with an electric pump in about 1915 and that pump can still be seen in the center of the bridge which visitors walk across at the well.
Use of the hand dug well was discontinued in about 1937 when two new wells were dug and a million gallon reservoir were built on the east side of Seneca.
The Seneca hand dug well was added to the the National Register of Historic Places on August 16, 2006.
Tours are available by contacting the Nemaha County Historical Society at (785) 336-6336 or (785) 556-4094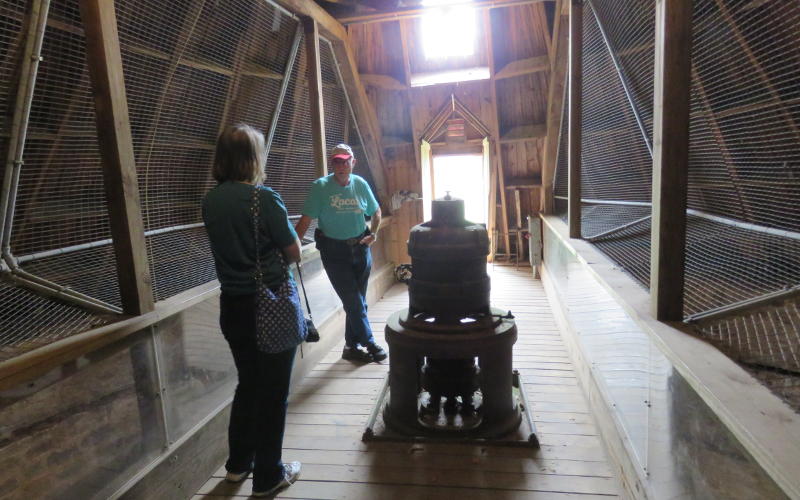 The original electric pump from about 1915

Looking down into the well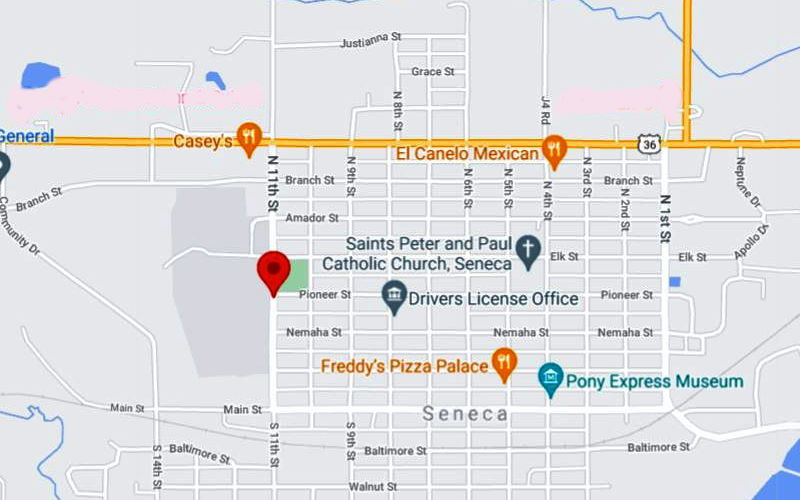 Hand Dug Well Map
copyright 2021 by Keith Stokes