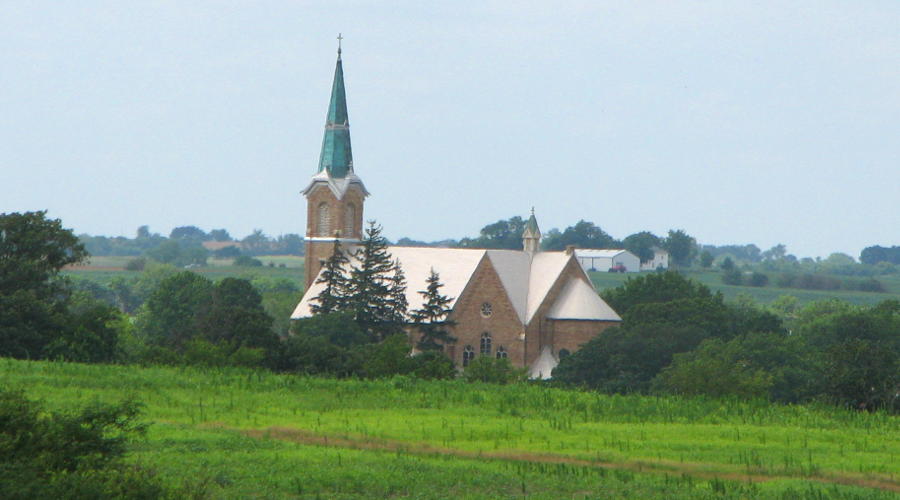 St. Mary's Catholic Church - St. Benedict, Kansas
The present Saint Mary's Catholic Church in St. Benedict, Kansas is the 4th church that was built in this small community. It was constructed from 1891-1894, replaced a 40 by 90 feet structure built in 1880. St. Mary's Parish was established in 1859.
Dedicated November 14, 1894, St Mary's church measures 162 by 60 feet. The church steeple rises 172.5 feed above the water table. St. Mary's Church is constructed of naive limestone, quarried from the Hurley and Schneider farms, 3 miles north of the St. Benedict. St. Mary's Church cost $40,000 to build, with another $40,000 gradually spent to finish the interior.
St. Mary's Church has nearly 3,000 square feet of window space consisting of 17 large windows, two of medium size and six round windows, each six feet in diameter. Some of the windows are of intricate designed art glass, and some are stained glass.
The twelve stained glass window sections in the transept depict 12 hand painted saints. These windows were created by Mayer & Co. of Munich and New York. The cost was $400 each, for a total of $2,400. Other leaded glass windows were made by Wm. Hoehne, Ornamental Glass Co. of St. Louis, and cost $165 each.
Over the next 7 years, the new altars were added. The main altar is forty feet high and was built and installed by William Bauhaus of Leavenworth, Kansas. The two gilded wooden sided altars are more ornate than the main altar, and were bought from E. Hackner of LaCrosse, Wisconsin, along with a matching communion rail.
The walls of Saint Mary's Catholic Church are lime/horsehair plaster on wood lath. In 1901, George Satory of Wabasha, Minnesota, covered much of the wall and vault surfaces with painted patterns, bands and friezes. He used stencils: delineating, floriating and illuminating of cast iron columns, vault ribs and bosses, and window openings.
Satory decorated 150 churches across America from 1891 to 1931. It is believed that St. Mary's Church in St. Benedick, Kansas is the only church where his art still exists.
Working in cooperation with Mr. Satory, the Russian born artist Thaddeus Zukotynski of Chicago decorated the church with 14 oil paintings. The total cost of both projects was $4,100.
The St. Mary's Catholic Church building and art received extensive renovation in the 1980s and 1990s.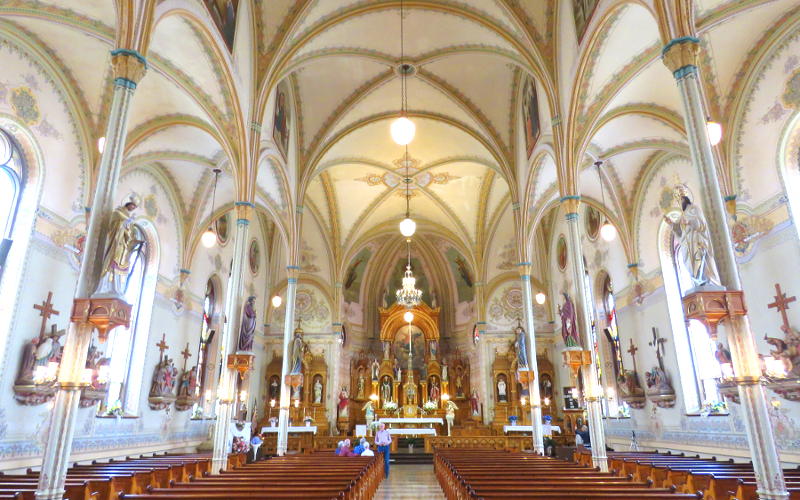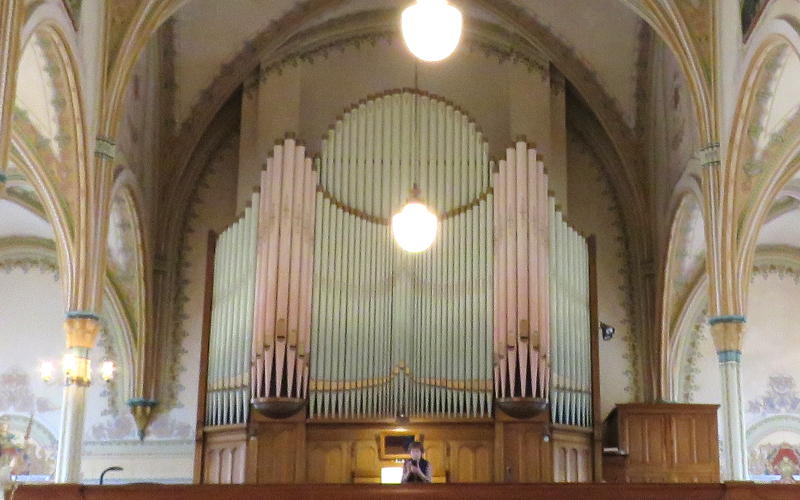 St. Mary's organ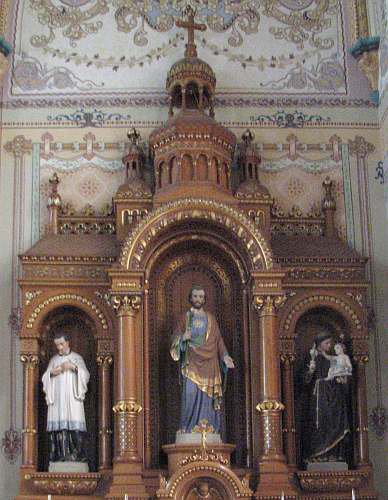 Right side altar with statue of St. Aloysius, St. Joseph &
Anthony of Padua.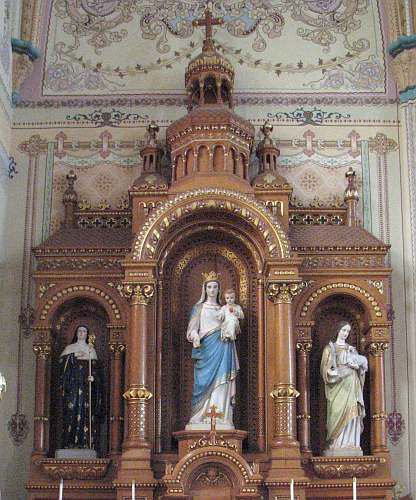 Left side altar with statues of St. Gertrude the Great, St. Mary & St. Agnes.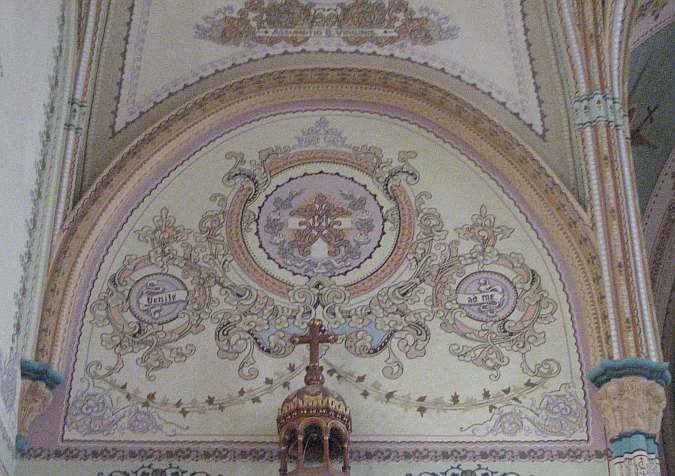 Stenciled art by George Satory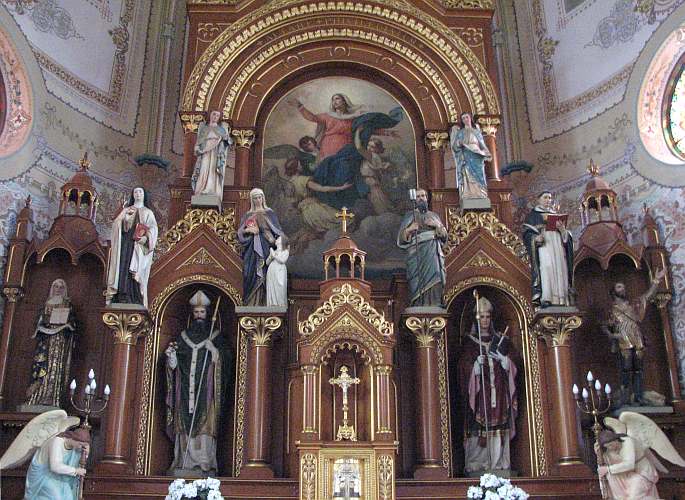 Main altar and tabernacle. The statues on the altar are: St. Monica, St. Teresa of Avila, St. Patrick, St. Anne with
St. Mary, St. Joachim, St. Bontiface, St. Thomas Aquinas and St. Isidore.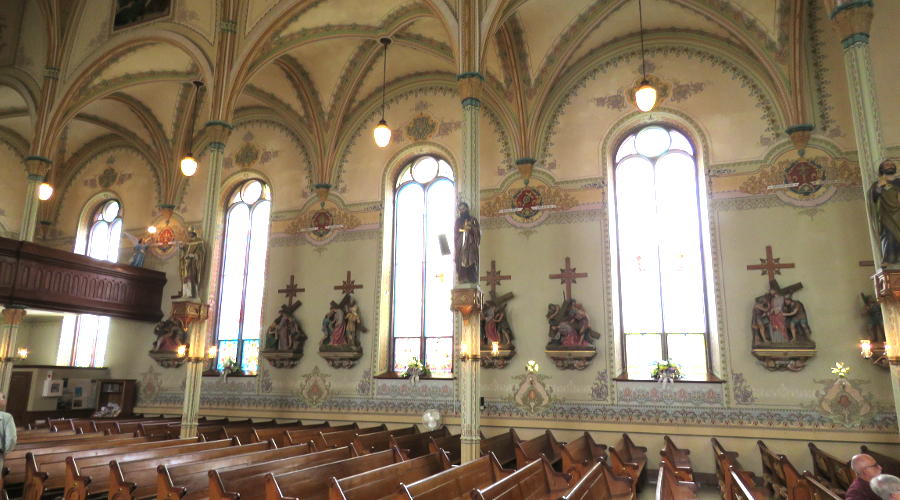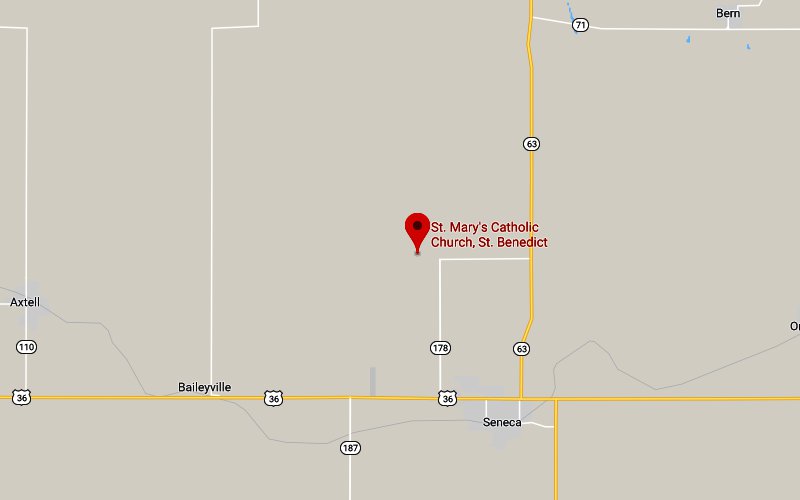 St. Mary's Catholic Church Map
Saint Mary's Catholic Church Page 2 St. Mary's Church website
Kansas Attractions Kansas Travel & Tourism Home
copyright 2007-2021 by Keith Stokes