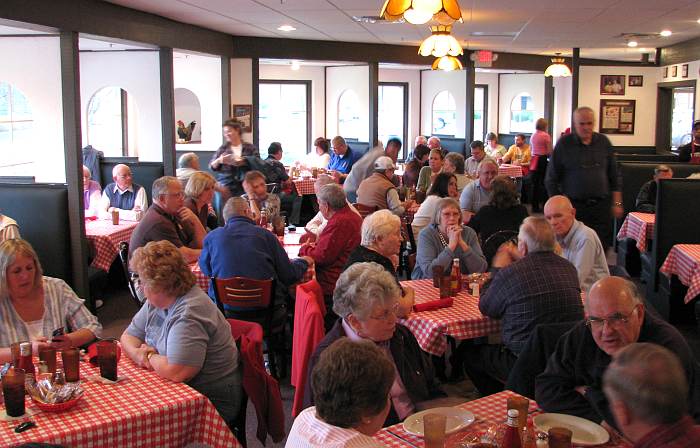 Stroud's Restaurant and Bar - Fairway, Kansas
Archive Page Only: Stroud's Restaurant in Fairway, Kansas closed on at the end of September 2019, due to badly needed building repairs.
Few restaurant openings were as anxiously awaited as the 2008 opening of Stroud's Restaurant in Fairway, Kansas.
The Stroud's restaurant tradition dates back to 1933, when Helen Stroud opened a barbecue restaurant in a shack at 85th Street and Troost Avenue in Kansas City, Missouri.
On a 4th of July, a few years later, skillet fried chicken was offered. Stroud's sold out of chicken that first night and it has been on the menu ever since.
In time, Stroud's Restaurants were added in Manhattan & Wichita, Kansas, and a second Kansas City location opened north of the Missouri River. The Manhattan, Kansas location closed in 2003, and the original Troost location closed in 2005. Although the menu and food are still the same, today the Wichita and Kansas City locations have different ownership.
But lets get back to this new location in Fairway, Kansas. While Stroud's Restaurant in Fairway lacks the rustic charm of the other two locations, the food is just as good and it has the advantage of being open for lunch on weekdays.
Stroud's is famous for skillet fried chicken, chicken fried steak, pork chops, and fried catfish, served family style along with very popular cinnamon rolls. I am particularly fond of their chicken soup, fried gizzards, gravy, and cottage fried potatoes. The gravy is made from the cracklings from the pan fried chicken. Complete meals run from $12 - 30, with most family style chicken dinners around $14-20. Split meals are and additional $8.95, but include double sides, cinnamon rolls and soup/salad.
When Stroud's Restaurant first opened at this Fairway location, they were so busy that they wouldn't take phone in takeout orders. They do take phone in orders now. The wait for a table for dinner is much shorter and reservations are available.
Individual style meals are now available with smaller side orders. A lunch menu is now available Monday - Friday from 11AM - 3PM.
Stroud's Oak Ridge Manor Restaurant in Kansas City, Missouri was featured on the August 11, 2010 episode of TV's Man vs Food. The TV show made the pan fried chicken and gravy look as wonderful as it is and I bet they have seen a lot of business from the episode. The Man VS Food - Kansas City episode also featured Oklahoma Joe's BBQ and a food challenge at Papa Bob's BBQ, both located in Kansas City, Kansas.
No one in our party has ever had enough appetite left at the end of a meal to try Stroud's desserts.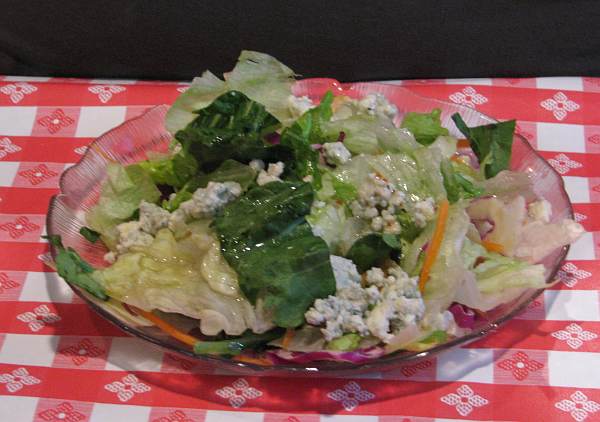 Meals come with your choice of salad or chicken noodle soup.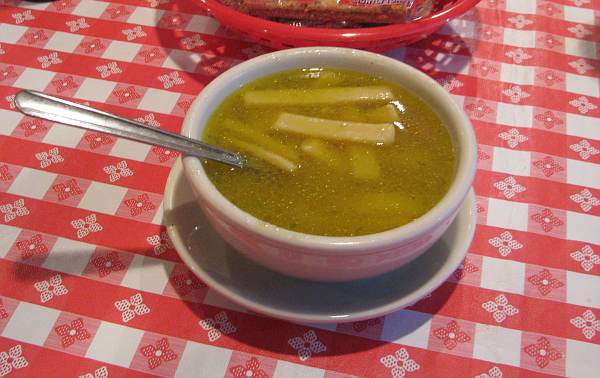 Stroud's chicken noodle soup is excellent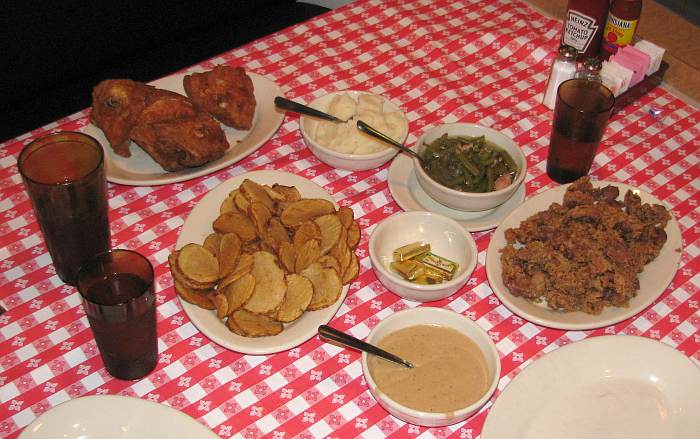 Three breast chicken dinner, cottage fries, mashed potatoes, green beans, gravy and chicken gizzards.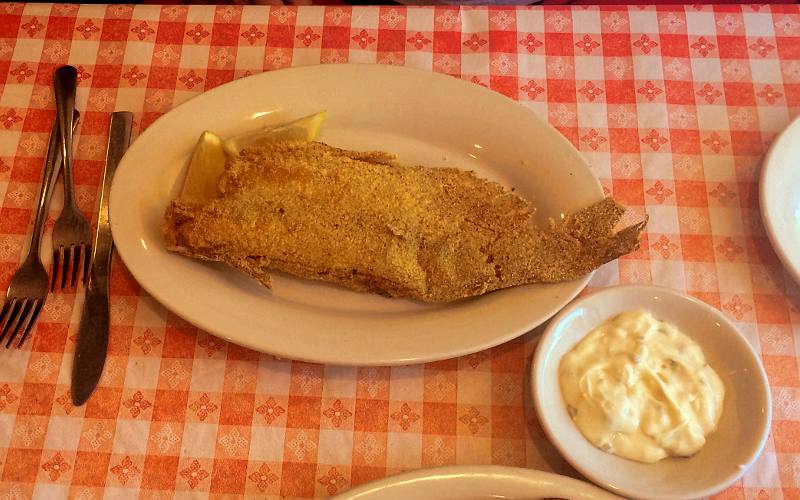 The catfish is cooked whole, but you can choose between having it served whole like this,
or having the bones removed in the kitchen.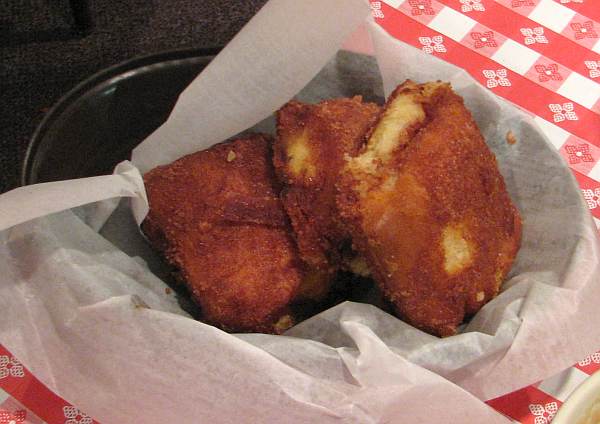 Many people save Stroud's cinnamon rolls for dessert, or take them home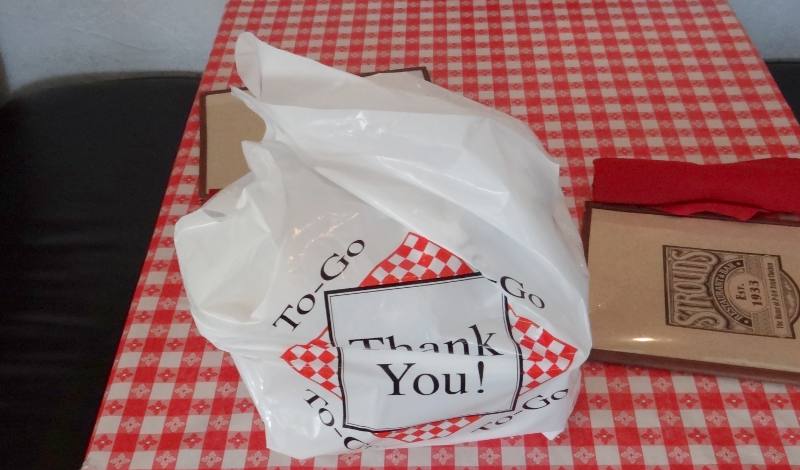 A meal at Stroud's almost always means taking home enough leftovers for another meal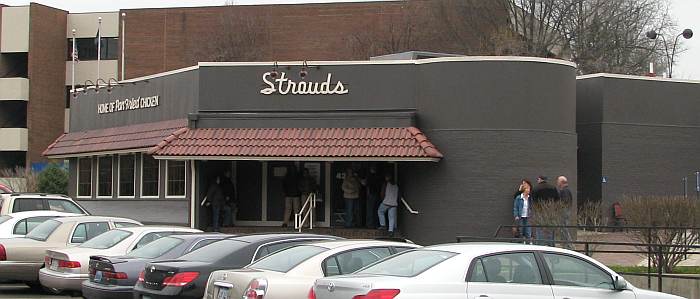 Stroud's South (the building is now painted strawberry)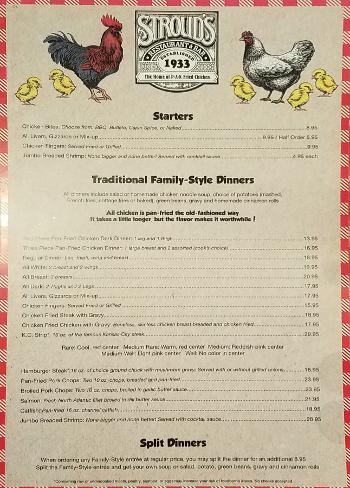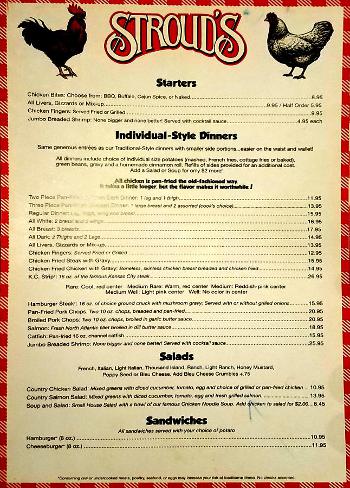 Stroud's South Diner Menu from September 2018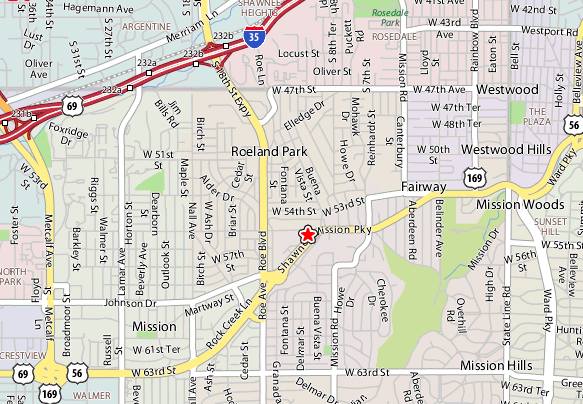 Stroud's Restaurant Map
Stroud's Restaurant web site
Kansas Attractions Kansas Travel & Tourism Home
copyright 2008-2019 by Keith Stokes