Three Corners
Tristate point

6 miles west of Haigler, Nebraska 69030
20 miles northwest of St. Francis, Kansas 67756

Direct questions to the St. Francis Area Chamber of Commerce: (785) 332-2961

free open 24 hours

Three Corners Tripoint Map Arikaree Breaks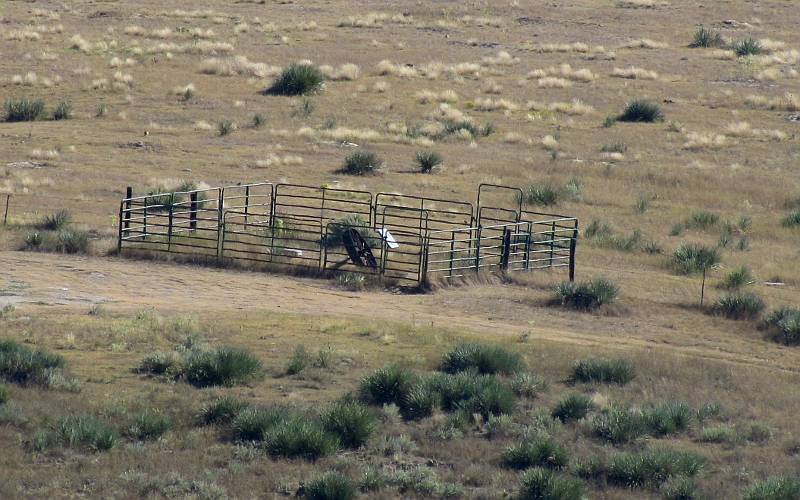 Three Corners Marker - Tristate Point
A Tristate Point is a location where the boundaries of three states intersect. There are 38 Tristate Points in the United States and four of them are at the corners of the State of Kansas. Three Corners, 20 miles northwest of St. Francis, Kansas, is the location of the northwest Kansas Tristate Point.
The exact location of the Kansas, Colorado, Nebraska Tristate Point was uncertain for many years, but was firmly established in 1990. The brass plate at the top of this page is 4' above that survey marker. The old mark was off by just inches.
There is relatively little to see related to the Tristate Point, but the Arikaree Breaks are beautiful. In the Spring there is a forest of yucca blooms. In the summer there are many wild flowers and there may be cattle. There is also a prairie dog town, though we did not see any prairie dogs during our visit.
To reach Three Corners from St. Francis, first drive to Devil's Gap by driving north of St. Francis on K-27 to Road W, approximately 13 miles north of the K-27 and US-36 Junction, then follow the hand made signs. From Devils Gap, continue north on County Road 3, turning west into private land at the red marker. Continue on the private road for 2 3/4 miles in a northwest direction following the signs. This will actually take you into Colorado for the last part of the route. Please treat the land gently so the owner will continue to permit the public to visit this Tristate Point.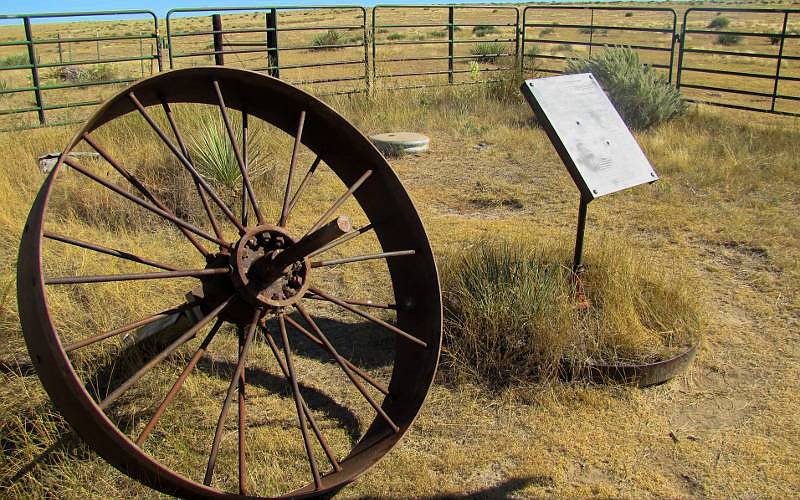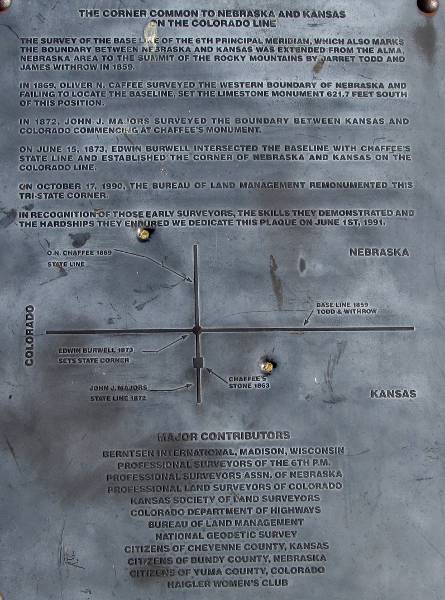 "The corner common to Nebraska and Kansas on the Colorado Line"
"In 1869, Oliver N. Caffee surveyed the western boundary of Nebraska and
failing to locate the [1859] baseline, set the limestone monument 621.7' south
of this position."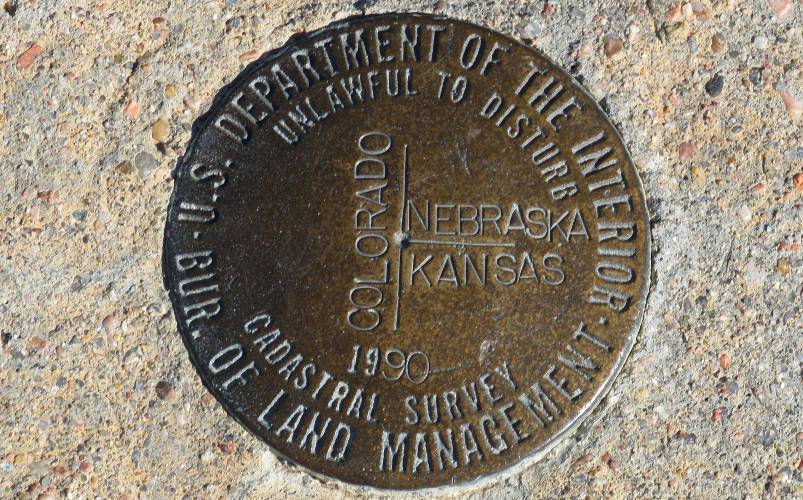 The brass plate over the 1990 Tristate survey marker is in the cement square inside the fence.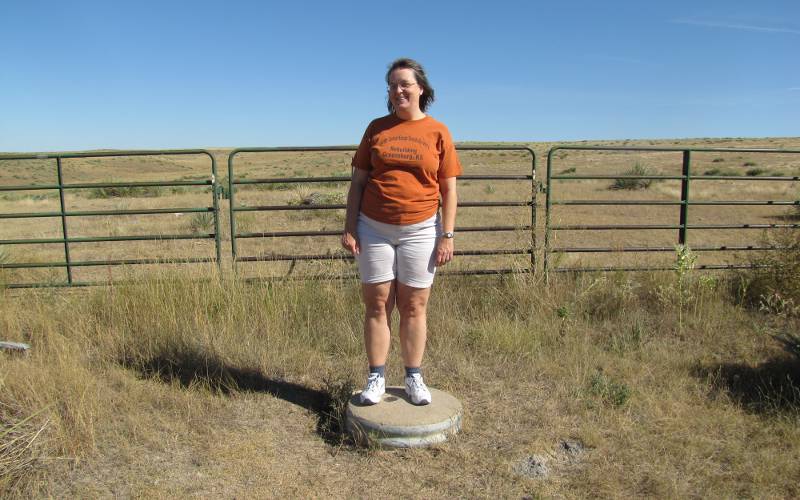 Linda Stokes standing in Kansas, Nebraska and Colorado at the same time.

Sphinx Moth feed a couple of hundred feet from the Three Corners Marker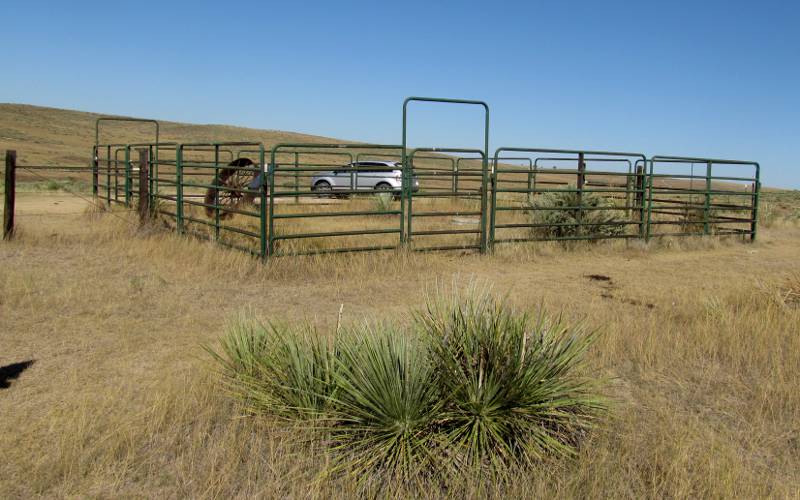 Fence protecting the Tristate Marker and memorial from cattle.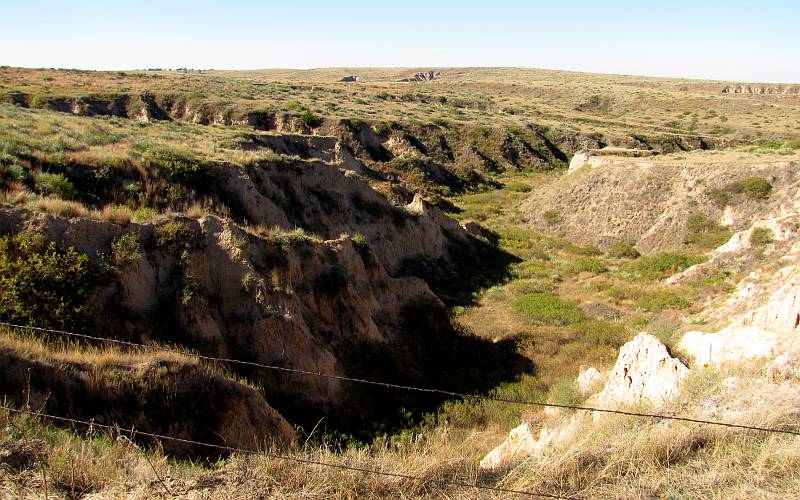 On New Years Day 1865, Native Americans passed through Devil's Gap traveling from Cherry Creek through the
Arikaree Breaks on their way to attack soldiers and civilians in Julesburg, Colorado as a reprisal for the Sand Creek Massacre.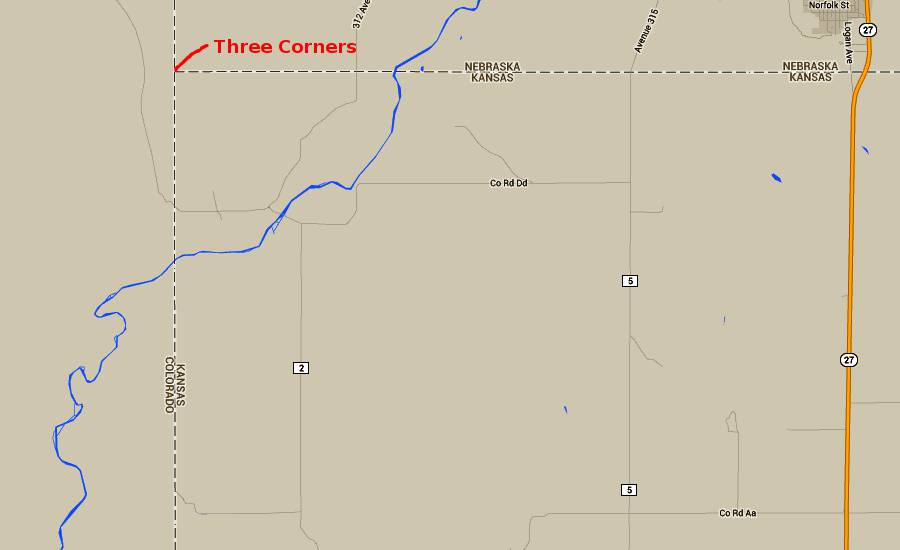 Three Corners Tripoint Map
copyright 2011-2017 by Keith Stokes