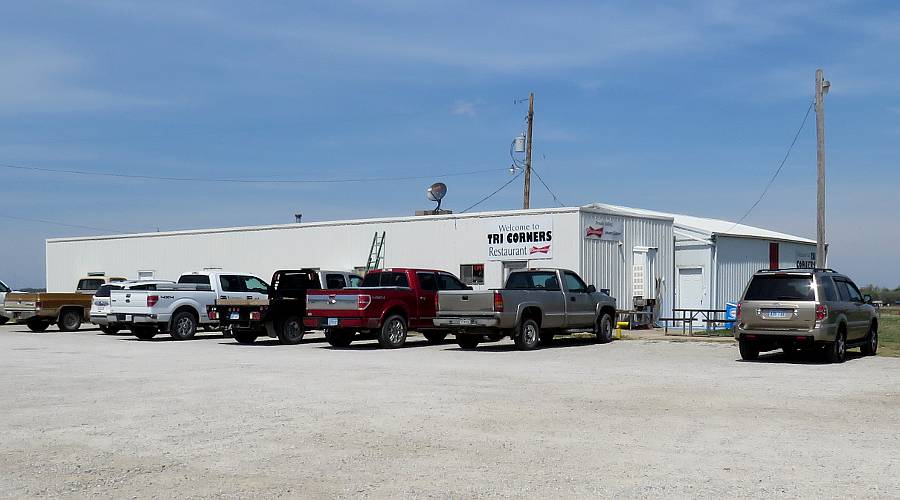 Tri-Corner Restaurant Bait & Convenience - Fall River, Kansas
Tri-Corner Restaurant, Bait & Convenience Store near Fall River, Kansas epitomizes the phrase Unique Kansas Restaurant. It is located a mile off Highway 400 on the way to Fall River Lake and serves good home style food. There is no web site, but the Tri-Corner's Facebook page lists the daily special each morning. On Friday and Sunday the special is fried chicken, but they don't cook a lot of the chicken and if you want to make sure there will be chicken for you, you should call before 9:30AM and they will put your name on a serving.
The pan fried chicken is good and a meal is as cheap as most people would spend to make it at home - $7.50 for a leg quarter, large serving of real mashed potatoes & gravy, vegetable, a mini loaf of homemade bread and tea or coffee. Substitute a breast piece for a dollar more.
But the chicken isn't the only reason to go to Tri-Corner. The hamburgers and home fries are worth the trip. The burgers are good enough that they will make the next update of our Best Kansas Burgers list and the fresh cut fries are excellent.
Mike and Becky Lolley never intended to get into this business. They retired and moved to this area from Topeka in 2010, their daughter and son-in-law purchased the bait shop and bar at this location. Their son-in-law was in the service and Mike & Becky agreed to run the place until the new owners would be able to move to town. Up until that time, there was no food and Becky started cooking on a George Forman Grill. Within a few months, the business grew dramatically and she added first more grills, than a hot plate and eventually a kitchen.
The community was delighted to have this new restaurant and embraced them. Eventually it was time to turn the operation over, but their daughter and son-in-law discovered that running a restaurant was not for them and Mike & Becky agreed to buy them out.
Much as they love their customers (who are constantly doing things like bringing them fresh fish or helping out), this was not how the Lolleys planned to spend spend their retirement. They sold the Tri-Corner, but that didn't work out and they got it back. Becky & Mike started operating the restaurant again on March 1, 2016. We don't know how long they will keep it (we visited on April 10), so hurry to experience this neat restaurant while they still have it. Perhaps if they have enough fun, that will last for a while.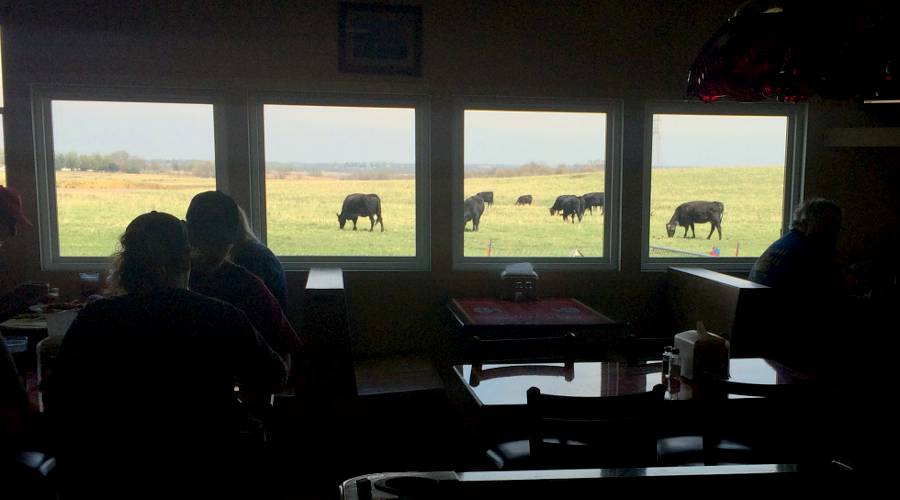 Several of the tables have this view of the cattle in the adjacent field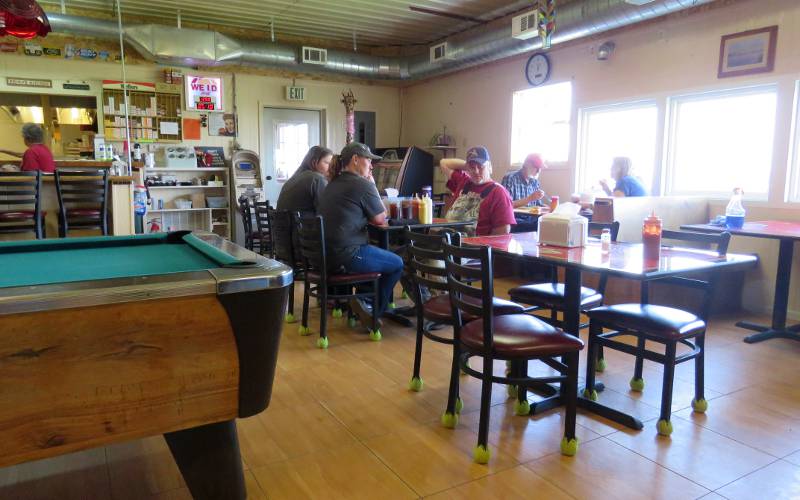 This is about a third of the small dining area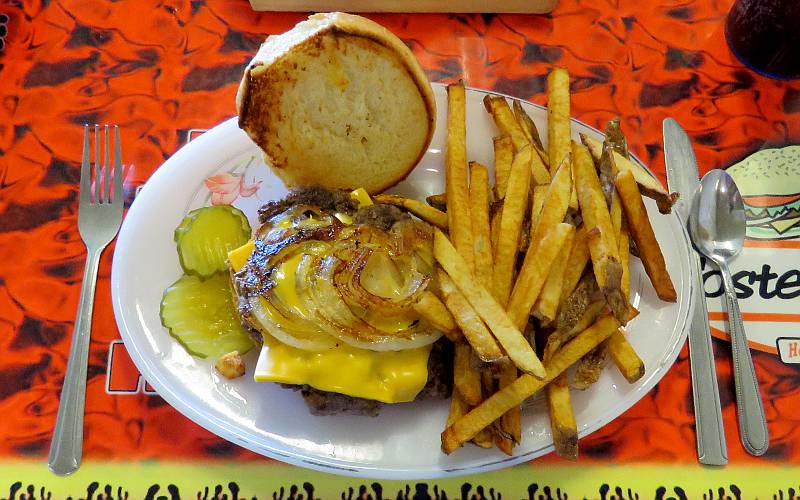 Double bacon cheeseburger with home fries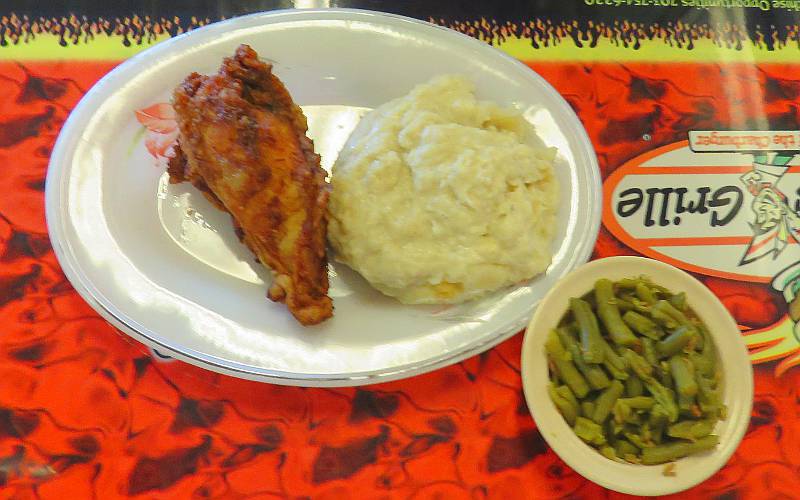 Pan fried chicken breast with a huge serving of tatters & gravy and green beans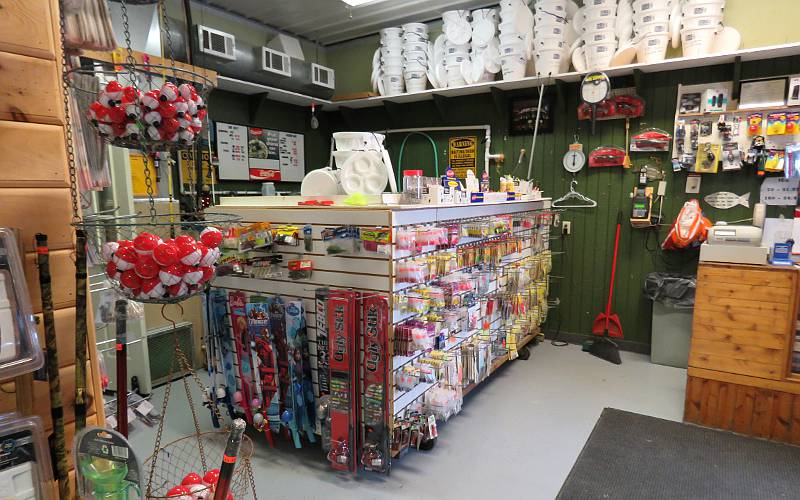 You walk through this bait shop to get to the dining room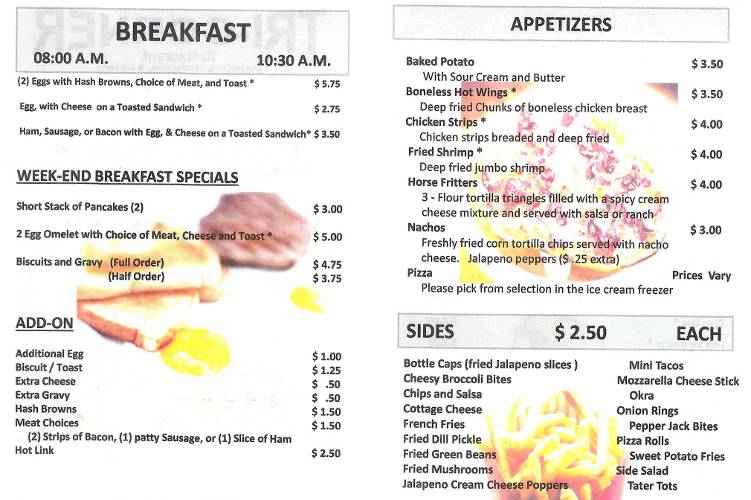 Tri-Corner Restaurant Menu - Fall River, Kansas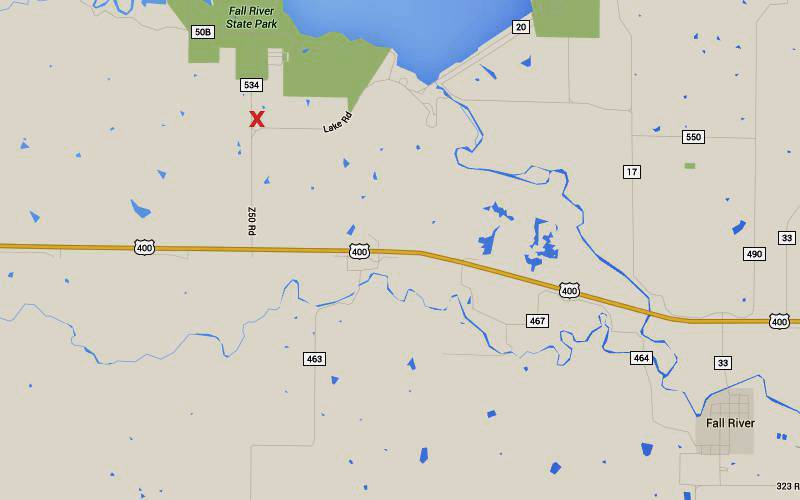 Tri-Corner Restaurant Map
Unique Kansas Restaurants
Kansas Attractions Kansas Travel & Tourism Home
copyright 2016 by Keith Stokes