Art Tougeau
Wheeled Art Parade


C/O 1621 New Hampshire Street
Lawrence, Kansas 66044
(785) 832-8689 or (785) 393-1068

Noon Saturday May 27, 2023

The parade route is New Hampshire and
Massachusetts between 7th and 11th Streets.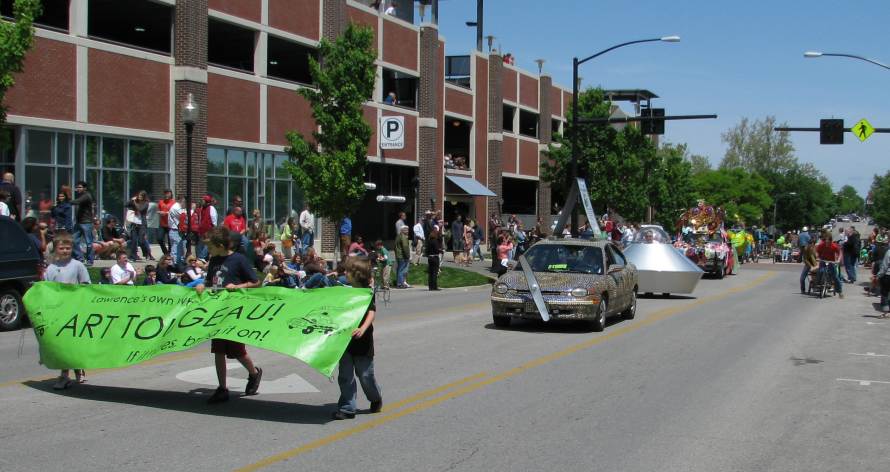 Art Tougeau Parade - Lawrence, Kansas
Art Tougeau wheeled art parade and wheel-apalooza in Lawrence, Kansas will be Saturday, May 27, 2023. The first year I attended, there were about 25 motorized entries and perhaps twice as many human powered entrees on 2-6 wheels. The parade doesn't start until noon, but if you stop at the Lawrence Art Center a 11AM, parade entries will be setting up and it is a great time to photograph and chat with the drivers of various entries.
In recent years, Art Tougeau is held during the fun, 4 day Lawrence Busker Festival.
In 2009, my favorite self propelled entries included a shark, dragon and giant fish. While the motored art included Tirezilla, a flying saucer, the three unit "Don't worry - be happy," and a folk art masterpiece from Wisconsin named Claire. Several of these cars have been in Art Tougeau before.
Art Tougeau is a lot of fun - a grassroots art festival on wheels. I've been there twice now, and wish I could attend every year.
There is also a Street party and Art Car show off at 10th and Mass on Friday from 4:00 to 10:00 p.m.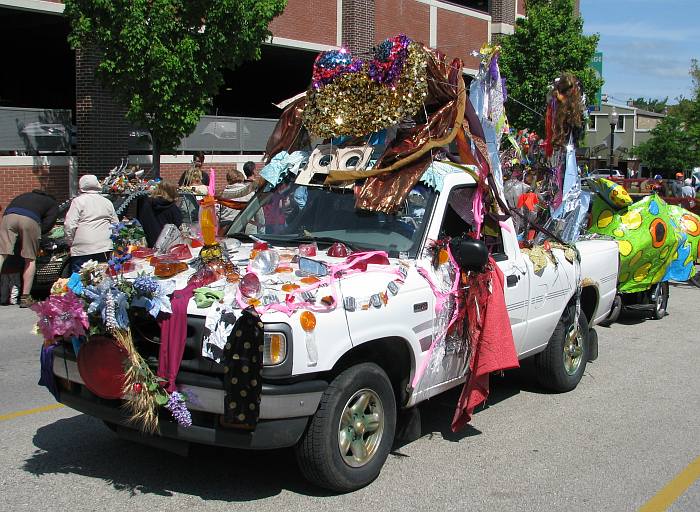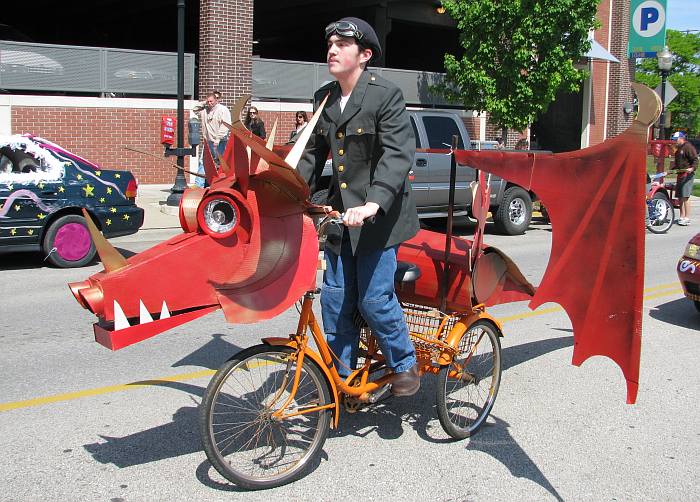 Ian Paterson and "Dos Dragon Von Autobahn"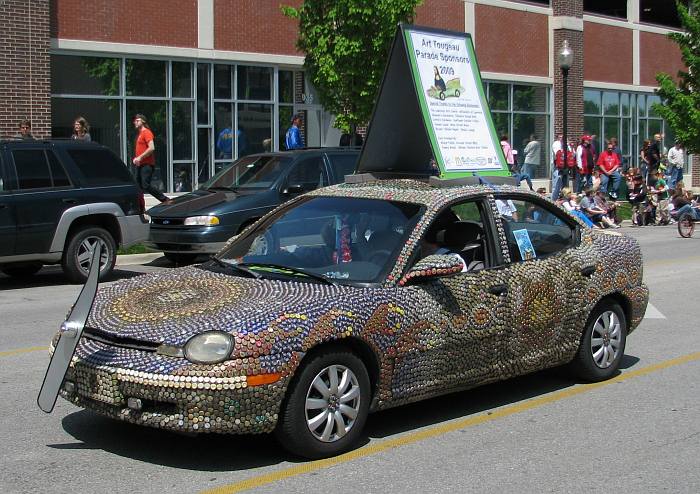 This car is decorated with bottle caps and the propeller spins

Flying saucer driven by Pat Slimmer, a big Art Tougeau parade sponsor and promoter.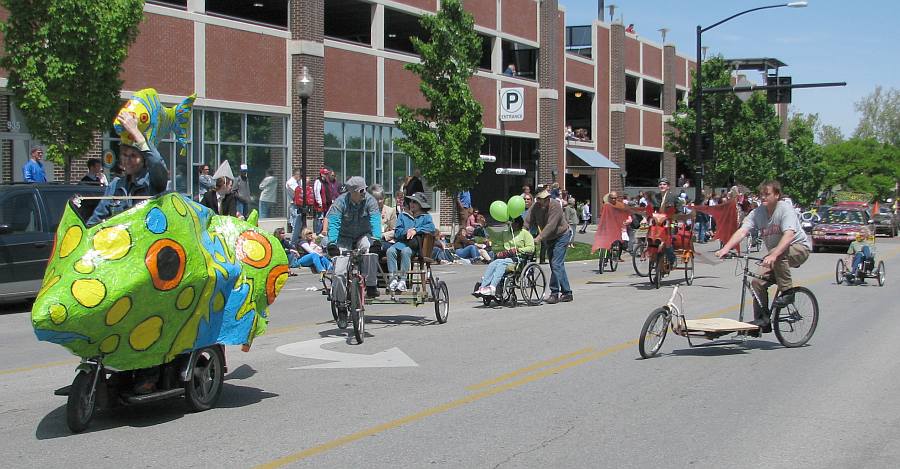 Retta Backus riding "Maggie's Happy Fish" leading a group of self propelled wheel art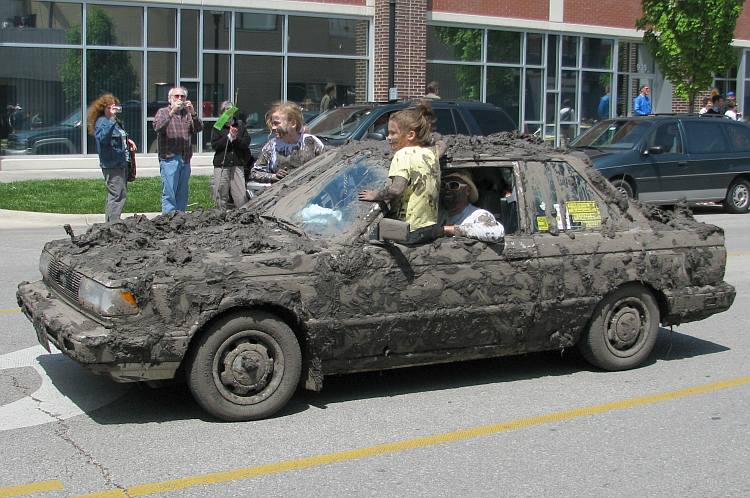 This mud covered car is driven by Nick Schmiedler - this is his third year in Art Tougeau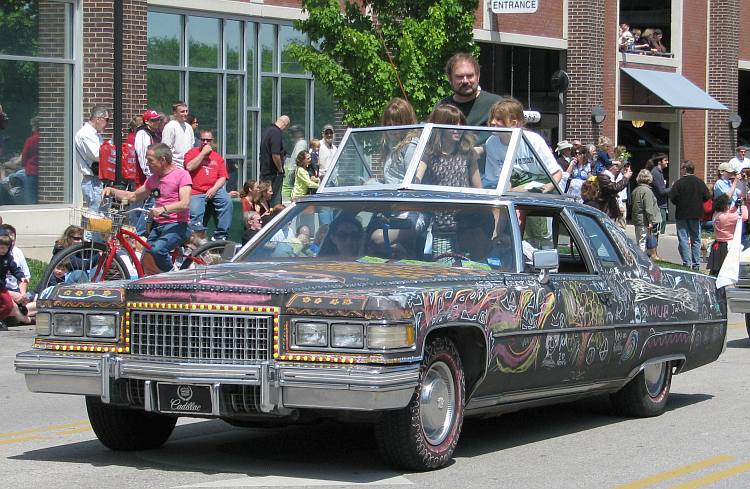 Pat Slimmer's "The Chalkboard Cadillac" is a play on calling a big old car a "boat."
Children and passers by helped decorate the car with colored chalk before the parade.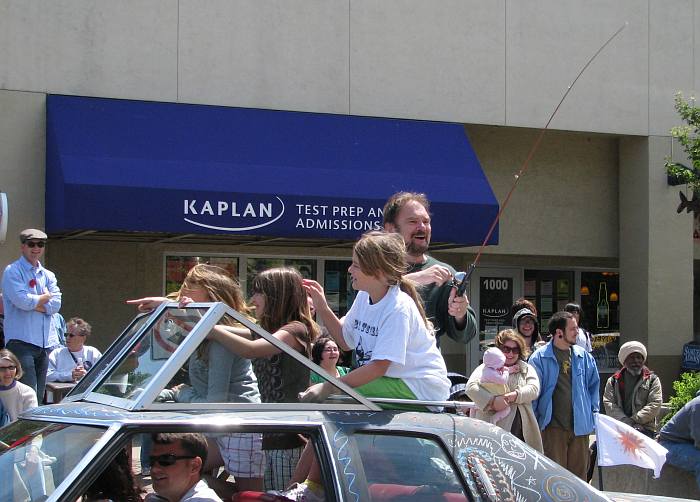 Page 1 Page 2 Page 3 Art Tougeau website
Kansas Attractions Kansas Grassroots Art & Artists
copyright 2009-2023 by Keith Stokes