Art Tougeau
Wheeled Art Parade


C/O 1621 New Hampshire Street
Lawrence, Kansas 66044
(785) 832-8689 or (785) 393-1068

Noon Saturday May 28, 2022

The parade route is New Hampshire and
Massachusetts between 7th and 11th Streets.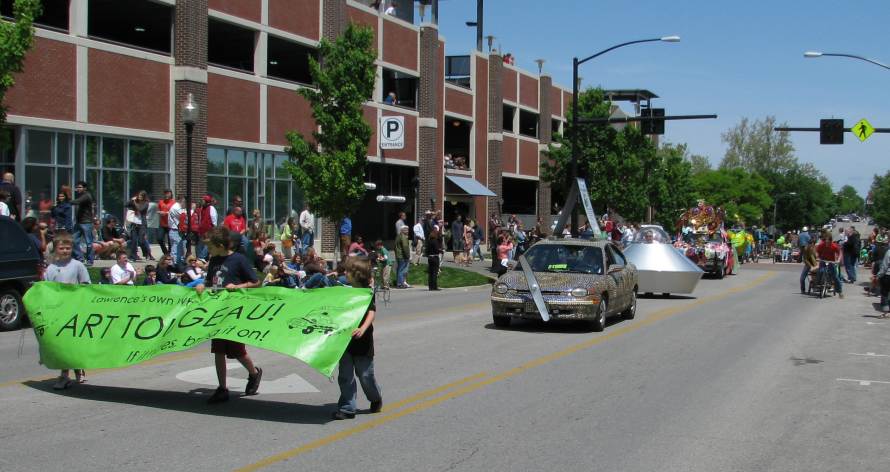 The 25th Art Tougeau in Lawrence, Kansas - will be Saturday, May 28, 2022. These photos were taken at the 2009 wheeled art parade and wheel-apalooza. I arrived at 11AM, as the parade entries were setting up and spent the hour before the noon start photographing and chatting with the drivers of various entries. Half of the people that I spoke with were in the parade for only their first or second time. There were about 25 motorized entries and perhaps twice as many human powered entrees on 2-6 wheels.
My favorite self propelled entries included a shark, dragon and giant fish. While the motored art included Tirezilla, a flying saucer, the three unit "Don't worry - be happy," and a folk art masterpiece from Wisconsin named Claire. Several of these cars have been in Art Tougeau before.
Art Tougeau is a lot of fun - a grassroots art festival on wheels. I've been there twice now, and wish I could attend every year.
There is also a pre-parade party on Friday at 5PM.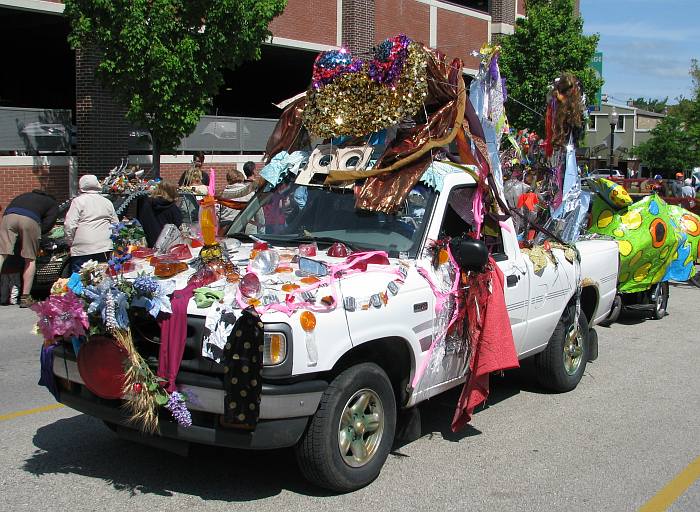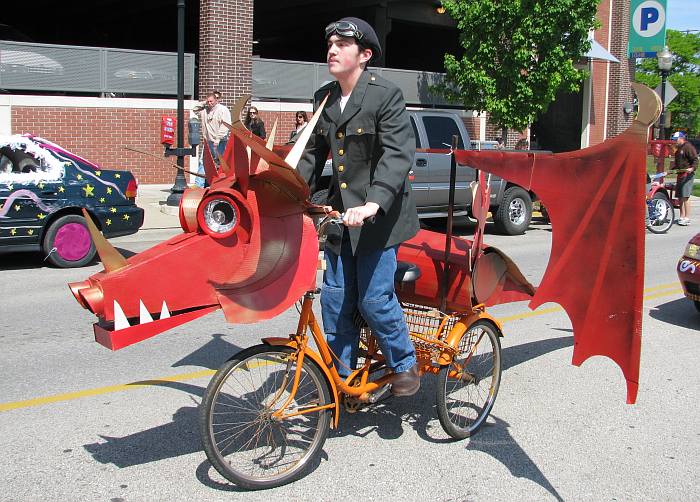 Ian Paterson and "Dos Dragon Von Autobahn"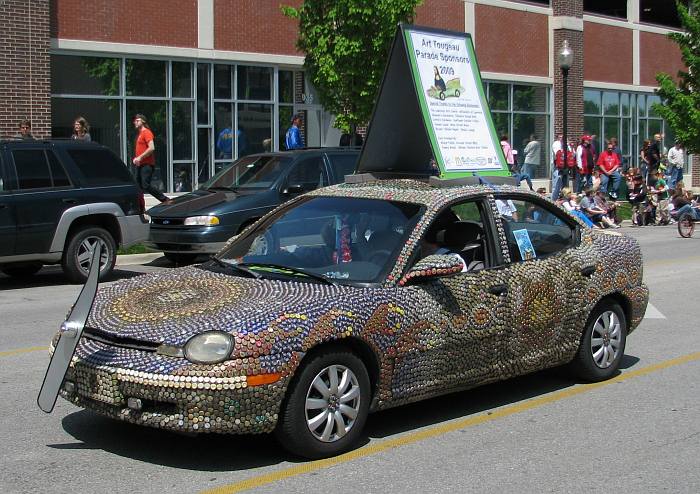 This car is decorated with bottle caps and the propeller spins

Flying saucer driven by Pat Slimmer, a big Art Tougeau parade sponsor and promoter.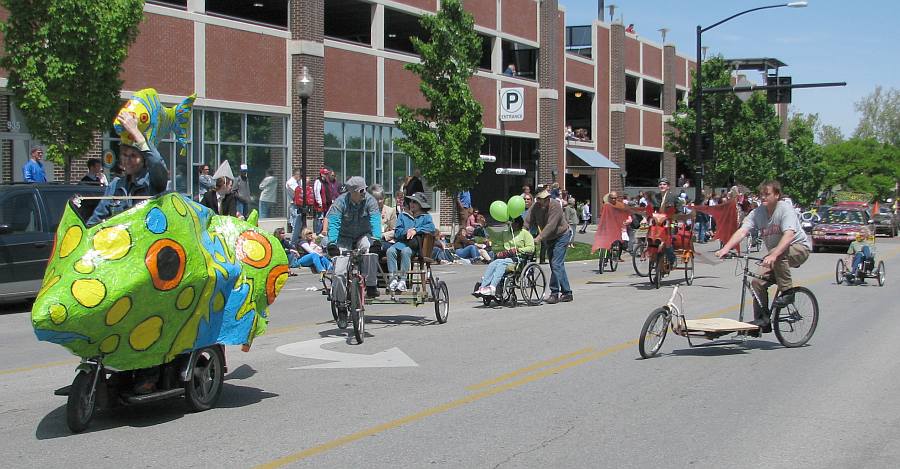 Retta Backus riding "Maggie's Happy Fish" leading a group of self propelled wheel art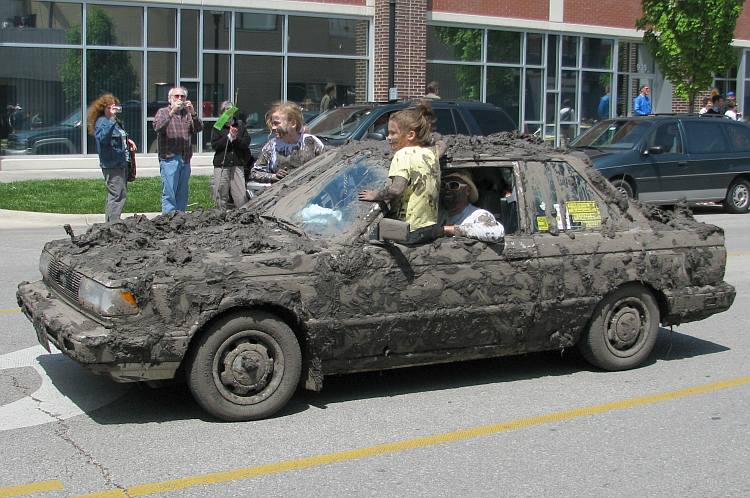 This mud covered car is driven by Nick Schmiedler - this is his third year in Art Tougeau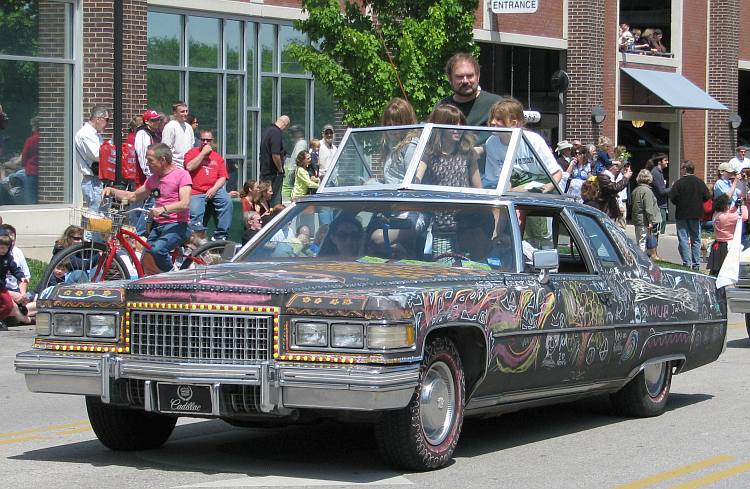 Pat Slimmer's "The Chalkboard Cadillac" is a play on calling a big old car a "boat."
Children and passers by helped decorate the car with colored chalk before the parade.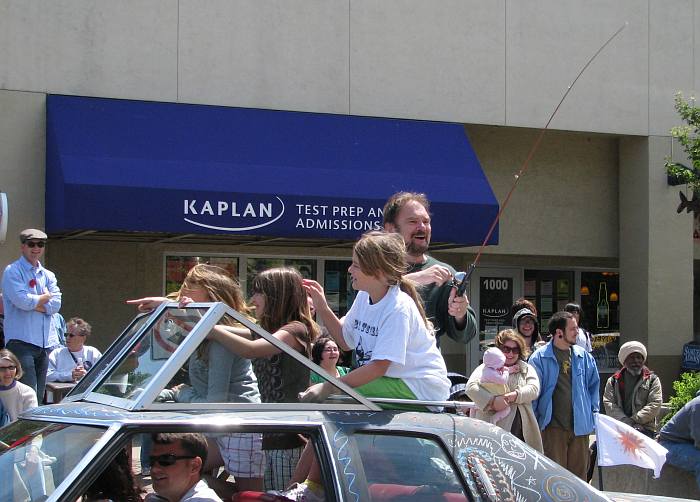 Page 1 Page 2 Page 3 Art Tougeau website
Kansas Attractions Kansas Grassroots Art & Artists
copyright 2009-2022 by Keith Stokes